March 2019 Walt Disney World Bits and Bites
Feature Article
This article appeared in the February 26, 2019 Issue #1014 of ALL EARS® (ISSN: 1533-0753)
Editor's Note: This story/information was accurate when it was published. Please be sure to confirm all current rates, information and other details before planning your trip.
= = = = = = = = = = = = = = = = =



STEP BACK IN TIME
= = = = = = = = = = = = = = = = =
by Joan L. Feder
AllEars® Staff Writer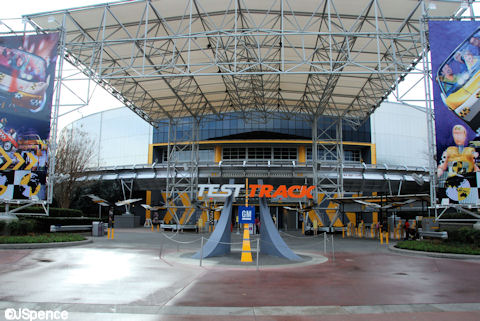 Join us on our monthly journey into the past as we explore the history of Walt Disney World and the Walt Disney Company. This time we take a look back at the March 1999 opening of Test Track.
General Motors was the first company to agree to finance one of Epcot's inaugural pavilions. As early as 1976, Imagineers considered making an attraction that would allow guests to try out prototype cars. Over time that idea was abandoned, and instead they built the World of Motion, an amusing journey through the history of transportation. It debuted on Epcot's opening day, October 1, 1982. More than a decade later, General Motors renewed its sponsorship after Disney agreed to come up with a new ride for the pavilion. The World of Motion closed on January 2, 1996. The plan was for the new attraction to open in May 1997, but design issues led to multiple delays. Two years later, Test Track finally officially opened on March 17, 1999.
The new ride was set in a GM testing facility where guests put prototype vehicles through a series of assessments. After waiting in the queue, guests entered a briefing room where they saw videos of the tests they would be running, including the final test crash into a barrier. Once in the car, guests got to experience an accelerated hill climb, bumpy suspension test and a demonstration of the effectiveness of anti-lock brakes. The vehicle was exposed to extreme heat, cold and corrosion, and its handling challenged by a series of curved slopes. An oncoming truck appeared out of nowhere as the car sped toward the final test. Lights flashed, temporarily blinding riders. Just before the final crash the barrier split open to reveal the test track, where the ride ended with an exhilarating lap round the outside of the building.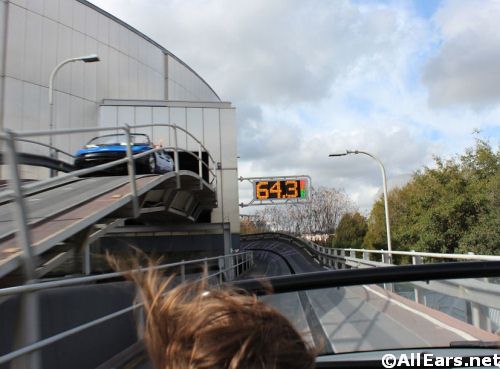 Test Track was one of the most expensive rides ever developed, coming in at approximately $100 million. It was Epcot's first thrill ride, and was also one of the first Disney attractions with a dedicated single rider line. It is still the fastest Disney attraction, hitting a top speed of 64.9 miles per hour.
The original version of Test Track closed on April 16, 2012, for a brief but major refurbishment. When it reopened on December 6, 2012, the track remained the same, but the cars were repainted and the backstory changed. In this current version, guests get to design their own sim car while they wait in line, and then they get to take it for a test ride. The cars are scored for their capability, efficiency, responsiveness and power.
Test Track remains a guest favorite, and is a Tier One FastPass+ experience. Note that standby and FastPass riders get to design their own cars, while single riders select a pre-designed vehicle. After each test, be sure to check the scoreboard to see how your vehicle performed!
RELATED LINKS
= = = = = = = = = = = = = = = = =



HIDDEN MICKEYS ALERT
= = = = = = = = = = = = = = = = =
Steve Barrett, author of the Hidden Mickeys Field Guide books and webmaster of HiddenMickeyGuy.com, points out three Hidden Mickeys in Disney's Hollywood Studios. This great park is in the midst of extensive renovation and expansion, so we should be alert for new Hidden Mickeys!
1. Toy Story Mania! In the first part of the inside queue, look up to your left. A classic, three-circle Hidden Mickey cloud sits high on the wall in the corner near the door you just walked through. (Thanks to Tyler Glynn, and Ramsay Lanier.)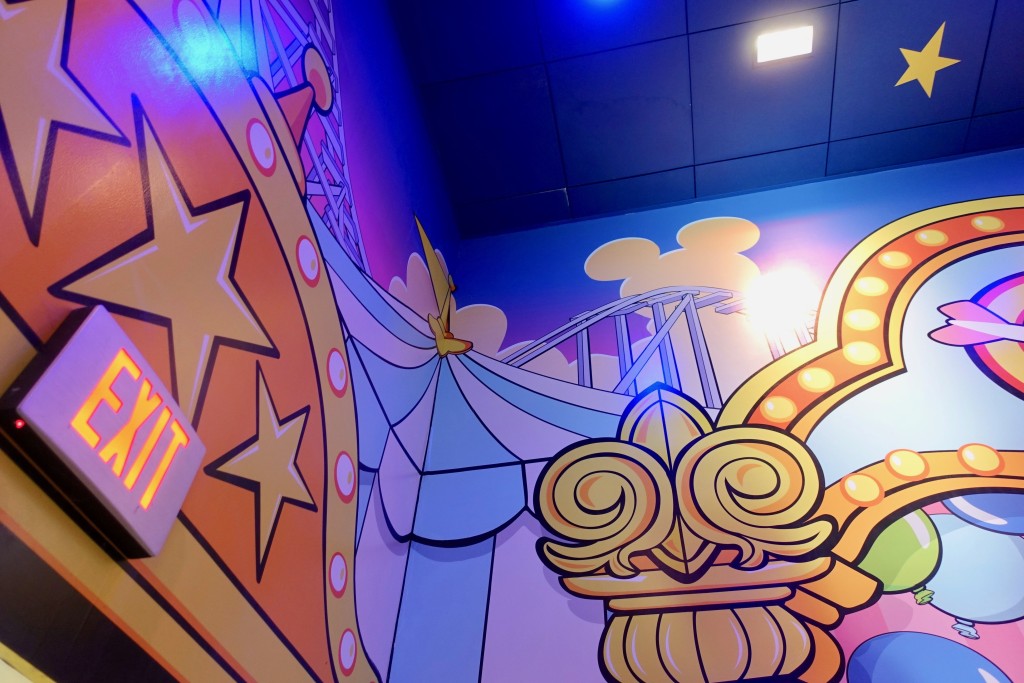 2. Walt Disney Presents. In the Star Wars display on the left side of the aisle near the theater entrance, a child wearing Mickey ears is watching people loading a starship. (Thanks to Gracen Barrett).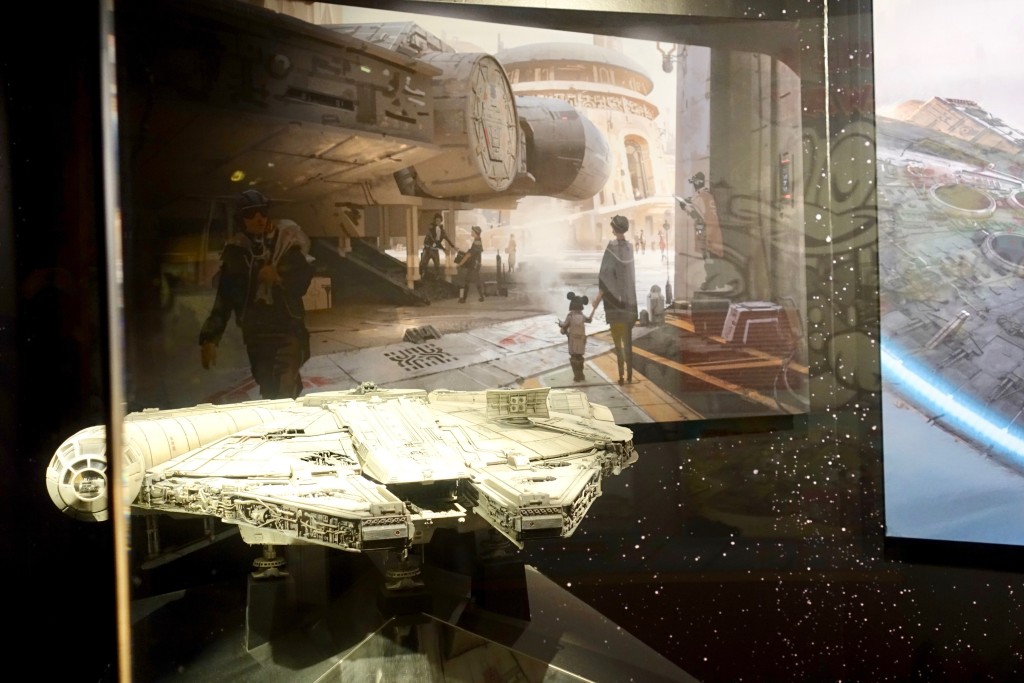 3. The Twilight Zone Tower of Terror. Along the entrance queue in the hotel lobby, just before you're directed to the pre-show rooms, glance to your left at coins in a wooden inbox container sitting on a counter. Three coins at the lower left form a classic Hidden Mickey, tilted slightly to the right. (Thanks to Tyler Glynn, Ryan Glynn, and Ramsay Lanier.)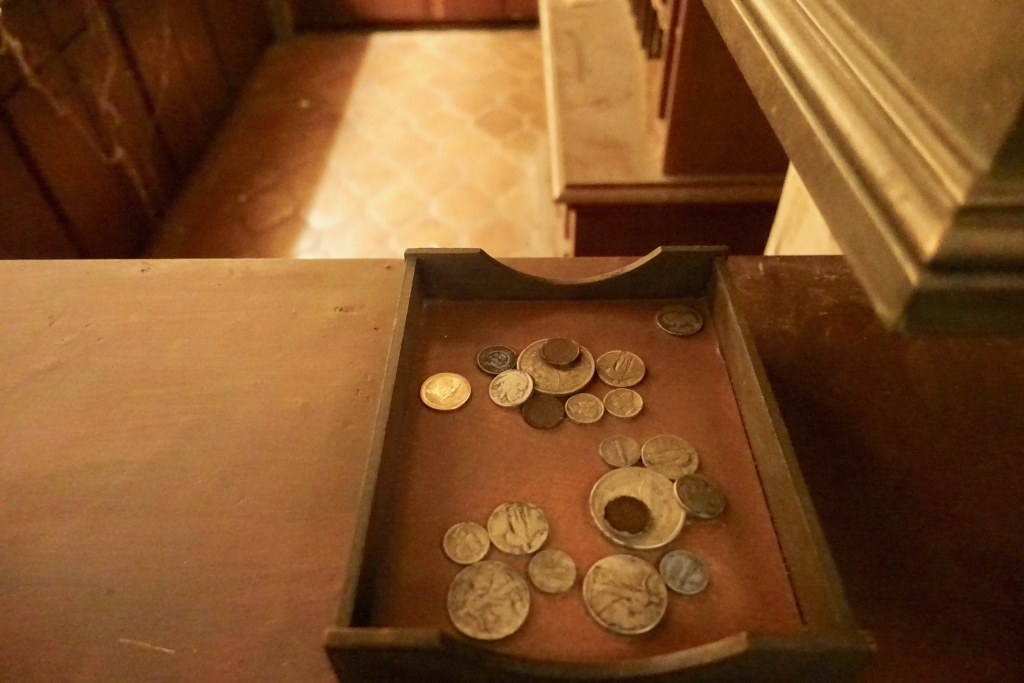 =-=-=-=-=-=-=-=-=-=-=-=-=-=-=-=
You can find an archive of past Hidden Mickey Alerts HERE.
And check out our latest Searching Disney with Steve blog.
= = = = = = = = = = = = = = = = =



MONTHLY REMIND-EARS
= = = = = = = = = = = = = = = = =
Through March 23: Atlanta Braves Spring Training
Through Sept. 30: 90 Years of Mickey Mouse — "The World's Biggest Mouse Party" will be a celebration at Disney parks and resorts around the world, with commemorative merchandise, photo locations and more.
March 6: The 2019 Epcot International Flower and Garden Festival begins! It will run through June 3. In conjunction with this festival, the Garden Rocks Concert Series will take place nightly at the America Gardens Theatre in Epcot's World Showcase.
Check our Events page for a full schedule of upcoming events.
-=-=-=-=-=-=-=-=-=-=-=-=-=-=-=-=-=-=-
Resort-Wide
Disney Skyliner construction:
Walt Disney World is in the process of creating a new transportation system, Disney Skyliner, which will give you a bird's-eye view of the resort while traveling via gondolas. During this time, testing and construction noise will be seen and heard throughout the resort, but noise should not be heard from Disney hotel rooms between dusk and 9 a.m. Skyliner will open in Fall 2019.

The Walt Disney World Monorail system is undergoing ongoing refurbishment. As a result, normal service and/or routes may be modified. Alternative transportation options will be available during this time.
Kali River Rapids closed for refurbishment on January 7. It's scheduled to reopen on March 22.

Rafiki's Planet Watch temporarily closed on October 20, 2018. No reopening date has yet been announced.
Beauty and the Beast Live on Stage is not being performed through March 9.

Star Wars: Galaxy's Edge —
Work is underway on the 14-acre Star Wars-themed land at Disney's Hollywood Studios that was announced during the 2015 D23 EXPO. Galaxy's Edge will open at Walt Disney World in Late Fall 2019.
Walt Disney World Railroad closed December 3, to make way for construction of the new TRON attraction.

Tomorrowland Speedway closed in January 2019, also as part of the TRON construction. It will reopen later this year.

Casey Jr. Splash 'n' Soak Station in Storybook Circus closed for refurbishment on February 11. It is set to reopen on March 24.
Rooms are undergoing refurbishment through early 2019.
Animal Kingdom Lodge – Jambo House
Rooms are undergoing refurbishment through Fall 2019.
Art of Animation Resort is currently undergoing some general refurbishment projects. During this time, the resort will be in full operation with all amenities available, including dining, merchandise and recreation locations. It is possible that construction may be seen or heard, but noise should not be heard from guest rooms between dusk and 9 a.m. No end date for these projects has been announced as yet.
The resort room "hard goods refurbishment" at Coronado Springs has been extended to continue throughout summer 2019.

The previously announced new 15-story Gran Destino tower will open at Disney's Coronado Springs resort on July 9, 2019. The rooftop restaurant, Toledo, will also open on that date.
Disney's Old Key West Resort is undergoing a wholesale refurbishment, which is expected to be completed in 2019. You can see some photos of refurbished rooms HERE.
The rooms at Port Orleans Riverside are being refurbished now through early 2019.
The Walt Disney World Swan and Dolphin
A new tower to be called The Cove is under construction. It will be located on the site of the Swan's tennis courts, adjacent to Fantasia Mini-Golf.
Water Parks
Typhoon Lagoon is closed for its annual refurbishment. It will reopen on March 16.
NBA Experience at Walt Disney World Resort will be a one-of-a-kind basketball-themed experience featuring hands-on activities that put guests of all ages right in the middle of NBA game action. There will be immersive NBA video productions and numerous interactive experiences and an exciting retail store that will offer something for all NBA fans worldwide. The NBA Experience opens in Summer 2019.

City Works Eatery and Pour House, a restaurant and bar known for craft beers from local breweries and around the world, plans to open its eighth location in Disney Springs West Side in Summer 2019.

Jaleo, a new Spanish restaurant coming from acclaimed Chef Jose Andres, is due to open in March 2019. It will have a quick-service restaurant attached to it called Pepe.
-=-=-=-=-=-=-=-=-=-
A complete list of known rehabs can be found HERE.
= = = = = = = = = = = = = = = = =



MAGICAL MOMENTS
= = = = = = = = = = = = = = = = =
Each month, we like to share a few heart-warming Magical Moments brought to us by the amazing Disney cast members.
Laura H.: My husband, my son and I were in Hollywood Studios a few months ago when my son's rented wheelchair completely died. Cast member Julian came to the rescue in Toy Story Land! He not only got us a manual chair to use, so Evan could continue into TSL, but he arranged to meet the company who supplied the chair with a replacement, THEN brought it to us to continue our day in the Studios! Julian was calm (we were not), extremely helpful, and kind. Thank you, Julian for giving us a Magical day!
Leigh W.: My husband and I boarded a bus at our resort going to Magic Kingdom. It was 8 p.m. The bus driver, about halfway there, said, "Where are you going, folks?" "To Magic Kingdom," we said. "Can't be," he said, "Magic Kingdom closed at 8." "Yes, we know", we said. "We have a dinner reservation at the California Grill at 9 p.m. We'll get off at Magic Kingdom and walk over to the Contemporary." "Oh no you won't", the bus driver said, and promptly changed his route to drop us in front of the Contemporary. AMAZING! But totally in keeping with what we've come to expect over the years from Disney and the incredible cast members.
Mike H.: Our first night at Disney World, celebrating my granddaughter's birthday, we attended the IllumiNations dining experience at Rose and Crown. Penny has a nut allergy so the chef came out to talk to us. She informed him she wanted soup to "warm her tummy." He was touched and said he could not wait to go home and tell his family. Then the manager came by and said that Mickey was stuck on the monorail and needed Princess Penny to start the fireworks. She got to wave a wand and suddenly IllumiNations started. When it was over she was still so excited she started to cry, which made all of us cry, too. A great start to a great week!
-=-=-=-=-=–=-=-=-=-=-=-=-=-=-=
EDITOR'S NOTE: We just bet you have a story to tell about an unforgettable moment during your Disney vacation! Please send your favorite memory for inclusion in a future AllEars® via our Contact Us page. Thank you all for sharing!