June 2019 Walt Disney World Bits and Bites
Feature Article
This article appeared in the May 28, 2019 Issue #1027 of ALL EARS® (ISSN: 1533-0753)
Editor's Note: This story/information was accurate when it was published. Please be sure to confirm all current rates, information and other details before planning your trip.
= = = = = = = = = = = = = = = = =



STEP BACK IN TIME
= = = = = = = = = = = = = = = = =
by Joan L. Feder
AllEars® Staff Writer
Join us on our monthly journey into the past as we step back and explore the history of Walt Disney World and the Walt Disney Company. This time we look at June 1972 and 1989, and the openings of the two attractions that preceded Buzz Lightyear's Space Ranger Spin in Disney World's Magic Kingdom.
If You Had Wings
This attraction opened on June 5, 1972, and was sponsored by Eastern Airlines. It was a dark ride that used the same Omnimover system that is still used at the Haunted Mansion. Guests rode two at a time on a 4-1/2 minute trip to travel destinations that were serviced by Eastern. The catchy theme tune accompanied visitors as they "flew" through the Bahamas, Caribbean, Jamaica, Mexico, New Orleans, Puerto Rico and Trinidad. One highlight was the speed room where the vehicle leaned back, a breeze was blown onto guests and they were surrounded by an ovoid screen. Projections included first person views of an airplane taking off, water skiing, and riding a motorcycle. On the way out, Eastern Air Lines' agents waited to help guests make travel arrangements.
In 1987, Eastern ended their sponsorship. The ride's name was changed to If You Could Fly, and all references to the airline were removed. Reopening on June 6, 1987, the attraction stayed essentially the same, but without its infectious theme tune. The ride closed permanently on January 4, 1989.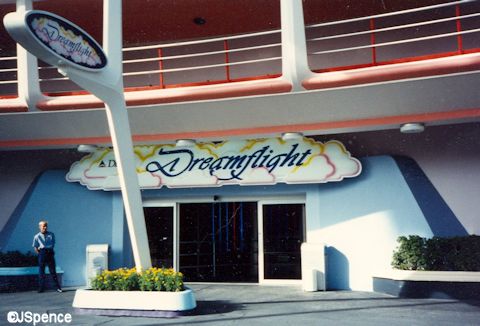 Delta Dreamflight
On June 23, 1989, the ride reopened using the same vehicles, layout and track, but with a new theme song and scenery. This time, guests rode through a pop-up book that told the history of flight. The experience began as soon as visitors got in line. The queue looked like an airport boarding area, complete with the nose and cockpit of a 767. The ride started with a rotating display of flying machines. Riders then experienced the age of biplanes and barnstormers during the 1920s. The journey continued through the era of commercial air travel, with stops in Tokyo and Paris. Travelers then felt like they were transported through a turbo jet engine, and the speed room, into the future. Guests returned through the pop-up book to disembark.
Delta's sponsorship ended in 1995, and the name became simply Dreamflight from January 1 to June 4, 1996. It reopened on June 5, 1996 as Take Flight. The only real differences were the removal of all references to Delta, and another new theme song. Take Flight closed for good in January 1998.
Buzz Lightyear's Space Ranger Spin opened on November 3, 1998. Disney again reused the original floor plan and track from 1972. In fact, Buzz's hyperspace tunnel is one and the same as the speed room from its predecessors. Hopefully you will remember a bit of this attraction's history the next time you take a spin and try to defeat the Evil Emperor Zurg.
RELATED LINKS
You Can Learn A Lot By Leafing Through Old Disney Magazines
Buzz Lightyear's Space Ranger Spin
= = = = = = = = = = = = = = = = =



HIDDEN MICKEYS ALERT
= = = = = = = = = = = = = = = = =
Steve Barrett, author of the Hidden Mickeys Field Guide books and webmaster of HiddenMickeyGuy.com, updates you about a few Hidden Images in Disney's Hollywood Studios.
1.Toy Story Mania! Along the entrance queue to Andy's Bedroom, near the loading dock, study the first window above you to the right. A tiny, black classic (three-circle) Hidden Mickey sits just above the left side of the window ledge and to the immediate right of a vertical tree branch! (Thanks to Cristin Jenkins.)
2. Rock 'n' Roller Coaster Starring Aerosmith. Along the entrance queue, as soon as you enter the limo countdown-to-takeoff area, look across the track and check out the red "Rock Rack" magazine stand next to a bench. An image of Cinderella Castle is on the cover of the (Free!) magazine displayed in the stand. (Thanks to Bill and Kari Middeke.)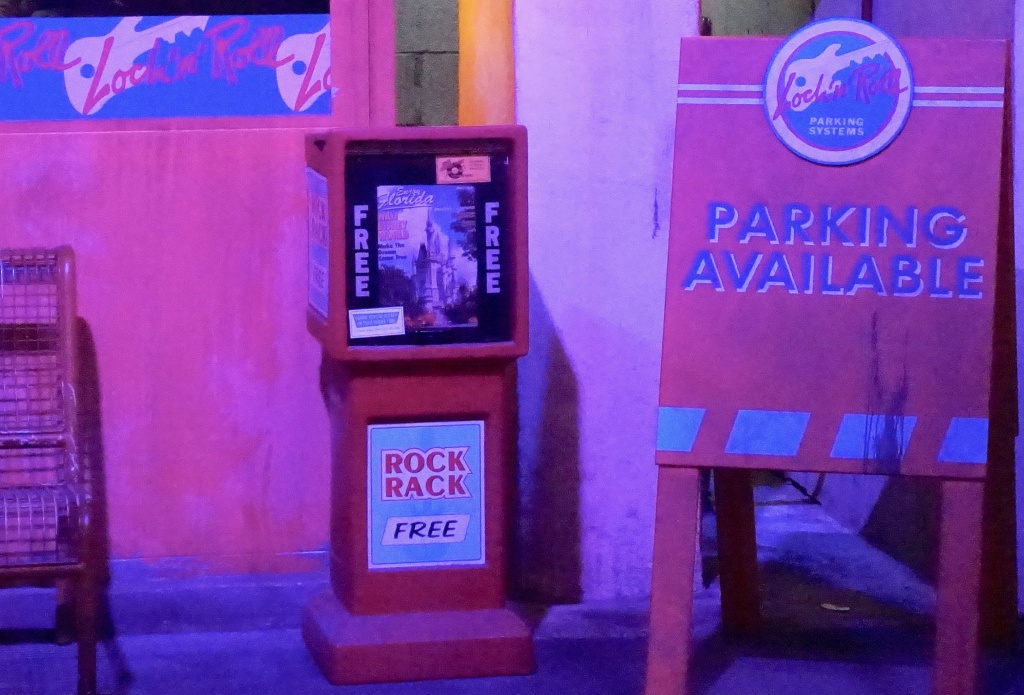 3. Rock 'n' Roller Coaster Starring Aerosmith. At the exit, in the room with the guest photo screens, note that "Box #15" has changed. The "15" is no longer visible, but thankfully the black Hidden Mickey made of the "O" in "Box" is still present!
=-=-=-=-=-=-=-=-=-=-=-=-=-=-=-=
You can find an archive of past Hidden Mickey Alerts HERE.
And don't miss our YouTube videos, searching for Hidden Mickeys with Steve!
= = = = = = = = = = = = = = = = =



MONTHLY REMIND-EARS
= = = = = = = = = = = = = = = = =
Through June 3: The 2019 Epcot International Flower and Garden Festival. In conjunction with this festival, the Garden Rocks Concert Series will take place nightly at the America Gardens Theatre in Epcot's World Showcase.
Check our Events page for a full schedule of upcoming events.
-=-=-=-=-=-=-=-=-=-=-=-=-=-=-=-=-=-=-
Resort-Wide
Disney Skyliner construction:
Walt Disney World is in the process of creating a new transportation system, Disney Skyliner, which will give you a bird's-eye view of the resort while traveling via gondolas. During this time, testing and construction noise will be seen and heard throughout the resort, but noise should not be heard from Disney hotel rooms between dusk and 9 a.m. Skyliner will open in Fall 2019.

The Walt Disney World Monorail system is undergoing ongoing refurbishment. As a result, normal service and/or routes may be modified. Alternative transportation options will be available during this time.
Rafiki's Planet Watch temporarily closed on October 20, 2018. It will reopen in Summer 2019.
Star Wars: Galaxy's Edge —
Work is underway on the 14-acre Star Wars-themed land at Disney's Hollywood Studios that was announced during the 2015 D23 EXPO. Galaxy's Edge will open at Walt Disney World on August 29, 2019.
Epcot Main Entrance Transformation – Construction walls have gone up around one side of the Leave A Legacy photos in the entrance plaza. They are going to be moved into a setting just outside the park's gateway as the entrance undergoes a significant transformation.

France Pavilion — A new French creperie is under construction and will be opening in 2021, near the new Remy's Ratatouille Adventures, which will also open in time for the 50th anniversary of Walt Disney World Resort in 2021. sounds and smells of Gusteau's legendary Parisian restaurant.

Future World East — Guardians of the Galaxy themed coaster will be one of the longest enclosed roller coasters in the world and feature a brand-new ride system. Opening in 2021.

Japan Pavilion — Signature restaurant Takumi- Tei is set to open Summer 2019.

Mission: Space — A Space Restaurant is being built in a newly developed area located between Epcot's Mission: SPACE and Test Track. Once completed, the restaurant will invite guests to travel to space for a dining experience in the stars. The new restaurant will be operated by the Patina Restaurant Group, which also operates Tutto Italia and Via Napoli at Epcot.

Wonders of Life Pavilion is being reimagined into the Play Pavilion, and will feature first-of-their-kind experiences devoted to playful fun. The Play Pavilion will take guests into an innovative, interactive city bursting with games and hands-on activities.
Walt Disney World Railroad closed December 3, to make way for construction of the new TRON attraction.
Animal Kingdom Lodge – Jambo House
Rooms are undergoing refurbishment through Fall 2019.
Art of Animation Resort is currently undergoing some general refurbishment projects. During this time, the resort will be in full operation with all amenities available, including dining, merchandise and recreation locations. It is possible that construction may be seen or heard, but noise should not be heard from guest rooms between dusk and 9 a.m. No end date for these projects has been announced as yet.
The new 15-story Gran Destino tower will open at Disney's Coronado Springs resort on July 9, 2019. The rooftop restaurant, Toledo, will also open on that date.
Grand Floridian Resort and Spa
Mizner's Lounge is being expanded and will be re-themed to a Beauty and the Beast inspired location. It is set to reopen in Fall 2019.
Disney's Old Key West Resort is undergoing a wholesale refurbishment, which is expected to be completed in 2019. You can see some photos of refurbished rooms HERE.
The Walt Disney World Swan and Dolphin
A new tower to be called The Cove is under construction. It will be located on the site of the Swan's tennis courts, adjacent to Fantasia Mini-Golf.

The Swan's Coffee Bar and Lobby Spaces
are undergoing a $3 million transformation. It's projected completion is sometime in Summer 2019.
NBA Experience at Walt Disney World Resort will be a one-of-a-kind basketball-themed experience featuring hands-on activities that put guests of all ages right in the middle of NBA game action. There will be immersive NBA video productions and numerous interactive experiences and an exciting retail store that will offer something for all NBA fans worldwide. The NBA Experience opens August 12, 2019.

City Works Eatery and Pour House, a restaurant and bar known for craft beers from local breweries and around the world, plans to open its eighth location in Disney Springs West Side in Summer 2019.
-=-=-=-=-=-=-=-=-=-
A complete list of known rehabs can be found HERE.
= = = = = = = = = = = = = = = = =



MAGICAL MOMENTS
= = = = = = = = = = = = = = = = =
Each month, we like to share a few heart-warming Magical Moments brought to us by the amazing Disney cast members.
Leanne: I have a Magical Moment that I would like to share. My 8-year-old son has a rare genetic condition that has led to him using a feeding tube for almost all of his nutrition. Disney restaurants have always been very accommodating and never charged us for a meal that he wouldn't eat. On our last trip, we were dining at Chef Mickey's (one of our favorites!), and my son decided that he would like to try the Mickey waffles. Our waitress made some magic happen and told the chef, who brought out a plate of special waffles just for my son, including sparkling pixie dust on top, as well as a special cupcake with a monorail on top. The chef took the time to share a special moment with us and to tell my son how these were waffles just from Mickey. Our entire table was in tears, and it made our trip that much more wonderful. Meal times are always a struggle in our family, but this was a meal time that I will always cherish!
Ruth Ann: Recently at Walt Disney World with eight family members, I stopped at an ice cream cart near Indiana Jones in Hollywood Studios to treat all to ice cream. I didn't get one for myself but as I handed them out, kids and parents convinced me that I should have one as well. I tuned back to the young cast member, Kaya, to request mine and started to swipe my MagicBand. She held her hand up and said that mine was free. That was a Magical Moment for me!
Heather J.: We experienced the "Disney Magic" this past week. My son built his own lightsaber two years ago at Hollywood Studios. Needless to say, in two years it has won many battles, lost a few, and eventually the 'blade' part of the saber broke. (We told him that he couldn't make a new one this year because we still have about five that work.) In the Star Wars store at Disney Springs, after he traded pins with a cast member he asked her how much it would cost to just buy a replacement blade: "I have my own money and everything!" She asked what color he needed, told him to turn around, and put the blade right into his backpack. She told him that The Force must have put it there! My husband and I were very surprised, and my child was ecstatic! Disney Magic at work.
-=-=-=-=-=–=-=-=-=-=-=-=-=-=-=
EDITOR'S NOTE: We just bet you have a story to tell about an unforgettable moment during your Disney vacation! Please send your favorite memory for inclusion in a future AllEars® via our Contact Us page. Thank you all for sharing!