I've Heard That Voice Before: June Foray
by Joan L. Feder
AllEars® Guest Columnist
Feature Article
This article appeared in the September 19, 2017 Issue #939 of ALL EARS® (ISSN: 1533-0753)
Editor's Note: This story/information was accurate when it was published. Please be sure to confirm all current rates, information and other details before planning your trip.
"That voice, where have I heard that voice?" Rocky The Flying Squirrel asked.
Yesterday would have been June Foray's 100th birthday. Know the name but can't quite place it? She passed away on July 26, 2017, after a career that included more than 300 acting credits and spanned eight decades. Still not sure who she is? If you have ever watched Mulan or almost any of the Looney Tunes, I guarantee that you know her work. June Foray used her vocal talents to play everything from a murderous doll to a flying squirrel. She was known in entertainment as the First Lady of Animated Voicing, but her incredible career encompassed far more than her extensive work in cartoons.
Born June Lucille Forer on September 18, 1917, she grew up in Springfield, Massachusetts. June was 12 years old when she got her first role on a local radio show. By the time she turned 15, she was making regular radio appearances. Originally, June had her heart set on becoming a dramatic actress, but after graduating high school, she moved to Los Angeles, and her radio career took off. Her voice could be heard everywhere, from comedy albums to nationally broadcast radio shows. She appeared regularly with the likes of Jimmy Durante, Steve Allen and Phil Harris (better known to Disney fans as Baloo in the cartoon version of The Jungle Book).
In several interviews, June Foray credited Walt Disney with getting her started in animation, and he did, after a fashion. The very first cartoon voice she actually did was a couple of words in a 1943 short for Walter Lantz, ironically playing Disney's former star, Oswald the Rabbit. It wasn't until later that she was hired by Disney to do a voice in Cinderella. But it was that role as Lucifer, the villainous cat, that jump-started her career in animated films.
June continued to act in Disney movies over the next six decades. In Peter Pan, she played two roles in two very different ways. On screen, she spoke for the Indian squaw who orders Wendy to get firewood. Behind the scenes, she was a live-action model for the animators. June's legs were tied together to simulate a mermaid tail, and she was filmed moving around on wooden platforms that substituted for rocks. In Who Framed Roger Rabbit?, she played another dual role; she was both Wheezy, the cigarette-smoking weasel, and the man-crazed Lena Hyena. She spoke for Mulan's Grandmother Fa both in the original film and the sequel (singing was handled by Marni Nixon who also sang for Audrey Hepburn in My Fair Lady).
Ms. Foray was also a fixture on Disney television shows. She played Daisy and Grandma Duck on an early episode of the Wonderful World of Disney. In the 1980s she voiced Grammi Gummi on Disney's Adventures of the Gummi Bears. In DuckTales, she was both Mrs. Featherby and Scrooge's Mother, as well as the more memorable Magica de Spell and Ma Beagle.
She even left her distinctive mark on the Disney theme parks. In Pirates of the Caribbean, June Foray is the voice of the Mayor's wife. She hollers out the window, begging Carlos to be brave while the pirates try to dunk the truth out of him.
Believe it or not, her work for other studios was even more extensive. In Warner Brothers animated shorts, she did almost every female voice you hear. Her parts included Granny (who owned Tweety and Sylvester), and their version of Witch Hazel. This was also the beginning of her long working relationship with Chuck Jones. She went on to voice many characters for him over the years, including Cindy Lou Who in his classic adaptation of How the Grinch Stole Christmas.
For Jay Ward Productions, June was called upon to play everything from a young boy to an old lady. She was Rocket J. Squirrel pal to Bullwinkle the Moose, Natasha Fatale the spy who loved Boris Badenov, and Nell Fenwick whose true love was Dudley DoRight's horse, Horse. On Fractured Fairytales, she voiced a variety of princesses and damsels in distress. June was also Ursula, girlfriend to George of the Jungle, and Tom Slick's sweetheart, Marigold.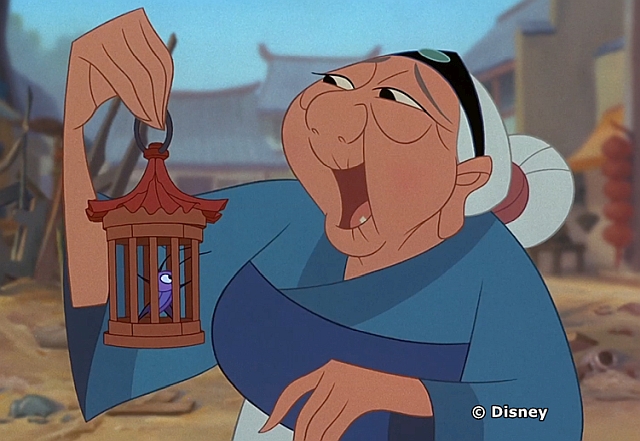 Ms. Foray worked on a number of television shows for Hanna-Barbera such as Scooby-Doo, Yogi Bear and the Jetsons. The Flintstones led to one of June's few career disappointments when she did not get the part of Betty Rubble. Eventually she did voice several other characters including one of my favorites, Grandma Dynamite. She also made numerous appearances for many other cartoon studios. For example, she was Aunt May Parker in Spider-Man and His Amazing Friends. On The Smurfs, she was not Smurfette, but she was behind the "Hyuk" of Jokey Smurf. Later in her career, June made cameo appearances on The Simpsons, The Powerpuff Girls and Family Guy.
June Foray did a lot of dubbing work for movies and television. In feature films, her roles again ran the gamut. She played everything from anonymous children in Jaws to reading lines for leading actresses like Diana Rigg (Lady Tyrell on Game of Thrones). On television, she voiced a dog on I Love Lucy, did several parts for Get Smart, and even provided a voice for Robert Blake dressed in drag on Baretta.
Foray made occasional on-screen appearances, especially early in her career. In 1954 she appeared as Marku Ponjoy, High Priestess, in a movie called Sabaka. In her autobiography, she suggests that it was so bad that "[i]f you are at all a fan of me, do us both a favor and don't track down a print." She also appeared as a weekly cast member with Johnny Carson on one of his early television shows. However, as more voiceover and radio jobs came her way, she decided to leave on-camera work largely to others.
Her career extended to other forms of media as well. June published two books, a collection of funny essays titled "Perverse Adverse and Rotten Verse", and an autobiography called "Did You Grow Up With Me, Too?" She was also the subject of a documentary, The One and Only June Foray, in 2013.
One of the strangest directions her career took involved toys. In 1959, Ms. Foray was tapped by Mattel to be the voice of Chatty Cathy, their original talking doll. This led to a much scarier role in 1963, when she got to play Talky Tina, the murderous doll in an episode of the Twilight Zone. Some Disney fans mistakenly believe that Talky Tina is sitting on a couch in the lobby of the Tower of Terror in Paris; that is not the case, but she can be found sitting on a shelf in the library of the Tower at Walt Disney World.
June Foray had a lasting impact on the world of animation as a whole. In the early 1960s, she helped create the ASIFA-Hollywood chapter of the prestigious International Animated Film Association. This led in the '70s to her idea to give out awards for contributions to animation, now commonly known as the Annie Awards. She also had an influence on animation at the Oscars. For more than two decades, she was on the Board of Governors of the Academy of Motion Picture Arts & Sciences. There she used her sway several times to keep the awards for Short Subjects part of the televised Oscars. In an even more amazing accomplishment, she convinced them, after pushing for 15 years, to establish the Academy Award for Best Animated Feature, which was first presented in 2005.
Over the course of her long career, June Foray received many honors as well. In the late 1990s, she won consecutive Annie Awards for giving the outstanding female performance for voice acting on television. Later, the Annies named the juried Foray Award after her; it is given to those who make significant contributions to animation. June was honored as the first recipient. On July 7, 2000, she was given a star on Hollywood's Walk of Fame. In 2012, she was awarded an Emmy for Outstanding Performer in an Animated Program. She was 94 years old at that time — the oldest performer ever to be nominated for or win an Emmy!
The next time you're watching Mulan or riding Pirates of the Caribbean, or enjoying the antics of a flying squirrel, remember the woman who brought so many characters so vividly to life. Thank you, June Foray, for more than 85 of years of entertainment.
= = = = = = = = = = = = =
RELATED LINKS
= = = = = = = = = = = = =
D23 Expo 2011: Voices of the Parks
Also by Joan Feder:
= = = = = = = = = = = = =
ABOUT THE AUTHOR
= = = = = = = = = = = = =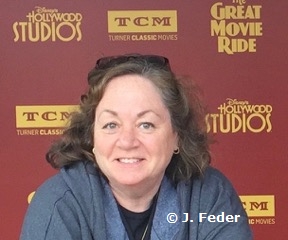 Joan Feder is a lifelong Disney lover and aficionado. She is a writer who loves to cook, read and travel. Her favorite spot to visit is Walt Disney World, where you can find her several times a year drinking a Dorma Nesmond at the Hollywood Brown Derby.
-o-o-o-o-o-o-o-o-o-o-o-
Editor's Note: This story/information was accurate when it was published. Please be sure to confirm all current rates, information and other details before planning your trip.