Tuck and Roll's Drive 'Em Buggies Flik's Fun Fair Disney's California Adventure
"a bug's land" and all attractions within it closed as of September 5, 2018. The area is slated to become the new Marvel Super Heroes land, scheduled to open in 2020.
Introduction | Attraction | Dining | Interesting Facts
INTRODUCTION
Underneath P.T. Flea's giant red and white circus tent you'll find this bumper car attraction, Tuck and Roll's Drive 'Em Buggies. The cars are modeled after these Hungarian pill bugs. Good luck trying to figure out what Tuck and Roll are saying as you drive, they don't speak English.
ATTRACTION
You'll drive around slowly, crashing into other bugs, for 1 minute and 30 seconds. There are usually 15 buggies running per ride cycle, with up to two riders per buggie. Riders are encouraged to move counter-clockwise. A thick padded lap bar keeps you in place. The steering wheel and gas pedal are on the right. There is no brake: slow down by taking pressure off the gas pedal.
TOURING TIPS
The queue is wheelchair/ECV accessible, but guests using ECVS must transfer to the vehicle. Guests in wheelchairs may remain in their chair and board a specially designed vehicle.
Getting in and out of the car may be difficult for those with back, leg, or knee problems. Expectant mothers should not ride.
The wait for this attraction tends to be under 10 minutes.
The closest restroom is next to Flik's Flyers – in a "tissue box"!
KIDS AND CHARACTERS
The height requirement for this attraction is 36″. Kids under the age of 7 must be accompanied by a person age 14 years or older.
Guests will drive into each other at a slow speed but this might scare some children.
Flik and Atta make appearances in front of the attraction It's Tough to be a Bug in a bug's land.
PLACES TO DINE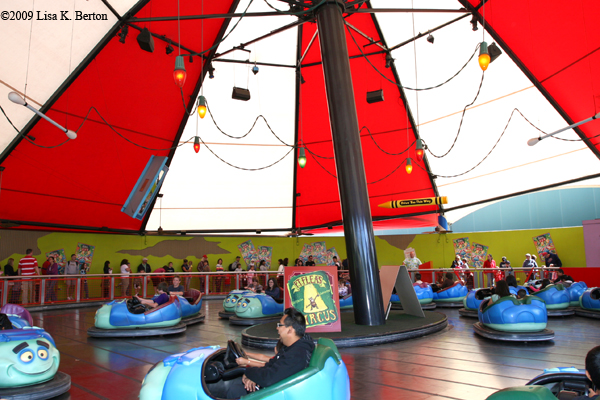 There are several snack carts in Flik's Fun Fair, but otherwise the closest dining is in Cars Land.
Flo's V8 Cafe – Rotisserie meats, diner-style comfort food.
Cozy Cones – Chili, churros, pretzels, popcorn, ice cream.
Restaurants At A Glance
Menus From the Disneyland Resort
INTERESTING FACTS
While Heimlich, Flik, and Francis welcome guests and offer safety advice for their own attractions, P.T. Flea does the talking for Tuck and Roll.
Changes were made to the attraction to increase the speed of the buggies which moved exceptionally slowly when it first opened.
If you have comments or tips to share with others about touring Disney's California Adventure, please email us. Thank you.