Paradise Gardens Park Disney California Adventure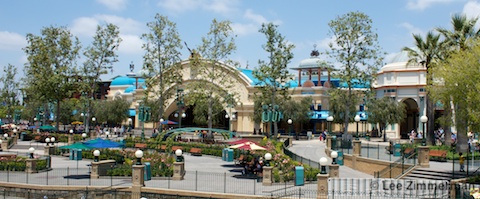 Introduction | Attraction | Touring Tips | Kids/Characters | Dining | Shopping | Interesting Facts
INTRODUCTION
"Summertime Fun" is the theme here! Around the northern half of Paradise Bay is Paradise Gardens Park. This area recalls a seaside amusement park with its corn dog, beer, and souvenir stands as well as classic attractions. There's something for guests of all ages and thrills from mild to wild.
The Paradise Gardens Bandstand area is often used as a location for entertainment and character greetings during special events such as the Food and Wine Festival, Festival of Holidays, and Lunar New Year.
ATTRACTIONS AND ENTERTAINMENT
The Little Mermaid ~ Ariel's Undersea Adventure – A classic 'dark ride' takes guests under the sea to tell Ariel's story.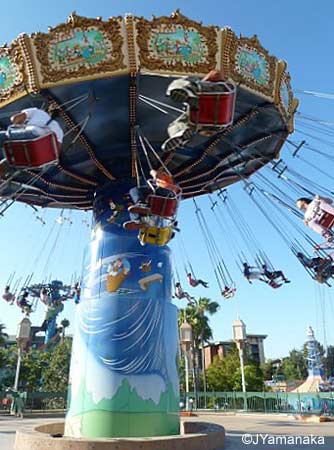 Golden Zephyr – Inspired by the rocket ships of movie serials like Buck Rogers, take a ride around and around on one of these gleaming airships.
Goofy's Sky School – Goofy is offering would-be pilots a "crash" course in flying on this wild mouse coaster ride.
Jumpin' Jellyfish – Like a billowing jellyfish, this ride rises into the air and then gently drifts up and down.
Silly Symphony Swings – Inspired by the Silly Symphony cartoon called "The Band Concert" riders sit in swing chairs as the whirling tornado spins them around and up and down.
World of Color – spectacular nighttime show featuring lights, lasers, music, fountains and animation!
TOURING TIPS
Goofy's Sky School is a relatively slow-loading attraction with low throughput, and use of Fastpass is highly recommended.
PLACES TO DINE
Boardwalk Pizza and Pasta – Pizza, ravioli and spaghetti, salads
Corn Dog Castle – Corn dogs and specialty hot dogs.
Paradise Garden Grill – Seasonal specialties, which might include Asian, Mexican, or Mediterranean inspired cuisine.
Restaurants At A Glance
Menus From the Disneyland Resort
PLACES TO SHOP
Embarcadero – Little Mermaid and World of Color merchandise, pins and pin accessories.
Seaside Souvenirs – Hats, small souvenirs.
INTERESTING FACTS
When Disney California Adventure opened in 2001, the entire area around Paradise Bay was originally known as Paradise Pier. In 2018, half of the area was re-imagined into Pixar Pier, and the remainder became Paradise Gardens Park.
As part of the DCA expansion in 2009, Paradise Pier was re-themed into a Victorian-era amusement park. Several original attractions were re-imagined: the Sun Wheel became Mickey's Fun Wheel (now the Pixar Pal-A-Round), the Orange Stinger is now Silly Symphony Swings, and Mulholland Madness became Goofy's Sky School.
If you have comments or tips to share with others about touring Disney California Adventure, please email us. Thank you.