Maliboomer Paradise Pier Disney's California Adventure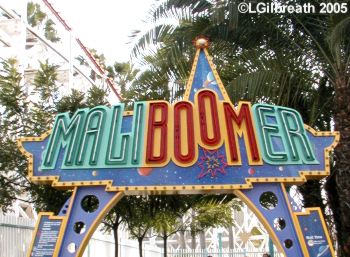 INTRODUCTION
The Maliboomer is a giant version of the popular "ring-the bell" carnival game, but instead of a weight, it launches its riders up a tower 180′ feet into the air where the bells clang and riders experience freefall before returning back to the bottom.
ATTRACTION
The Maliboomer is located in the Paradise Pier area between California Screamin' and Pizza Oom Mow Mow. The queue is in the open and is unshaded. There are three different towers, each with three rows of four seats. The ride is identical on each. Climb aboard the seat, pull the shoulder harness down, and hold on. The row of seats will rise slightly and hover before launching riders 180′ up the tower before freefalling down. The seats will rise and fall several times, though more slowly, before finally descending back to ground level.
TOURING TIPS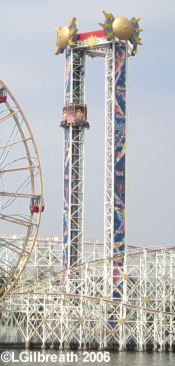 This attraction propels riders 180′ up in 4 seconds, and they experience zero gravity on the way down. Those who are afraid of heights or sudden drops should consider the advisability of riding. People who are claustrophobic may find the shoulder harness and face shield overly confining.
In those brief moments when the seats are suspended high in the air, there's a great view of DCA and Disneyland.
Riders must be 52″ tall.
Those in wheelchairs or ECVs should proceed through the regular queue, but must be able to transfer into the seat.
There's no place to store backpacks or bags – either leave them with a non-riding member of your party or leave them on the ground below your seat.
Restrooms are located next to Burger Invasion.
KIDS AND CHARACTERS
Children should be accompanied by an adult.
There are no characters associated with this attraction. Check the Daily Times guide for other Character Meet and Greet opportunities.
DINING
Pizza Oom Mow Mow – pizza, pasta and salads
SHOPPING
Man Hat'n'Beach, Point Mugu Tatoo, and Sideshow Shirts offer a variety of Paradise Pier-themed merchandise, t-shirts, toys and other souvenirs.
Pacific Ocean Photos features custom photos with choice of backdrops and costumes
INTERESTING FACTS
The Maliboomer is modeled on the "ring-the-bell" type of Midway game, where the object is to swing a hammer as hard as possible, sending the weight up the tower and trying to get it all the way to the top where it rings a bell.
The plexiglass face plates are actually "scream shields" to help the attraction comply with Anahiem's nighttime noise laws.
The Maliboomer opened with Disney's California Adventure on February 8, 2001.
If you have comments or tips to share with others about touring Disney's California Adventure, please email us. Thank you.