Flik's Flyers Flik's Fun Fair Disney California Adventure
"a bug's land" and all attractions within it closed as of September 5, 2018. The area is slated to become the new Marvel Super Heroes land, scheduled to open in 2020.
Introduction | Attraction | Dining | Shopping | Interesting Facts
INTRODUCTION
Climb inside your choice of empty boxes of cookies, raisins, apple sauce or carry-out Chinese food. The boxes soar into the sky with the aid of bug-constructed balloons made of twigs, sticks, flowers, and leaves. You'll twirl around a pie plate and a container of Whip-o-Whirl at a comfortable speed.
ATTRACTION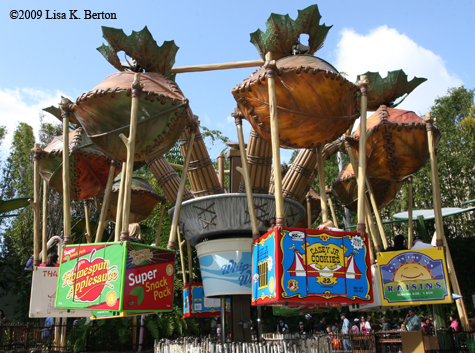 Flik's Flyers soar for 1 minute and 30 seconds. There are 8 vehicles in the attraction, each seating up to 4 adults. Seatbelts are required on bench seating.
TOURING TIPS
The queue is wheelchair/ECV accessible, but guests using ECVs must transfer to the vehicle. Guests in wheelchairs may remain in their chair and board a specially designed vehicle.
The wait for this attraction tends to be under 10 minutes.
The closest restroom is next to Flik's Fliers – in a "tissue box"!
KIDS AND CHARACTERS
There's no height requirement for this attraction.
Anyone with a fear of heights should watch the attraction first before riding.
PLACES TO DINE
There are some snack carts in Flik's Fun Fair, but otherwise the closest dining is in Cars Land.
Restaurants At A Glance
Menus From the Disneyland Resort
PLACES TO SHOP
INTERESTING FACTS
This portion of California Adventure was once a parking lot for Disneyland.
If you have comments or tips to share with others about touring Disney California Adventure, please email us. Thank you.