Drawn to the Magic Hollywood Pictures Backlot Disney's California Adventure
Introduction | Attraction | Touring Tips | Kids/Characters | Dining | Shopping | Interesting Facts
INTRODUCTION
Drawn to the Magic is a short live show featuring three singing Disney "animators", some familiar Disney songs, and a visit by several Disney characters.
ATTRACTION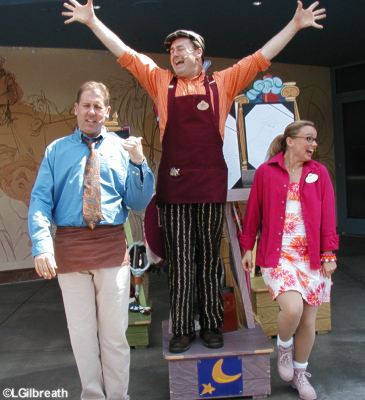 Drawn to the Magic takes place either on the sidewalk outside the Animation Building, or on the stage of the Hollywood Backlot Theater.
The animators sing familiar songs about the characters they love (such as heroes and princesses), and then get three audience participants to strike up a familiar character pose. For the finale, each animator reveals the drawing of the character they have been "sketching" on their easel, and that Disney character appears from off-stage as they all perform a final song-and-dance number. After the show the characters are available to meet-and-greet guests either at the theater or inside the Animation Building. The audience volunteers are presented with the drawing, which they can get the character to autograph.
The usual characters are Sorceror Mickey and Cinderella, and either Woody or Hercules, but other characters may be substituted.
TOURING TIPS
Perfomance times are listed in the Daily Times Guide. If the show is being held at the theater there are seats available, otherwise guests will have to stand in the street outside the Animation Building. The show is about 15 minutes long.
KIDS AND CHARACTERS
Kids have the chance to get up close and personal with some of their favorite characters, and if they are selected as a volunteer, will have the opportunity to take home a character sketch.
DINING
Award Wieners – A variety of hot dogs, sausages, and beverages
Fairfax Market – Bottled soft drinks, fruit, and boxed sandwiches
Schmoozies – Fruit smoothies and specialty coffees
Restaurants At A Glance
Menus From the Disneyland Resort
SHOPPING
Off the Page, located at the exit of the Animation Building, offers Disney animation cels, books, posters, collectible figures, and artwork.
INTERESTING FACTS
Drawn to the Magic premiered in May 2004.
If you have comments or tips to share with others about touring Disney's California Adventure, please email us. Thank you.