Donald's Boat ToonTown Disneyland
Introduction | Attraction | Touring Tips | Kids/Characters | Dining | Shopping | Interesting Facts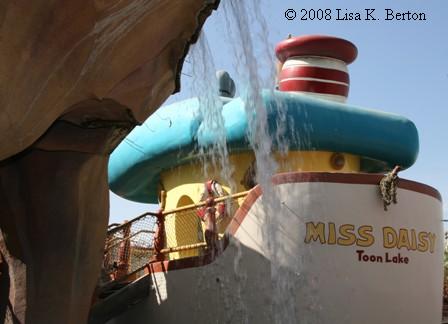 INTRODUCTION
Climb aboard Donald's Boat, the Miss Daisy,which is permanently docked in Mickey's Toontown by a waterfall.
ATTRACTION
Donald's Boat sits between Goofy's Playhouse and Gadget's Go Coaster.
Stroll on up to the houseboat where you'll find a spiral staircase, portholes, and Donald's raingear. Upstairs you'll get a duck's eyeview of Mickey's Toontown including Minnie's House and Mickey's House. Take hold of the wheel and pretend you've set sail.
A staircase leads guests from the upper level back down to street level.
TOURING TIPS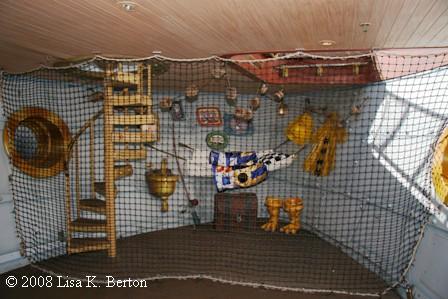 Guests using wheelchairs and ECV's can access the 1st level of the boat.
There's no time limit to your visit. After 10 minutes, most kids are ready to move on.
Restrooms are located in the center of Mickey's Toontown, beside Goofy's Gas Station.
KIDS AND CHARACTERS
There's no height requirement for this attraction.
You can find Pluto, Donald Duck, Goofy, Minnie Mouse, and Chip and Dale making appearances around Mickey's Toontown. They are most often found near The Gag Factory, and in between the Jolly Trolley and Goofy's Playhouse.
Mickey Mouse greets guests and poses for photos inside his house. Minnie Mouse occasionally appears at the entrance to her house.
DINING
Toon Up Treats (fresh fruit and snacks), Daisy's Diner (pizza) and Pluto's Dog House (hot dogs), and Clarabelle's (sandwiches, salads, and ice cream novelties) are located nearby.
Disneyland Restaurants at a Glance
Menus from Around the Disneyland Resort

SHOPPING
The Gag Factory and Toontown Five & Dime offer Disney souvenirs such as kid's clothing, antenna toppers, pins, and household goods.
INTERESTING FACTS
Donald Duck and Daisy Duck first began dating in 1940.
Donald Duck received his star on the Hollywood Walk of Fame in 2005.
In 1984 Donald left his mark at Grauman's Chinese Theatre alongside Clarence "Ducky" Nash.
If you have comments or tips to share with others about touring Disneyland, please email us. Thank you.