Chip 'n' Dale's Treehouse ToonTown Disneyland
Introduction | Attraction | Touring Tips | Kids/Characters | Dining | Shopping | Interesting Facts
INTRODUCTION
Nuts of any age can climb their way to the top of the Chip 'n' Dale's Treehouse.
ATTRACTION
Chip 'n' Dale's Treehouse is located at the far left side of Mickey's Toontown.
Enter the treehouse by going up a few steps. Once inside, climb a small narrow staircase to get to the top. Along the climb, you can look out a window.
From the top of the Redwood, make your way back down to street level via an exterior staircase.
TOURING TIPS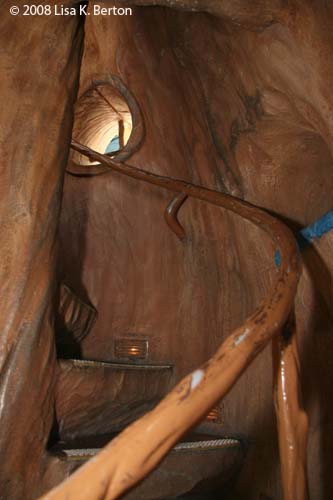 Guests must be physically able to walk and navigate a narrow winding staircase.
Those with a fear of heights or small enclosed areas may not want to explore the treehouse.
There's no time limit to your visit. After 5 minutes, most kids are ready to move on.
Restrooms are located in the center of Mickey's Toontown, beside Goofy's Gas Station.
KIDS AND CHARACTERS
There's no height requirement for this attraction.
Chip and Dale do not meet guests at their treehouse. You can find Pluto, Donald Duck, Goofy, Minnie Mouse, and Chip and Dale making appearances around Mickey's Toontown. They are most often found near The Gag Factory, and in between the Jolly Trolley and Goofy's Playhouse.
Mickey Mouse greets guests and poses for photos inside his house. Minnie Mouse occasionally appears at the entrance to her house.
DINING
Toon Up Treats (fresh fruit and snacks), Daisy's Diner (pizza) and Pluto's Dog House (hot dogs), and Clarabelle's (sandwiches, salads, and ice cream novelties) are located nearby.
Disneyland Restaurants at a Glance
Menus from Around the Disneyland Resort

SHOPPING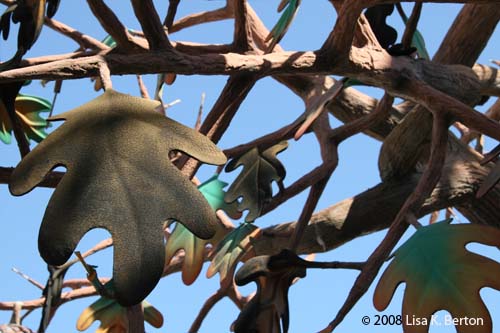 The Gag Factory and Toontown Five & Dime offer Disney souvenirs such as kid's clothing, antenna toppers, pins, and household goods.
INTERESTING FACTS
Chip and Dale made their debut in 1943 in the cartoon Private Pluto.
The cartoon series Chip 'n Dale Rescue Rangers began its three season run in 1989. The show now airs repeats on Toon Disney.
If you have comments or tips to share with others about touring Disneyland, please email us. Thank you.