Disney Legend: X Atencio
by
Joan Feder
Feature Article
This article appeared in the July 14, 2020 (#1087) edition of ALL EARS®
Editor's Note: This story/information was accurate when it was published. Please be sure to confirm all current rates, information and other details before planning your trip.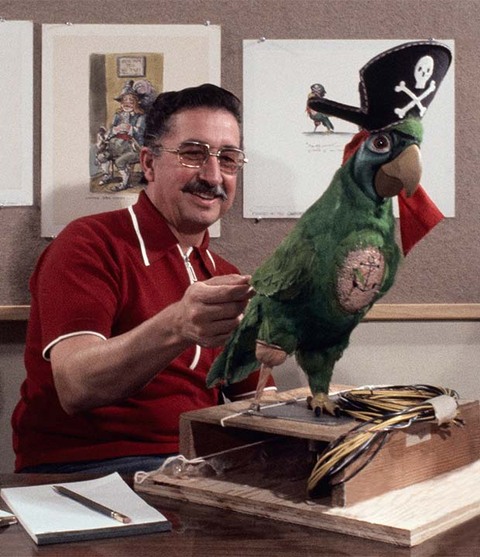 Behind the Mouse: Disney Legend X Atencio
You may not know his name, but if you have ever watched Disney's Pinocchio or experienced the Haunted Mansion, you know the work of X Atencio. X worked for Disney from 1938 through 1984. During those 46 years he was a jack of all trades. Animator, songwriter, and Imagineer, X was one of Disney's most versatile employees.
Francis Xavier Atencio was born on September 4, 1919, in Walsenburg, Colorado. Growing up, his dad ran a small Spanish language newspaper there. Known to everyone as simply "X", he decided to follow in his father's
footsteps and study journalism. When he did not get the scholarship that he needed to go to college, he changed direction. Atencio decided to pursue a career in art instead.
In 1937, X moved to Los Angeles to get a job as an artist working in the movies. His uncle worked at an animation studio and suggested that Atencio take some classes to hone his skills. X signed up for the pre-animation course at Chouinard Art Institute. Many of their instructors worked for Disney. More importantly, over 40 of Chouinard's graduates also worked there.
After a couple of night classes, X's teachers suggested that he submit his portfolio to Disney. He did, even though he did not feel he that he had a shot. Boy was he was wrong! In 1938, Atencio was hired based on his first submission. He was so excited that he ran all the way home yelling "I got a job at Disney!"
X started his career in animation as an inbetweener. He worked with an animator who drew the character's key poses. It was then up to X to fill in the drawings in between to create the illusion of smooth motion.
After a short trial period, X was assigned to work as a junior animator. His boss was Woolie Reitherman, one of Walt's Nine Old Men. They were assigned the enormous task of animating Monstro the whale for Pinocchio. Three years later, X was promoted to first assistant animator. He worked on the T-Rex/Stegosaurus fight scene for 1940's Fantasia.
Like most young men of that era, World War II interrupted Atencio's career. In 1941, X joined the US Army Air Corps. He worked as a photo interpreter analyzing aerial surveillance. He reached the rank of Major and served until 1945.
When X returned to the Studio, he worked on animated short subjects. He contributed to several Goofy cartoons before being reassigned to work with Ward Kimball, another of the Nine Old Men. Their collaboration led to X's first screen credit. In 1953, after 15 years at Disney, X was recognized as an animator for the Oscar winning short Toot, Whistle, Plunk and Boom.
Hand drawn shorts, however, were becoming a thing of the past. They were too expensive and took too long to make. Walt decided that the Studio needed to explore cheaper forms of animation. Atencio was assigned to work on the project. Instead of drawing cartoons, X and his team decided to try using stop motion animation. Walt loved the idea! Not only was it cheaper, Walt had experimented with it himself, early in his career. X was given the go ahead.
For the first film, Noah's Ark, X used odds and ends, like paperclips and bits of yarn, to create the characters. It was released on November 10, 1959, along with the live action feature, Third Man on the Mountain. The short got great reviews and was even nominated for an Oscar.
X and his team spent the next nine years working with stop motion. They did the title sequences for The Shaggy Dog and the original version of The Parent Trap. Walt loved the latter so much that he featured it on an episode of the weekly Disney television show. Later, X worked on the scene in Mary Poppins where they used a "Spoonful of Sugar" to tidy up the nursery.
It was X's work on Disney's version of Babes in Toyland that led to the next phase of his career. This was Disney's first live action musical film, but it included 15 minutes of stop motion animation. It was X and his crew that created the platoon of wooden toy soldiers who helped save the day.
Around that same time, Walt decided that Disneyland needed a Christmas parade. He wanted to use the toys from Babes in Toyland as the theme. X and company were chosen to design the floats and costumes. It took them 10 months, but the result turned out to be timeless.
The parade was named "The March of the Toys" and debuted in 1960. It featured toy floats of trains, carolers, and knights on horseback. But the highlight of the parade was the band of life size Wooden Soldiers marching down Main Street. They were so well loved that they remain a tradition to this day!
In 1965, Walt reassigned X to WED Enterprises, where he became an Imagineer. His first job felt like a step back in time, literally. X worked on the dinosaurs from Fantasia again, this time as audio-animatronics in the Primeval World diorama. They can still be seen as part of the Disneyland railroad attraction.
It was only a month or two before Walt gave him a new assignment, that again changed the direction of his career. X was chosen to write the script for a new Disneyland attraction. He had never written a script before, but his first would have lasting impact; it was for Pirates of the Caribbean.
According to X, "…I put on my pirate hat and dug out any information I could find out about pirates. The first thing I worked on was the Auctioneer scene, and I sent it over to Walt and he said, "Fine, keep going." And that is what Atencio did.
As work progressed, it became clear to X that the attraction needed a theme song to link the unrelated scenes together. When he half sang, half recited some lyrics to Walt, X got the shock of his life. Walt liked it so much that he asked Atencio to write the lyrics himself—that was the day X added songwriter to his list of accomplishments. X wrote the first song of his life, and "Yo Ho (A Pirate's Life for Me)" was the result!
Atencio continued working on new attractions. He used what he learned on Pirates for his next assignment which was the Haunted Mansion. Again, Atencio wrote the script for the ride, along with the lyrics for its theme song "Grim Grinning Ghosts."
If being an animator, Imagineer and composer were not enough, X Atencio also did voice work for Disney. On Pirates, he was the original voice for the talking skull that warns guests of rough waters ahead. He was also the drunken pirate who heckled the auctioneer. At the Haunted Mansion, his voice can be heard coming from the coffin in the conservatory ("lemme out"). At Disneyland's Mansion, he is also the voice of the emergency safety spiel that plays whenever the ride comes to a halt.
X contributed to several other attractions at Disney Parks. He wrote the lyrics for the Country Bear Jamboree's "Bear Band Serenade." X also worked on If You Had Wings and Space Mountain at Disney World's Magic Kingdom. In Epcot, he wrote the lyrics for "It's Fun to Be Free" for World of Motion and contributed to Spaceship Earth and the Mexico Pavilion. At Tokyo Disneyland, he supervised recordings for their Haunted Mansion.
In 1984, X Atencio retired but continued to do some consulting work for Disney. He died on September 10, 2017, just six days after his 98th birthday.
X Atencio received many honors from Disney during his lifetime. He was named a Disney Legend in 1996. X also received not one but two Main Street windows. They both read "The Musical Quill – Lyrics and Librettos by X. Atencio." At Disneyland, it can be found above the Opera House. His window at Disney World's Magic Kingdom is above the Confectionary.
X Atencio's most fitting tribute, however, may be his tombstone at the Haunted Mansion. It reads: "Requiescat Francis Xavier—No time off for good behavior—RIP."
Related Links:
https://allears.net/2019/12/20/were-ranking-the-best-disney-imagineers-of-all-time/
https://allears.net/walt-disney-world/wdw-planning/mickeys-once-upon-a-christmastime-parade-magic-kingdom/
https://allears.net/wp-content/uploads/archive/tp/holiday-images/mvmcp14-23.JPG