Celebrating a Carousel of Progress Christmas
by
Jim Korkis
Feature Article
This article appeared in the December 8, 2020 (#1114) edition of ALLEARS®
Editor's Note: This story/information was accurate when it was published. Please be sure to confirm all current rates, information and other details before planning your trip.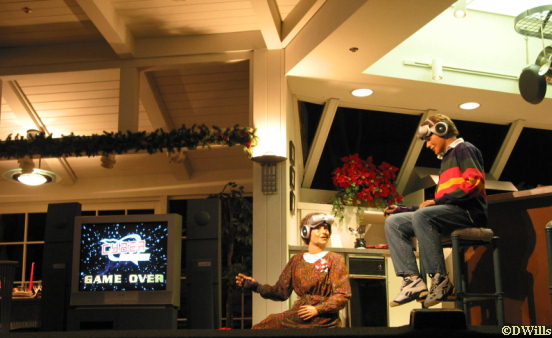 It is an understatement to say that Christmas at Walt Disney World looks different this year. However, it is important to remember that while the spirit of the holidays is always reflected this time of year in the parks, there have been many changes over the decades and the celebration has had its differences every year.
Even if this year had been exactly the same as last year, I would still have missed Walt Disney World's Christmas Past that included the Osborne Spectacle of Dancing Lights, the Country Bear Christmas Special show overlay, The Jolly Holidays stage show at the Contemporary with the all-you-can-eat meal, the Lights of Winter archway at Epcot on the bridge leading to World Showcase, and many more treats that have disappeared.
I'm even old enough to remember when the Walt Disney World Christmas Parade was broadcast live on Christmas Day with host Regis Philbin. Philbin was not the original host but a roving commentator on the street for the broadcast beginning in 1984.
He didn't join Joan Lunden as a full co-host until 1991, and he stayed in that position through 1995 when Disney decided to go with different hosts each year starting in 1996. The last year the parade was broadcast live was 1996. In 2001, Philbin returned to host with Kelly Ripa until 2009.
Some Disney fans don't remember that Mickey's Very Merry Christmas Party debuted December 16, 1983 for one night only but then expanded to two nights in 1989, then three nights in 1990, and its popularity continued to increase so that today, it runs for multiple weeks and is considered a beloved holiday tradition.
However, something that is rarely if ever discussed that I will miss is celebrating Christmas with the Carousel of Progress family. While the attraction has not aged well or been properly maintained at times, it was a representation of Walt Disney's personal philosophy that the future was not to be feared because it would be a great big, beautiful tomorrow thanks to the new technology developed by American industry.
Families would be able to celebrate together at Christmas and look forward to a New Year free from the hardships and struggles of the past as shown in the original final scene. Over the decades that scene has been changed several times.
In the beginning, there was supposed to be a twenty-year gap between each of the scenes. The first scene took place at the turn of the 20th Century and then jumped to the late 1920s and then to the late 1940s and finally to the late 1960s, a few years after the then current date to showcase the future "just around the corner."
Today, with all the changes, the final scene has gradually leapt from the third act over 60 years to the turn of the 21st Century with a few occasional new prop additions every now and then (like a replacement of the television to a high definition flat screen and the computer to a laptop version).
In the original version for the 1964 New York World's Fair, a sprightly version of the song Jingle Bells played softly in the background of that final scene.
When the attraction moved to Disneyland, right behind mother and father celebrating Christmas in a living room with a tree, presents, and decorations was a huge picture window offering a glimpse of the towering Cosmopolitan Hotel, the centerpiece of Walt Disney's dream for his Experimental Prototype Community of Tomorrow. That's how it remained until 1973.
Mother: Merry Christmas!
Father: Merry Christmas. We were just reminiscing about Christmas in the old days…
Mother: When getting ready for the holidays meant hectic days of cleaning house and preparing extra food…
Father: And as I started to say…
Mother: When Christmas Day arrived, I was too exhausted to enjoy it.
Father: But today our new…
Mother: Yes, today our new all electric home gives us lots more time to enjoy ourselves.
Father: In fact, it's a…
Mother:And would you believe it? I'm cooking dinner, or rather, my electric range is. I just set the time and temperature controls and relax. It even has a self-cleaning oven. And we were able to pick our appliance colors from so many beautiful combinations.
Father: All of the appliances are improved today, take a refrigerator. Why I remember when…
Mother: When the man of the house had to work twice as many hours to earn one as he does now. And today we have a better product.
Father: You took the words right out of my mouth, dear.
Mother: And I'm thrilled with my new dishwasher. And doing a big family wash is simply a breeze now. Oh, how I used to dread doing that job!
Father: Now Mother has time for…
Mother: Activities like my Garden Club, the Literary Society, Ladies Bowling League, and…
Dog: Growwwl!
Father: Quiet while Mother's interrupting!
Mother: You're probably wondering what happened to Grandma and Grandpa. Well, they're no longer with us. (Pause) They have their own home now in a community for senior citizens.
Father: Grandpa's in the eighties…his golf score that is.
Mother: The children are meeting Grandma and Grandpa right now at our new jet airport. (Out the back window, the audience saw a moving light suggesting a plane arriving at the planned Epcot airport that Walt had proposed. It would have been located approximately where the city of Celebration is today. The point of the scene was that the entire family would still be together for Christmas no matter what else changes.)
The Carousel of Progress lasted at Disneyland from July 2, 1967 to September 9, 1973 and entertained over 31 million guests.
With the opening of the Magic Kingdom in Florida in October 1971, General Electric saw the opportunity to reach a new audience. Surveys had shown that only eight percent of the guests visiting Disneyland came from east of the Mississippi. So, the still popular Carousel of Progress closed at Disneyland and was relocated to Walt Disney World.
The Carousel of Progress opened in Tomorrowland in Walt Disney World on January 15, 1975, along with another attraction — Space Mountain.
There had been a change in leadership at General Electric and the new management felt that the song There's A Great Big Beautiful Tomorrow was implying that G.E. customers should wait to purchase products because new and better things were coming just around the corner.
The Sherman Brothers composed a new song, The Best Time of Your Life, often mistakenly referred to by its opening lyric that "Now is the Best Time of Your Life." The song suggested that now was the best time to buy products from General Electric. So, the tone of the show changed from looking to the future to appreciating the gifts of the present.
Not only was there a new theme song that was repeated throughout the show but once again, the final scene was updated to showcase the late 1970s and a new voice cast recorded newly scripted dialog for the entire show.
At Walt Disney World, finally the entire family including the grandparents is gathered for the holidays but now instead of being Christmas, it is New Year's. However, the Christmas tree is still up and there is still the feeling of that holiday as well. Mother had become much more assertive and involved in community activities in this decade of women's liberation.
The Ladies Bowling League was replaced by her work on the Clean Waters Committee. The fashions spotlighted trendy bell bottoms. Grandpa and Grandma seem to have survived very well. Father is now the official cook. The brick-walled, country style kitchen and living room were not as "futuristically" modern as the Anaheim version and seemed more familiar to audiences.
This new scene remained in place until 1981.
John: Well, it sure is nice to have the whole family home for the holidays. Right now, I'm cooking my one and only specialty. Chili! It's our traditional New Year's Eve snack. (Clatter of dropped pans.) Oops, sorry!
Sarah: Father, it's getting close to midnight in the East. Let's watch the New Year's celebrations on TV. (The TV in the background is turned on.)
1st Newscaster: (The sounds of "Auld Lang Syne" can be heard.) And that's our story in Times Square. Now let's go to Walt Disney World, in Florida.
2nd Newscaster: From high atop the Contemporary Resort Hotel, we can look down on all the exciting celebrations. Across the way is the Magic Kingdom, where people from everywhere have come to greet the New Year with hope and optimism. (The television shows fireworks over the Magic Kingdom as Disney costumed characters like Mickey Mouse appear delighted.)
When I think of Christmas at a Disney theme park, I have many warm memories of spending it with my father, mother and brothers. However, one story sticks in my mind.
I got a chance to talk with Disney Legend Jack Lindquist who in 1955 was Disneyland's advertising manager. He recalled a story that he shared several times over the years: "That first Christmas Eve at the park, I was walking down Main Street just before closing, behind a family. They were smartly dressed, but you could tell they were not well off. The father and ten-year-old son wore overalls and the mother a cloth coat. They held hands and talked with each other.
"When they reached the Emporium and were looking in the windows, the little girl looked up at her mother and said, 'You're right, Mommy. This is better than having Santa Claus visit tomorrow.'
"I knew then that the girl and her brother and probably the parents weren't getting any presents that Christmas. That moment showed me what Disneyland means to people."
When I asked him why he didn't offer to buy something small for the children, he told me that it was Christmas Eve, and he was broke and his role did not allow him to "comp" guests. However, even without presents, the family was together and happy.
The holiday season is a time for the entire family to gather together and share a meal and some lively conversation and even have a few laughs. That may be difficult this year but keeping that spirit alive is the spirit of Christmas in the Disney theme parks.