Did you know that not all restrooms are created equal?
Disney World is known for its fantastical attractions and immersive experiences, but what about the often-overlooked realm of restrooms? Believe it or not, there are a handful of bathrooms within the parks that are so extraordinary, they deserve a ticketed entry of their own. Get ready to learn about the bathrooms you never knew you needed to visit.
Ready to take a tour of these incredible bathrooms? We've got a list of the best ones we've ever seen. Let's have a look.
1. Tangled Restrooms
Ladies and gentlemen, behold the Tangled Bathrooms located between Fantasyland and Liberty Square. As you approach the entrance, you're greeted by the Kingdom of Corona's sunny symbol, waving flags, and mesmerizing lanterns. But the true magic lies within.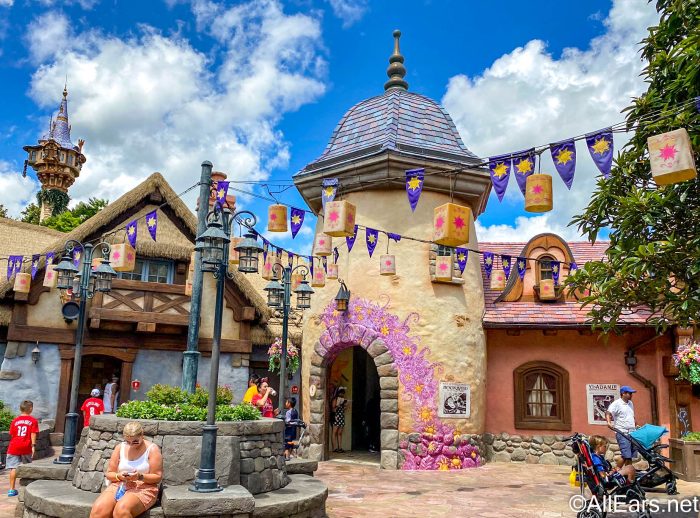 Rapunzel's artistic touch adorns the walls, with her whimsical drawings capturing the essence of her tale. "Wanted" posters for Flynn Rider and other ruffians add an extra touch of intrigue.
Take a seat in one of the seating areas, complete with charging stations for both your weary self and your electronic companions.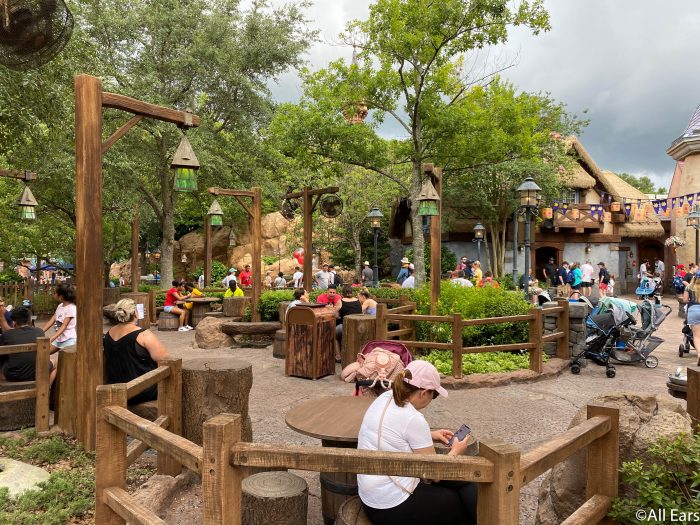 And keep your eyes peeled, for hidden Pascals (Rapunzel's chameleon friend) are waiting to be discovered.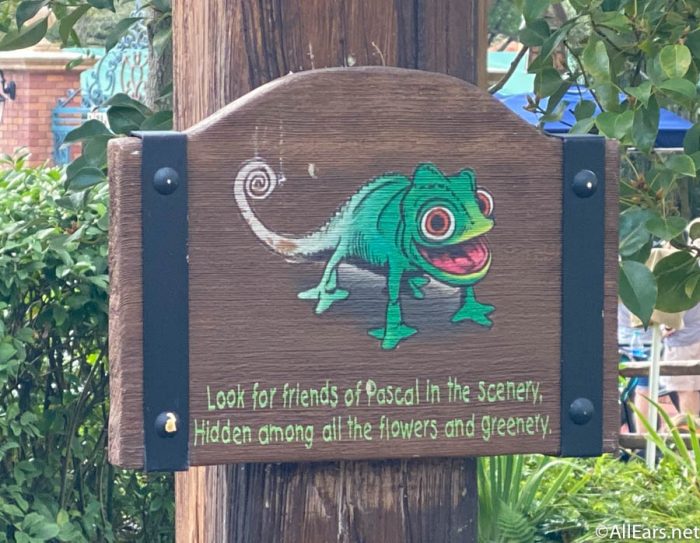 These bathrooms are not just restrooms, but a true masterpiece of design and imagination.
2. Frozen Bathrooms
Next up, let's head on over to the wintery realm of Arendelle within the Norway Pavilion at EPCOT, where Frozen fans can indulge in a restroom experience fit for royalty.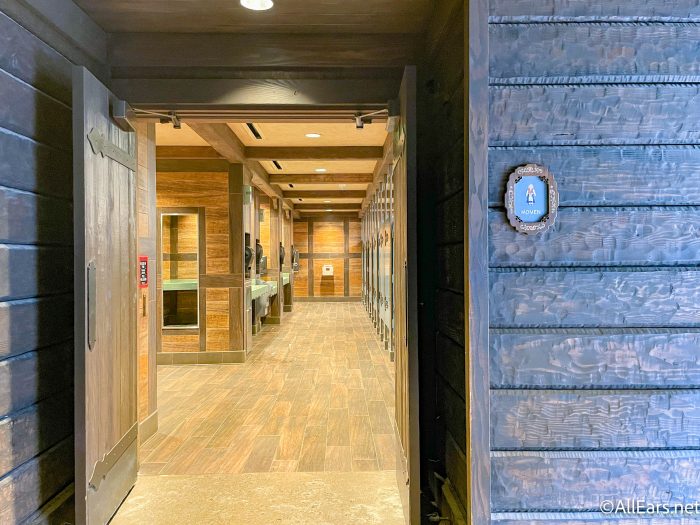 The exterior of the restroom sets the stage, featuring signs adorned with images of men and women dressed in the traditional Norwegian Cast Member costumes, offering a glimpse into the Norwegian charm that awaits inside.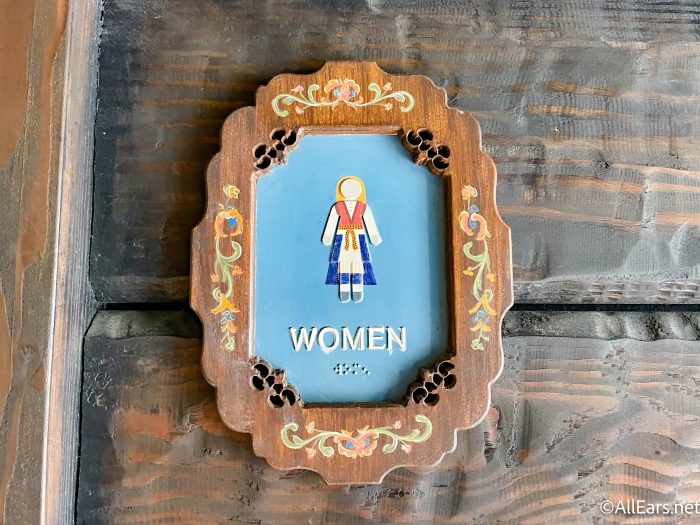 Step through the doors to discover a captivating blend of blue and brown hues, reminiscent of Elsa's icy powers and the rustic beauty of Kristoff's sleigh rides through the woods.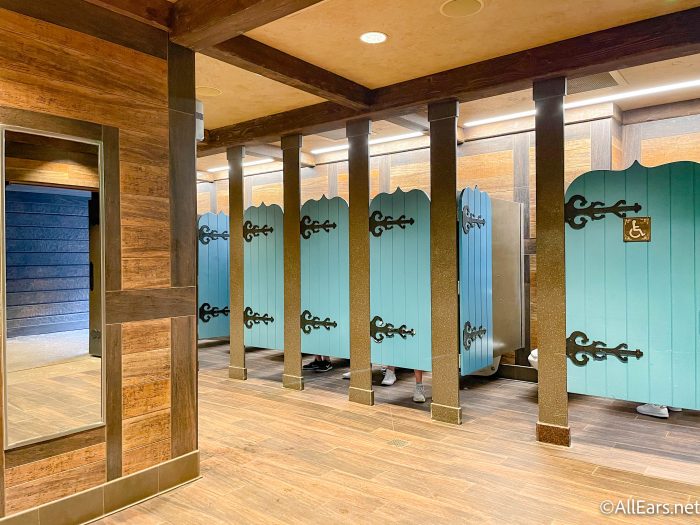 The attention to detail is evident in every aspect, from the exquisite tile work to the wooden accents that pay homage to Scandinavian architecture.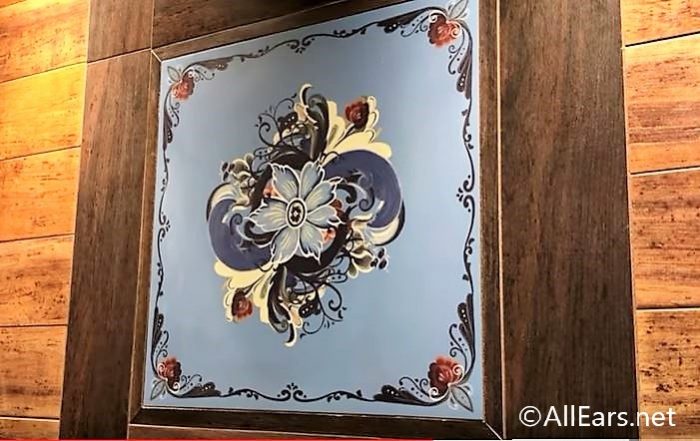 These subtle yet magnificent touches transport you to the heart of Arendelle, making this restroom a truly immersive experience.
3. Toy Story Land Bathrooms
Next, take a step into the whimsical world of Toy Story Land at Disney's Hollywood Studios, where even the restrooms are brimming with vibrant colors and playful details. Tucked away near Alien Swirling Saucers, these bathroom facilities are a delightful explosion of nostalgia and imagination.
From the moment you approach, you'll be captivated by the meticulous theming. Building blocks create the structure, while Scrabble tiles spell out "Restrooms" and a familiar Cootie bug greets you from the game board. The charm doesn't stop there; the word "boys" and "girls" are spelled out on each side using adorable letter blocks.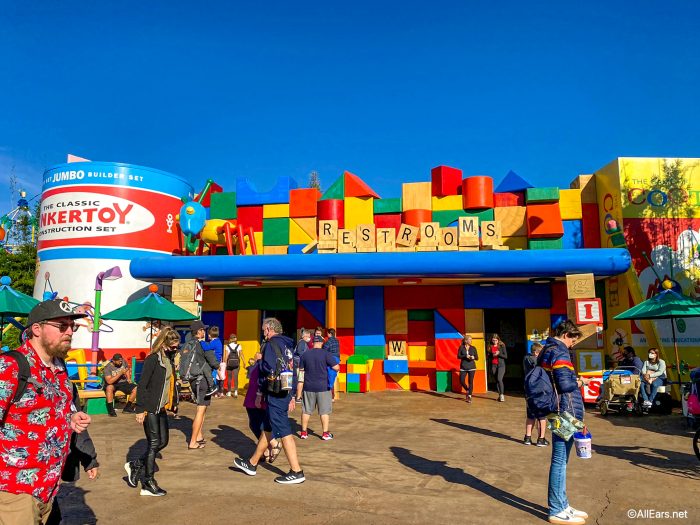 Venturing inside, you'll be greeted by walls adorned with tiles resembling giant crayons, instantly invoking a sense of creativity and joy. The checkerboard-patterned floor adds to the whimsy, as if you've stepped onto a life-sized game board.
But it's the vibrant and colorful doors of each stall that truly bring the magic to life. Each one is a different bright hue, immersing you in a kaleidoscope of childhood nostalgia.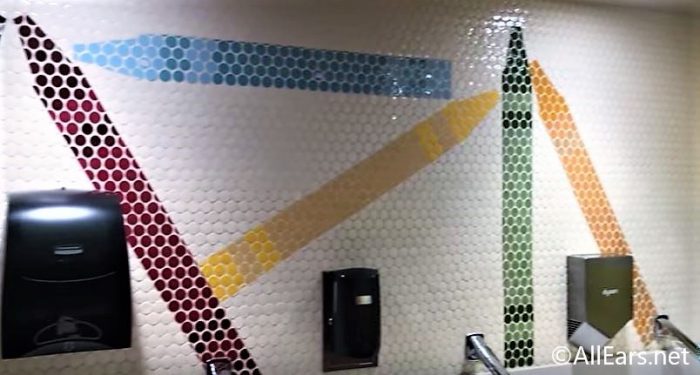 As you take in your surroundings, you'll notice mosaic tile artwork featuring playful dominoes and crayons adorning the walls, further enhancing the theme.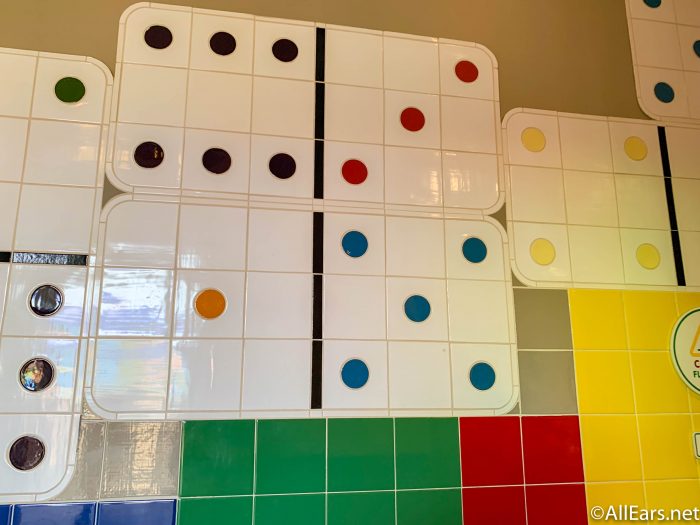 It's as if Andy himself constructed these charming bathrooms, infusing them with the spirit of play and imagination.
4. Disney's Art of Animation Resort — Resort Hotel Rooms
Have you been to Disney's Art of Animation Resort? While they may not boast the grandeur of some other Disney bathrooms, they are certainly worthy of recognition.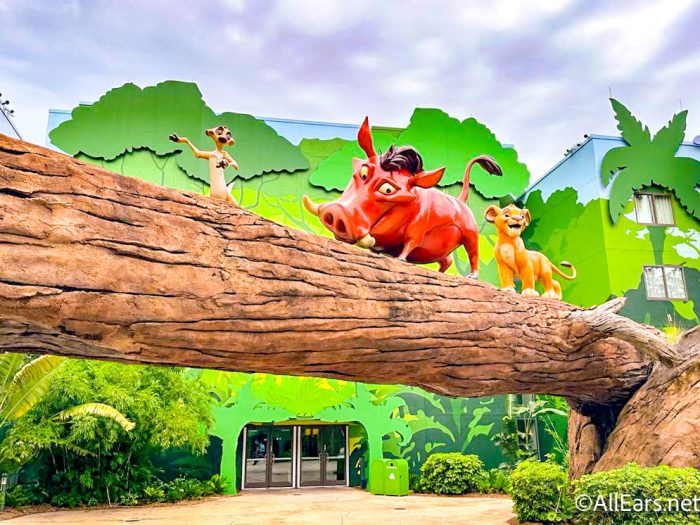 Imagine getting ready for the day surrounded by beautiful tiles that evoke the magic of underwater treasures. It's like having your very own mermaid adventure! The bathrooms in those rooms feature a mirror that reflects the enchantment of Ariel's grotto.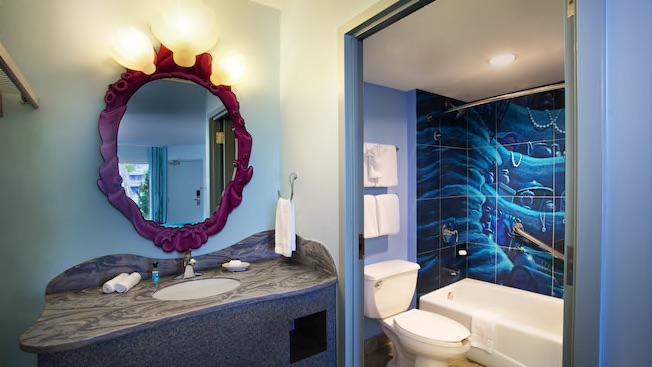 If you happen to find yourself in one of the Cars-themed rooms, get ready to be greeted by a carwash mirror. It's like stepping right into the world of Lightning McQueen and Mater!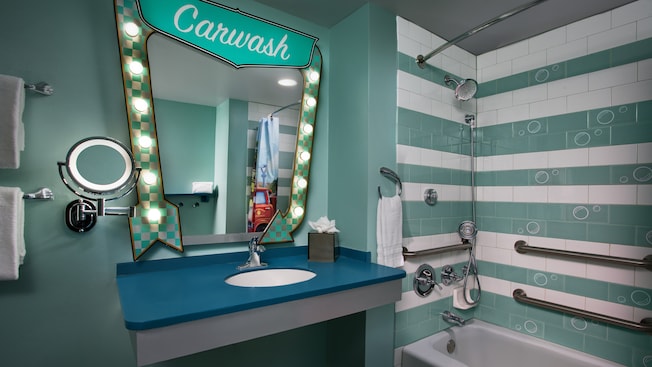 The colors used throughout add a vibrant touch, infusing the space with energy and playfulness.
And let's not forget about the tiles and shower curtains, which work harmoniously to create a truly thematic experience.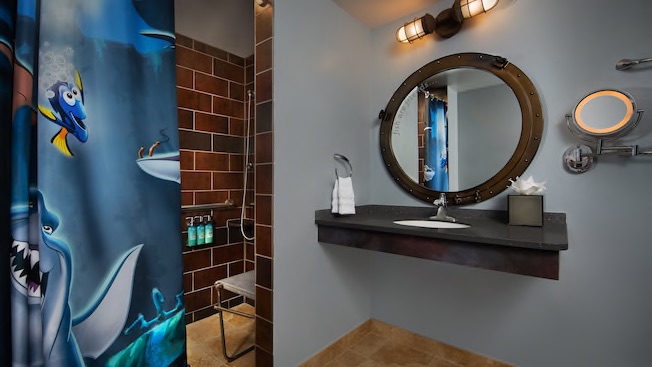 Now, while the aesthetics of these bathrooms may vary depending on the specific room type, you can always visit the Disney website for Art of Animation to explore a variety of photos showcasing the different options available.
5. AbracadaBar Bathrooms
Step into the enchanting world of AbracadaBar on Disney's BoardWalk, where the magic and fun extend even to the restrooms! Themed after the "golden age of magic," this delightful lounge immerses you in the whimsical world of 1920s and '30s magicians like Harry Houdini.
As you step into the restroom area, you'll be transported backstage before the grand performance, surrounded by the captivating ambiance of a theater.
The beautifully lighted mirrors, reminiscent of vanity lights, add a touch of glamour and make you feel like the star of your own magical show.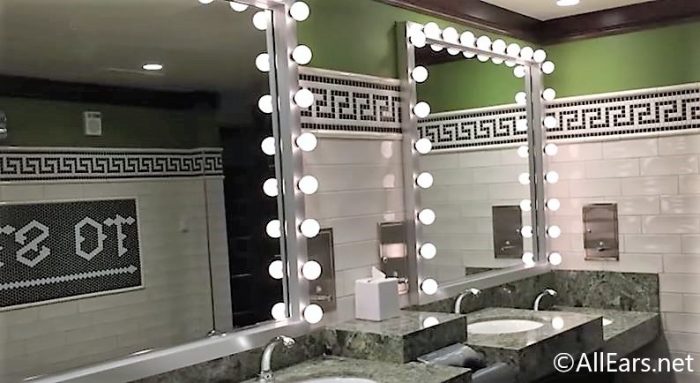 Every detail in the decor, from the cards, illusions, and tricks, to the themed drinks, contributes to the immersive experience, ensuring that the enchantment never fades.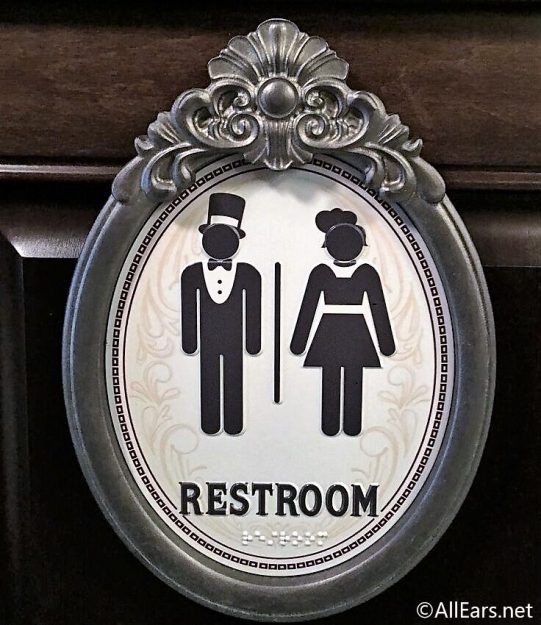 Get ready to be amazed as you revel in the captivating charm of AbracadaBar, where every moment feels like a magical performance.
6. Hollywood Brown Derby Restaurant Restrooms
When it comes to dining at the Hollywood Brown Derby in Disney's Hollywood Studios, the experience is already pretty great.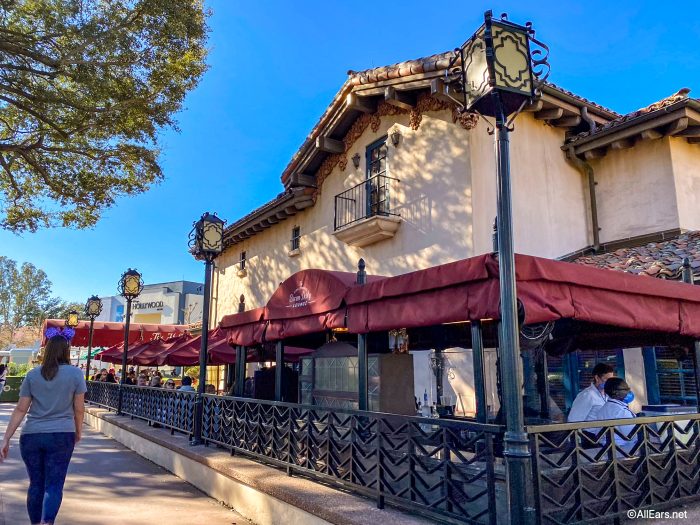 But guess what? Even the restrooms live up to the hype! These lavatories are not just an afterthought. No, no, no. They've got style, my friend. Picture this: black and white checkered tiles that scream 1930s glamour. It's like stepping back in time! And let's not forget those fabulous caricatures adorning the walls.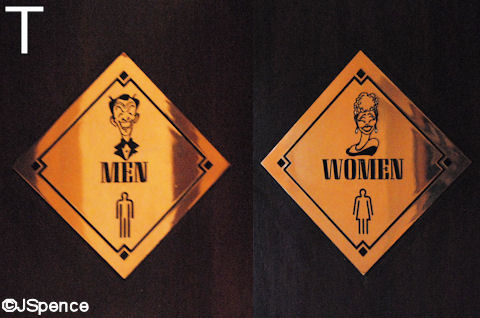 Who needs a plain old restroom when you can have a mini art gallery? So, whether you need to go at the beginning, middle, or end of your meal, rest assured you'll be keeping that distinctive old Hollywood feel with you. It's just another reason why the Hollywood Brown Derby is a must-visit. Classy restrooms for classy folks, am I right?
But wait! There's more!
7. Star Wars: Galaxy's Edge "Refreshers"
We're going off-world for these restrooms, or rather, "refreshers" as they say on Batuu. The attention to detail is remarkable. Let's start with the exterior. The walls and signs have that perfectly roughed-up look as if they've endured battles and blaster fire.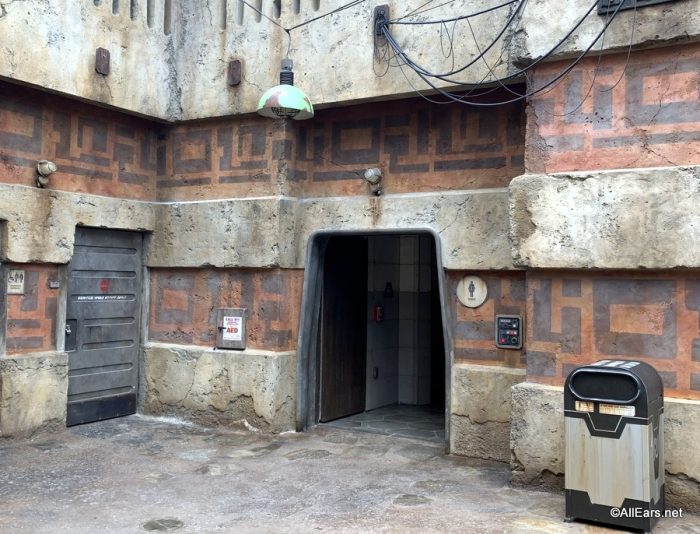 The panels with buttons on the doors make you feel like a rebel on a daring mission, frantically pushing them to escape Stormtroopers. And let's not forget the uniquely arched and shaped doors, adding an extra touch of authenticity.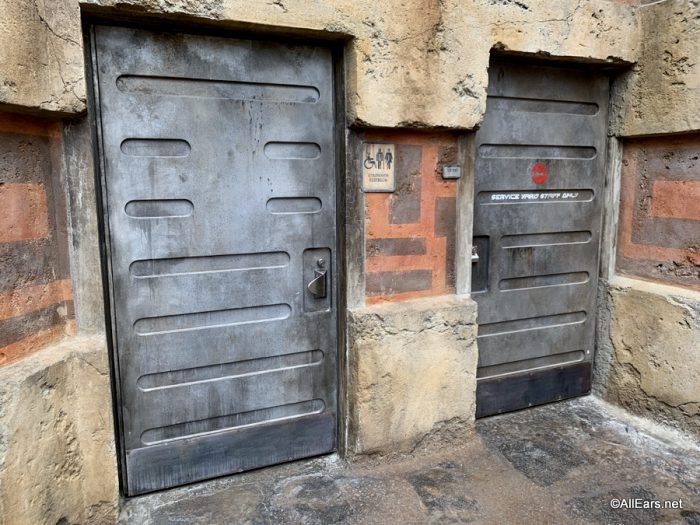 The theming continues inside with sinks that bear the marks of weathering, giving them an industrial and otherworldly vibe. Exposed pipework and unconventional lighting fixtures complete the immersive experience, making you feel like you're in the heart of a Star Wars spacecraft or outpost.
So, embrace your inner Jedi or rebel and venture into these restrooms for a truly out-of-this-world experience. May the Force (and your bladder) be with you!
8. Cinderella Castle Suite Bathrooms
Tucked away within the enchanting Cinderella Castle lies a bathroom fit for royalty—the Cinderella Castle Suite Restrooms. These sanctuaries of luxury are the epitome of opulence and elegance.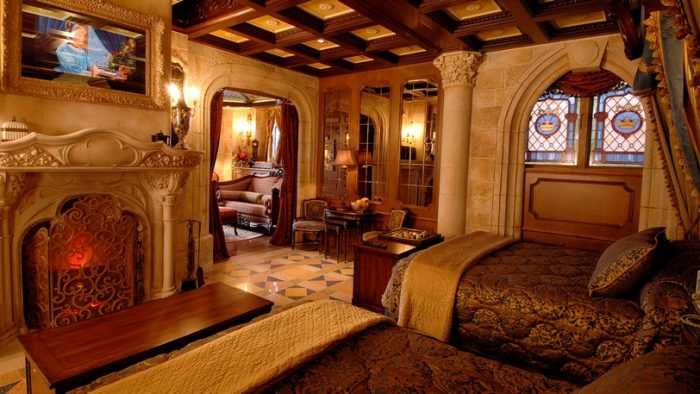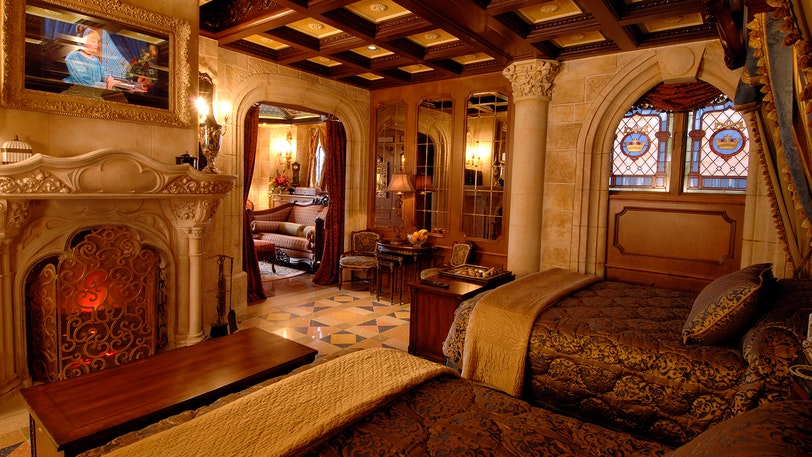 Though the Castle Suite is typically reserved for special promotions and giveaways, we can still marvel at its beauty through photos. The attention to detail in these facilities is astounding, from the intricate tiling, arches, and vanity seating to the mesmerizing stained glass and lavish materials.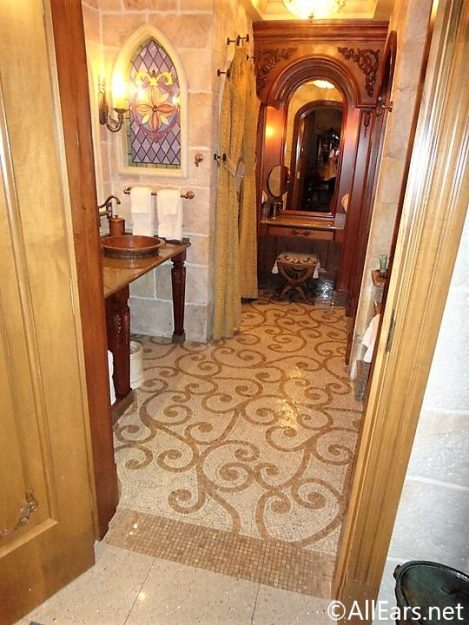 The pièce de résistance is the custom tub adorned with a mosaic masterpiece consisting of over 30,000 glass tiles, including real gold and silver accents. As you luxuriate in the sumptuous Jacuzzi, adjustable water features cascade like a gentle waterfall.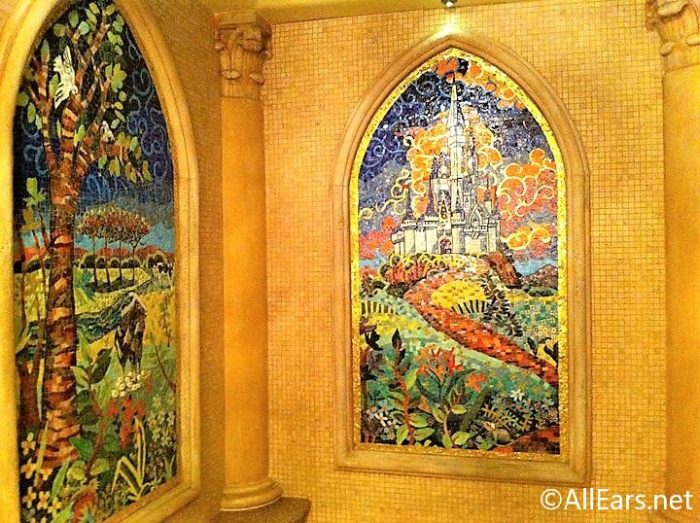 But it's the celestial ceiling adorned with twinkling stars and fireworks that truly takes your breath away, especially as you control the lighting ambiance.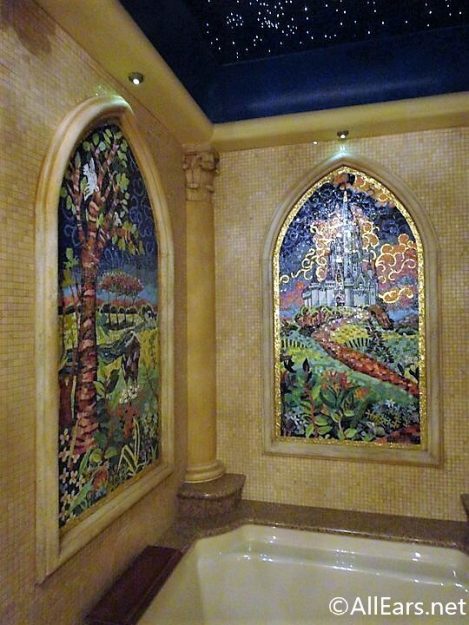 In every aspect, these restrooms are a majestic tribute to royalty.
And that's our list of the bathrooms Disney could charge admission to enter. Next time you're visiting Disney World, we'd definitely recommend popping in to check them out. In the meantime, stay tuned for all the latest Disney news!
Join the AllEars.net Newsletter to stay on top of ALL the breaking Disney News! You'll also get access to AllEars tips, reviews, trivia, and MORE! Click here to Subscribe!

Which bathrooms at Disney World would make your top list? Let us know in the comments below!