Get ready Marvel fans, something NEW has arrived in a Disney park that's just for YOU!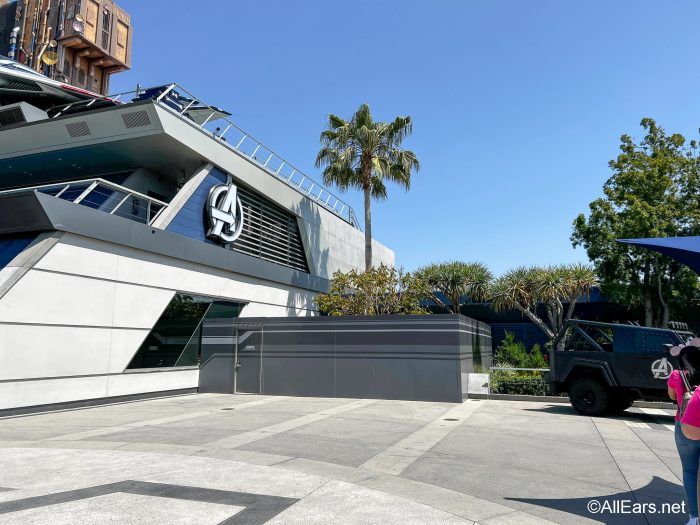 Earlier this year, Disney announced that a new Rogers: The Musical show would be coming to Disney California Adventure Park for a limited time. We've seen a few details about the show, like how it'll offer a virtual queue system. But recently we got the chance to get a SNEAK PEEK of this show and all it has to offer. So, come along with us to experience it all!
Show Basics
Rogers: The Musical was first featured in the show Hawkeye. The show started off as a fictional Broadway musical but now it has come to life…for REAL.
According to Disney, this new show explores "universal themes of heroism, romance, and self-discovery" and is an "exhilarating and heartfelt experience for Super Hero fans, theater enthusiasts, and families alike."
We're getting a first look at 'Rogers: The Musical' today in Disney California Adventure! Come along with us! #mediaevent pic.twitter.com/7lHaY454uR

— AllEars.Net (@AllEarsNet) June 29, 2023
The show will be offered at the Hyperion Theater in Disney California Adventure for a limited time — only from
June 30th through August 31st, 2023
. This particular production is a short, one-act musical based on the life of Steve Rogers, the first Captain America.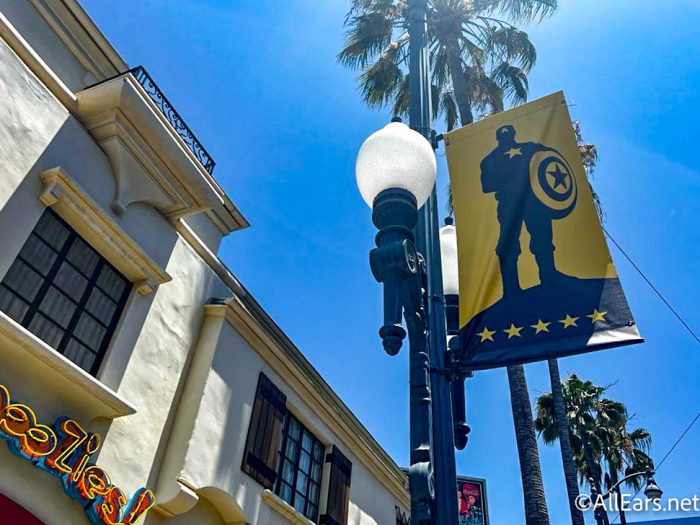 It features interpretations and moments from Steve's story, as well as an "eclectic array of musical styles in the score and the show's original choreography."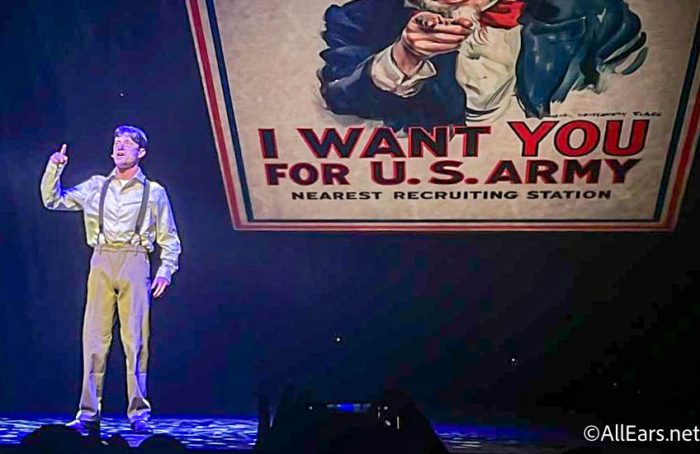 Within the show, you'll see the Starkettes, Peggy Carter, Young Steve, Nick Fury, and Steve Rogers. It'll have a runtime of around 30 minutes and will be available Tuesday-Saturday most weeks.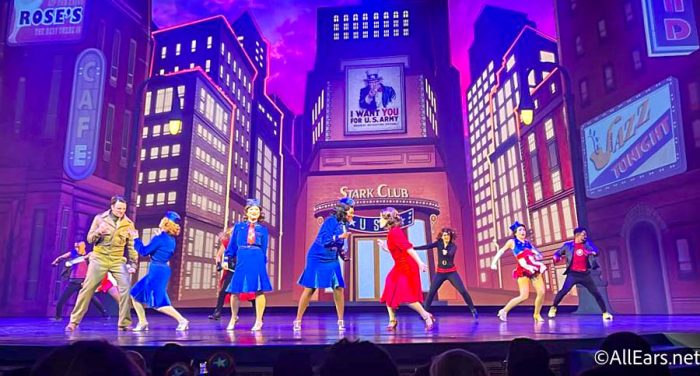 The production will include some songs you may be familiar with as well as 5 new songs written for the show. Here's the full list of songs:
U-S-Opening Night
I Want You
Star Spangled Man
What You Missed
Save the City
End of the Line
Just One Dance
Rogers: The Musical Finale / Save the City (Reprise)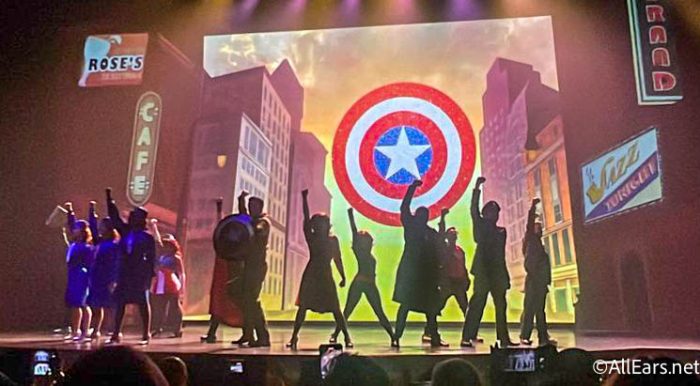 According to Disney, Avengers fans will want to look closely for "creative interpretations" of certain iconic objects and moments from Steve Rogers' journey. Plus, there will be layered, two-dimensional scenery, a 2,200-square-foot video screen that helps set the scene, and more.
Want a preview of the show? Check out the trailer below!
Our team member who got to see the show shared that it was one of the BEST Disney theme park musicals they've ever seen!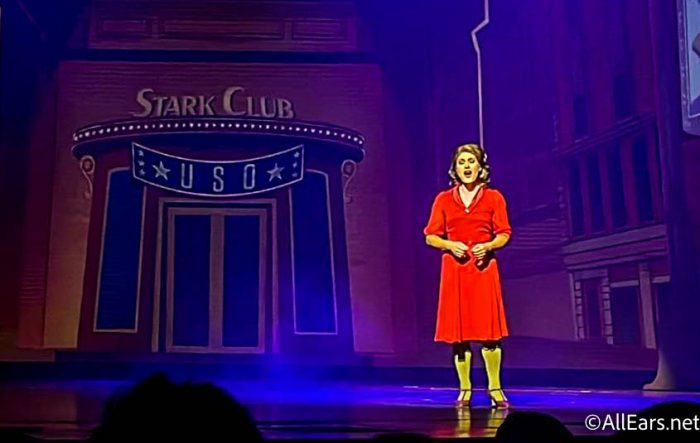 They noted that it was on par with a Broadway-level show and was put together really well. It's also one that's friendly for all ages.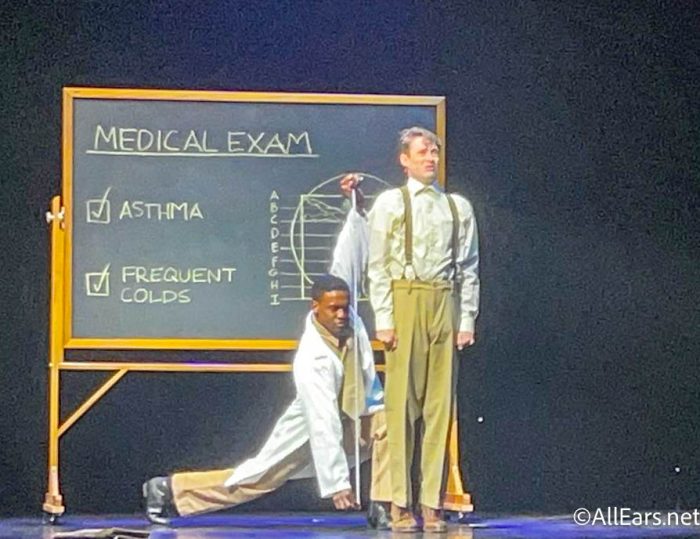 Goosebumps, tears — we felt it ALL while seeing this show!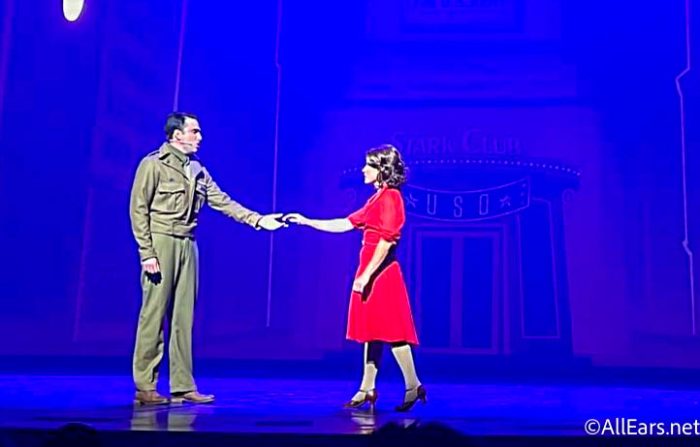 We also really loved that (during our media event at least) there was an ASL translator that was almost a part of the show, making this accessible to more audiences.
The technology used in the show was spectacular and unlike anything our reporter had seen in other theme park shows.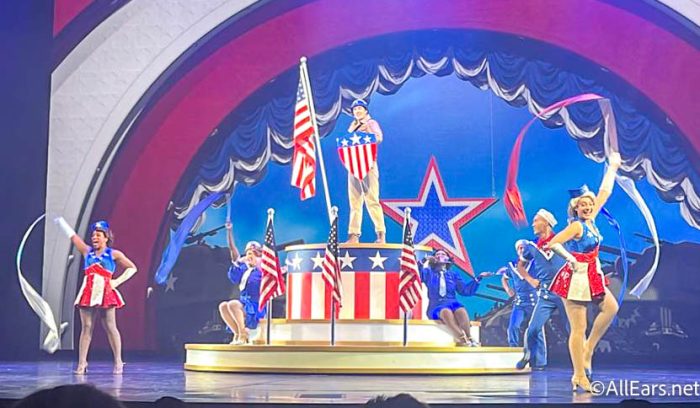 There was even an explosion effect on stage with smoke — talk about special effects! The set is nicely detailed and really immerses you in the story.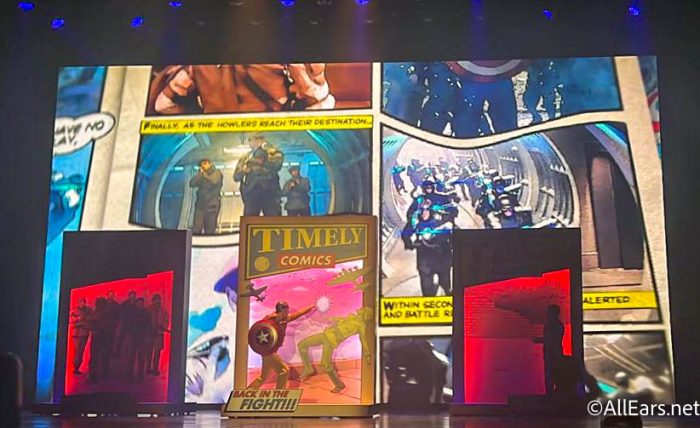 The thing that really struck out to us was the technology and just how this was a level-up compared to other theme park shows we've seen.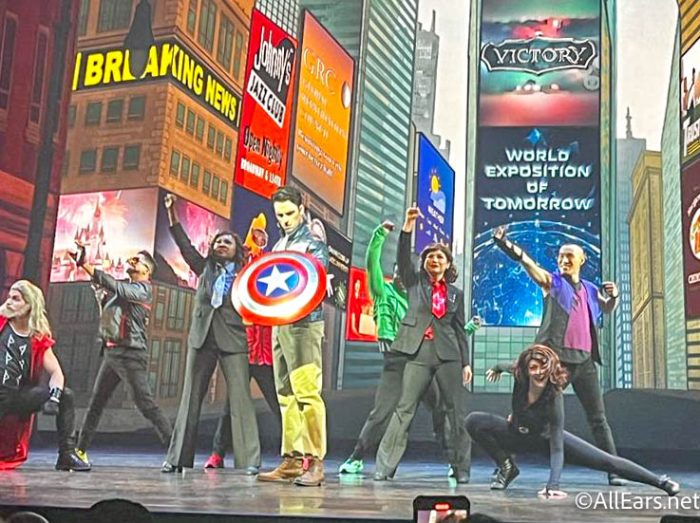 And yes, fully expect to walk out of this show with a ton of the songs stuck in your head all day — don't say we didn't warn ya!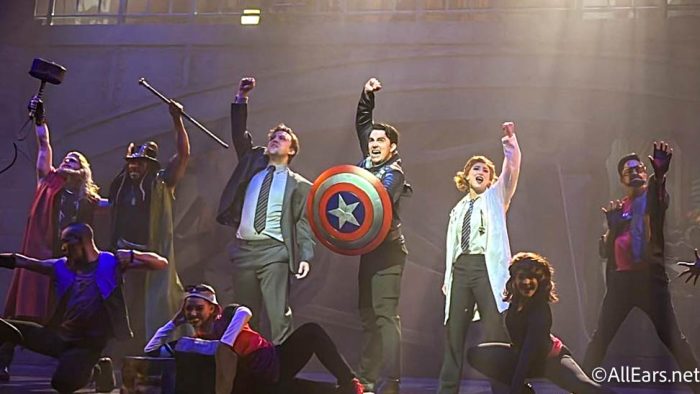 Since it'll only be around for a very limited time, you'll want to check it out before it's gone.
Virtual Queue
Disney has announced that a virtual queue will be offered for the show through the Disneyland app, though it is not technically necessary to join to see the show.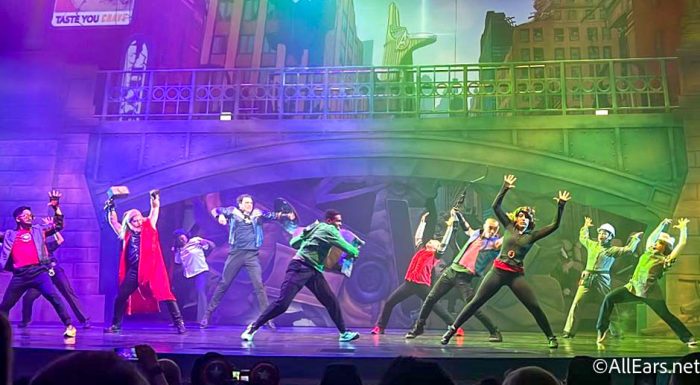 On days when Rogers: The Musical is holding performances, the virtual queue will open at 10:30AM PT for the first two show times of the day, and 2PM PT for the other show times of the day.
Again, joining the virtual queue is NOT required, but it is highly recommended to ensure a seat. If the virtual queue reaches capacity, you'll be able to check with Cast Members at the Hyperion Theater to see if any walk-up viewing options are available.
Premium Package
Want to take your experience to the next level? There will be a Premium Viewing Package available at Studio Catering Co. Truck in Hollywood Land for $29.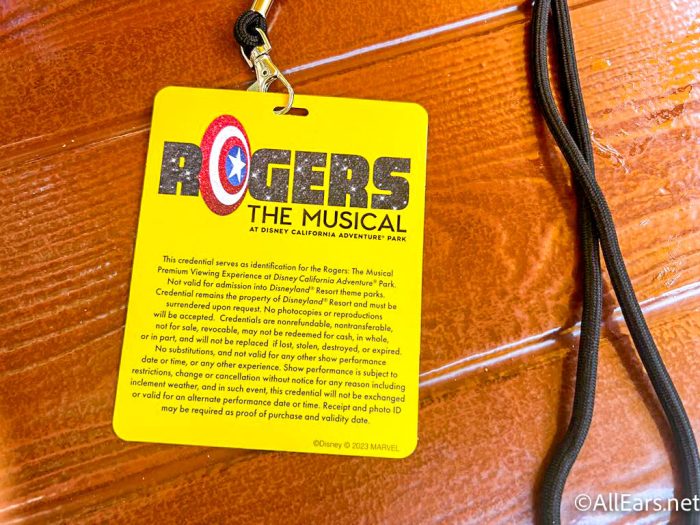 The package includes (1) a Rogers: The Musical popcorn bucket with kettle corn and soda, (2) access to lounge seating in Stage 12 before the show, (3) priority seating in the theater, (4) priority access to a unique photo opportunity, and (5) a souvenir lanyard.
Snacks
With the debut of this show will come some NEW snacks and a popcorn bucket too! These will be available starting June 30th.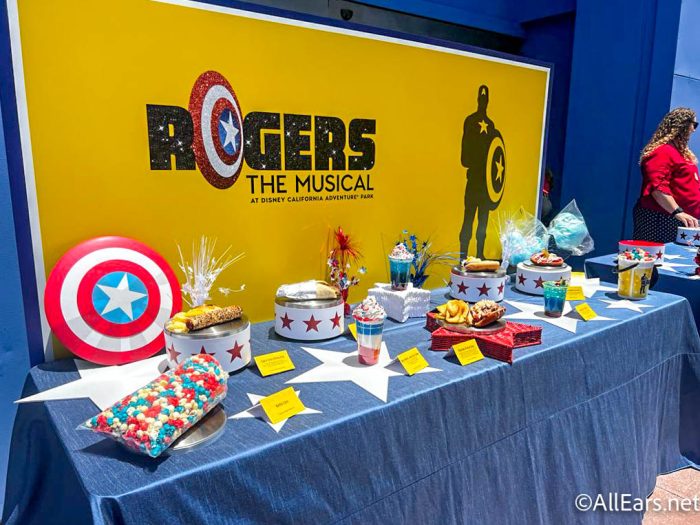 The snacks include a Red, White, & Blue Shake, which is a vanilla shake with wild cherry and blue raspberry slushes mixed in, all topped with whipped cream. This is a non-alcoholic beverage.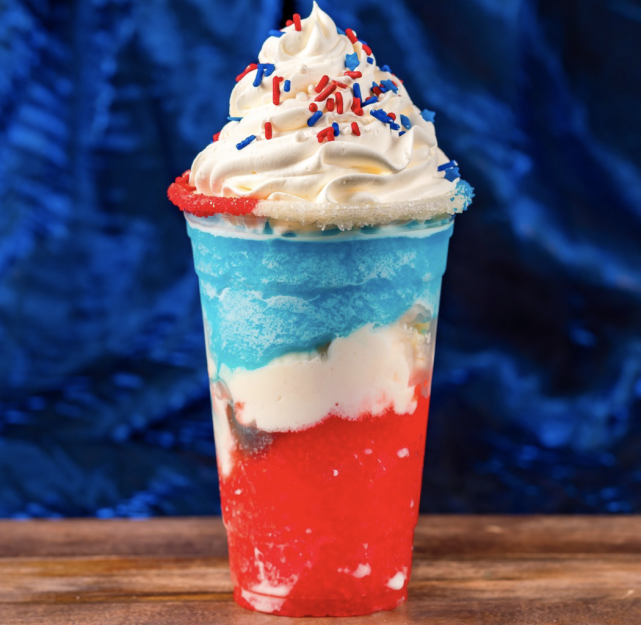 Also available will be the Patriotic Punch, which is Sprite and white cranberry juice mixed with blue raspberry and cherry syrup — topped with whipped cream. The drink is non-alcoholic. You can grab it at Hollywood Lounge.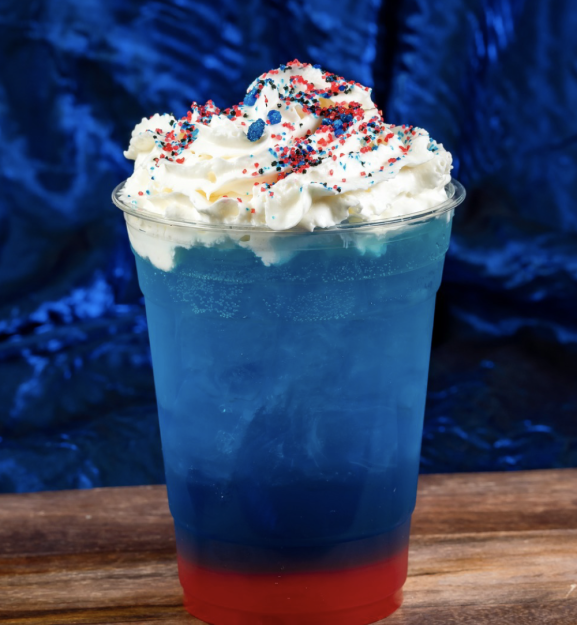 Hungry yet? Then you might want to pick up the Pastrami Pretzel Dog at Award Wieners. This is an all-beef hotdog topped with pastrami, whole-grain mustard, provolone, sauerkraut, and thousand island dressing.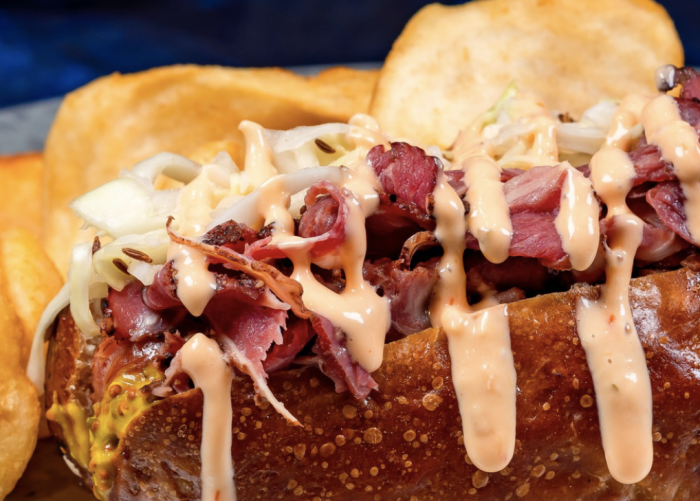 Or you can opt for the Shawarm-izza from Shawarma Palace. This features Italian sausage, pepperoni, mozzarella, and pepperoncini in a garlic-parmesan wrap, served with marinara dipping sauce.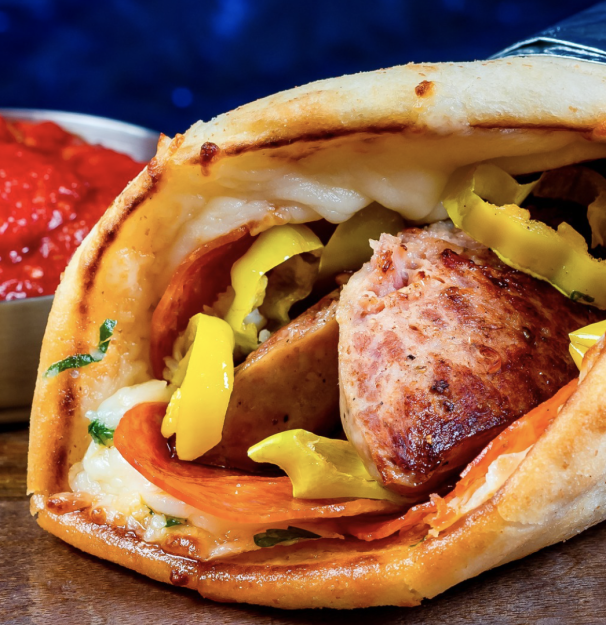 There's also the Cap'n Everything Dog. It will be available at the Outdoor Vending carts throughout the park. It is made of a hot link wrapped in pizza dough topped with everything bagel seasoning and served with a side of mustard cheese sauce and potato chips.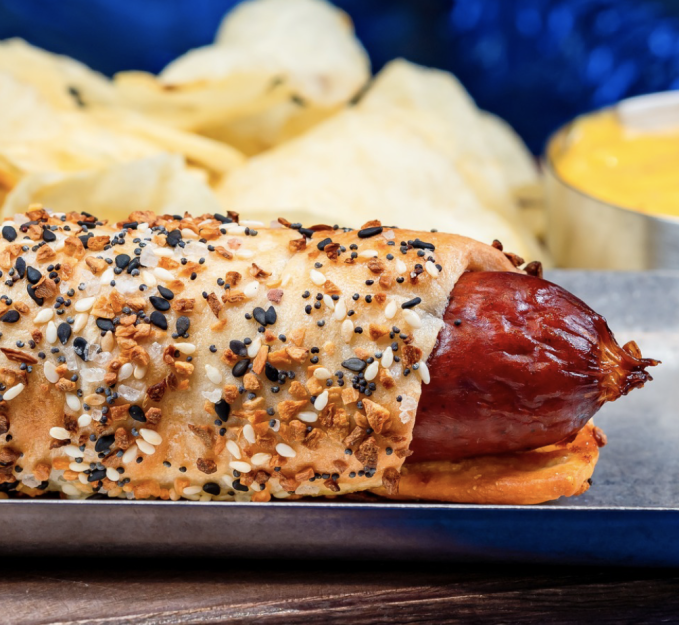 Ready for dessert? Dive into the Like an Apple Pizza Pie from Terran Treats! This is a cinnamon-sugar fried pizza crust topped with apple and cranberry filling, streusel, and cream cheese frosting.
And finally, if you love popcorn, try the Kettle Corn at the outdoor vending carts — and at select seasonal carts.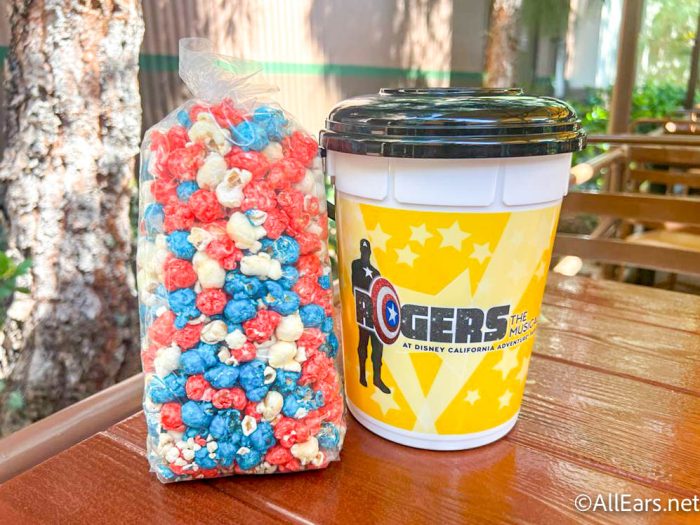 You'll also be able to purchase the Rogers: The Musical Popcorn Bucket.
Popcorn bucket secured! Now we're just waiting on the show to start! ❤️🤍💙 #mediaevent pic.twitter.com/tGOcPc43c2

— AllEars.Net (@AllEarsNet) June 29, 2023
Which of these would you want to try?
Here's a look at some of the food and drink offerings at 'Rogers: The Musical' including the Shawarm-izza: Italian sausage, pepperoni, mozzarella, and pepperoncini in a garlic-parmesan wrap with marinara dipping sauce! pic.twitter.com/KzYKvuv52X

— AllEars.Net (@AllEarsNet) June 29, 2023
Merchandise
A new Disney experience isn't complete without merchandise, right? Right! Some of the items that you'll be able to pick up for this show include a T-shirt…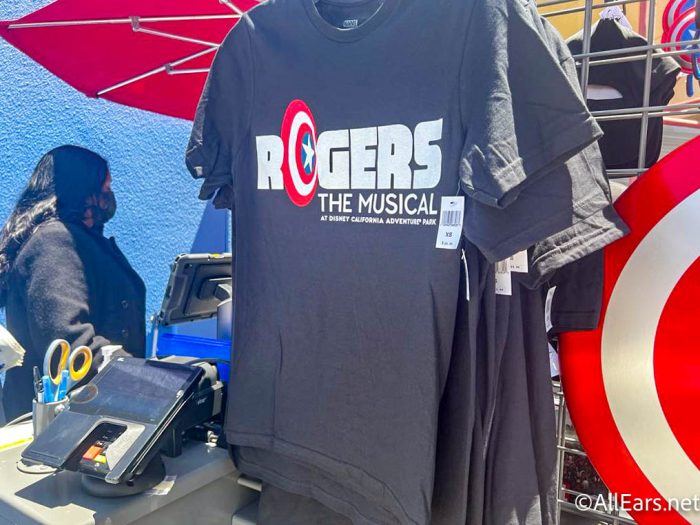 …magnet…
…and ornament.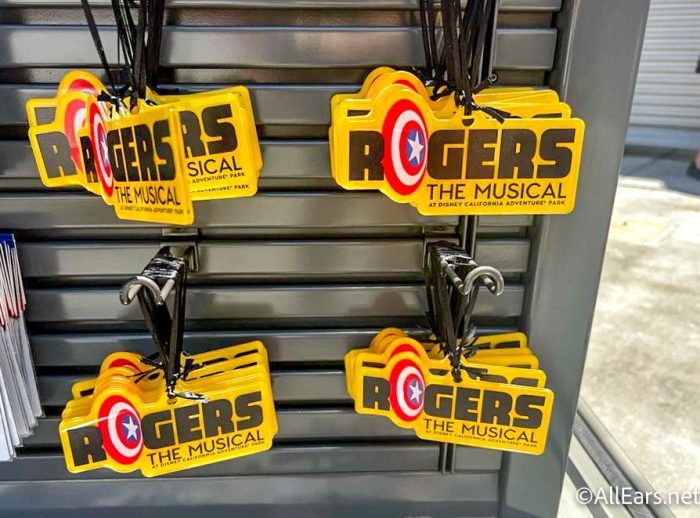 These will be available near the theater.
There will also be two Magic Shots featured with the Disney PhotoPass service.
And that's a first look at some of the things you can expect with this new show!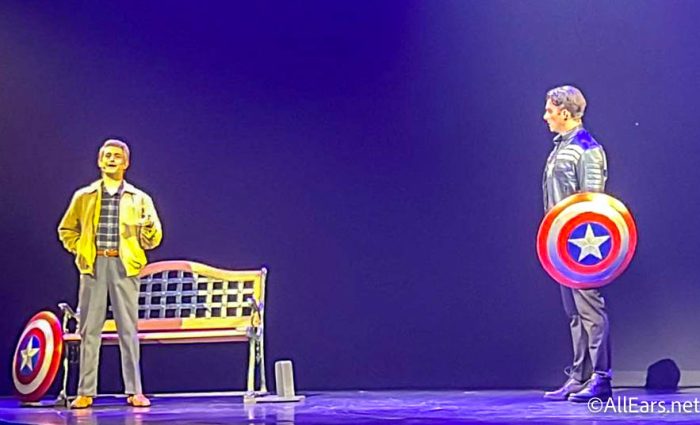 For more Disneyland news, click here to see what RARE character will be appearing at the Resort soon, or click here to see EVERYTHING confirmed for the holiday season at Disneyland.
Stay tuned to AllEars for all the latest Disney news!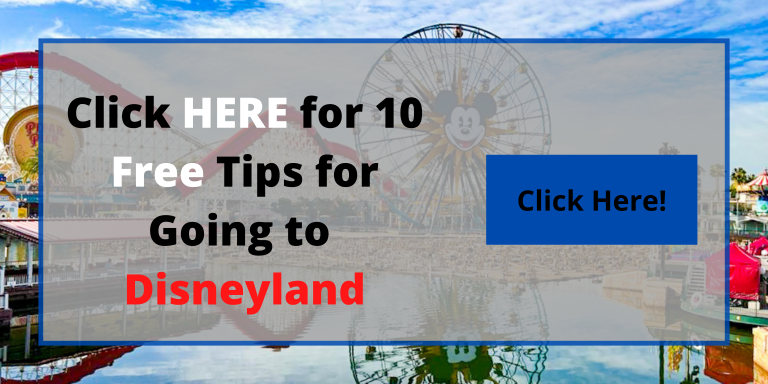 Are you excited for this new musical? Tell us in the comments!
Disclosure: We were invited by Disney to attend a preview of Rogers: The Musical. This did not affect our reporting of the event — our opinions are our own.