While the driving force of Walt Disney World will always be the Vacation Kingdom's theme parks, the complex's resort hotels are nothing to sneeze at.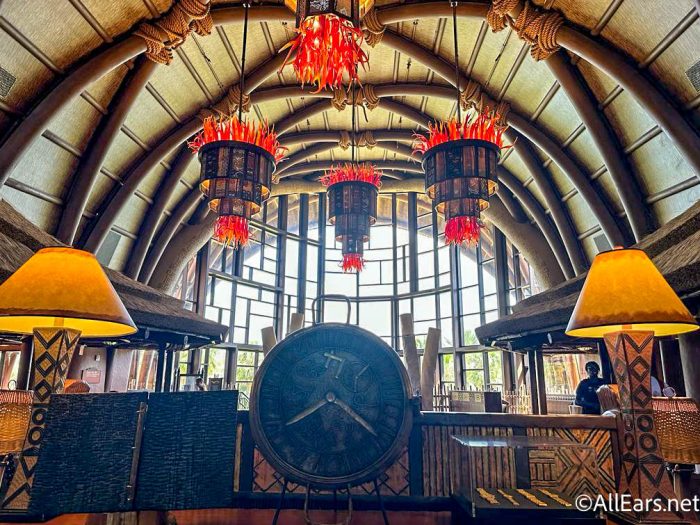 The near 30 resorts on property offer countless amenities for travels, including fantastic pools. In fact, there are are some Disney resort water recreation areas that reach water park-attraction level quality, such as the Animal Kingdom Lodge pools.
For those unfamiliar, some quick backstory on Animal Kingdom Lodge: Opened in 2001, this Deluxe-level Disney resort is (unsurprisingly, given the name) themed similarly to the Animal Kingdom theme park. The hotel has become known for its up-close encounters with real animals, lauded dining options, and yes – it's pools and water play areas.
Uzima Springs Pool
The first of Animal Kingdom Lodge's main pools is the Uzima Springs Pool, located near the Jambo House area of the resort. Uzima Springs is Animal Kingdom Lodge's largest pool, measuring in at 11,000 square feet and capable of holding 234,980 gallons of water. The pool features a zero-depth entry point — meant to mimic a natural beach's entrance into the ocean — and a 67-foot long waterslide that thrills guests of all ages. Despite all this, the pool is surrounded by a canopy of trees, creating a relaxing atmosphere.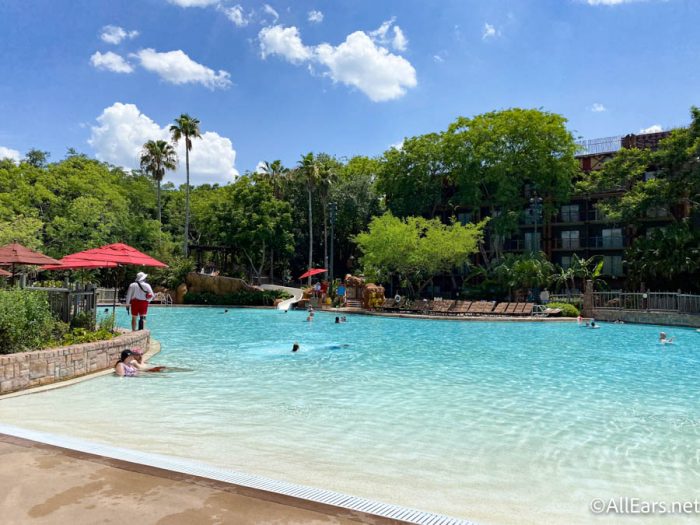 Located near the pool, the aptly-named Uzima Springs Pool Bar provides a relatively large drink menu including non-alcoholic beverages, beer, wine, frozen cocktails and those served on the rocks, and several specialty drinks including:
African Sunset: Cruzan Mango Rum and African Starr Rum, blended with Mango and Strawberry Purée
Safari Mudslide: Amarula Cream Liquor, Kahlúa Liquor, Snow Leopard Vodka, blended with Vanilla Ice Cream
Flamingo Mule: Snow Leopard Vodka, Van der Hum Tangerine Liquor, Ginger Beer, Lime Juice, and Cranberry Juice with flavors of Mango and Guava
Mount Kilimarita: Patrón Silver Tequila, Van der Hum Tangerine Liqueur, and Sweet-and-Sour with a splash of Cranberry Juice
Samawati Springs Pool
Located across the Animal Kingdom Lodge property, in the Kidani Village area, sits the resort's other major pool: the Samawati Springs Pool.
Samawati Springs comes in slightly smaller than the Uzima Springs Pool, measuring 4,700 square feet and holding 118,138 gallons of water. However, the pool offers a longer 128-foot waterslide for those so inclined, as well as the same zero-depth entry found at its counterpart. In addition, the Samawati Springs pool offers a hot tub and jacuzzi located near the entrance to the water slide.
The Maji — Swahili for "Water" — Pool Bar is located near the pool, and features a full drink menu — including beer, wine, cocktails, and signature drinks including:
Mauritius Mule: STARR African Rum and Lime Juice topped with Fever-Tree Ginger Beer
Marula Shake: Amarula Cream Liqueur blended with Kahlúa Liqueur and Vanilla Ice Cream
Hakuna Colada: STARR African Rum and Amarula Cream Liqueur blended with Pineapple and Coconut
Pembe Lemonade: STARR African Rum, Cointreau Liqueur, and Minute Maid® Premium Lemonade
Elephant Slide: Amarula Cream Liqueur, Van der Hum Tangerine Liqueur, and Kahlúa Liqueur blended with Vanilla Ice Cream
Funky Monkey: Parrot Bay Coconut Rum with Mozart Chocolate Liqueur and Banana Purée
In addition, Maji features a quick-service meal menu, with entrees including an All-Beef Foot-long Hot Dog with Chili and Cheese, Caesar Salad with Tandoori Chicken, Multigrain Tabbouleh with Grilled Vegetables, Caesar Salad with Poached Shrimp, Spiced Pork Nachos, Tortilla Chips topped with Spiced Pork, Shrimp Bakuli, and Short Rib Grilled Cheese.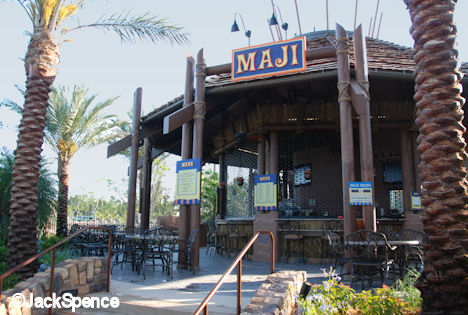 Both pools feature beach towels, life vests, and access to changing rooms, restrooms, and lockers. Each is also located near one of the Lodge complex's fitness centers – the Zahanati Massage & Fitness Center near the Uzima Springs Pool and the Survival of the Fittest Fitness Center located near Samawati Springs.
Both pools also require Magic Band or keycard access, limiting their usage to guests of the Animal Kingdom Lodge.
While pool hours are flexible, varying by weather and season, both Uzima Springs and Samawati Springs are generally open from either 9AM to 9PM or 10AM to 10PM.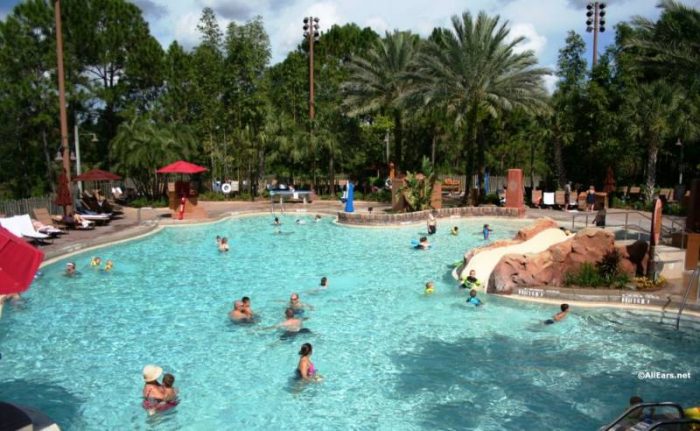 In addition to all these amenities, both pool areas offer "family-friendly activities each day, like themed pool parties and other cool activities. Fun offerings include themed pool games, relays, trivia and more! "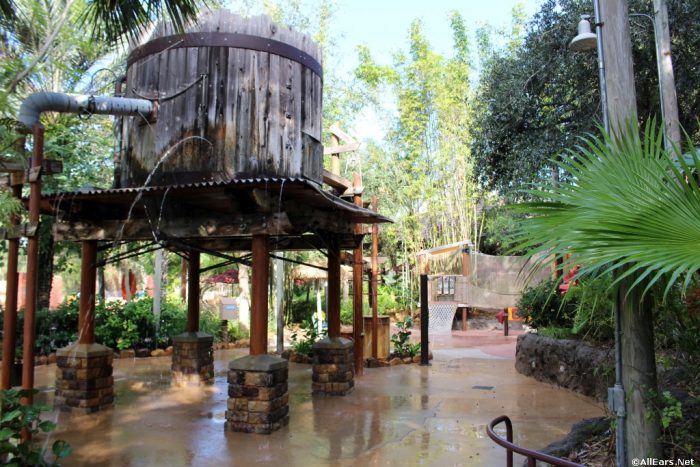 Uwanja Camp
Pools aren't the only water-related recreation at Animal Kingdom Lodge. Located near the Samawati Springs Pool in the Kidanai Village area, the Uwanja Camp water play area offers three distinct zones for children in different age groups:
The Observation Station, where children 4-years-old and younger can "climb through cargo crates, unscramble animal images and frolic through a gently bubbling geyser and shallow cistern pool—while their parents watch from nearby."
The Departure Zone, where "a leaky water tower and sneaky African irises squirt children 5 to 7 years of age."
Finally, the Base Camp, where those 8 and older can "douse each other with water cannons."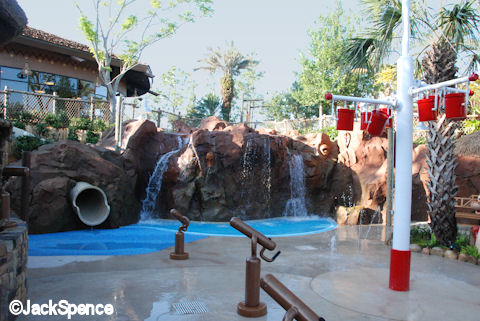 The pools and water play areas at Disney's Animal Kingdom Lodge provide thrilling fun, themed relaxation, and delicious food and drink in equal measure. Which of the two do you prefer? Let us know in the comments below!
And keep following All Ears for the latest Disney news!