Halloween in Disney means new treats in the parks.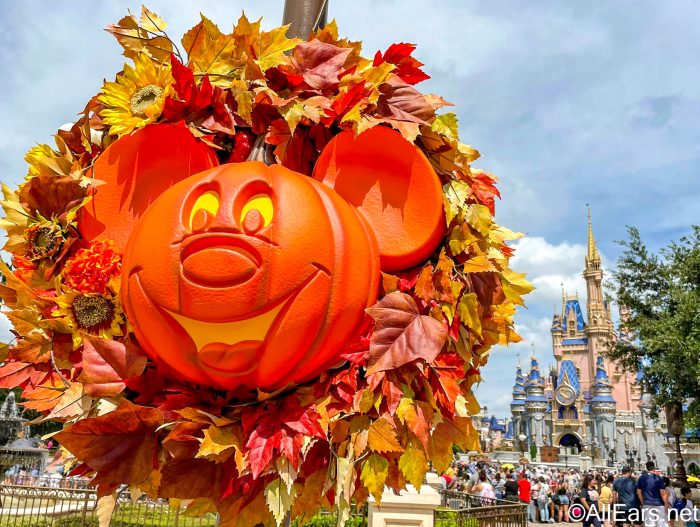 There are special treats over in Disneyland, and even more unique snacks are available only at Mickey's Not-So-Scary Halloween Party in Disney World. One of those treats is the DIVISIVE Almond Sweet Corn Cake, and Disney has just released a recipe to guide you in making it at home!
Is it corn? Is it cake? Is it something you'll fall in love with? Well, now you can find out by making it at home. During Mickey's Not-So-Scary Halloween Party, party guests can buy the Sweet Almond Corn Cake at Pecos Bill Tall Tale Inn & Cafe.
Yes, that's CAKE that looks like CORN and is topped with CANDY CORN. It might look a bit…strange, but this is one that could totally surprise you!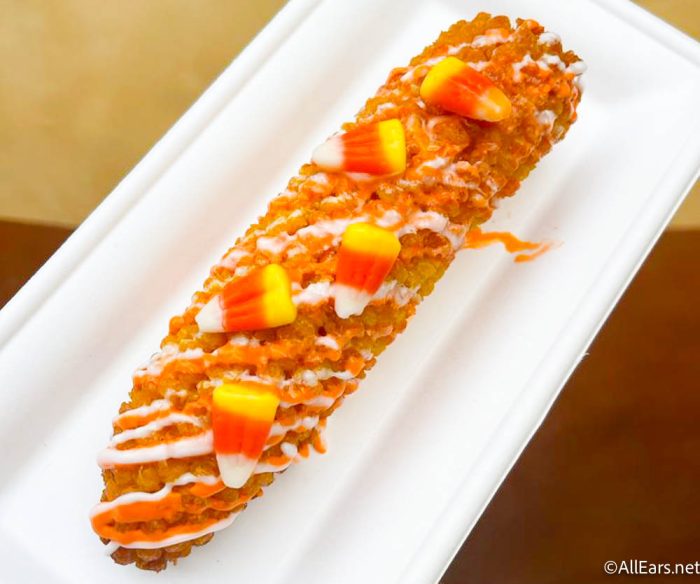 Our readers were split as to whether this is something they'd love to try or a treat they'd rather skip, but when the AllEars team gave it a shot, they actually really enjoyed it. In fact, it made our list of some of the BEST snacks at the Halloween party. The snack is made of an Almond Vanilla Cake dipped in white, orange, and yellow Chocolate, topped off with Candy Corn.
And while it may look unique it's something we think you should totally try!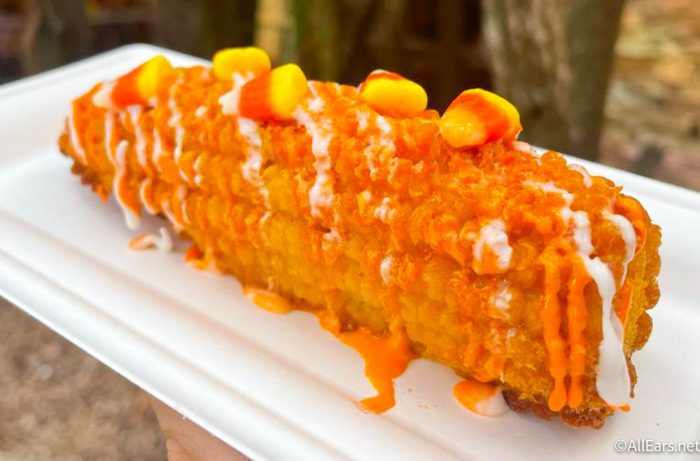 But be WARNED: This recipe takes a LOT of time to make due to one particular step that requires refigeration of some of the ingredients. Be sure to allocate at least 8-12 hours to get it done. Without further ado, let's get to the baking!
Ingredients
Almond Sweet Corn Cake
10 tablespoons butter
7 egg whites
1/2 cup powdered sugar
3/4 cup almond flour
2/3 cup all-purpose flour
3/4 teaspoon baking powder
1/2 teaspoon salt
2 teaspoons corn extract
1 teaspoon yellow food coloring
Topping
1 cup white chocolate melting discs
Yellow food coloring
Orange food coloring
Candy corn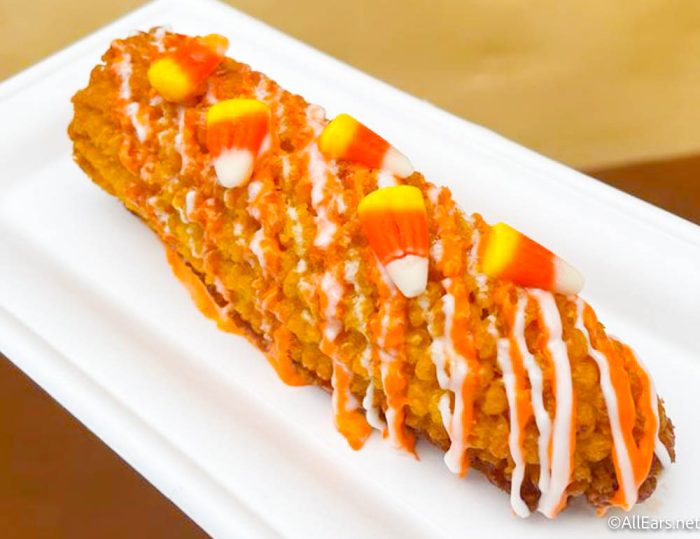 Instructions
Melt butter in a small saucepan over medium-low heat, swirling occasionally for 5 minutes. Once butter foams and begins to brown, pour the butter and solids into a small bowl. Let cool for 15 minutes.
Whip egg yolks in the bowl of an electric mixer with a whisk attachment for 20 seconds and then set aside.
Combine powdered sugar, almond flour, all-purpose flour, baking powder, and salt in a mixing bowl and whisk to combine. Add reserved egg whites, corn extract, and yellow food coloring and whisk to combine. Stir in brown butter.
Cover and refrigerate the batter 8-12 hours before baking.
Preheat the oven to 400°F. Spread 1/2 cup batter into four 7.3-inch silicone corn molds (we found these on Amazon that might do the trick). Place molds on a baking sheet and bake for 45 minutes, or until a toothpick inserted in the center comes out clean. Cool for 5 minutes and remove from molds.
Cool completely before decorating.
Topping
Melt white chocolate in a microwave-safe bowl according to package instructions.
Evenly divide melted white chocolate among 3 bowls. Leave one bowl white. Add the desired amount of yellow and orange to the remaining bowls to make yellow and orange icing to match the candy corn.
Drizzle each cooled cake with all 3 colors of white chocolate and decorate with candy corn.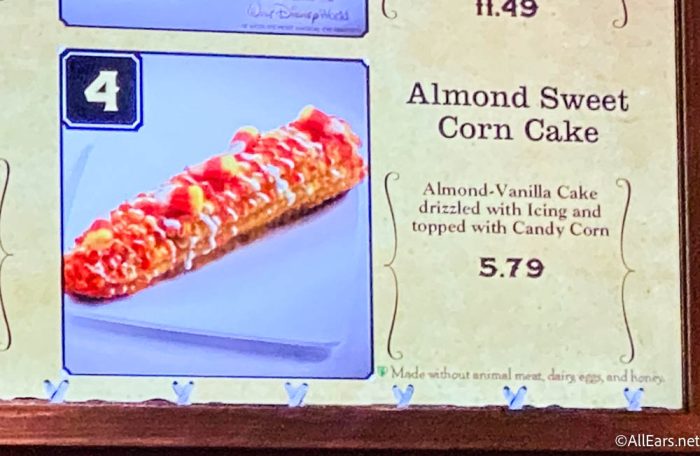 And there you have it! Looking for other Disney recipes to make? You can bring an Aladdin-themed fruit smoothie to life, make a limited-edition Bob's Burger at home, or impress your friends with Alice in Wonderland-themed tarts. Stay tuned to AllEars for more Disney recipes!
Join the AllEars.net Newsletter to stay on top of ALL the breaking Disney News! You'll also get access to AllEars tips, reviews, trivia, and MORE! Click here to Subscribe!

DISCLOSURE: This post may contain affiliate links, meaning when you click the links and make a purchase, we receive a commission.
What Halloween Disney recipe do you want to see next? Let us know in the comments below!