Lost in the hustle and bustle, pomp and circumstance and souvenir popcorn bucket frenzy at Walt Disney World's 50th anniversary celebration was the fact that several of the park's opening day cast members – the folks who were on hand to greet excited guests when the park first swung open its gates on Oct. 1, 1971 – were an important part of the festivities.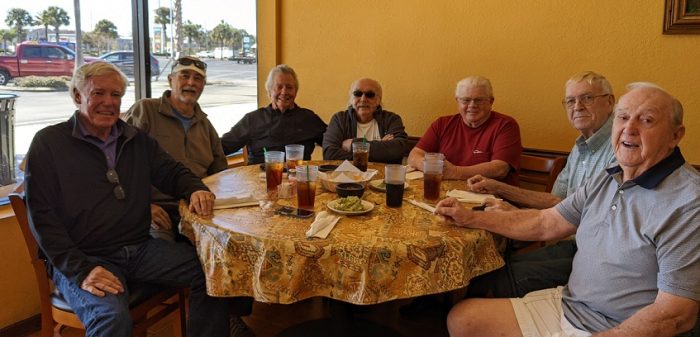 In fact, the Walt Disney Company made it a point to pay special tribute to those long-time cast members who were part of the magic on that memorable day more than five decades ago.
In September, members of what is known as The Class of 1971 who are still working gathered for a reception and a group photo in front of Cinderella Castle.
Then, on Oct. 1, a group of retired Class of 1971 members lined up in front of the castle to pose for a similar photo.
I was fortunate to run into one of those retired opening-day cast members on Oct. 1 as we were walking down a very crowded Main Street USA.
Disney Legend Tom Nabbe – resplendent in his bright red polo shirt with lettering that proclaimed him a member of WDW's opening day cast – was on his way to the castle photo shoot when I recognized his smiling face.
"I was in front of the Main Street Cinema from 10 until noon to sign books or whatever else people wanted to be signed," Tom said. "Then it was off for the group photo in front of the castle."
The setting for Tom's autograph session was appropriate.
Above and to the right of the cinema's marquee is a window honoring Tom Nabbe's accomplishments during his decades-long tenure as a cast member with the Walt Disney Company.
The window reads:
Sawyer Fence Painting Co.
Tom Nabbe, Proprietor
Anaheim, California
Lake Buena Vista, Florida
As the window implies, Nabbe has strong connections to both Disneyland and Walt Disney World.
In 1956, Tom Nabbe was hired by none other than Walt Disney to play the part of Tom Sawyer [and occasionally Huckleberry Finn] on the newly opened Tom Sawyer Island attraction at Disneyland. His freckled face, red hair and personable demeanor made him a natural to portray the roles created by author Mark Twain.
Tom was still in school and Walt insisted that he maintain at least a C average to keep the job as Tom Sawyer Island's young ambassador.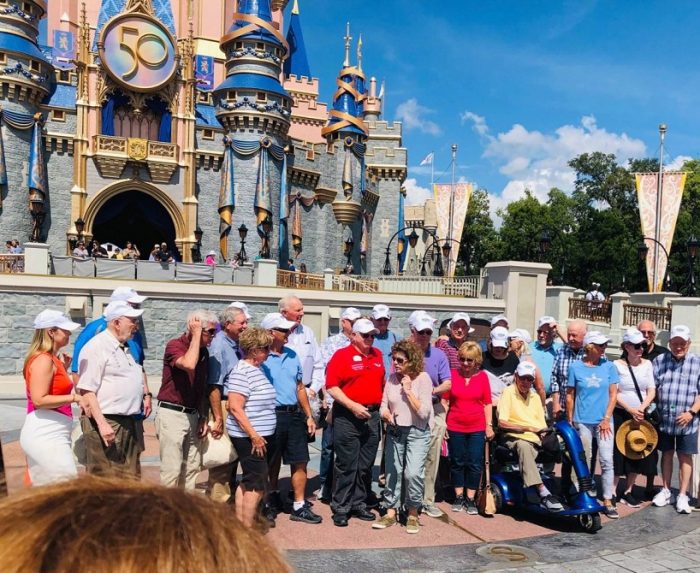 Prior to his Tom Sawyer Island gig, the hard-working Nabbe hawked copies of The Disneyland News to guests as they entered the park. And before that, in 1954 and early 1955, he could be found selling newspapers to workers as they were leaving the Disneyland construction site.
How popular was Tom Nabbe in his role as Tom Sawyer? Well, photos of him as young Master Sawyer appeared in major publications around the country, including the cover of Parade Magazine.
In addition to posing for photos and interacting with guests, Tom also was responsible for helping folks with their fishing poles. That's right, the fabled Rivers of America in Disneyland was stocked with fish during those early days and guests were allowed to cast a line off Tom Sawyer Island.
When Tom outgrew the role of Tom Sawyer, he became a ride operator and then a supervisor in Disneyland.
In the late 1960s, the call went out for cast members willing to relocate to central Florida to be part of the Walt Disney World project. Tom answered that call.
He began his tenure at WDW as the supervisor of the monorail system, before topping off his career in a more behind-the-scenes capacity, working in park logistics.
Tom, who is forever proud of the fact that he was hired by Walt Disney himself, was named a Disney Legend in 2005.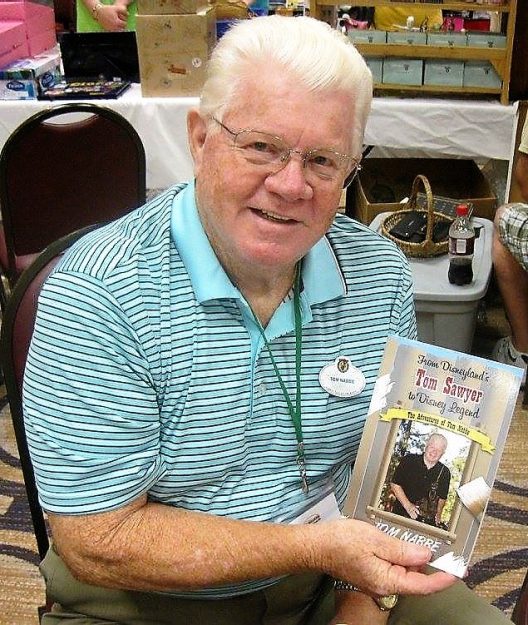 Since retiring, Tom has written a book ["From Disneyland's Tom Sawyer to Disney Legend," Theme Park Press] set up his own website [www.tomnabbe.com] and been a regular at Disney fan fests.
Prior to the pandemic, Tom and a group of fellow retired Walt Disney World cast members would gather periodically at an Orlando-area restaurant for lunch, share some laughs and swap "war stories" about WDW's early days.
"We [Tom and his wife Janice] had a Christmas party and we'd invite those folks that relocated with us to Florida to open Walt Disney World.
"Through the years, they became our close friends, and in some cases, our extended family. Well, some of us, after a little Christmas cheer, were talking about the group and it wasn't getting any bigger, because over the years, some of our friends had passed on. We decided that we should get together more often than once a year, so we decided to do lunch every few months."
MEATLOAF SPECIALS WERE HARD TO PASS UP
Tom took on the role of scheduler for the group and would set up the luncheons via e-mail invitations. The luncheons were usually at the Ale House, "a restaurant that was convenient to all of us," Tom said. And besides, it had a meatloaf special that was hard to pass up.
The regulars in the original group were Bob Matheison, Bill [Sully] Sullivan, Bill Hoelscher, Steve Baker, Ted Kellogg, Dwight Dorr and Nabbe.
"Steve, Ted and I were the opening supervisors in the Transportation Department, working for Pete Crimmings," Tom said. "Dwight was the opening manager of Frontierland/Liberty Square; Sully was the director of Hotel Operations; Bill Hoelscher opened the Preview Center in 1970 and was the director of Park Operations, and Bob Matheison was the Big Boss."
There were three Disney Legends in the group: Matheison, Sullivan and Nabbe. All three have windows in their honor on Main Street USA in Walt Disney World.
We're happy to report that the retirees' traditional meatloaf Thursdays have picked up again.
"We still meet every six to eight weeks," Tom said. In fact, the latest get-together was March 31.
For a group that played such an integral role in creating magic during the early days of Walt Disney World, Tom Nabbe and his cohorts have done a great job keeping the magic alive.
Chuck Schmidt is an award-winning journalist who has covered all things Disney since 1984 in both print and on-line. He has authored or co-authored seven books on Disney, including his Disney's Animal Kingdom: An Unofficial History, for Theme Park Press. He also has written a regular blog for AllEars.Net, called Still Goofy About Disney, since 2015.