Marvel Studios continues on its freight train into Phase IV of the MCU this week, with the release of its latest film Eternals.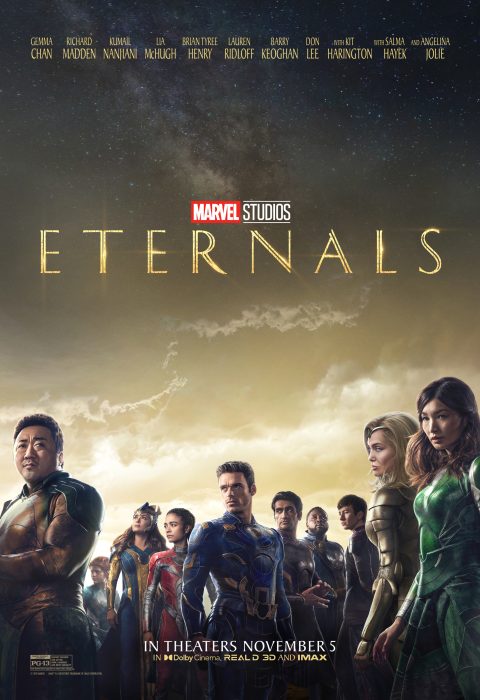 Eternals introduces us to ten new superheroes and a whole new cosmic community of players in the Celestials, a race of cosmic builders, and the Eternals, an immortal race sent by the Celestials to protect humanity from the also-alien Deviants.  The team of Eternals arrived on Earth 7,000 years ago and used both teamwork and their innate cosmic energy to destroy all the Deviants.  Under orders to remain until called back home to Olympia, the Eternals have lived separate and incognito lives amongst humans all these years, ready to use their powers to protect them against any recurring Deviant threat, and forbidden from interfering in any other conflict.  As they reach the present day, a sudden and inexplicable resurgence of Deviants causes the team to reassemble and question not only why the Deviants are back, but everything they have been told.
At a recent virtual press conference, some of the cast and creatives involved with Eternals met to discuss their characters and other aspects of their filmmaking experience.  Present were Angelina Jolie, Salma Hayek, Richard Madden, Gemma Chan, Kumail Nanjiani, Kit Harington, Brian Tyree Henry, Don Lee, Lauren Ridloff, Lia McHugh, Director Chloé Zhao, and Producer Kevin Feige.
Press Conference highlights:
Feige on why Eternals, and why now:  "…It was in a post-Infinity saga world–we wanted to make a bold new step and say you don't know everything about the universe yet and that there are these ten spectacular heroes who you haven't met who've been here the whole time."
On the characters: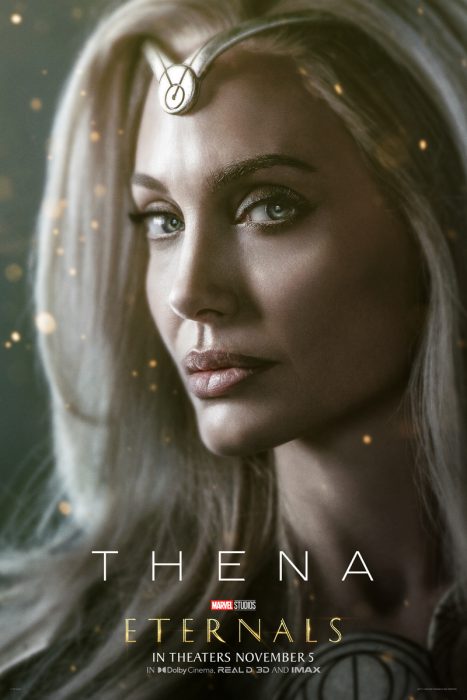 Jolie:  "…As I learned about Thena–and that's one of the special things that Chloe brings to this…she's known for bringing reality to a film–a lot of us were cast to bring out something from our own lives, something within ourselves, that maybe we weren't even aware of, and then let it live and let it grow within the film.  So, she seems the most fantastic I've ever played in a superhero, and yet, my children said they thought it was the most like me that they've seen."
Gemma:  "Sersi is a superhero, but her powers are not the most obvious or the flashiest.  She's not, you know, the best fighter.  What she does have is empathy and a real affinity for humankind and the Earth…That was one of the enjoyable things about the film, was going on that journey with that character.  It's kind of her coming-of-age, even though she's probably thousands of years old.  But, she learns to trust herself and to grow into her own power,..That was a really interesting thing to explore."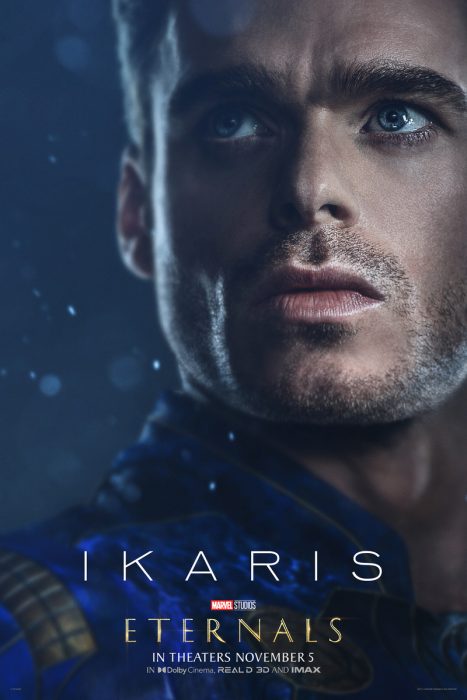 Madden:  "I'm used to characters who are very focused on their love, and that comes out.  With Ikaris, it's the opposite of that.  He's kind of trying to bury that love because it gets in the way of his duty and is constantly wrestling the two.  That's kinda what made it really interesting for me to pull out that relationship with all the characters from Sprite to Sersi, and kind of work out what this relationship is when you're trying to stick to duty, but your feelings get in the way.  It's this kind of eternal soldier wrestling that."
Hayek:  "It's a really humbling experience, because, you know, I dream big…if I hadn't, I wouldn't have gotten here at all.  But in my big dreams, I wanted to be a superhero, and I wanted to work with the best directors in the world, and have big blockbuster movies, and also movies that are art, that are made from a very deep place.
"…But it didn't happen for me.  Didn't happen that much for me.  And so, you fight for it in your 20s, in your 30s, and in your 40s you go, oh, screw them, they don't get it.  You know, they missed out.  I would've been a great superhero and they didn't see it.  Screw them.  I'm gonna do something else.  Let's have a baby.  
"And you give up….Now…it's very humbling when in the middle of your 50s, a brilliant director gives you the opportunity to do both.  To do something that comes from a deep place that is also a big blockbuster.  I was wrong.  Everything is possible. 
"It's such a humbling sensation…when you think about it, you know, in your 50s, Mexican, I mean, I'm short with big boobs.  It's not the normal superhero.  I'm not muscley.  I don't look like that.  I don't have Botox.  I'm doing well, but…you know, in my 50s.  And they let me do my action…They were not afraid of the insurance, that grandma was gonna break in the middle of it.
"It's just beautiful that yesterday when I came out, I nearly cried because I saw this Latino family.  The mother with the three little girls all dressed like Ajak.  I was trying to be sexy, and then I wanted to cry.  It was all so moving, you know?  That they can see themselves in this.  Thank you to Marvel and thank you to Chloe.  My god, I talk a lot."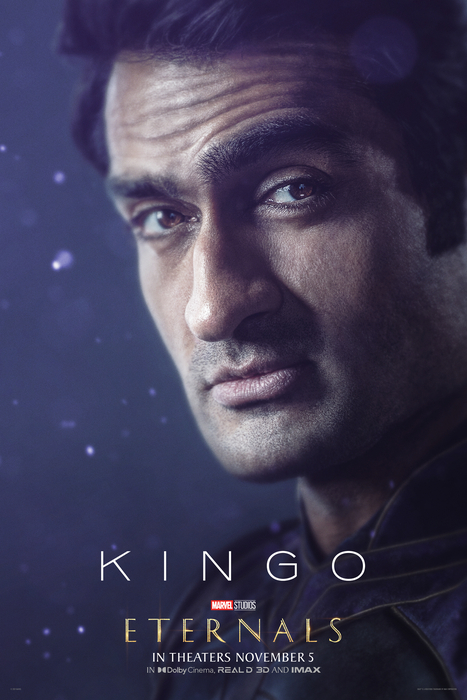 Nanjiani:  "When we first talked about the movie, she was like, 'there's a Bollywood dance sequence,' and I was like, 'Chloe, I don't think I can do that.'  She's like, 'okay, we'll make it a Bollywood action scene.'  And then soon as I got to London, she's like, 'it's a dance sequence.'
"…Ultimately, for me, all that came down to trust.  It really did.  You know, on the macro level, trusting Kevin because he's made so many MCU movies, and they're all great…and then with Chloe…just in meeting her, I was like, oh, she's not going to let me suck in this thing.  So if she wants me to do something, I'm going to do it."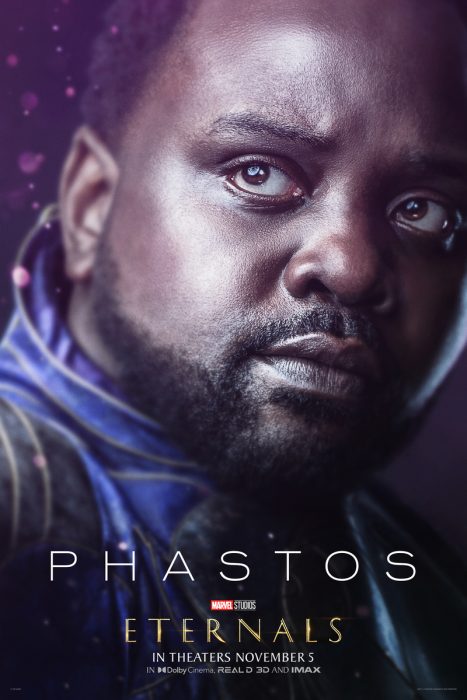 Henry:  "What I love the most about Phastos is that, for one, he's an ancestor.  All of us are ancestors technically.  So Phastos predates everything and had to probably go through all these things, which could actually make someone lose faith in humanity very quickly.  And I remember when I was coming to this project that I, Brian, had kind of lost faith in humanity, just looking at all the things that we've been through and just what the images of Black men were and how we were being portrayed and how the power was taken from us.
"And what I really love the most about Phastos is that through all of that, him being eternal, him never being able to die, he still chose love.  He still decided to have a family even though he may have to watch them perish.  He still tried to find a way to bring heart and love to everything he did, even though his genius was used against him.  It really resonated a lot with how I felt, how my place in society was, how, you know, we can be kings and queens, and at the same time, they'll take our pedestal and take our superpowers from us like that.  So what I love the most about Eternals is that Chloe and Nate really just re-instilled that power back in me again.
"I remember the first time that they were like, 'so, we want you to be a superhero.'  I was like, 'cool.  How much weight do I have to lose?' and Chloe was like, 'what are you talking about?  We want you exactly as you are.'  And again, to be a Black man, to have someone look at you and say, 'we want you exactly the way you are,' is unlike anything that I've ever felt.  It just triggered me to being an 11-year-old kid who's watching these superpower movies, superhero movies, and not ever seeing anyone like me reflected.  Like how I would take these posters and put them in my locker and just hope that one day there would be somebody representing me and the way that I am.
"I think that that's what Eternals really brings to the surface is that this is a family.  This is who we are.  This is what we look like.  I think that that is the one thing that I hope everyone takes away from this movie, is that the heart of humanity is still worth saving, and we can still bind and mend and do everything we need to through love."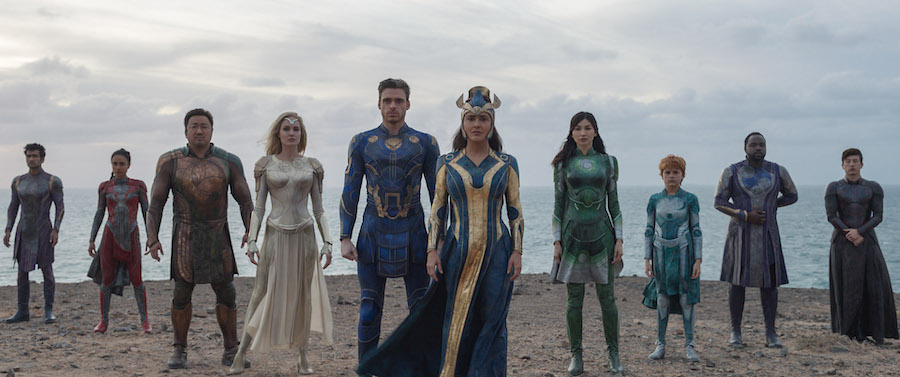 In case you missed it, here's the trailer for Eternals:
Eternals opens in theaters on Friday, November 5.
Questions?  Comments?  Suggestions?  Drop us a line below.
Be sure to follow @allearsnet on Facebook, Instagram and Twitter!
Check out our YouTube Channel for reviews, news, information and more!
Click below to subscribe to the AllEars® newsletter so you don't miss any of the latest Disney news!