After a year off, GKIDS, in partnership with Annecy International Animation Film Festival, and Variety once again held the 2021 "Animation Is Film (AIF) Festival" at the TCL Chinese 6 Theater in Hollywood.
The three-day festival featured twelve international films premiering in competition in parallel with the "Studio on the Big Screen" series which presented a selection of films which were forced by the pandemic health crisis to open solely on streaming services last year.
Many of the showings were accompanied by live panels or introductions with the filmmakers, including a sneak peek at Walt Disney Animation Studios' (WDAS) upcoming feature Encanto.
One of the panels early on in the festival was "The Making Of… Walt Disney Animation's Encanto" which featured director Jared Bush introducing the film and describing some of the research and development that went into the making of it.  Much of this was similar ground to what they had covered in the Early Press Day I attended in September, but with the addition of a bit more finished footage.
@justjeanine1

ENCANTO Director Jared Bush talking at the Animation Is Film Festival at the TCL Chinese Theater in Hollywood, October 2021. #Encanto @GKIDS
While it's often hard to get a complete impression of a film from just the first 20 minutes or so, Encanto looks beautiful with animation that certainly doesn't look like it was all done at home during a pandemic.  The few songs we saw are typically witty and articulate as we've come to expect from Lin-Manuel Miranda, and this is definitely a film to look out for when it comes to theaters on November 24th.
Continuing on a Lin-Manuel Miranda theme, the next film I saw was Vivo, which was released earlier this year on Netflix from Sony Pictures Animation.  Voiced by Miranda, who also wrote the songs, Vivo is a kinkajou who lives a happy and secure life in Cuba as a street performer with his kindly owner Andres.  When Andres receives a letter from his old love Marta Sandoval (Gloria Estefan) who went off to stardom before he could ever confess his feelings, he is overjoyed at the idea of seeing her again.  Vivo is initially threatened by the idea of both travel and romance interfering with their comfortable lives and wants no part of either…until tragic circumstances compel him to face his fears and journey all the way to Miami in hopes of delivering Andres' last love song to Sandoval.  Along the way he meets up with the enthusiastic Gabi (Ynairaly Simo) who good-naturedly helps and hinders his mission as the two learn to overcome their differences and come together as a family.
This film has a nice, stylized art design, particularly in Andres' flashback scenes where the 2-D look adds a lot to the nostalgic feel.  In contrast, Gabi and Miami in general has a much more modern, mildly garish look about it that reflects the culture shock Vivo suffers to his more conservative, artistic sensibilities.  The songs are catchy, although in general, less memorable than some of Miranda's subsequent work (Vivo's development actually pre-dates his work on Moana.)  It's a fun movie, if one that may not linger in your mind too long, and is currently streaming on Netflix.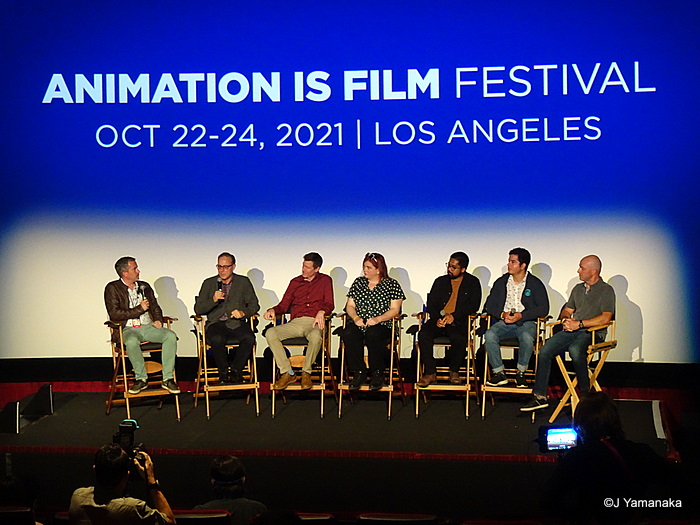 Next up, and also released on Netflix from Sony Pictures Animation, was The Mitchells vs. The Machines.  This tells the story of Katie Mitchell (Abbi Jacobson) whose dreams of moving out and attending film school are in constant jeopardy from both her uncomprehending and mildly critical Dad and an inconveniently timed robot apocalypse.
This was a film that I found to have a really interesting look and style that elevated it beyond just your typical "troubled family comes together through the course of a road trip" type story.  While the root plotline of an artistic filmmaking teen at odds with her pragmatic and Neo-Luddite father doesn't feel particularly new, and the ominous Apple-esque tech company seems a little reminiscent of the recently released Ron's Gone Wrong, the characters are all well-written and given their own moments to show off their quirky and distinctive traits.  The scenes where Katie mentally remakes parts of the film into her own roughly-edited internet film series style give it a fresh and different look.  This one is definitely worth a watch on Netflix, where it is currently streaming.
Arguably the highlight of the festival was the West Coast Premiere of GKIDS' Belle, directed by Oscar® nominee Mamoru Hosoda (Mirai) who introduced it in person.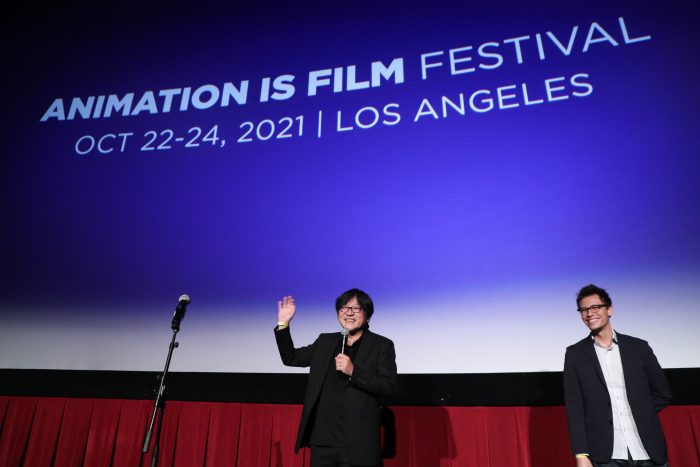 Hosada:  "As some of you probably know already, it is inspired by the original works of Beauty and the Beast which dates all the way back to 18th-century classic French literature, and then of course after that, there was the 1946 interpretation by Jean Cocteau. 
"And then, of course, my favorite interpretation of it all, the 1991 Disney's Beauty and the Beast, which was such an impactful movie for me, because it's been thirty years since the release of that particular film, but that movie was the one that encouraged me to pursue the Animation Industry and got me to where I am today.  So I'm really happy that happened.
"And here we are in 2021, my interpretation of Beauty and the Beast, I hope you all enjoy it."
Belle centers around Suzu, a girl who used to be bright and cheerful and devoted to her music, but became depressed and introverted after her mother died saving another child from drowning when she was still little.  Unable to communicate much with either her father or most of her high school classmates, she lives her life "like a cricket singing in the shadows" until one of her few friends makes an account for her in "U," a virtual world of 5 billion members on the Internet.  An automated process creates an avatar for her with a completely different look, and she finds that here, in the anonymity of the Internet, she can finally find joy in song again.  The vast throngs of U first dismiss her as an attention-seeking newbie, but quickly become enraptured by her beautiful voice and emotional singing and as "Belle," Suzu attains pop star status.  While trying to wrap her head around her new-found popularity, Suzu is further confounded by her introduction to a beast-like avatar called Dragon who is constantly being hunted down by a squad of Justices–muscular, uniformed avatars of people who take it upon themselves to police U and enact the ultimate punishment–doxxing–on anyone they dislike.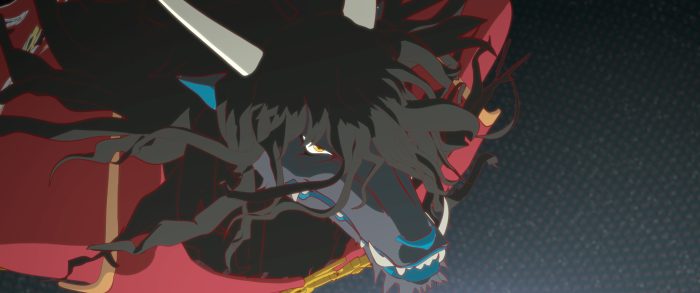 Sensing the same kind of isolation from Dragon with which she is all too familiar, Suzu attempts to find out more about it and the two strike up the kind of close but uncertain friendship that develops when you have no real idea if the other person is who they seem.  When Suzu discovers the source of Dragon's pain and the different types of peril it faces, it becomes a race for her to dig down and find out what she can do–and what she is willing to do–to save it.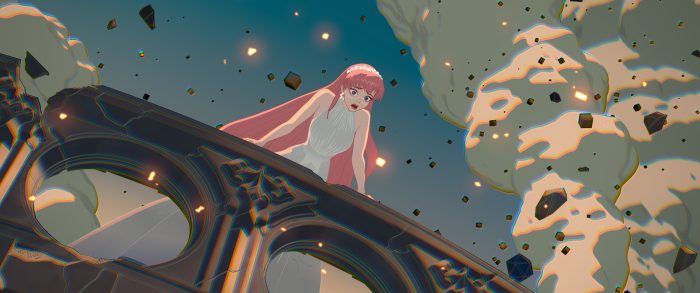 Belle made news earlier when, at its debut in Cannes, it received a standing ovation for fourteen minutes, and watching it, it is easy to see why.  The imagery is absolutely fabulous, particularly in U, where everything seems manifested directly out of someone's imagination.  The areas seem impossibly large, populated with uncountable users.  Hosada is no stranger to depicting virtual reality, but this looks much more polished than his earlier Summer Wars.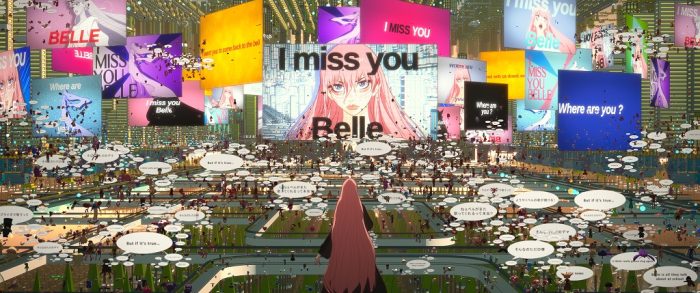 When Belle gets to Dragon's castle, the references to the 1991 film really kick in, from the gothic architecture to the archetypal ballroom scene.  If Belle herself has something of the Disney look, it could be because she was designed by long-time Disney animator/character designer Jin Kim.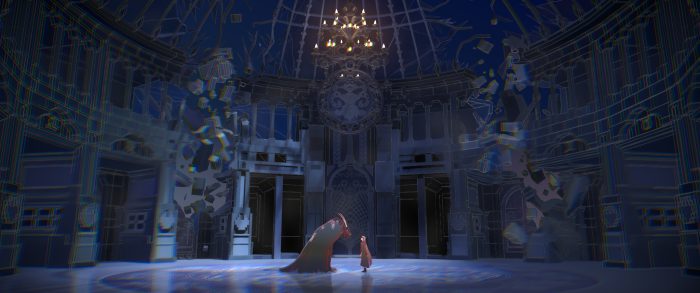 While not as flashy visually, the heart of the film is actually outside of U, following Suzu as she progresses from being a victim to becoming someone strong enough to protect others as a result of her online experiences.  The story in fact feels a little too big to fit into just this one movie, as the initial U interactions she has with Dragon seem a little slight for her to develop such an interest in him.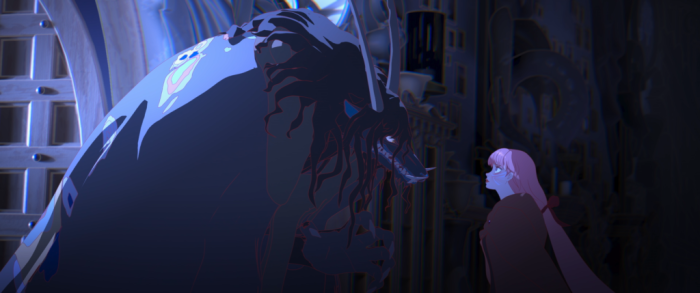 Ultimately, as influenced by Beauty and the Beast as it is, Belle is not a simple retelling, but its own story of a girl who finally discovers the answer to the question that has plagued her since her mother's death–Why would someone sacrifice themselves for a complete stranger?–and learns how to be her authentic self in an artificial environment.  Make every effort to see this one when GKIDS brings it to theaters on January 14, 2022.
The second day of the festival had ample representation by WDAS with showings of both Luca and Raya and the Last Dragon, both of which benefited enormously by being seen in a theater setting.  (To be fair, I don't have any sophisticated home theater setup so the difference between watching them on my computer monitor and seeing them on the big screen was huge for me.)  Following Luca, there was a Q+A with Director Enrico Casarosa, while Raya was introduced by Director Carlos Lopez Estrada and star Kelly Marie Tran ("Raya.")
RAYA AND THE LAST DRAGON Director Carlos Lopez Estrada and star Kelly Marie Tran at the Animation Is Film Festival
Once again, AIF also awarded prizes based on both jury and audience voting:
GRAND PRIZE:
FLEE directed by Jonas Poher Rasmussen 
SPECIAL JURY PRIZE:
BELLE directed by Mamoru Hosoda 
AUDIENCE AWARD:
THE CROSSING directed by Florence Miailhe 
While I focused mostly on the Disney entries this year, there were of course an abundance of international offerings and premieres.  Among them were the opening night film The Summit Of The Gods (Le Sommet des Dieux) based on the manga by Jirô Taniguchi and Baku Yumemakura and directed by Patrick Imbert, and the North American premiere of the wildly popular My Hero Academia: World Heroes' Mission directed by Kenji Nagasaki.
Proof of vaccination or a negative COVID test were required along with masks for entry each day, so it felt like appropriate health precautions were being taken and, with the exception of the sold-out showings, most screenings had enough space to socially distance within your row.  It's been a long time since I spent that much time in a movie theater, but there is something undeniably special about watching films on a big screen as a communal experience.  If you are a fan of animation, I highly encourage you to check out Animation Is Film for a great look at each year's global achievements in the field and a fun few days of movie watching.
For information on next year's festival, keep an eye on their website https://animationisfilm.com/.
Subscribe to the AllEars® Newsletter to get our free download on 109 Things to Know Before You Go to Walt Disney World and stay up-to-date on all the Disney news!
Are you an animation fan, too? Leave us a note in the comments below!