Currently in the works at Walt Disney Animation Studios is its 60th animated feature, Encanto.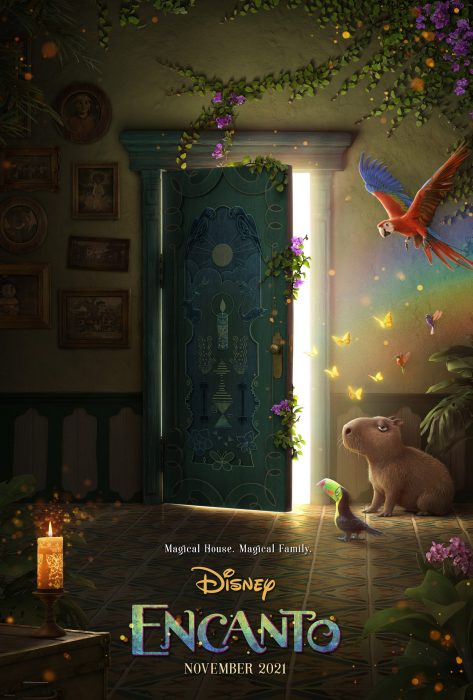 AllEars was recently invited to get a sneak peek at the film in progress and listen to the filmmakers talk about the story's inspirations, themes, and characters during Encanto's virtual early press day.
Among those participating were Director Byron Howard, Director and Screenwriter Jared Bush, Co-Director and Screenwriter Charise Castro Smith, Producer Yvett Merino, and Producer and President, Walt Disney Animation Studios Clark Spencer.
The Origin
The journey of Encanto began some five years earlier, when Howard and Bush, reunited from their work on Zootopia, decided to parlay their lifelong musical (trombone) backgrounds into making a musical.  As Bush had just recently worked on Moana with Lin-Manuel Miranda, they decided to team up with him and discuss what the new musical would be about.  They asked themselves, what is most important to them?  What do we all have in common?
The answer was family.  All three have large extended families with complicated dynamics.  The central question they posed to Encanto, therefore, was how well do we truly know our families and how well do our families know us?  Understanding each family member's different perspective based on their placement in the family and relationships with each other helps us to truly see each other and appreciate that everyone around us is fighting their own battles.
The Location
As the filmmakers discussed where the film should take place, Colombia became a favorite choice both because of the importance of family within the region and its position as The Crossroads of Latin America–a melting pot of Latin culture, music, dance, art, food, and biodiversity.  Howard, Bush, Miranda, and Miranda's father Luis all took a research trip to Colombia to learn and experience it all for themselves.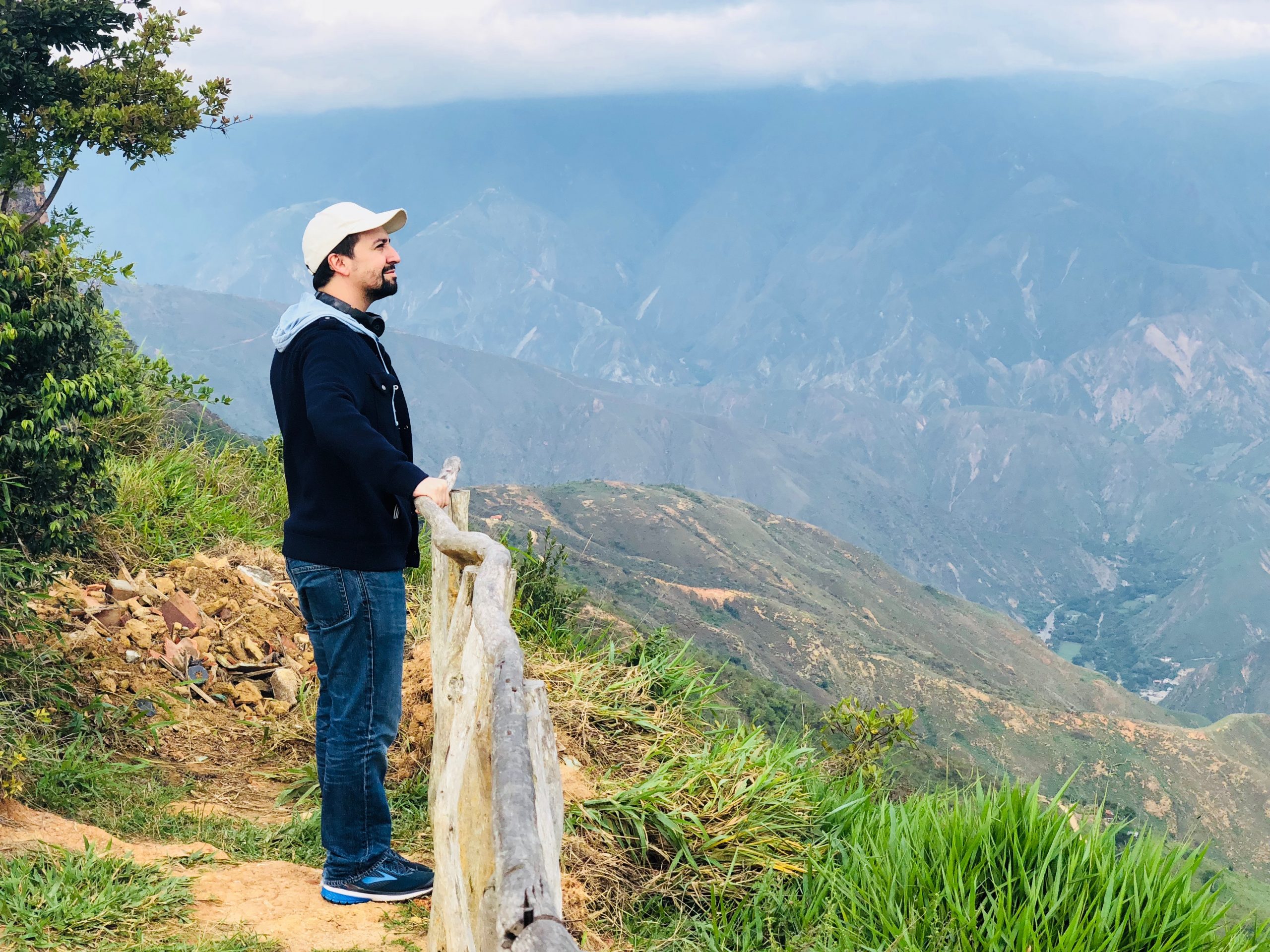 One of the most important experiences the team had in Colombia was exposure to areas of heightened spirituality and magic called Encantos.  Usually, in areas of natural wonder, these are spaces where magic still happens as it has of old, but magic is different from European magic with wizards and wands–this is magic tied to emotions called magical realism.  Here, fantastical elements are presented as commonplace in a world otherwise grounded in reality.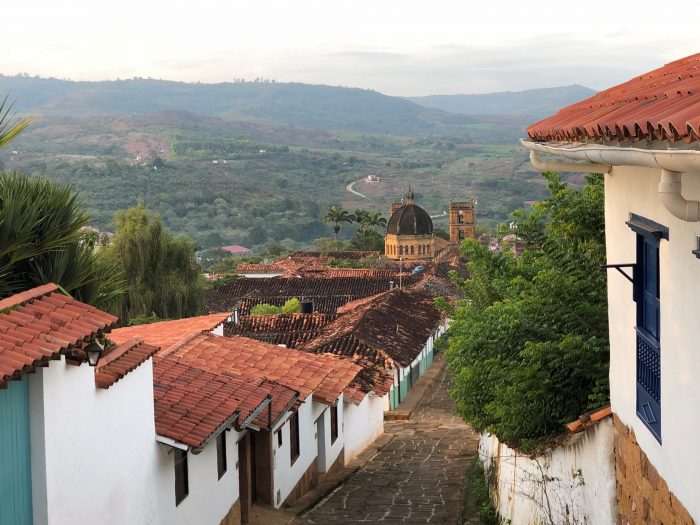 Upon return from the trip, they brought Castro Smith onto the team as someone with a deep understanding and affection for magical realism and the task of writing began.
The Characters
Castro Smith:  "…We realized that if the family in our story lived in one of those magical Encantos, maybe the children born there would be special, but special in a way that is a nod to family dynamics that we can all relate to, that we all know.  Like the strong, dependable child who is the rock of the family.  Or the perfect golden child whose happiness blossoms.  Or the quiet kid who isn't comfortable talking to people, and so he talks to animals.  Or the worrywart who can see the future, but he only sees the bad things.
"So, as we thought about that, we had a big breakthrough because we realized that the family's house didn't have to just be a house.  Because in an Encanto, the house itself could have powers, too."
Bush:  "…So, like the ocean in Moana, the house of Encanto is a character.  As opposed to Moana, our house is a little more opinionated and flawed.  It's a house that plays favorites, like families do.  A house that messes with people.  This is Casa Madrigal, the magical home of the Madrigal family which is located within the Encanto, along with the small neighboring town.  It's alive with magic and its own, unique personality."
Howard:  "So, we are following three generations of the family Madrigal in our story.  There's, of course, Mirabel, who's our main character:  The only ordinary child in a family blessed with magical powers.  After spending her entire life trying to measure up to the rest of the Madrigals, Mirabel finds that she is the only one who can save her beloved family and their magical home.

ENCANTO – Mirabel ©Disney
Mirabel, the protagonist, is voiced by Stephanie Beatriz from Brooklyn Nine-Nine.  "She is perfect and funny and empathetic and very, very human and we love that about her."
Mirabel has two sisters, the oldest of which one is Isabela, (voiced by Diane Guerrero) who has the magical power to make plants grow and flowers bloom.   She is effortlessly graceful and poised and is the golden child of the family.  While superficially the perfect Madrigal, she feels trapped by her role and is more than she appears.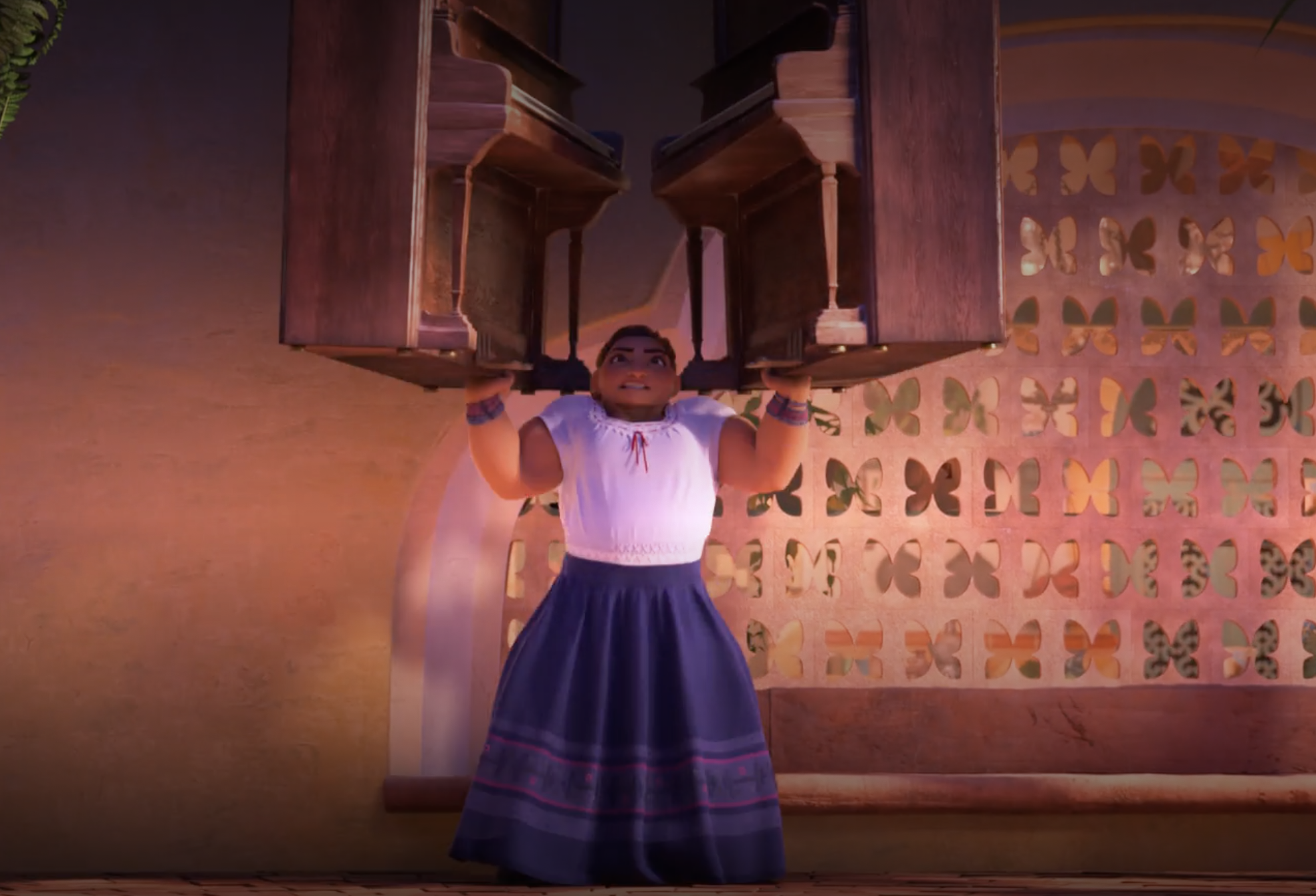 Her next older sister is Luisa (voiced by Jessica Darrow.)  Strong and hardworking and athletic, she is the middle child who is the rock of the family with the magical gift of superstrength.  Like Isabela, she too has secret feelings and sensitivities that are at odds with her outer persona.
Mirabel's parents are Julieta (Angie Cepeda) and Augustin (Wilmer Valderrama.)  Julieta is the town doctor and has the magical power to heal people through food, while Augustin married into the family and has no powers except that of being accident-prone.
Julieta was one of triplets.  Her brother is Bruno (John Leguizamo) who has the gift of prophecy.  Unfortunately, his visions of the future were inevitably unhappy and people came to blame him for causing the misfortunes he saw, resulting in his disappearance from the family altogether.
Julieta's other triplet is her sister Pepa (Carolina Gaitan) who has the power to control the weather with her emotions–a mixed blessing, considering she tends to be overly dramatic and emotionally volatile.  She married Felix (Mauro Castillo) who has no powers but is the life of the party anyway.
Pepa and Felix also had three children:  Delores (Adassa,) Camilo (Rhenzy Feliz,) and Antonio (Ravi Cabot Conyers.)  Delores has the gift of super-hearing, Camilo has the magical ability to shapeshift, and Antonio, who receives his gift in the course of the film, has the power to communicate with animals.  Like the others, these gifts reflect and inform their personalities, as Camilo is a teen who likes to entertain and try on new personas as he figures out who he wants to be; Antonio is shy and more comfortable in the society of animals than other people, and Delores is perhaps a bit of a gossip.
The matriarch of the family is Abuela Alma (Maria Cecilia) whose sacrifice and faith created the Encanto as a refuge for herself and her family in their darkest hour.  She is determined to protect her family at any cost, and has spent the last 50 years working to ensure their survival.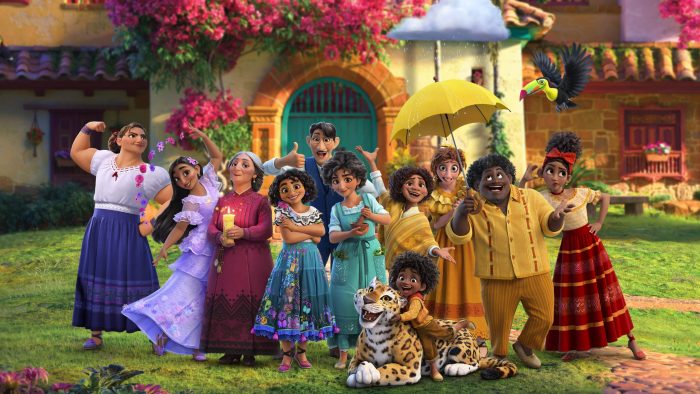 The Story
As part of the Early Press Day, we were shown about 20 minutes of footage still under development to get a sense of how the film begins.  It starts with Mirabel being begged by the neighborhood children to tell them about her magical family, which she does at length, in a musical number that introduces the family members and their powers.  Although she tries to avoid mentioning it, the fact that Mirabel is the only non-magical member of the family quickly becomes evident and she is the object of their sympathy and pity.
Plucky and determined to not consider herself as lesser for having no magic, her self-esteem takes another hit when Abuela Alma asks her to take a low profile at her cousin Antonio's gift ceremony for fear of her giftlessness somehow interfering with him receiving his.  The ceremony involves the children of the family, when they reach a certain age, opening a magical door in the house which then bestows some kind of distinct ability on them.  They are then given their own room in the house (graduating from the nursery, where Mirabel still lives) which the house redesigns as a spectacular space specific to their gift.  Unlike Mirabel, Antonio successfully receives his gift of talking to animals, and is given an enormous room full of trees and animals that would be the envy of any nature-loving child.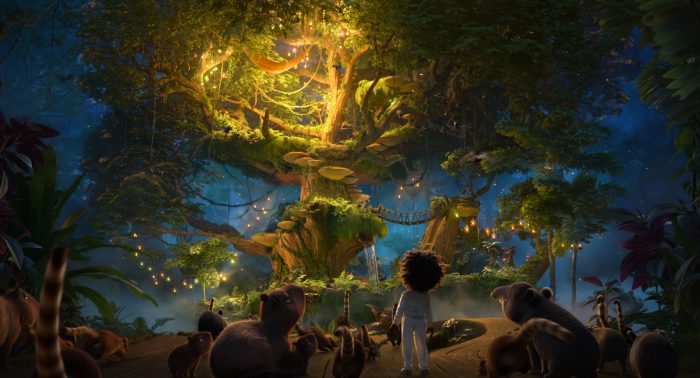 Later that evening, Mirabel begins to notice frightening cracks in their beloved magical house.  She tries to tell the others about them, but no one else admits to having seen them, and some begin to believe she is making the whole thing up to gain attention.  Is this a forewarning of danger to the Madrigal house and family?  Did Bruno have a vision about it and was that why he disappeared?  We will have to wait until November 24th to find out.
More to come! Encanto and the short "Far From the Tree" open in theatres on November 24th, 2021.
Be sure to follow @allearsnet on Facebook, Instagram and Twitter!
Check out our YouTube Channel for reviews, news, information and more!
Click below to subscribe to the AllEars® newsletter so you don't miss any of the latest Disney news!