There's a brand new tribute store in Universal Orlando, and it's a dangerously good time!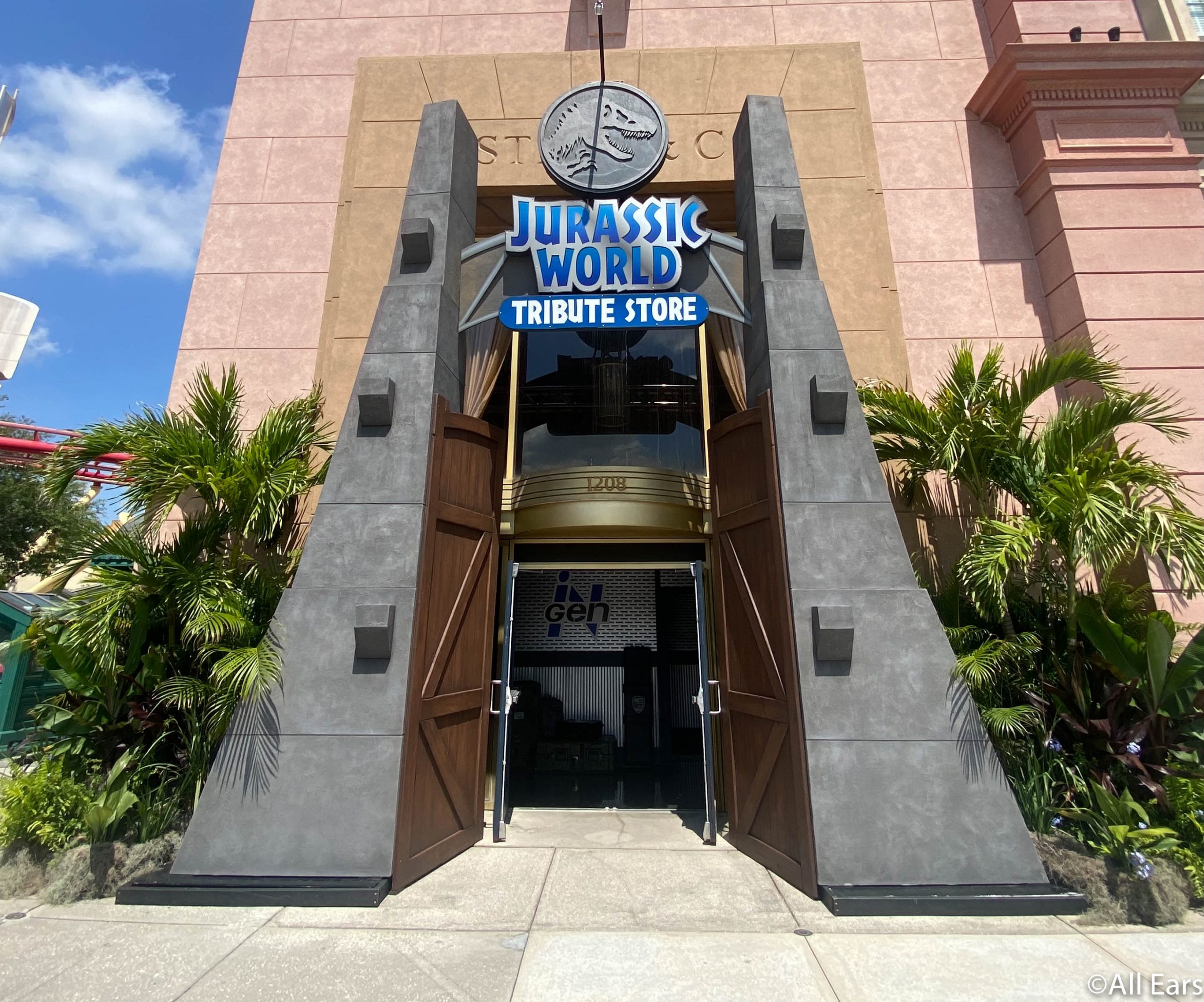 Universal's new ride Velocicoaster has already started its soft opening, and there are more ways to encounter the dinosaurs from Jurassic World over in Universal Studios at the new Jurassic World Tribute Store! We stopped by to check out the highly themed merchandise shop, so let's check it out!
The Jurassic World Tribute Store opened this week and Universal has transformed the space into a shopping experience themed after the hit attraction for a limited time!
We're scoping out the NEW Jurassic World Velocicoaster Tribute Store! @UniversalORL pic.twitter.com/xAIm3oF0vg

— AllEars.Net (@AllEarsNet) May 29, 2021
When you enter, you'll walk into the
Control Room,
where scientists analyze dinosaur samples.
Room One takes you into the Control Room pic.twitter.com/c4WrZqTys3

— AllEars.Net (@AllEarsNet) May 29, 2021
You can take a look at the control panel to keep up with everything happening on the island…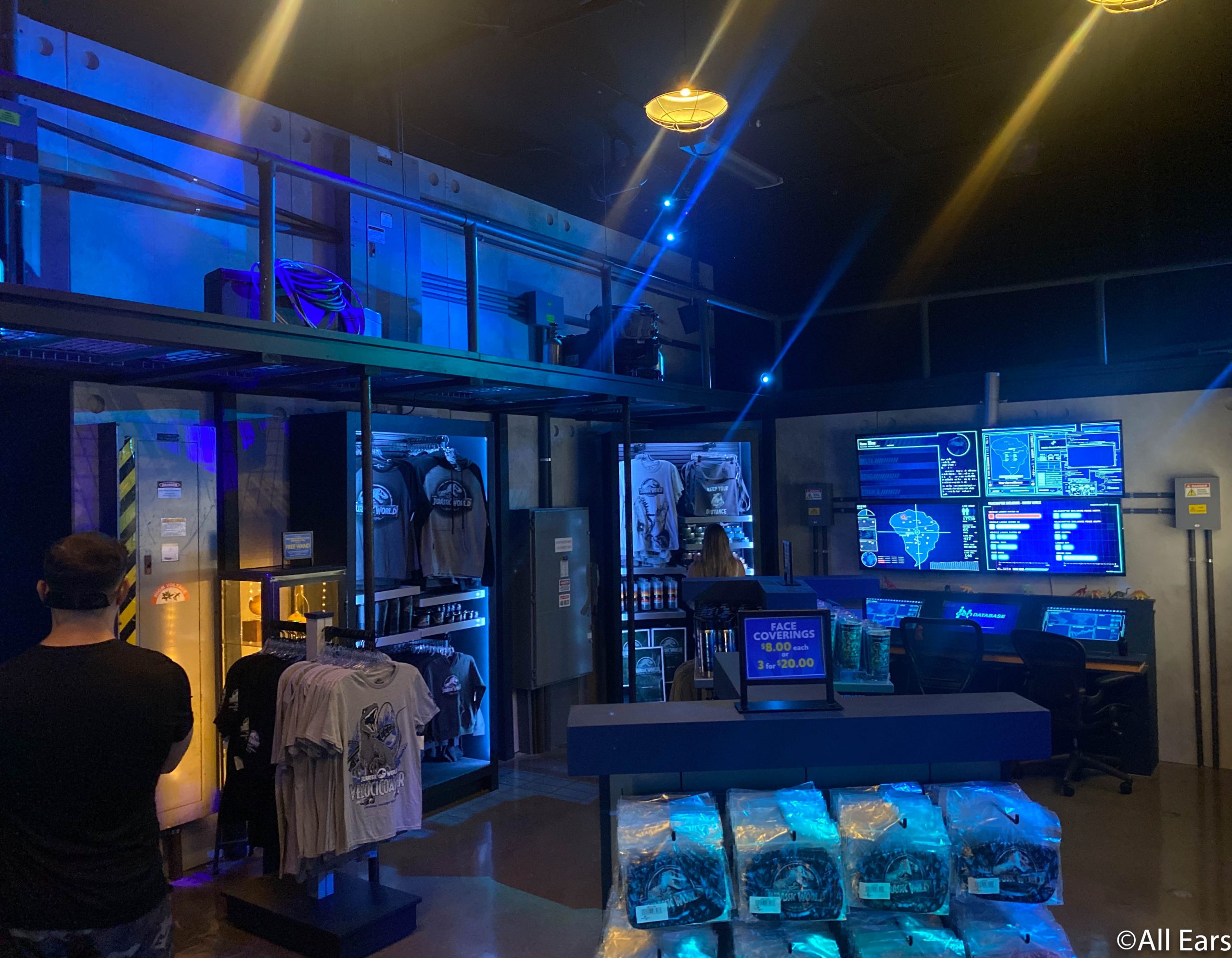 …and, obviously, to keep track of the raptors and Indominus Rex.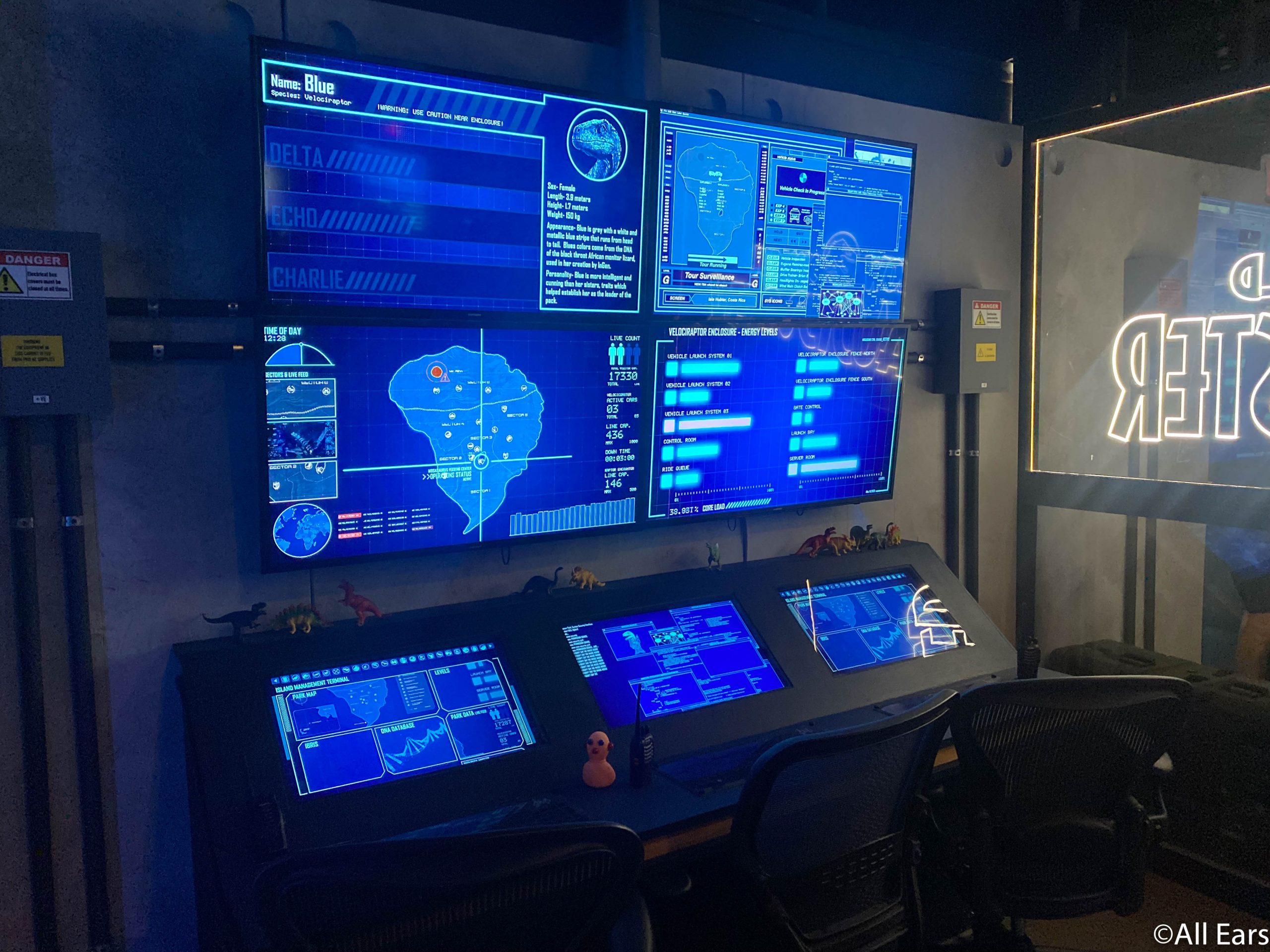 You can take a look at the park map…
…park data (with a few references to past Jurassic Park films)…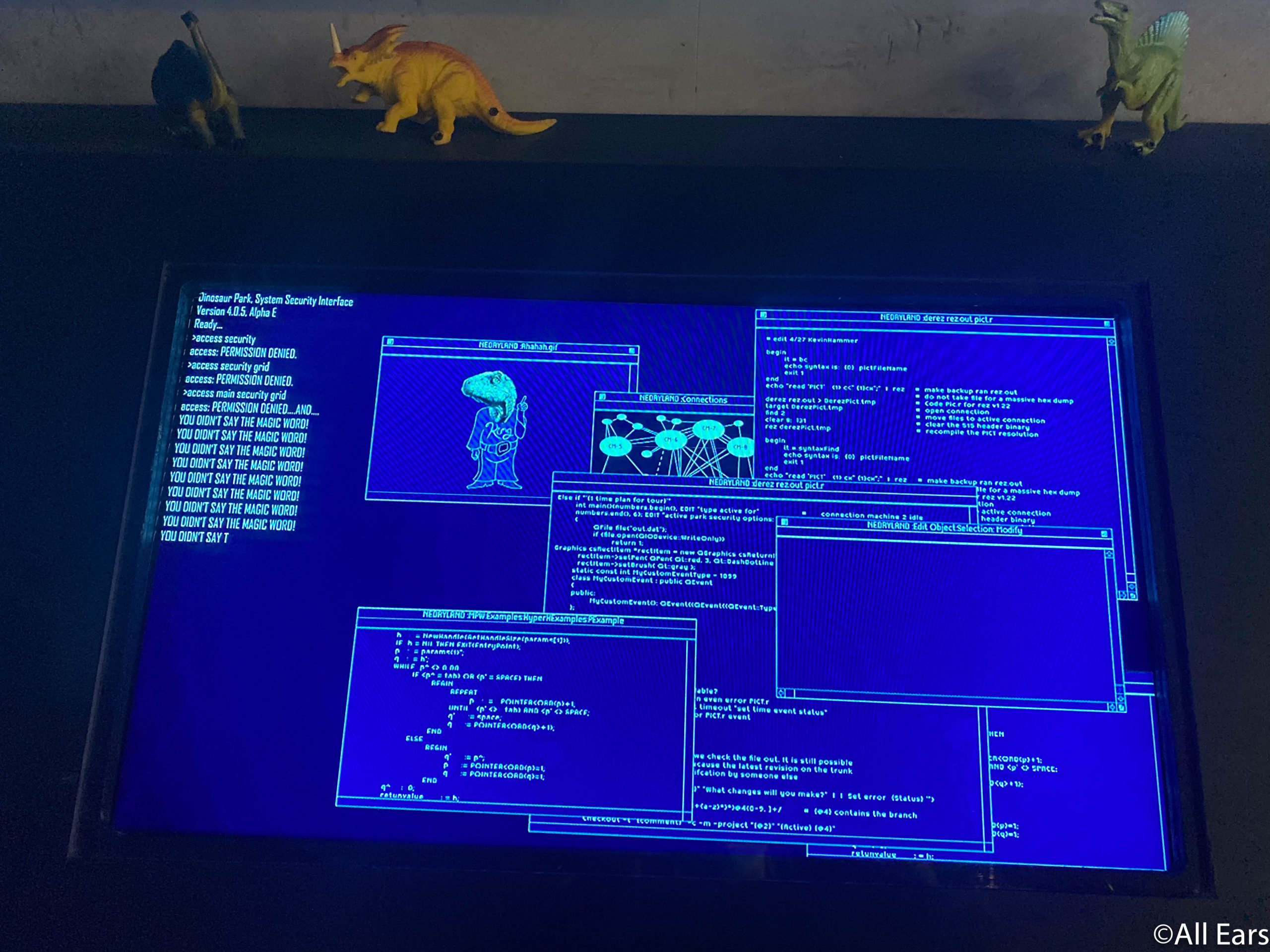 …and even the DNA database.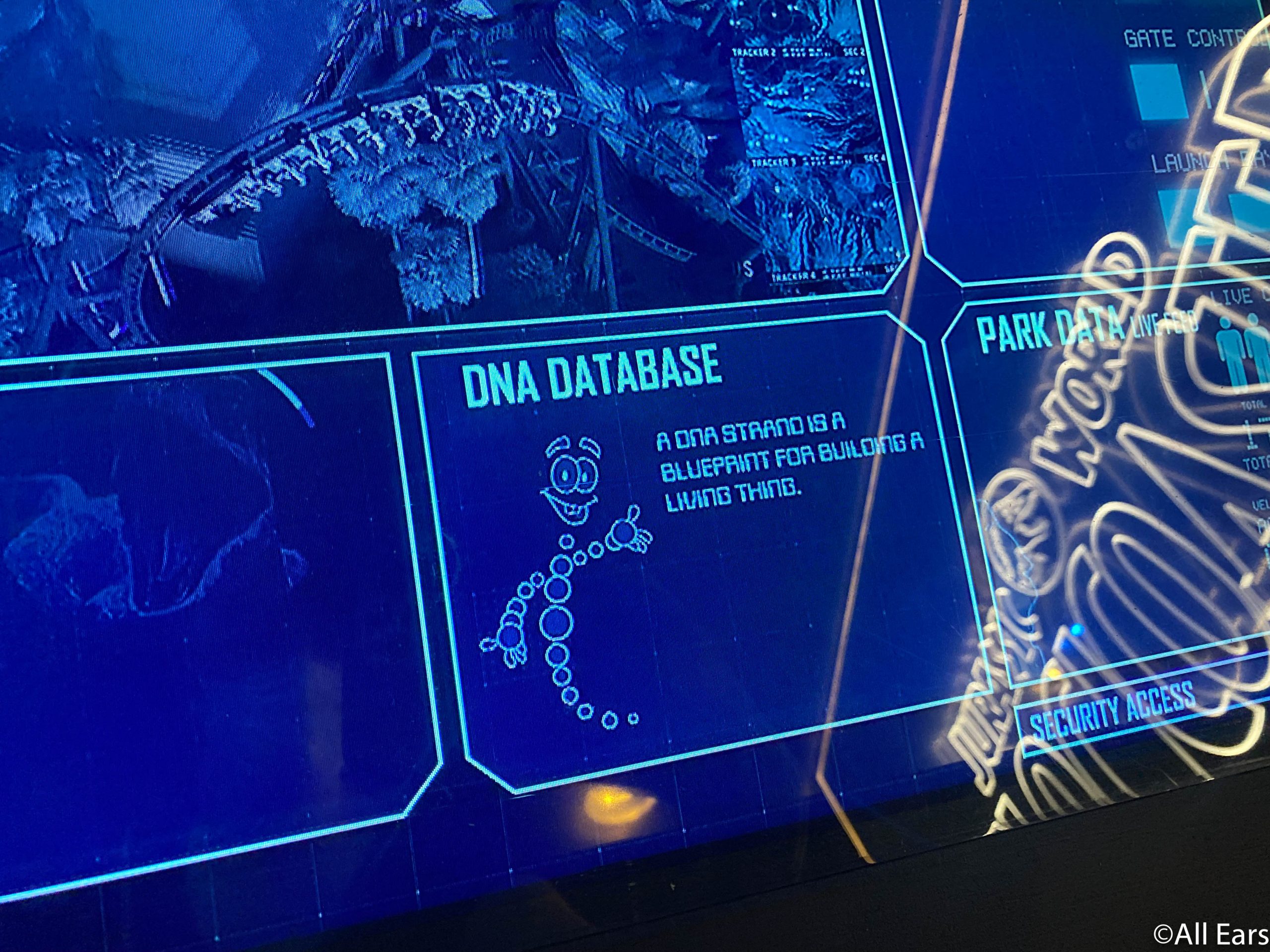 The next room is the Raptor Paddock, where you'll have your first encounter with the raptors hanging out on top of all the merchandise.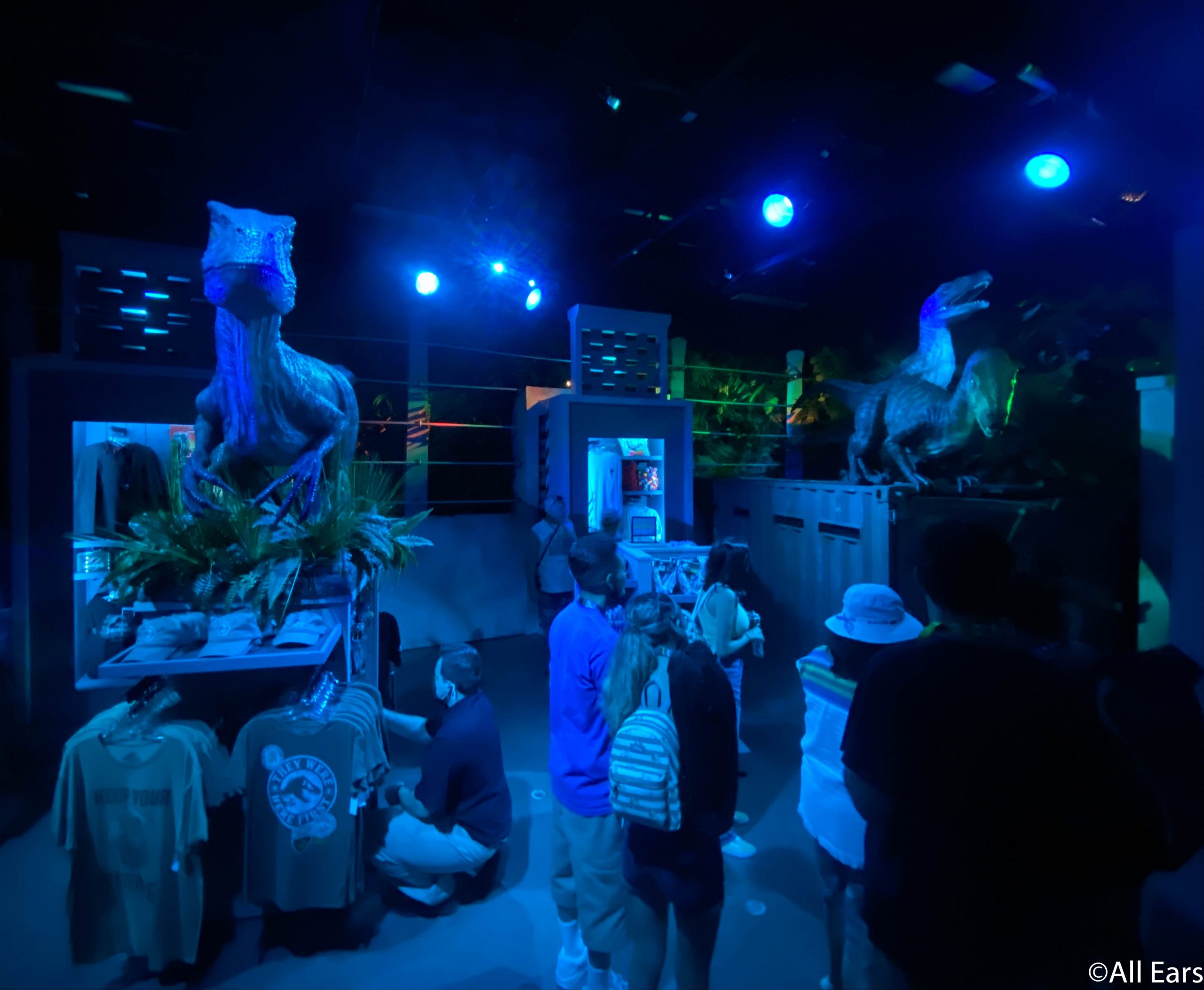 Beware!
Room 2 is the Raptor paddock…try to remain calm as assets are out of containment. pic.twitter.com/OQ90lm4FHq

— AllEars.Net (@AllEarsNet) May 29, 2021
While some of the raptors look ready to pounce…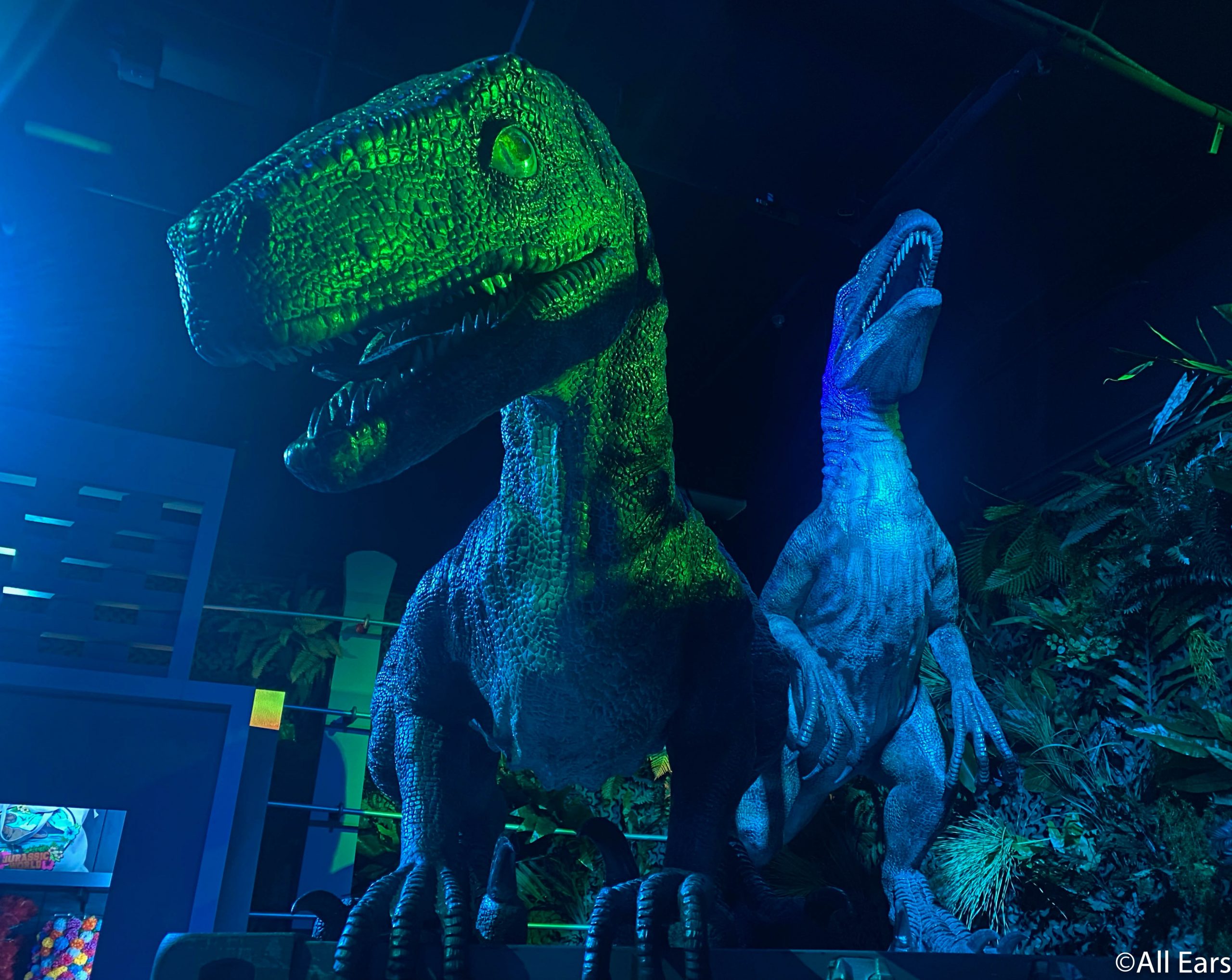 …others seem a bit more friendly, like Blue!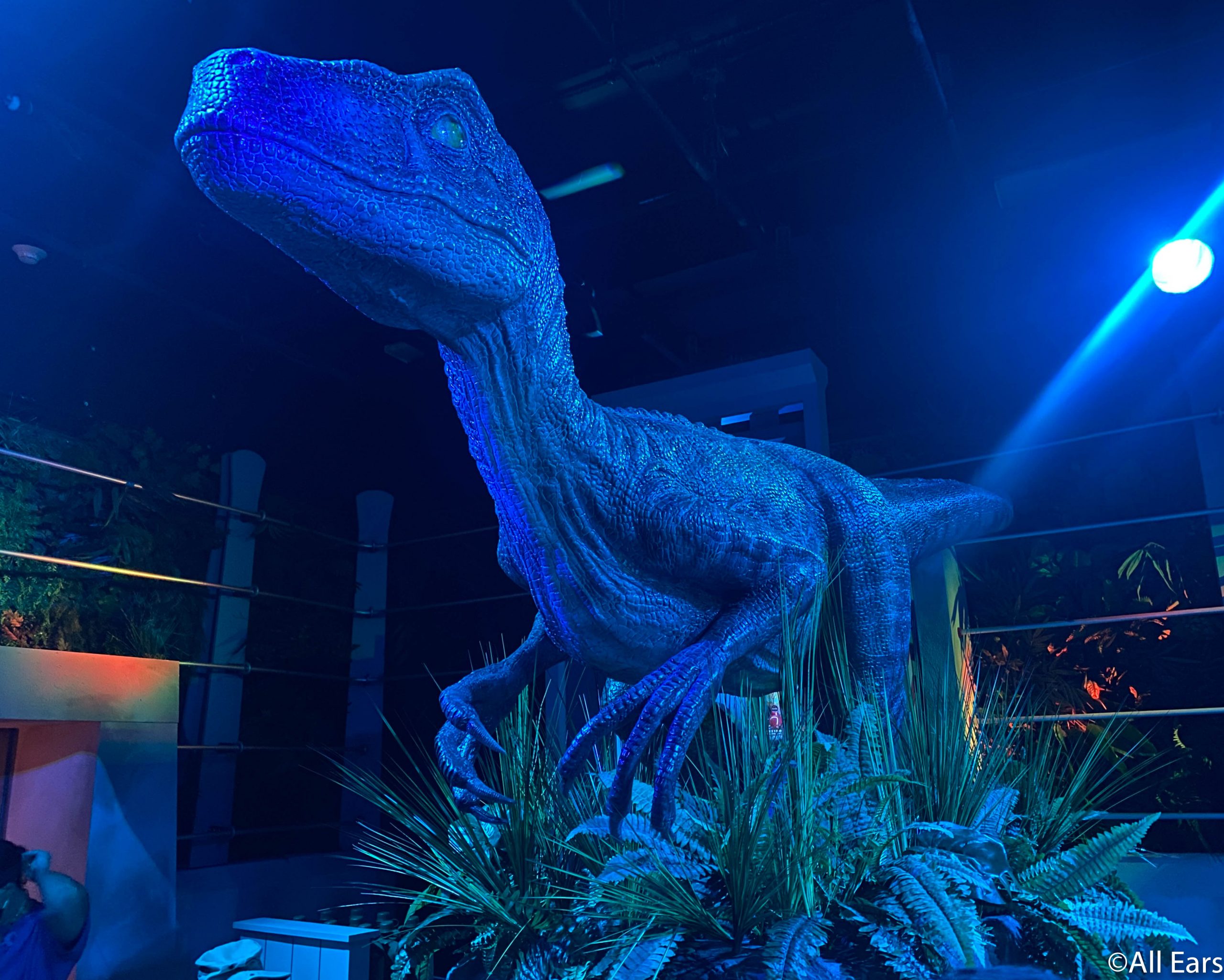 A Floral Jurassic World collection was on the shelves at the Raptor Paddock with an entire array of accessories and apparel!
The shelves are stocked with various shirts inspired by the film in gray for $35…
…white for $30…
…and yellow for $27!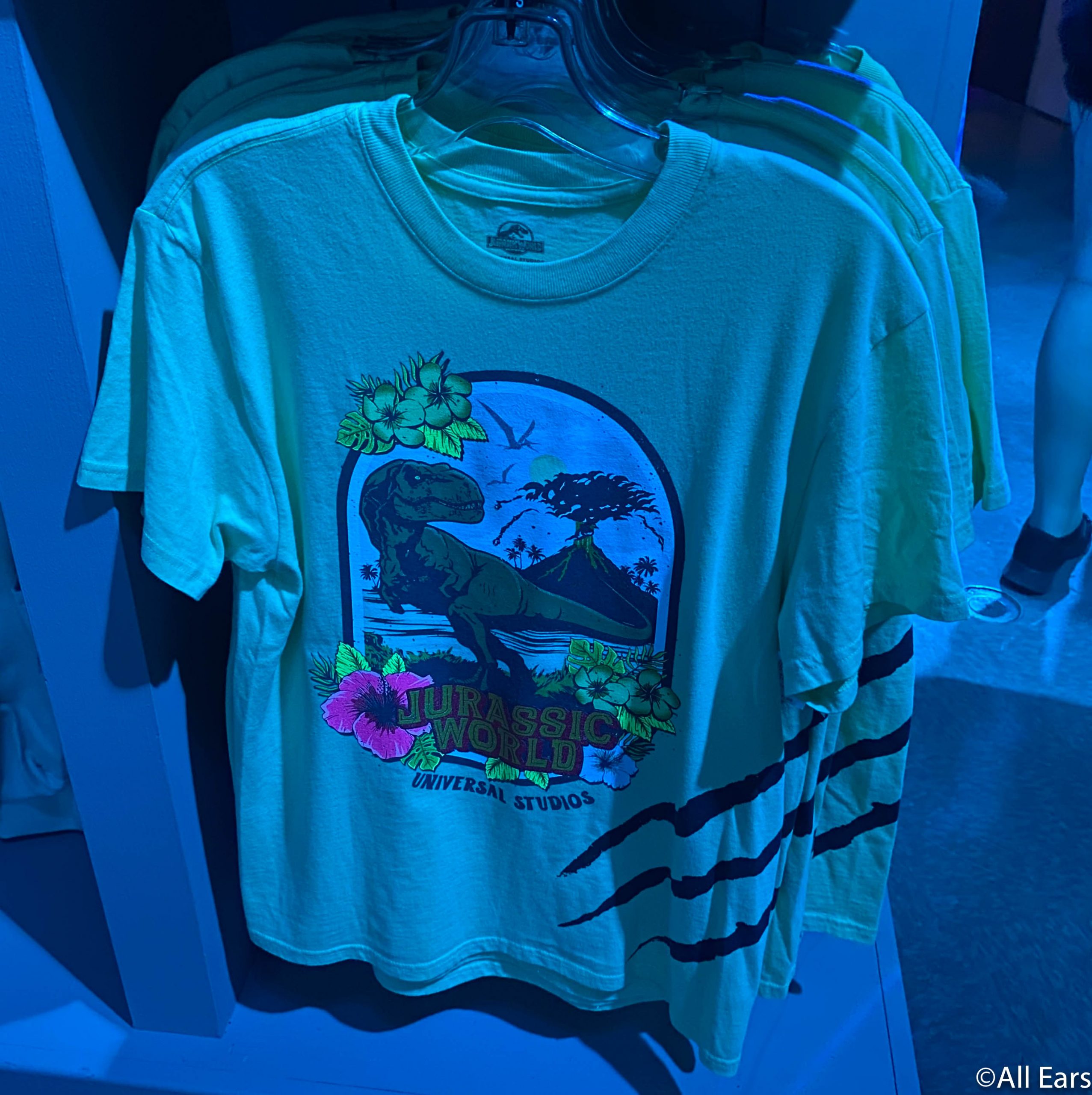 During the hottest days in Universal Orlando, you can wear the Jurassic World Tank for $38…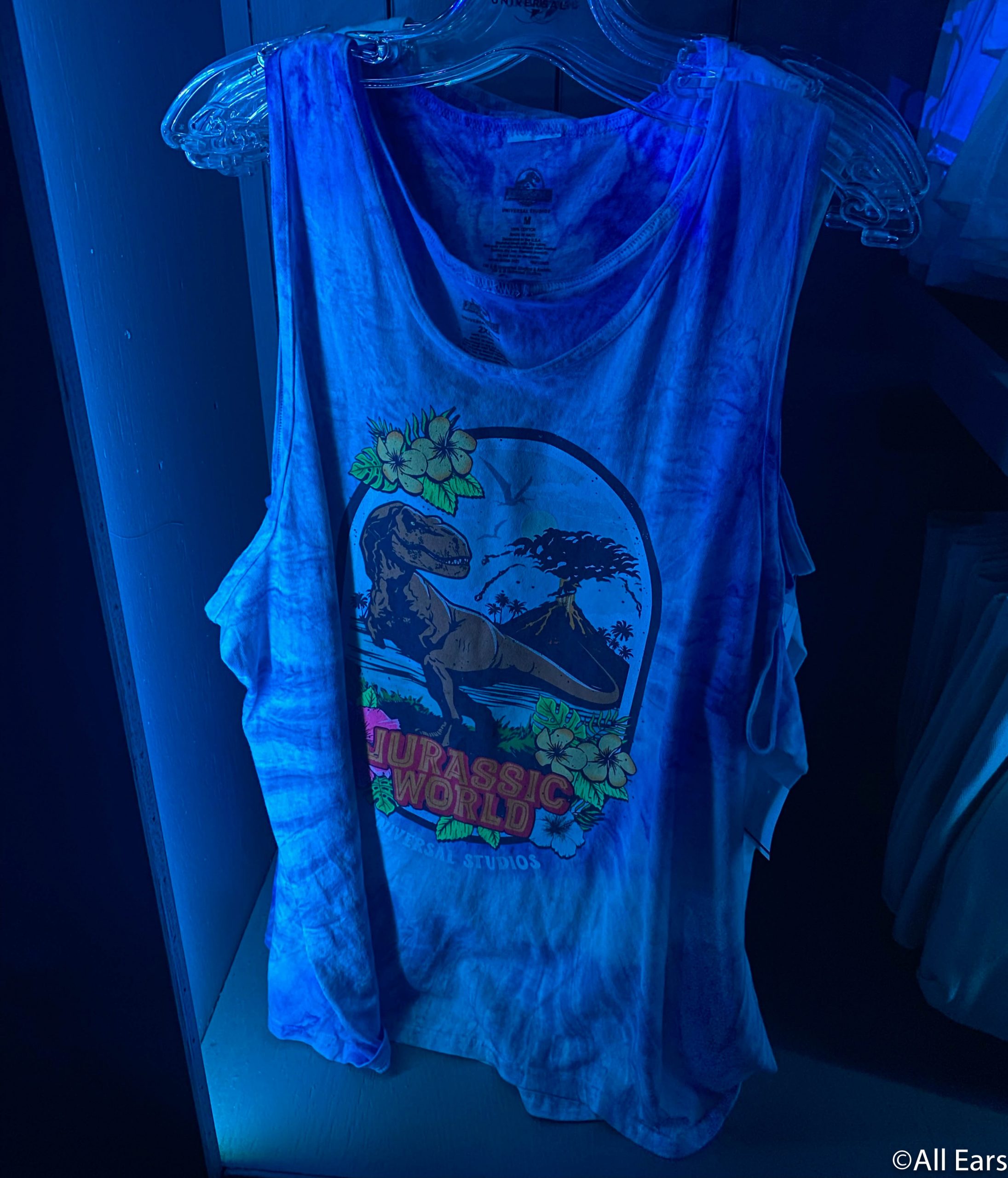 …or opt for the long sleeve in the cooler months for $35.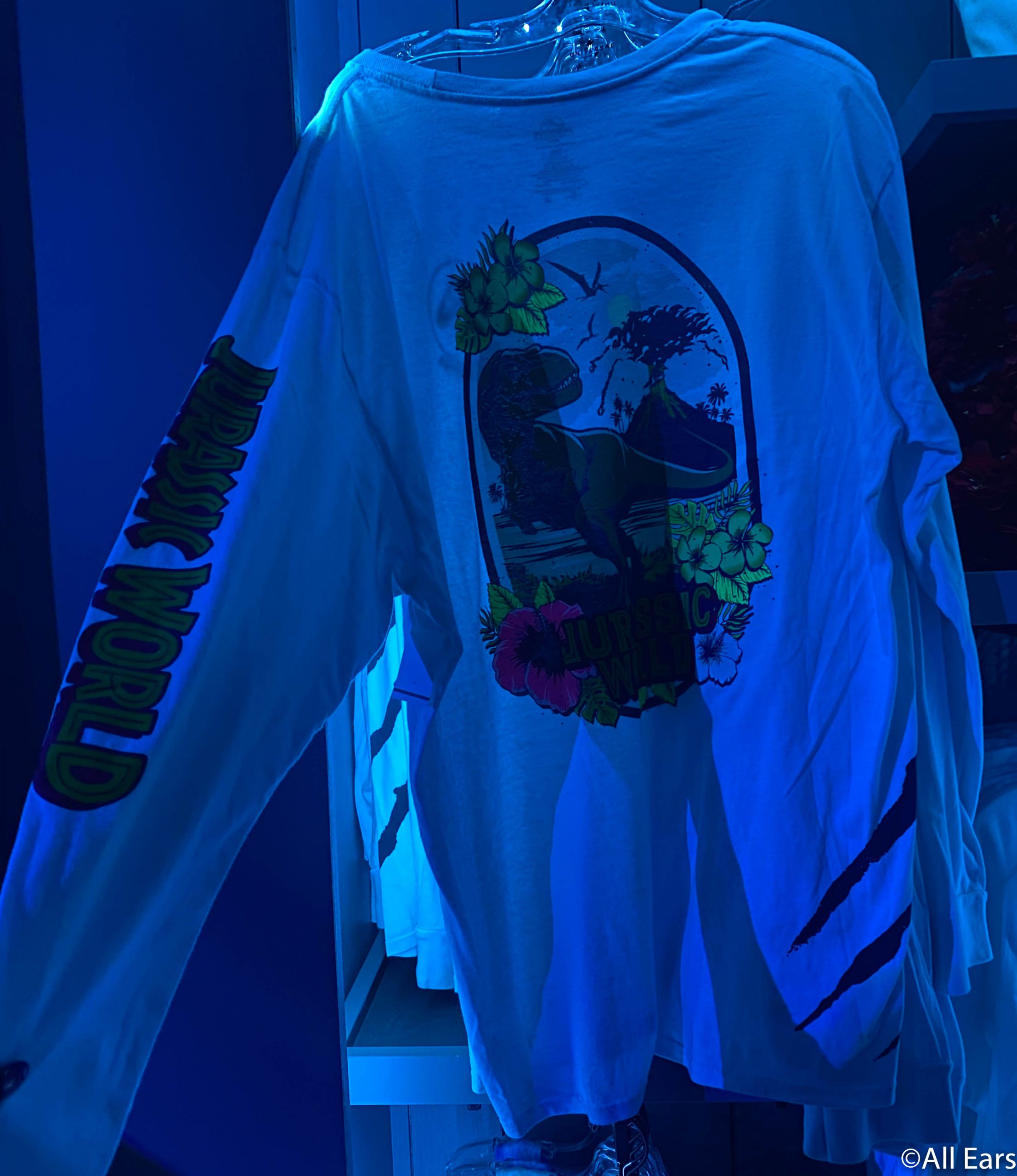 You can also take home accessories like the Jurassic World Headband for $14…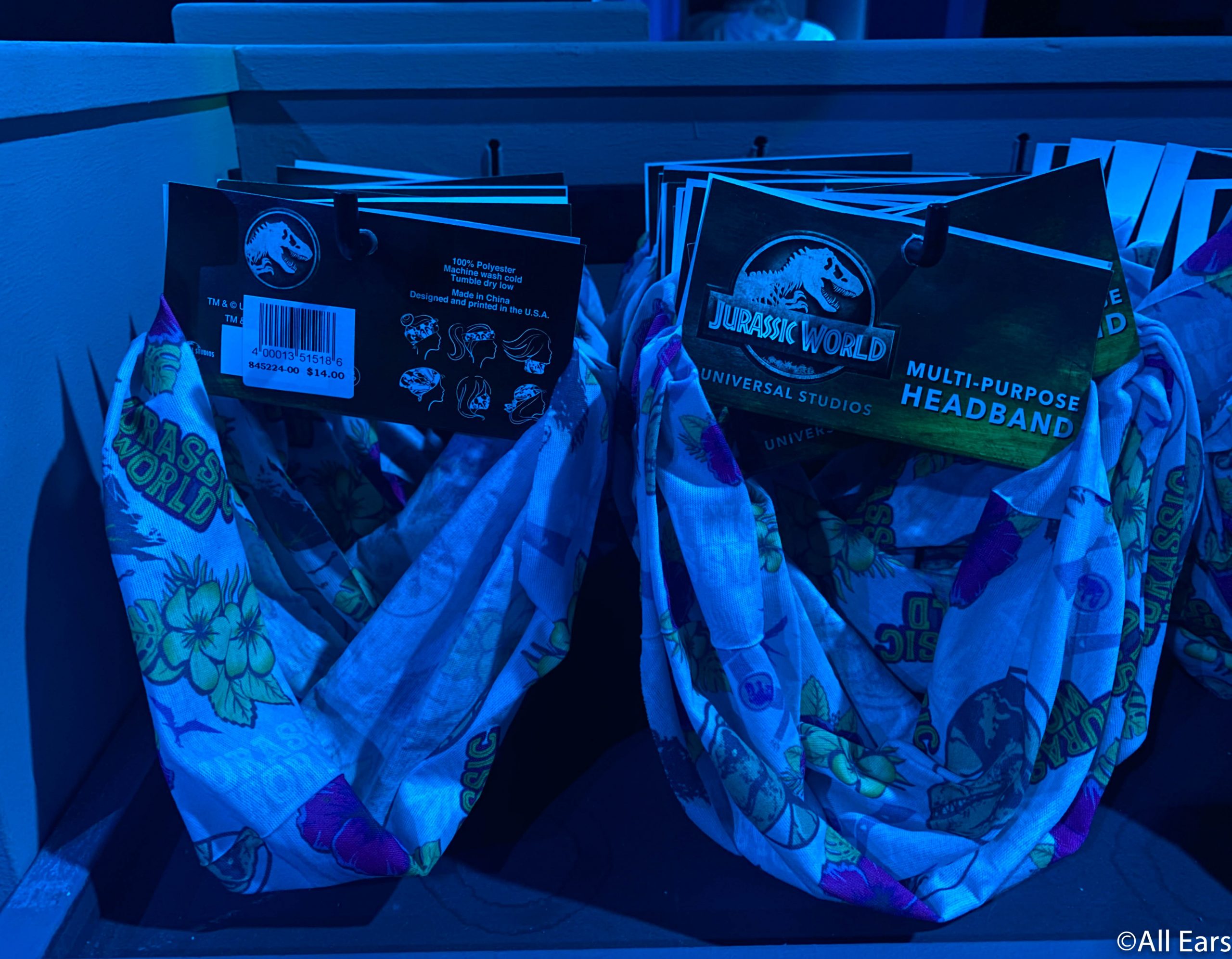 …or the Jurassic World Tote Bag for $30 to carry all your merchandise around the parks.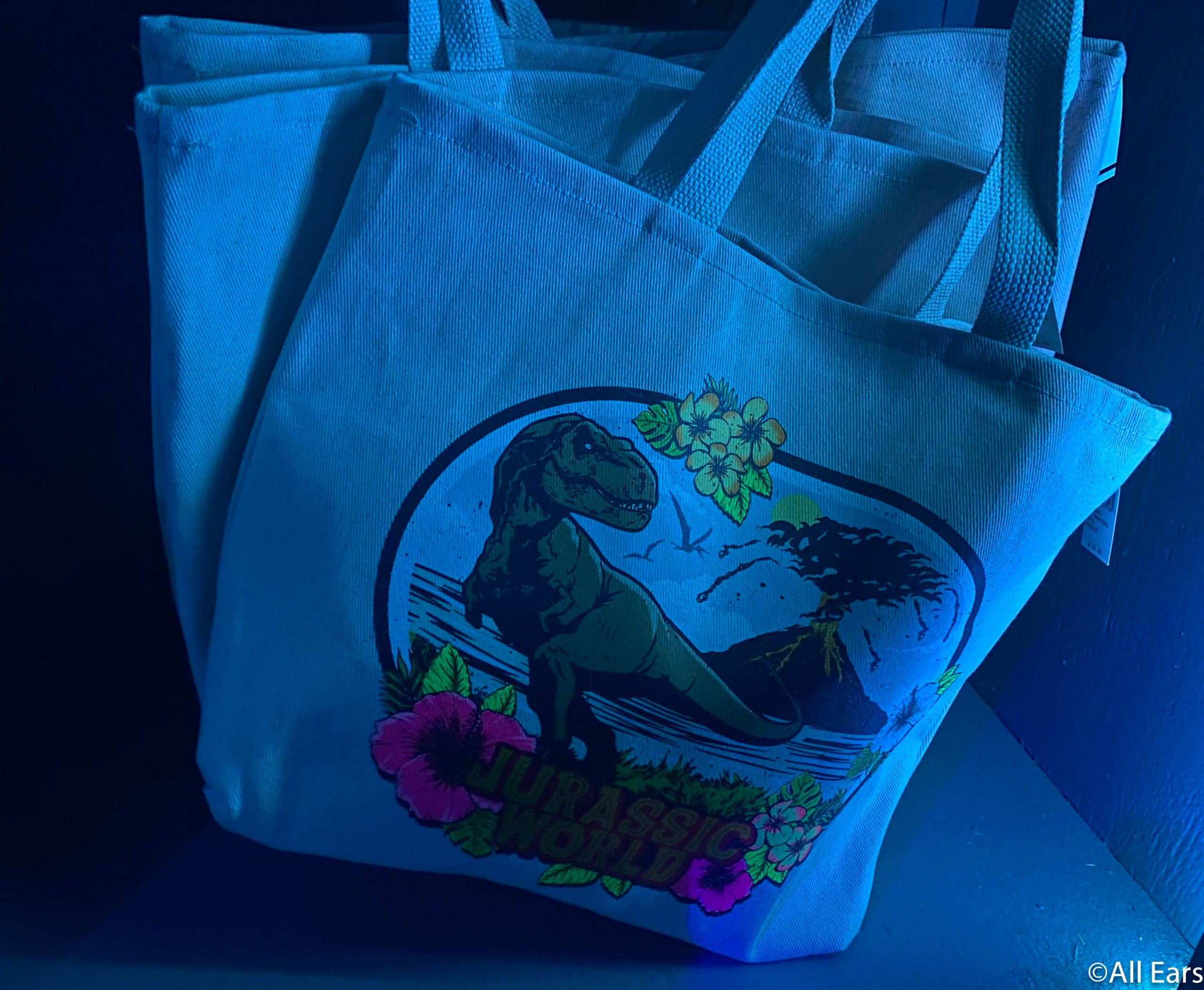 After you leave the parks, though, you can take the scents of Jurassic Park and Jurassic World with you as you light themed candles in your home for $16.95 each!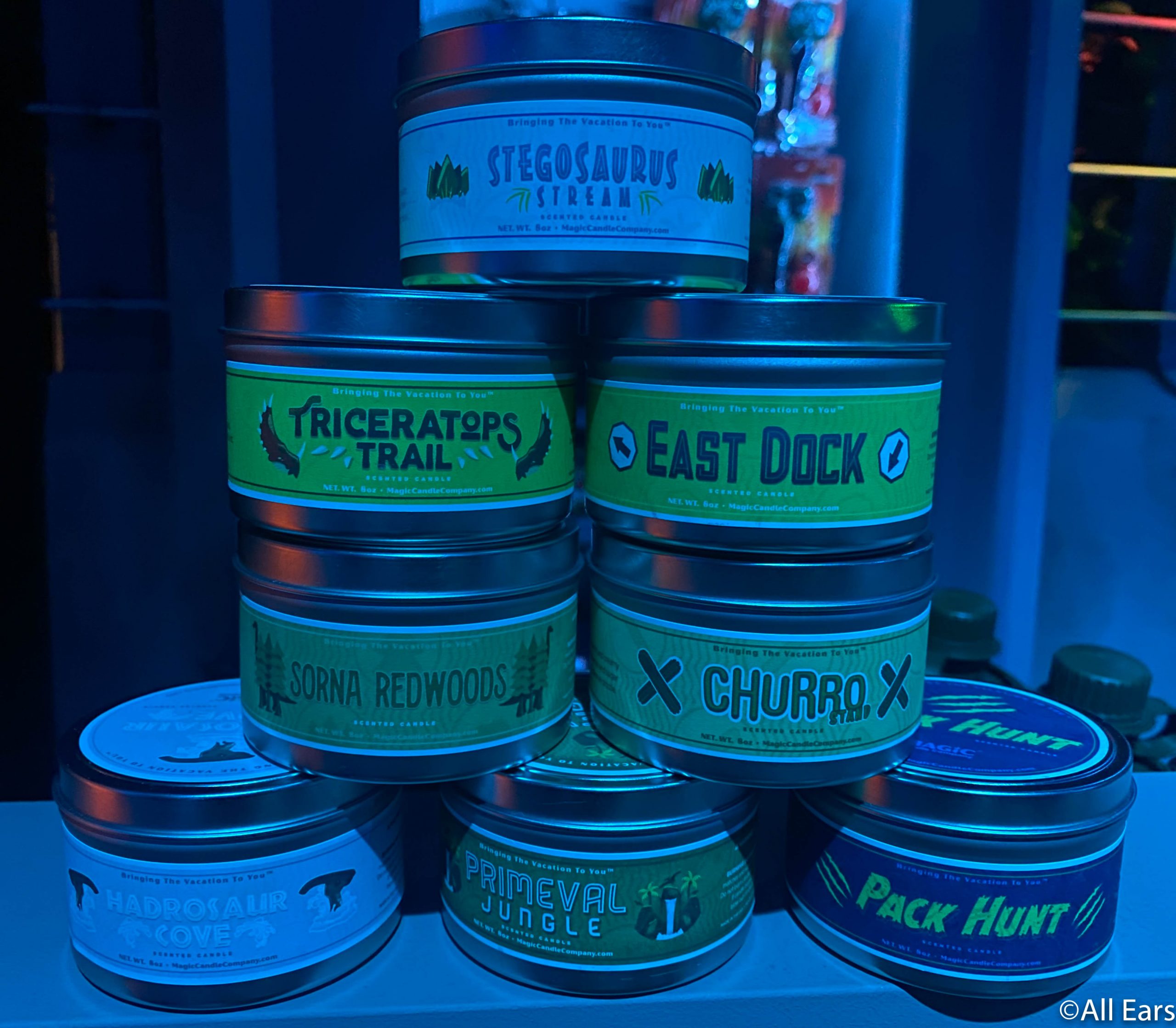 If you're lucky enough to make it out, you'll head down the hallway…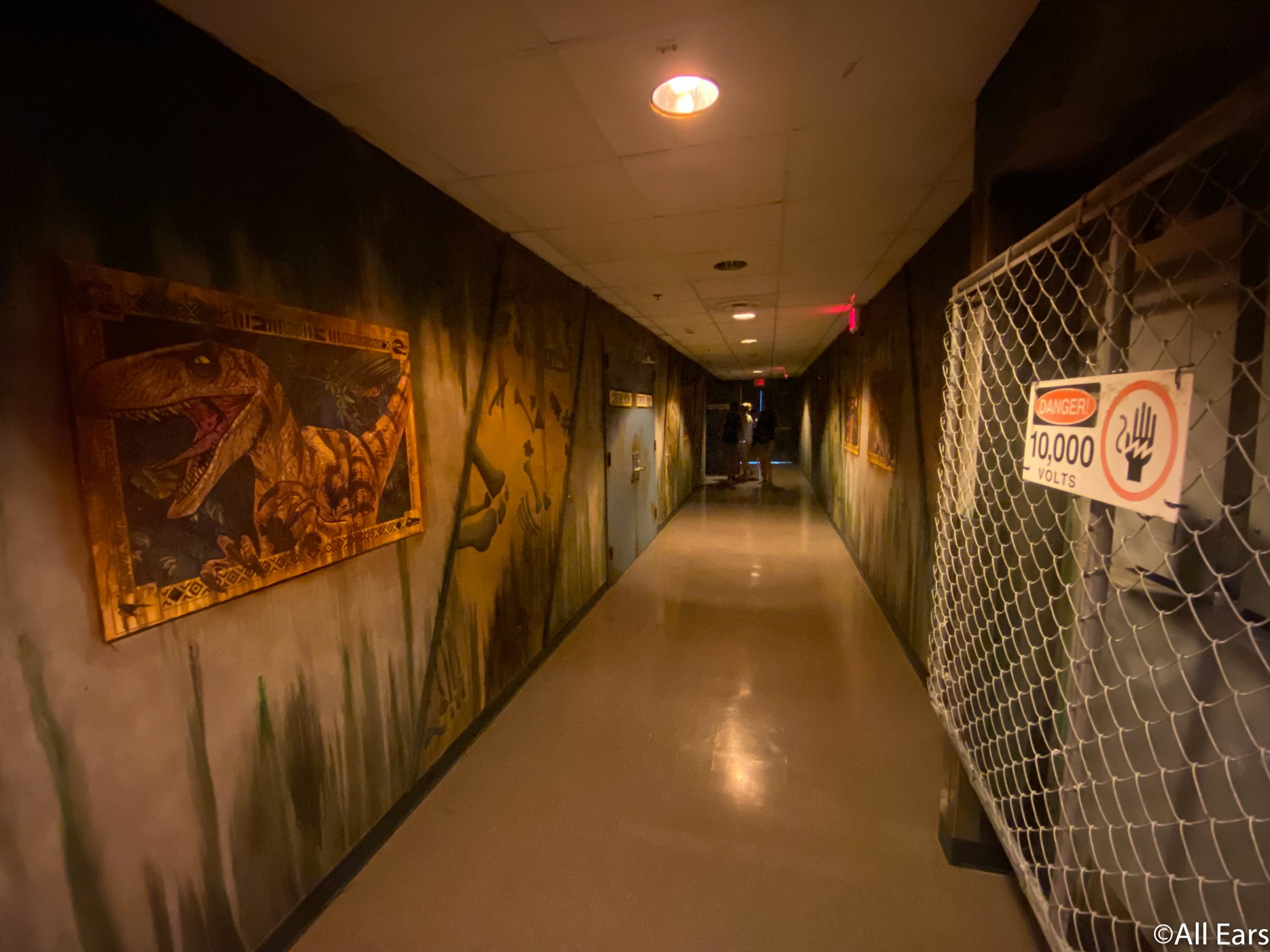 …before you make it to the overgrown shopping area called The Laboratory.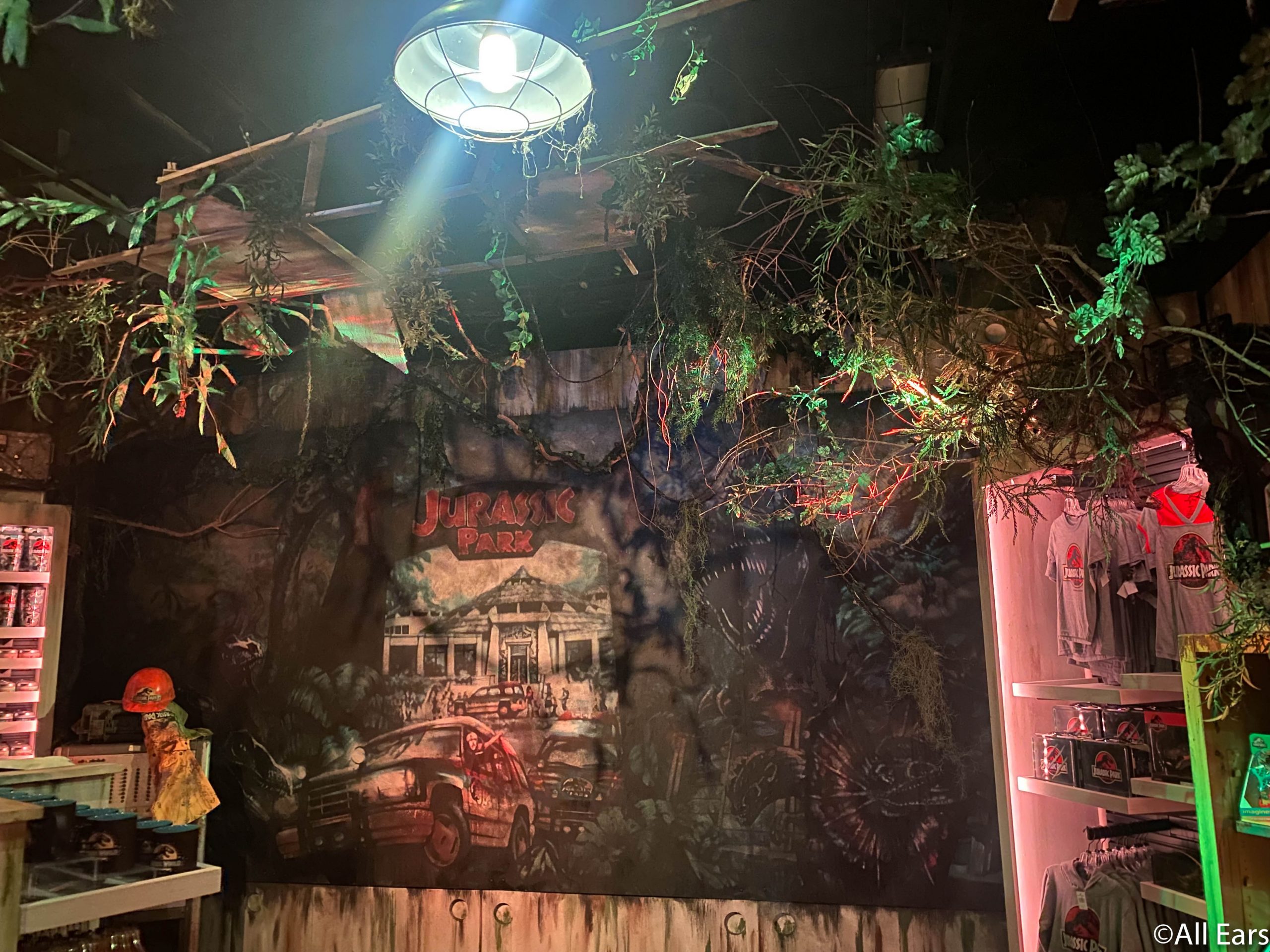 There's not much left, but there are some pretty cool things in here!
Room 3: the Laboratory (or what's left of it.) pic.twitter.com/sw9ngSdX0F

— AllEars.Net (@AllEarsNet) May 29, 2021
Here you'll find some rare props that were actually used in the original 
Jurassic Park 
movies!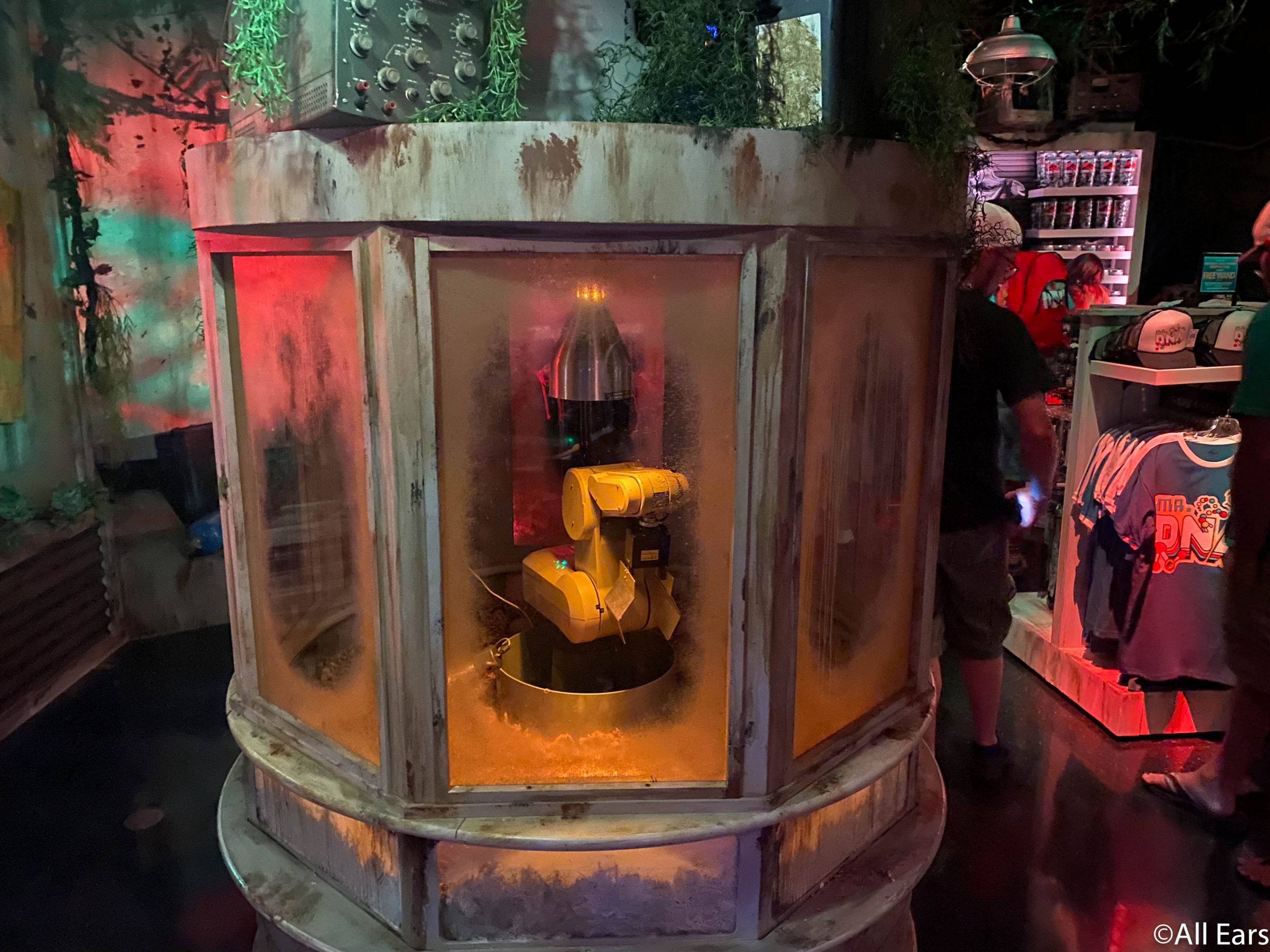 You'll be able to spot raptor eggs…
…Dr. Alan Grant's hat…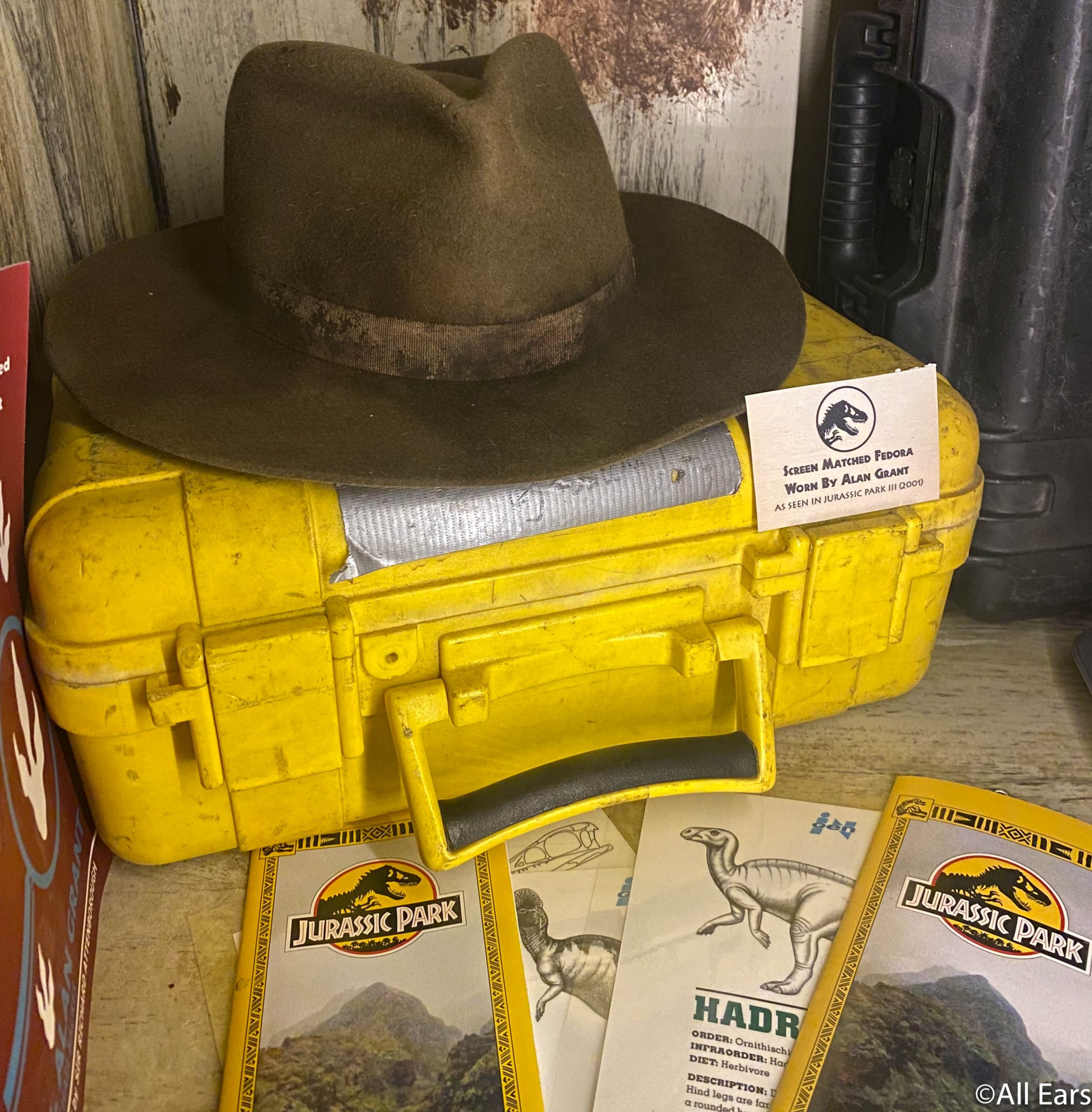 …the Barbasol Cryo Can…
…and a whole lot more!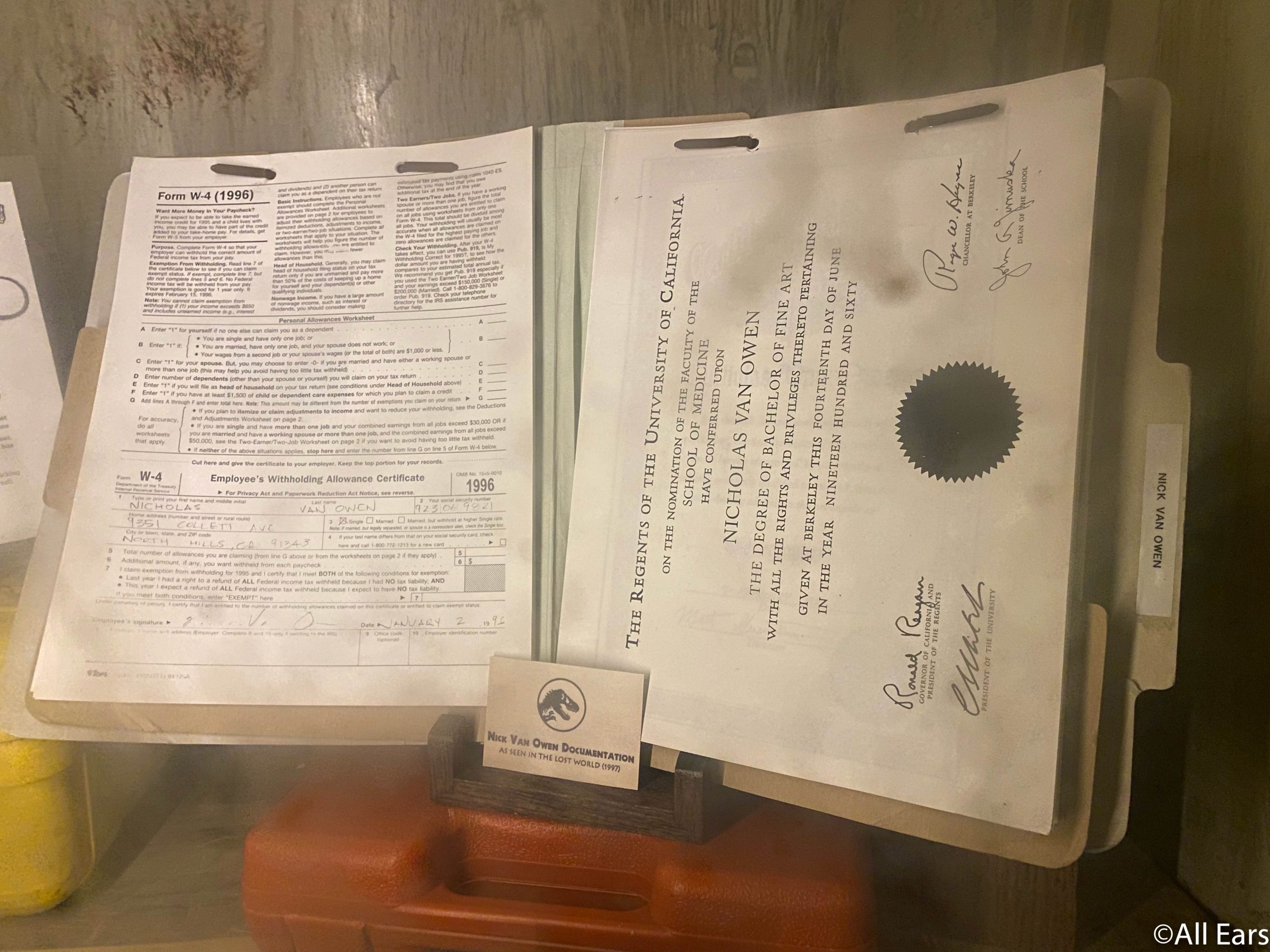 So, you'll want to take the time to look around the area to see all the details!
Make sure to look in the cases – you can spot real props from the movies! pic.twitter.com/RAZINQRo6L

— AllEars.Net (@AllEarsNet) May 29, 2021
If you're a huge fan of the first set of
Jurassic Park
movies, you probably love the Mr. DNA character as much as we do. And, you can stock up on a whole bunch of merchandise inspired by the cartoon with a shirt for $27.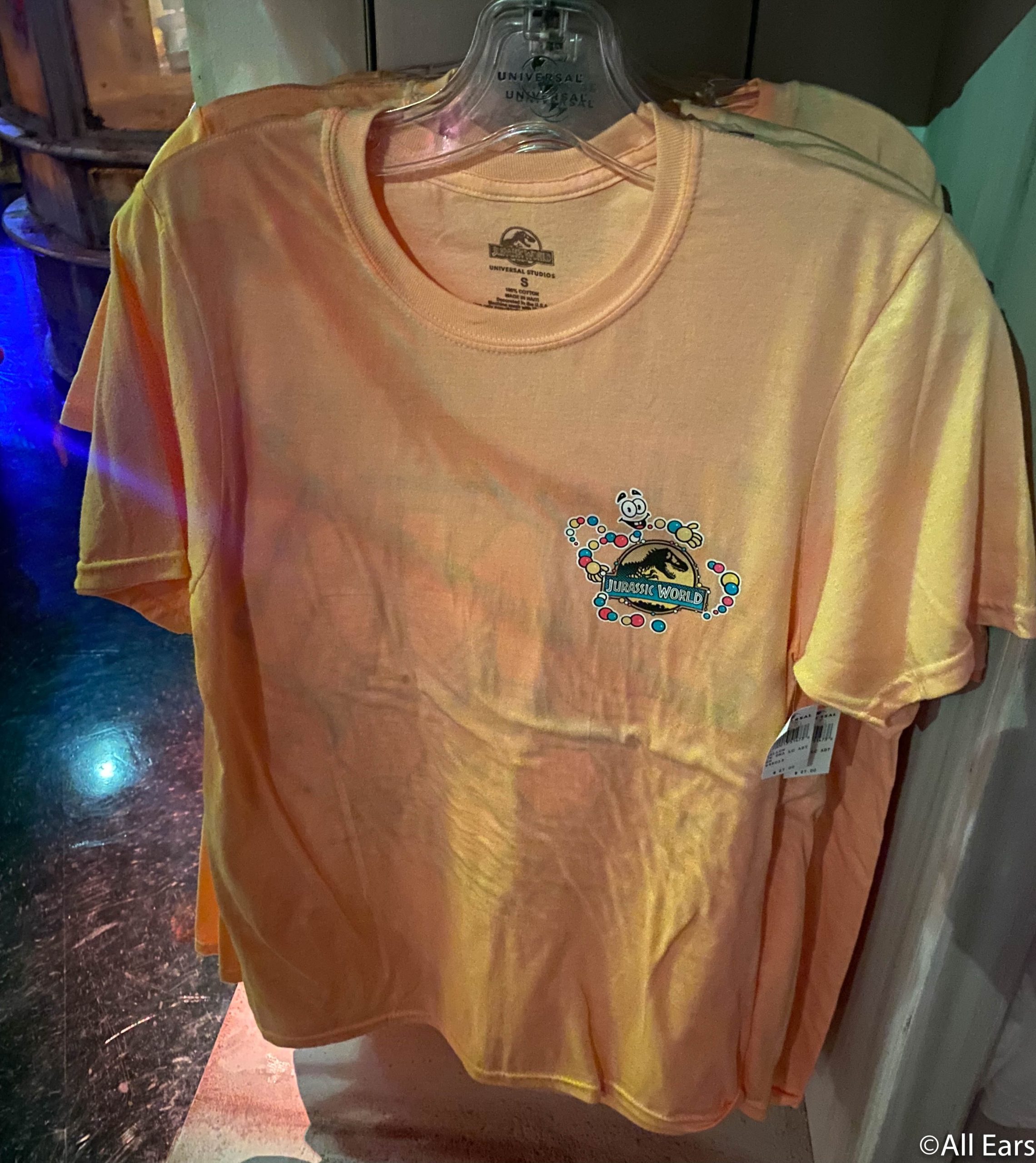 (Um, how cool is that design on the back?!)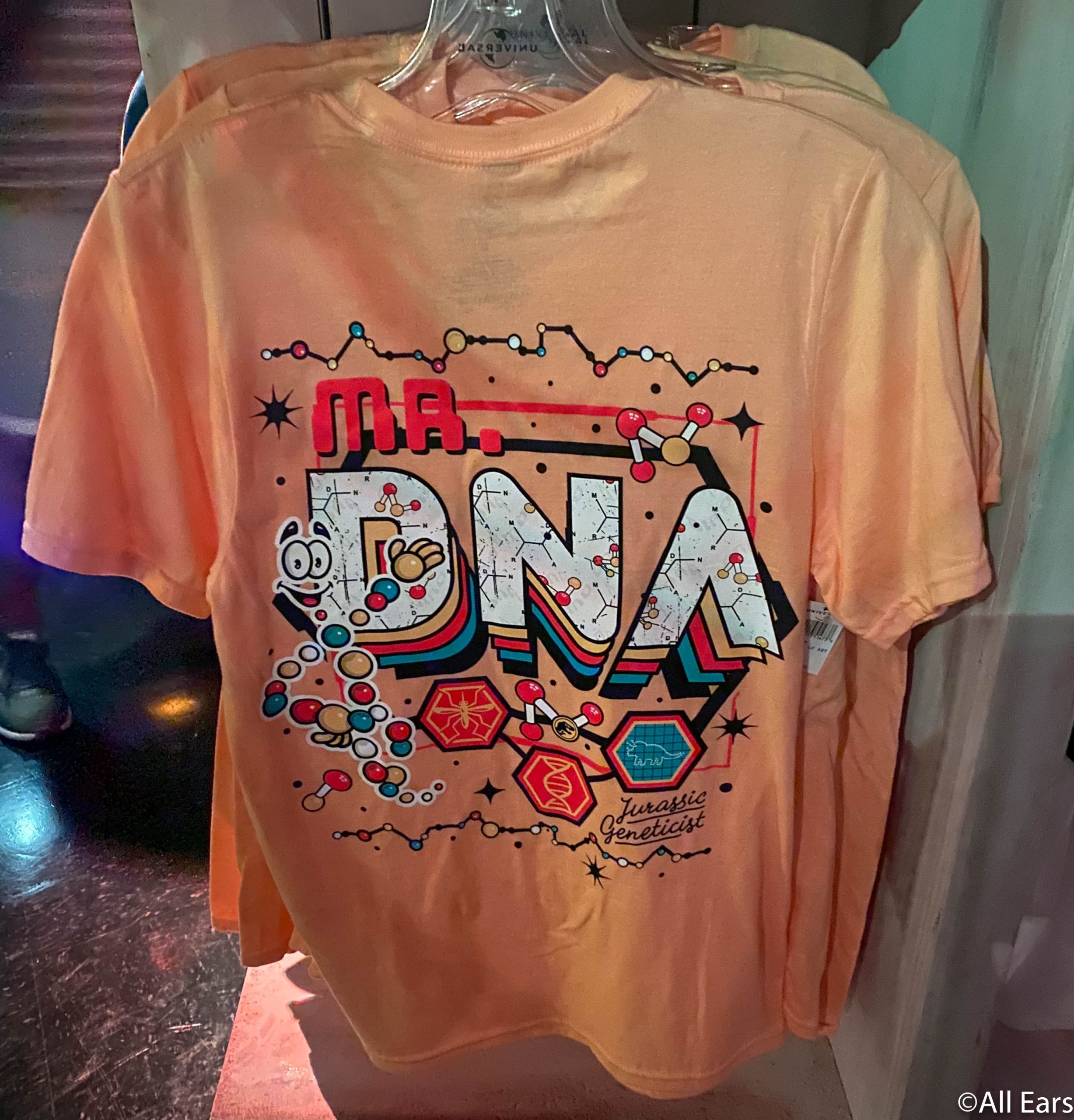 There's a raglan for $30…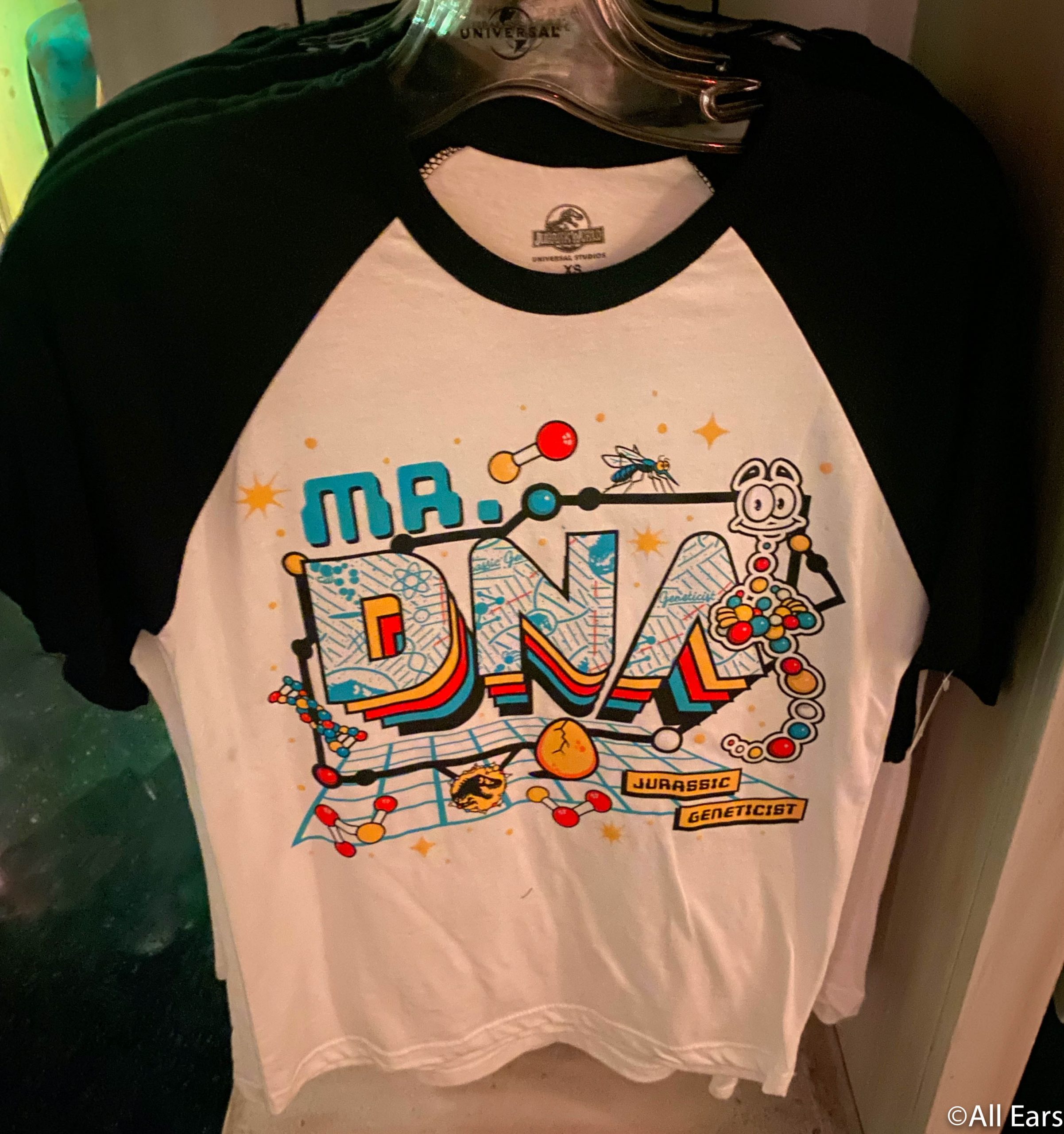 …a mug for $15…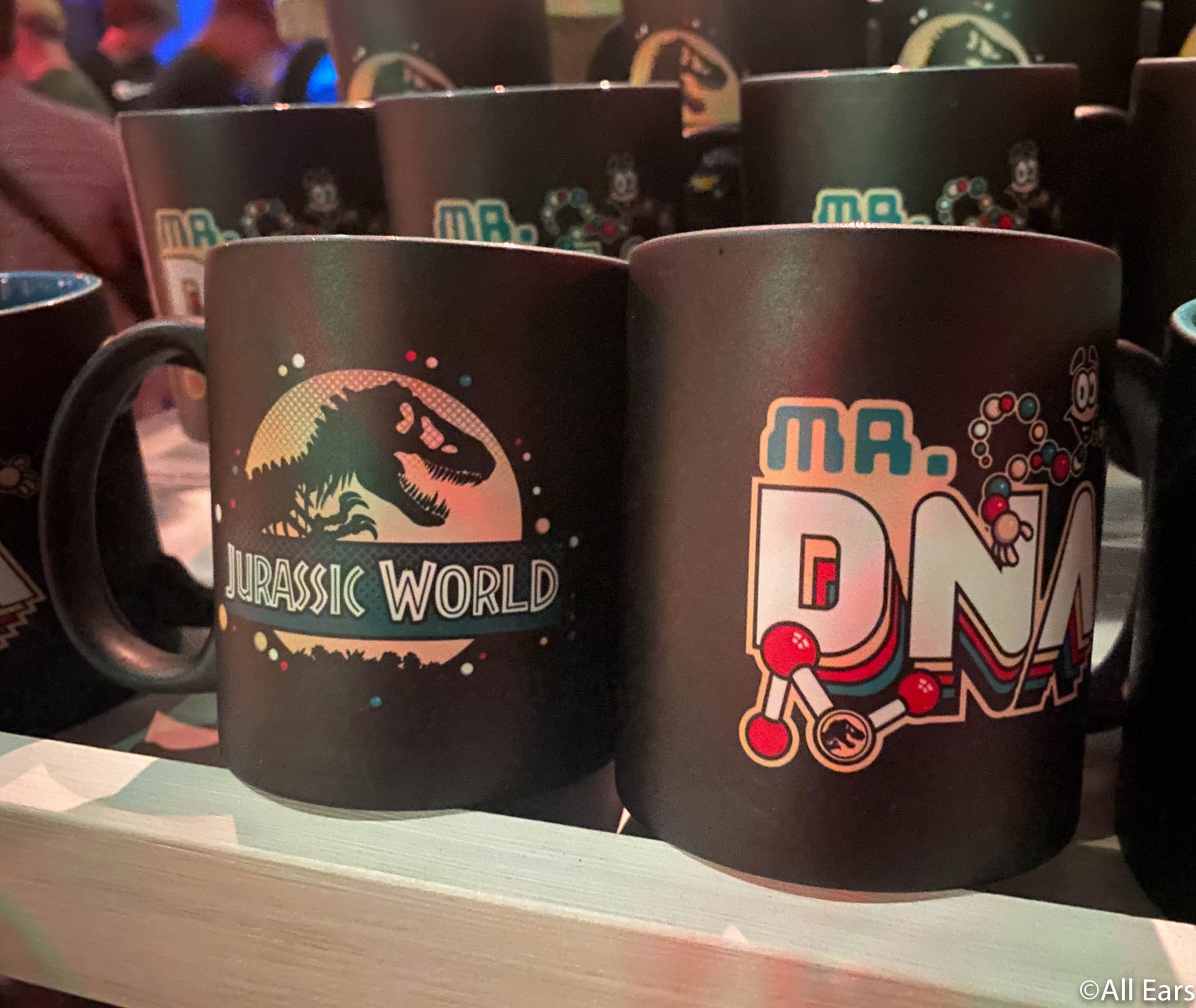 …a zipper pouch for $26…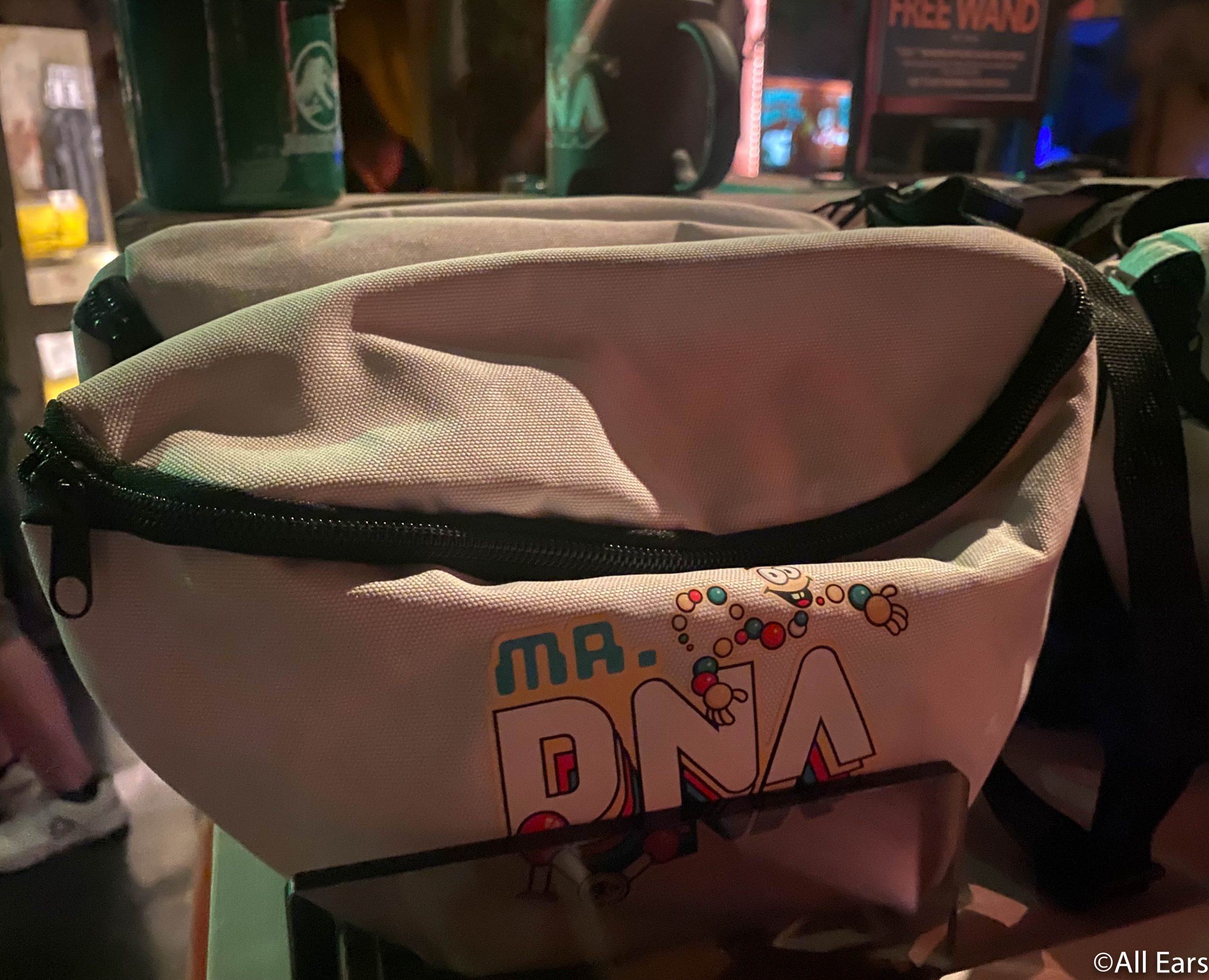 …a keychain for $14…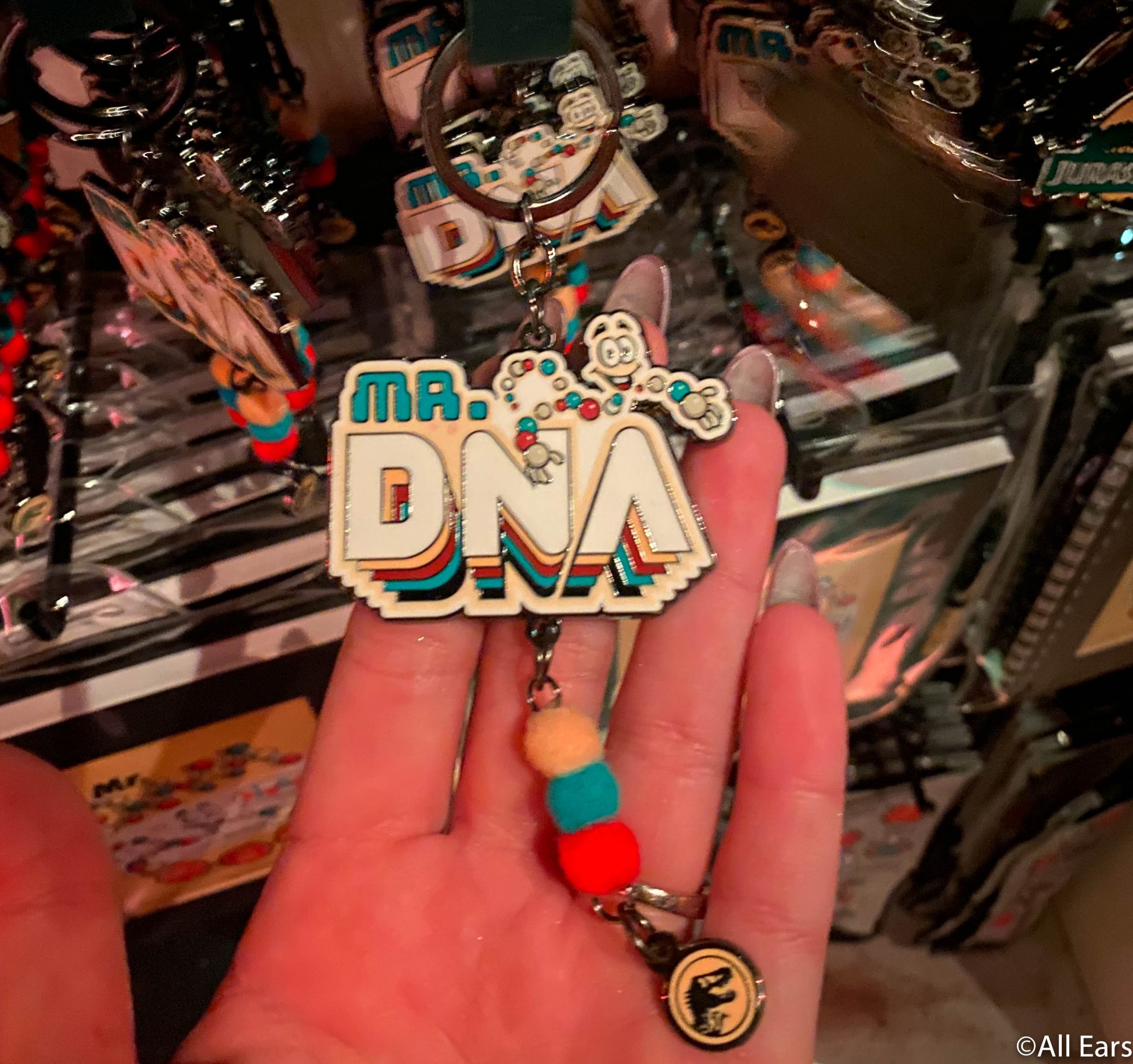 …a pin for $11…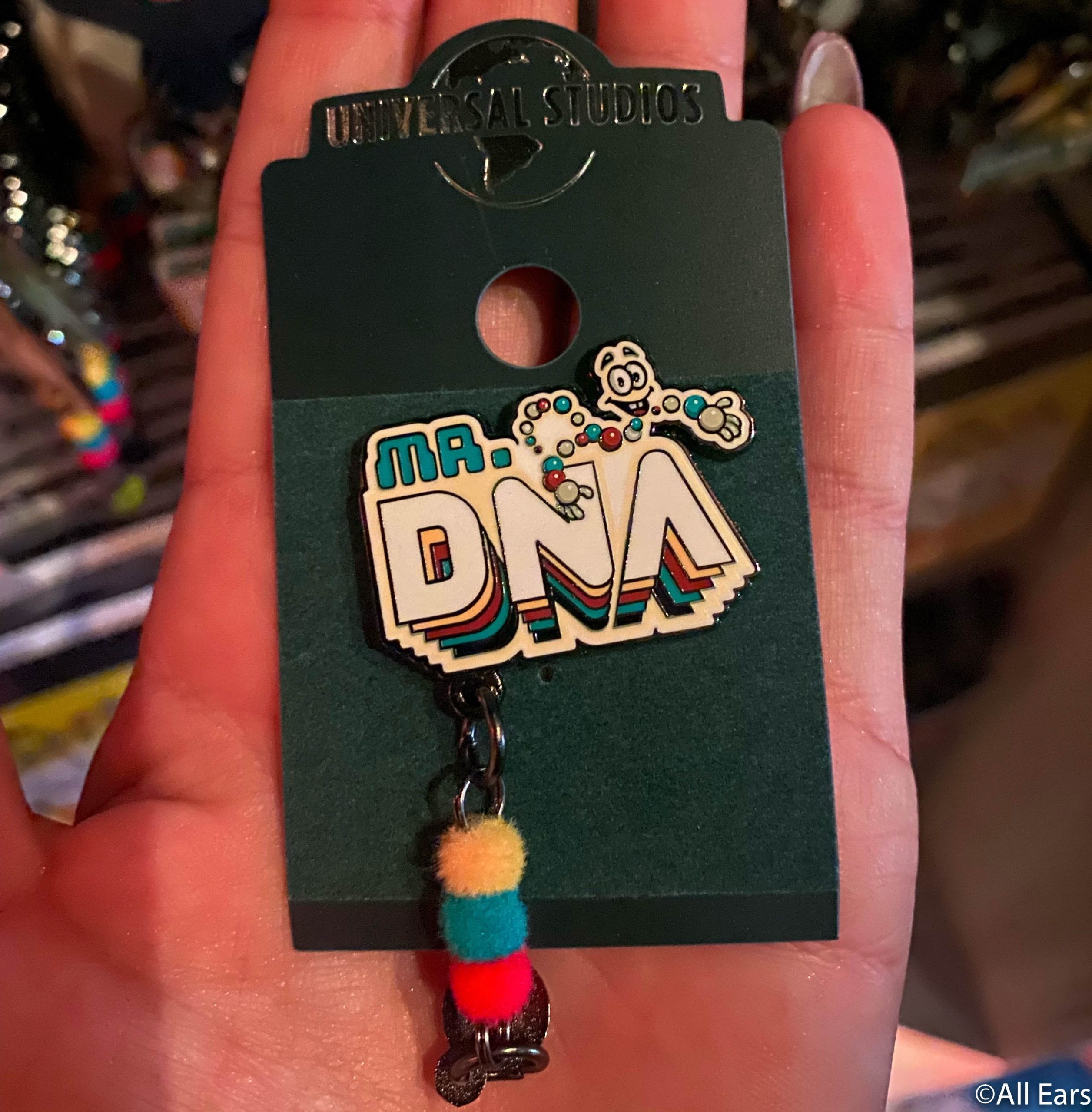 …a journal for $13…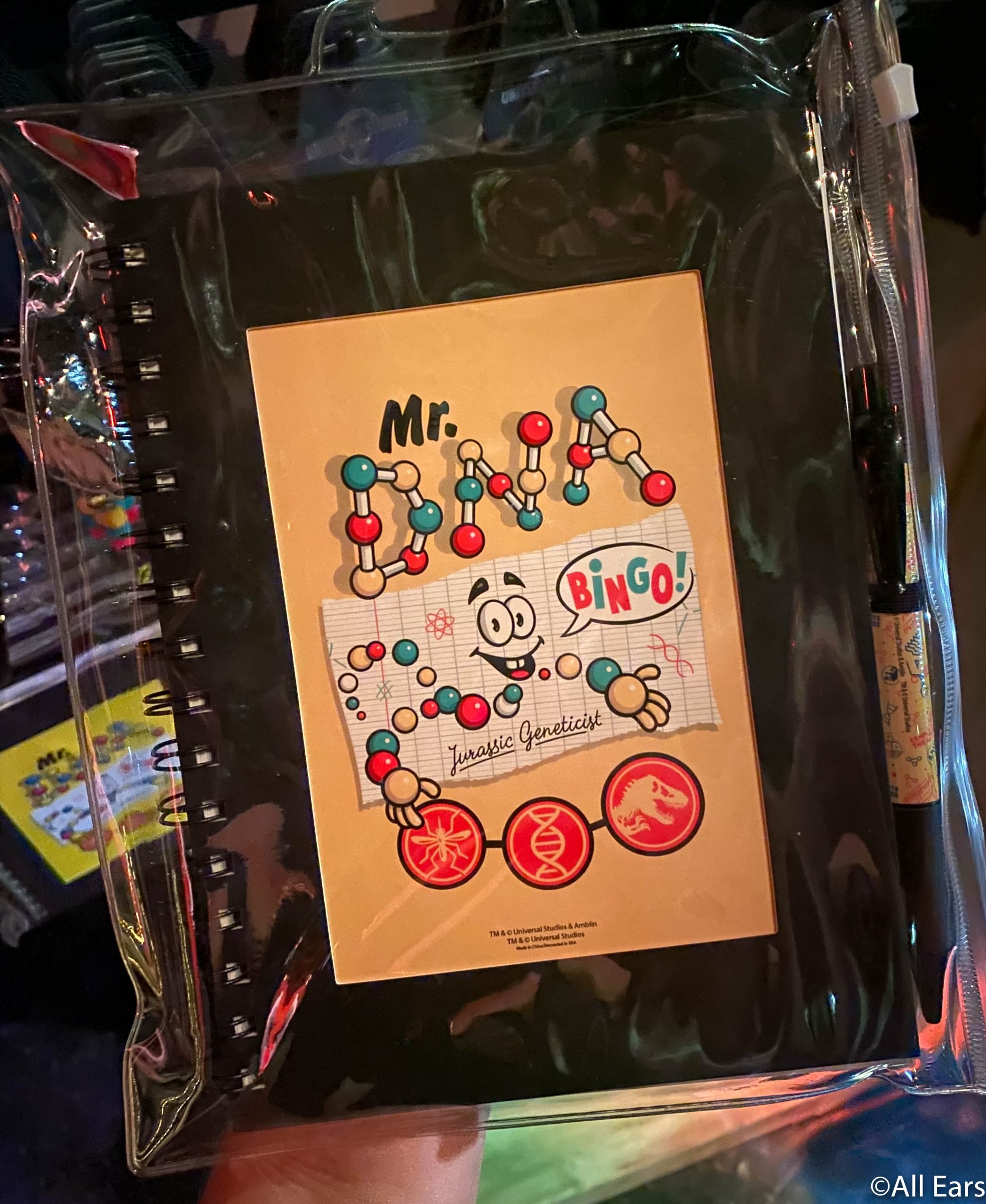 …a hat for $25…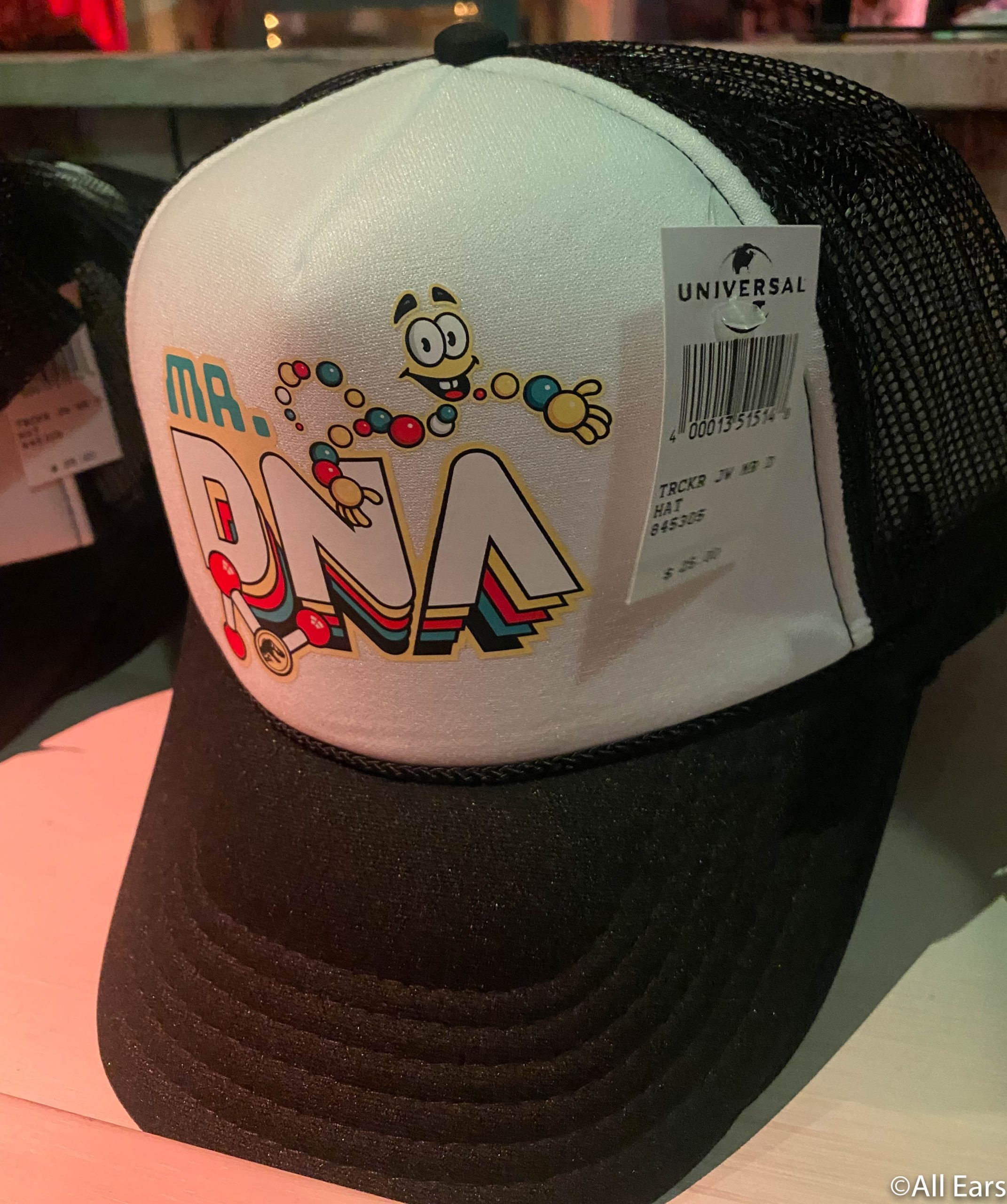 …and socks for $17!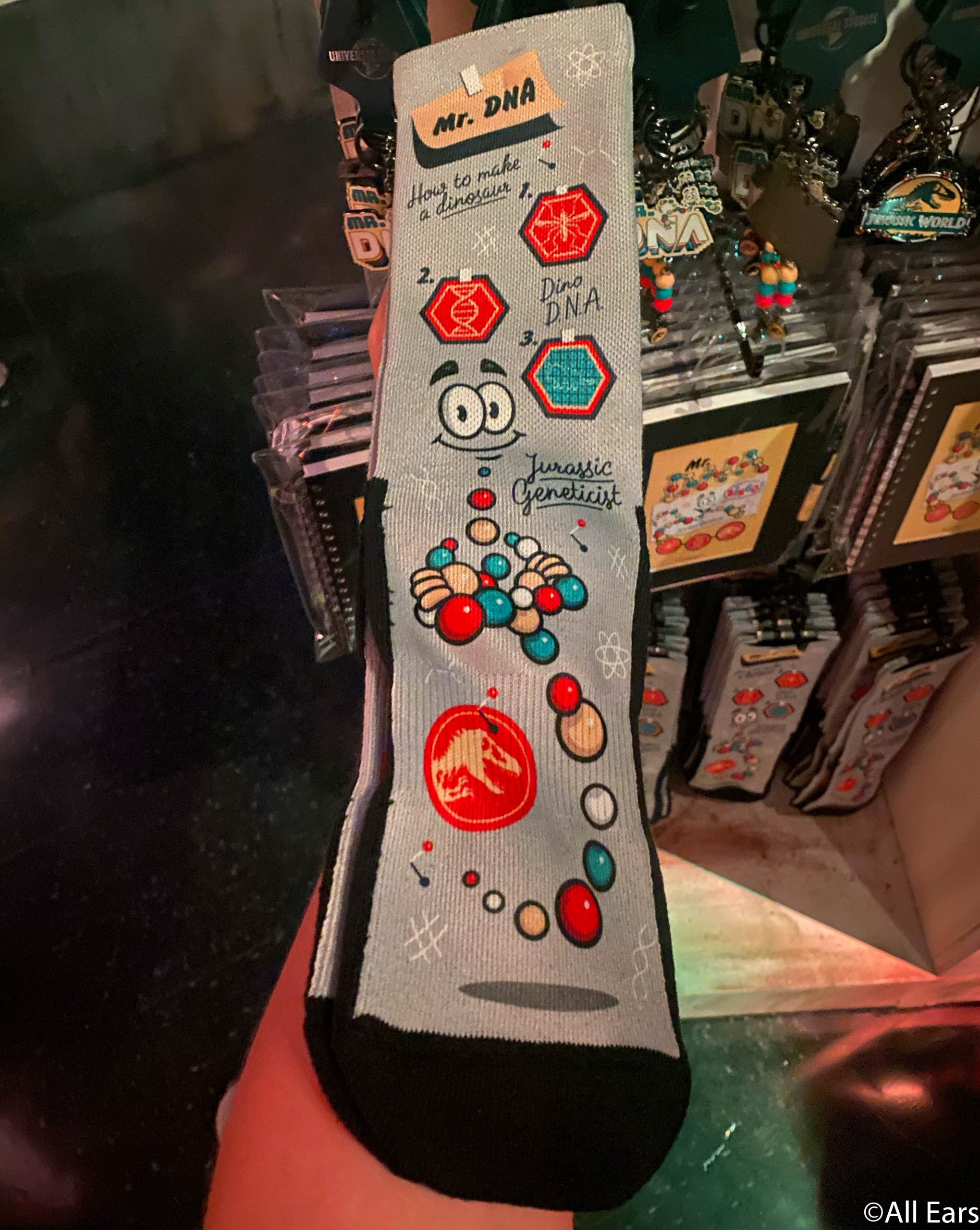 And, this gift shop ends with dessert!
Room 4: Gentle Giants — and all kinds of treats! pic.twitter.com/8Pr0ao1yrq

— AllEars.Net (@AllEarsNet) May 29, 2021
You can pick up a bite to eat from four different kiosks all featuring
Jurassic World
-themed treats at the
Gentle Giants Treat Room
!
Each of the spots are stocked full of either VelociCoaster themed items or Jurassic World treats…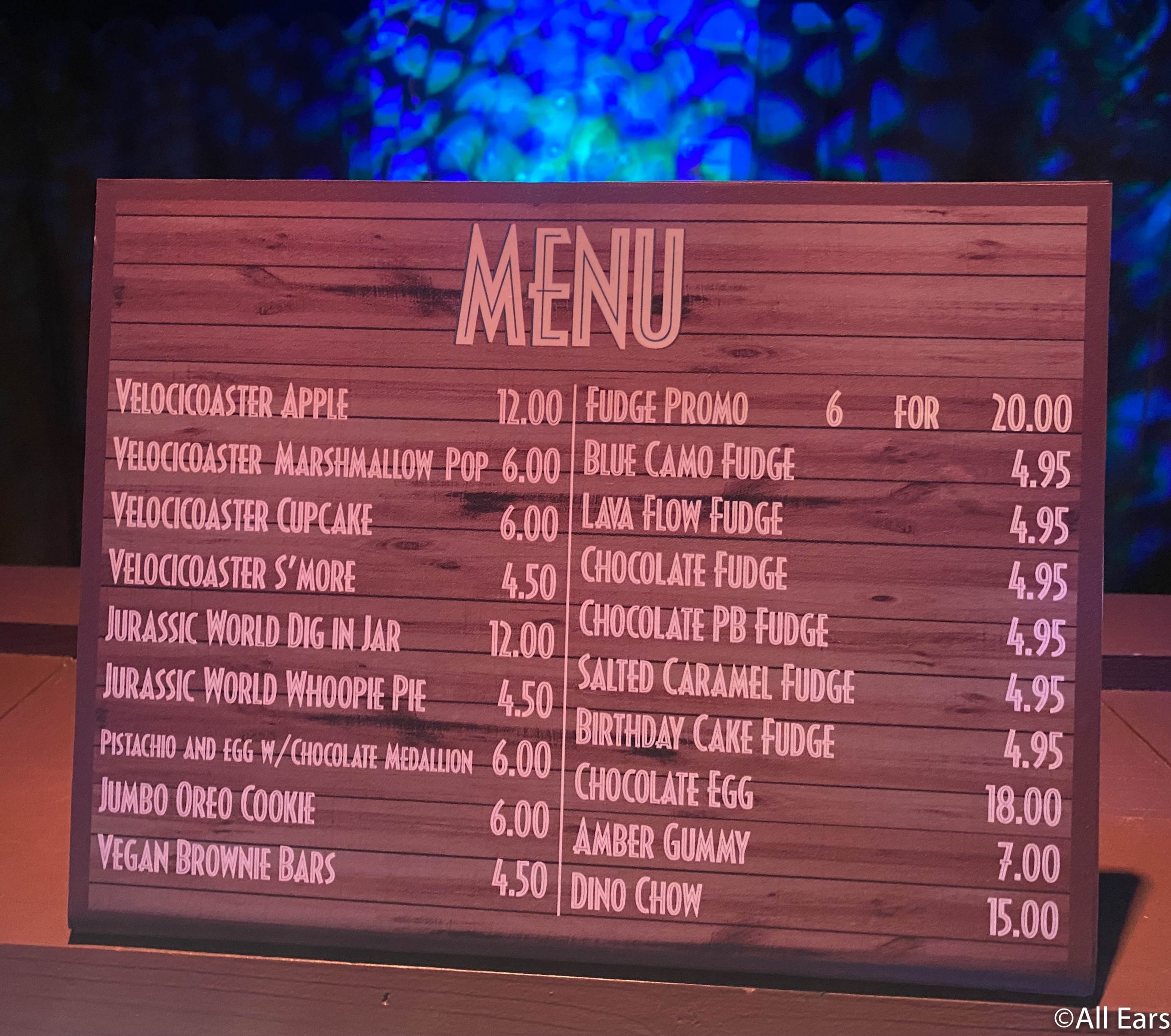 …with items like marshmallow pops, vegan brownie bars…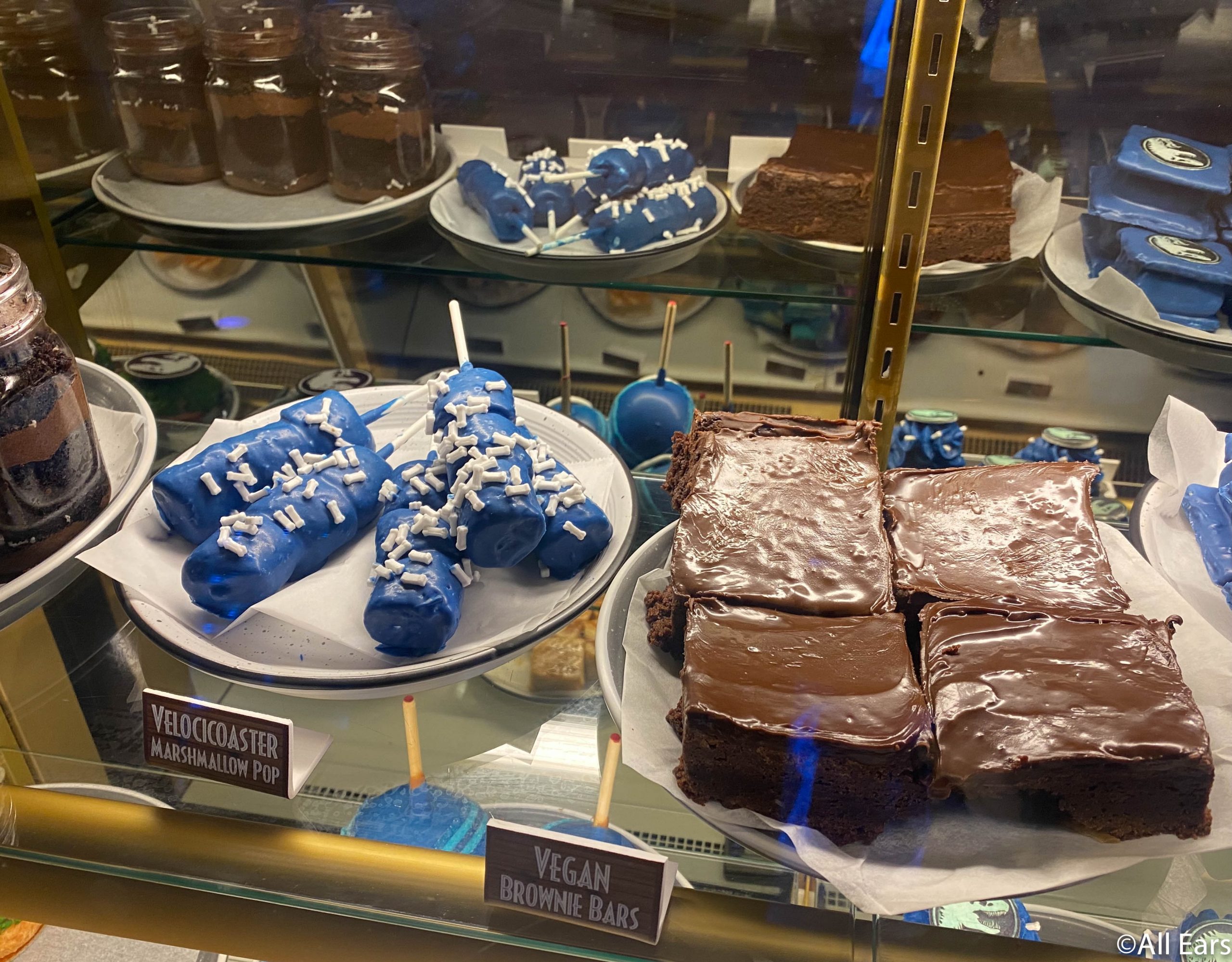 …Dig in a Jars…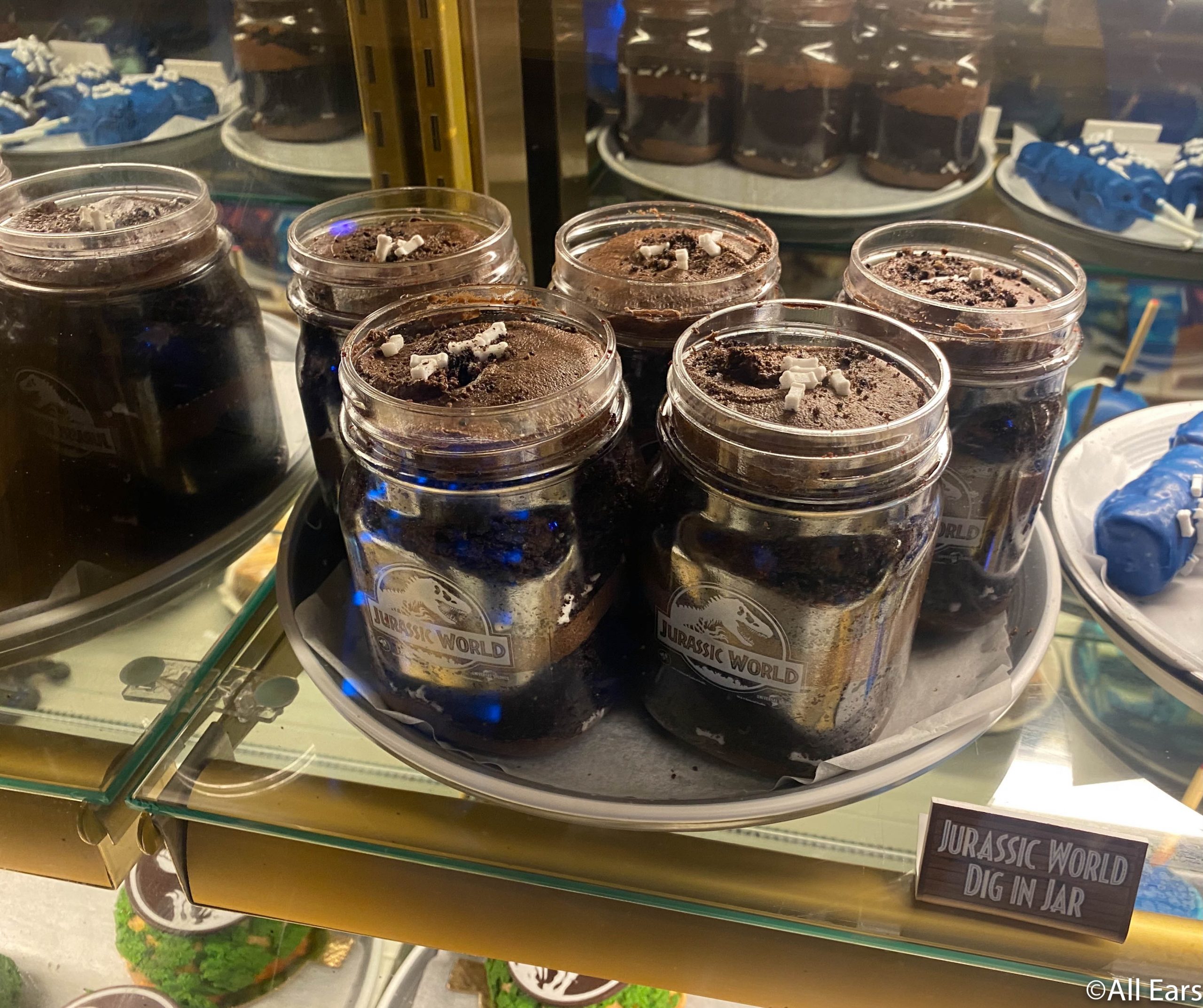 …pistachio puffs…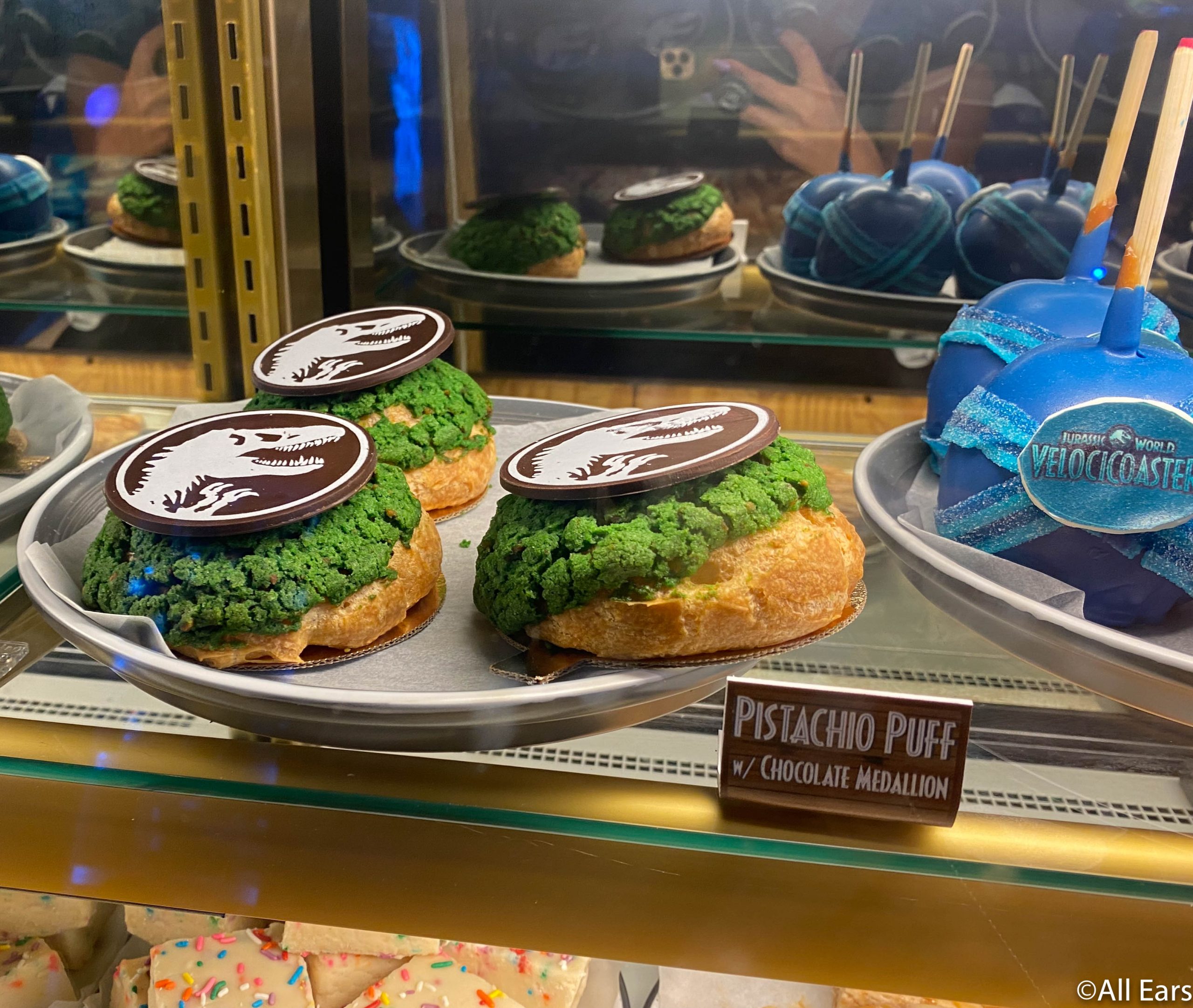 …candy apples…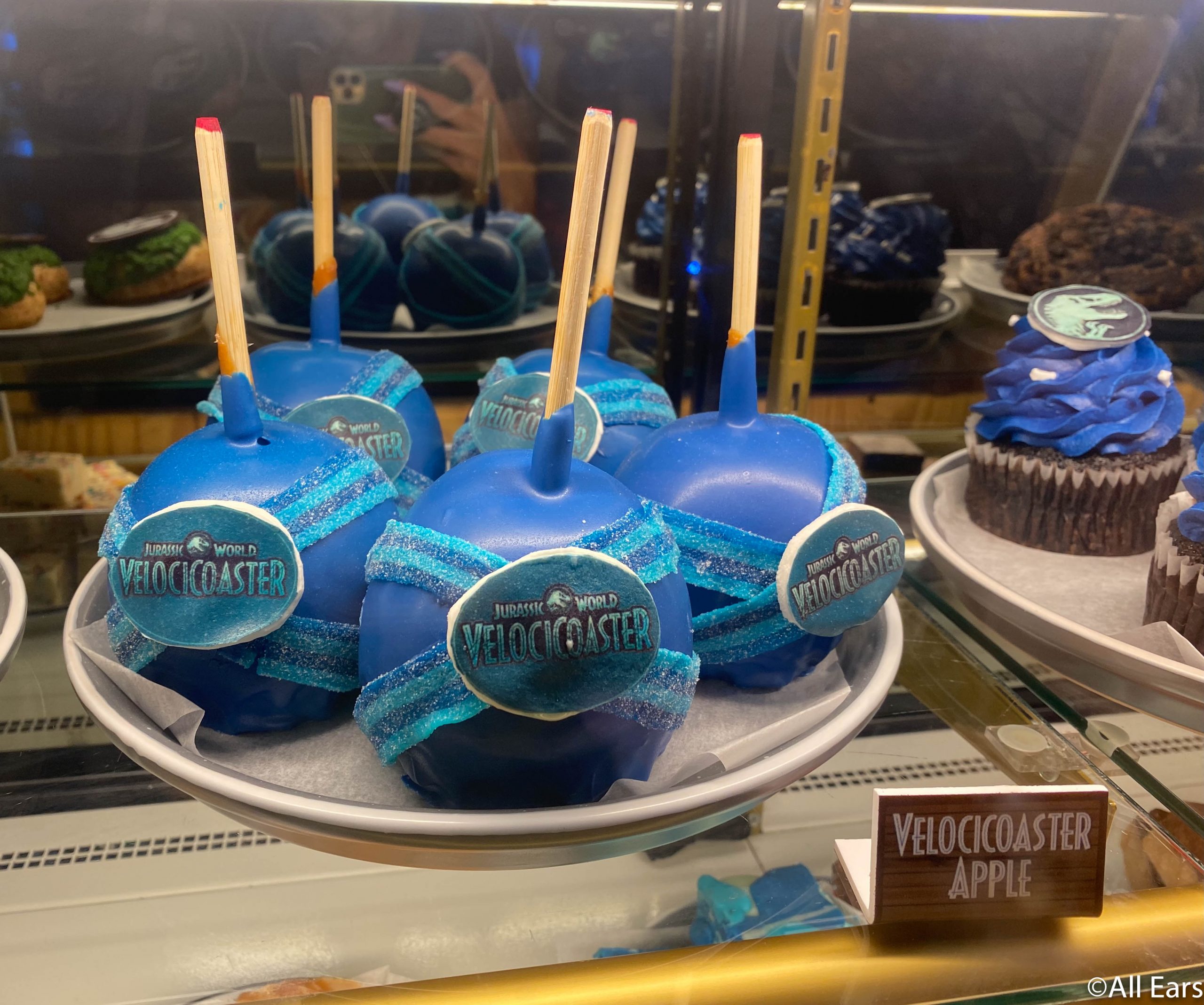 …cupcakes…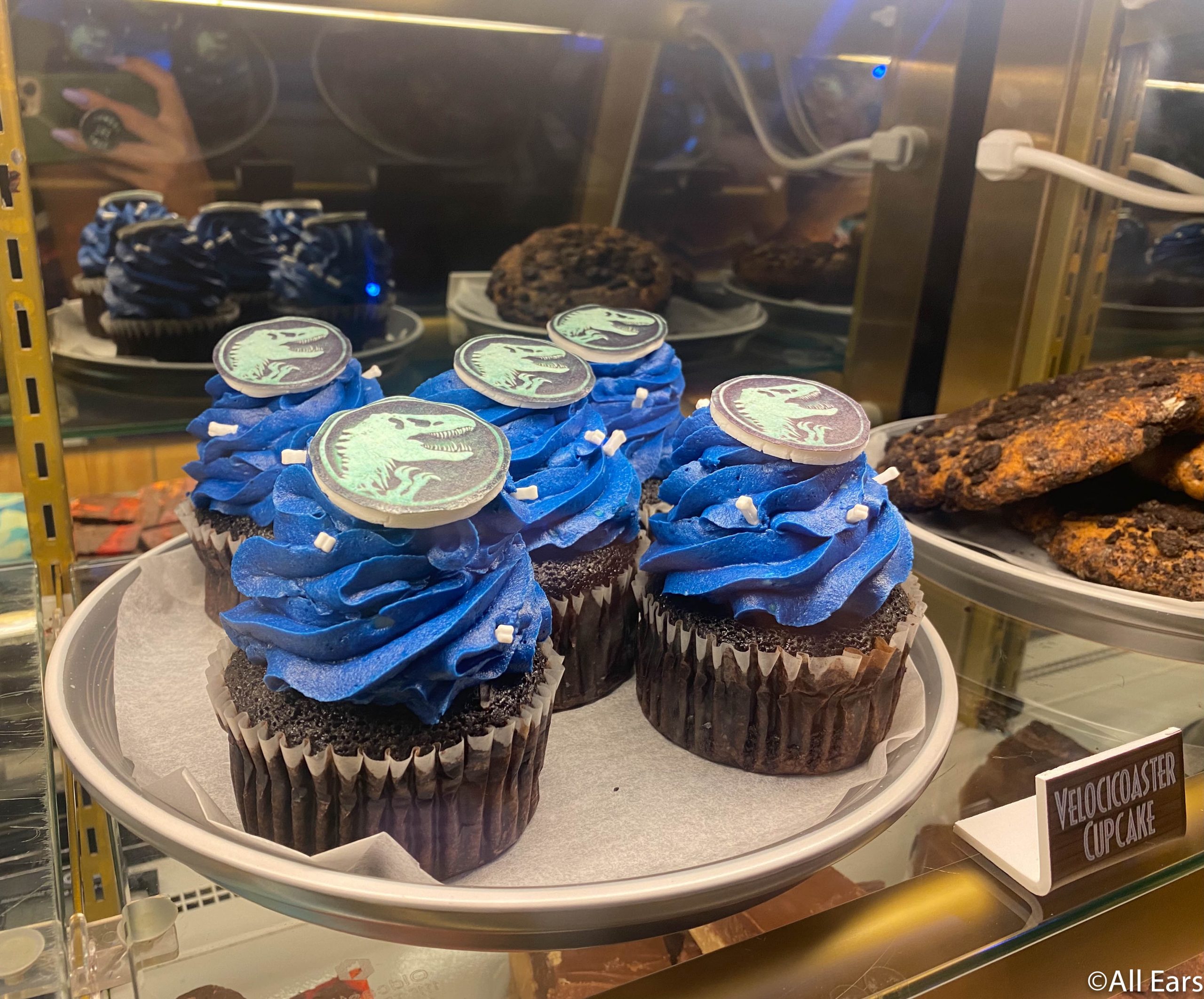 …jumbo Oreo cookies…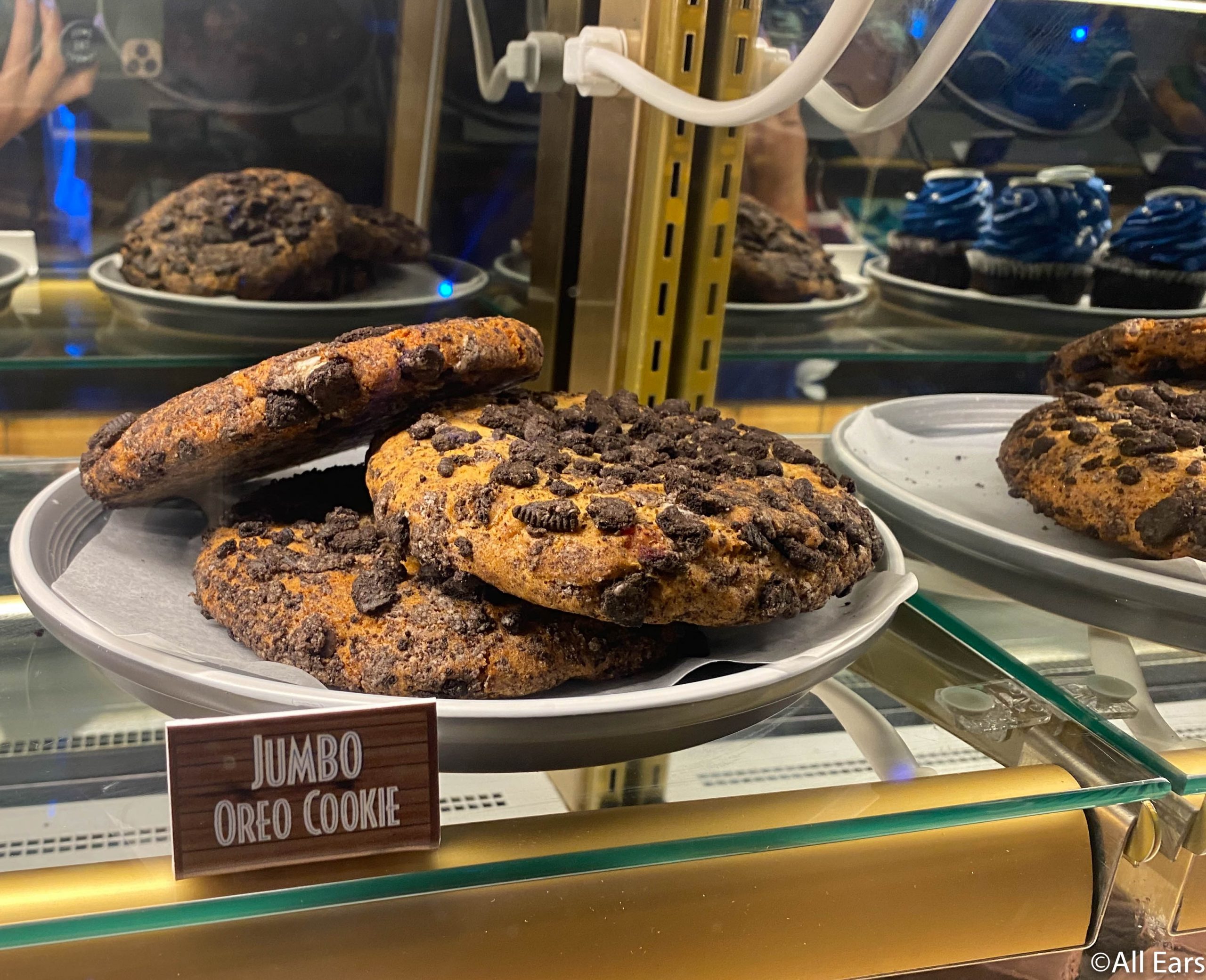 …s'mores, whoopie pies…
There is also flavored fudge with options ranging from birthday cake, salted caramel…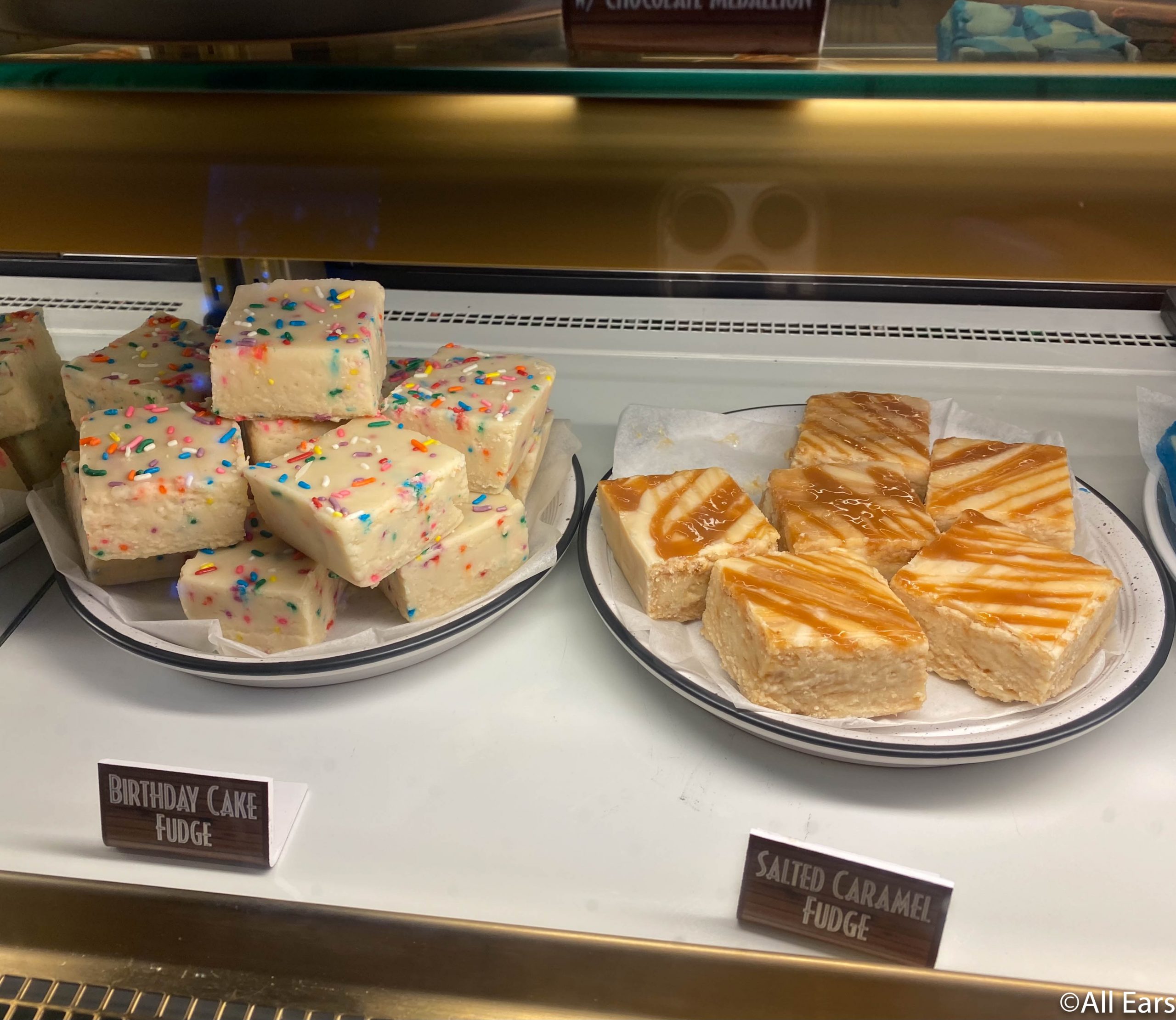 …chocolate peanut butter, and chocolate fudge…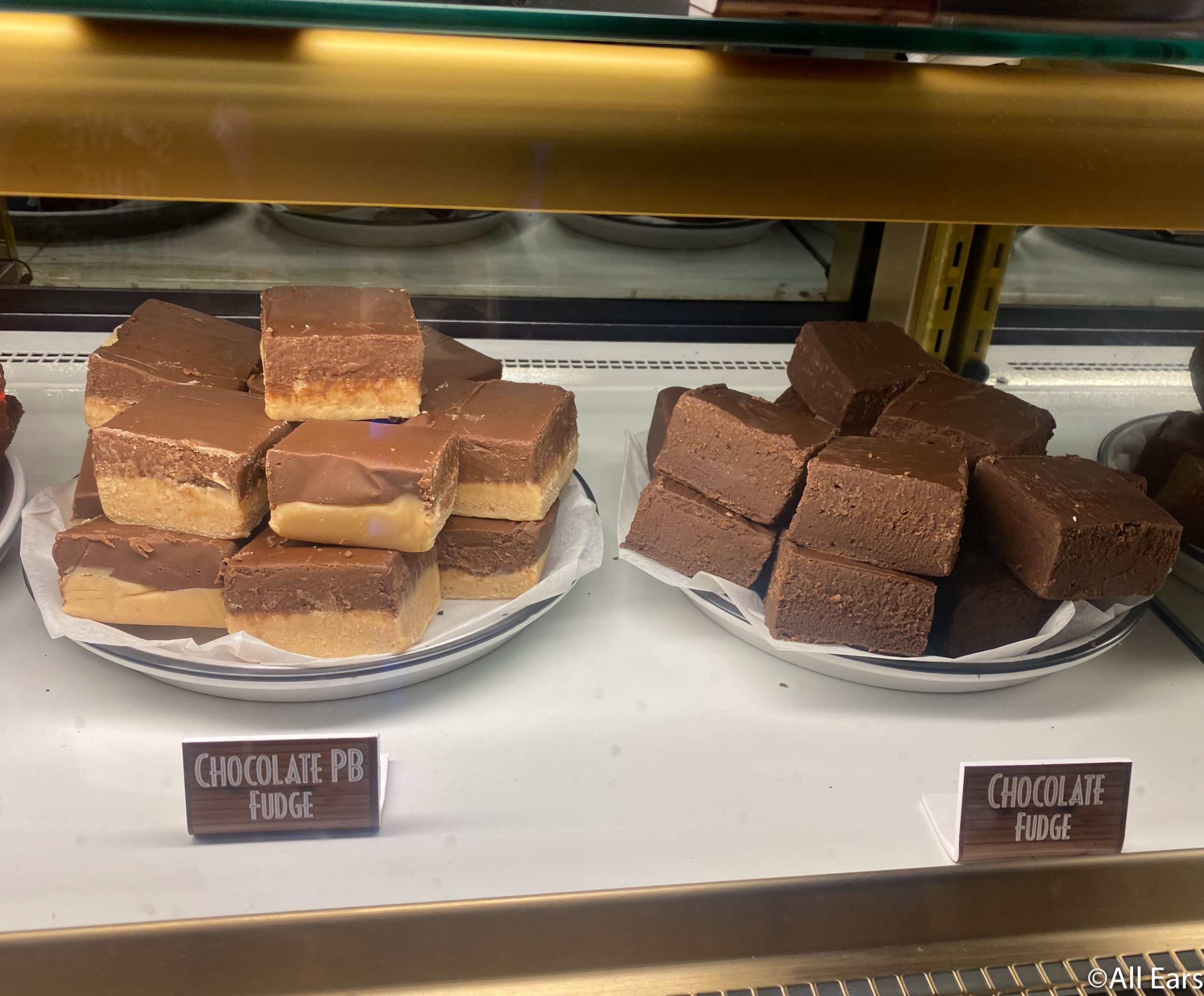 …to themed choices like blue camo and lava flow.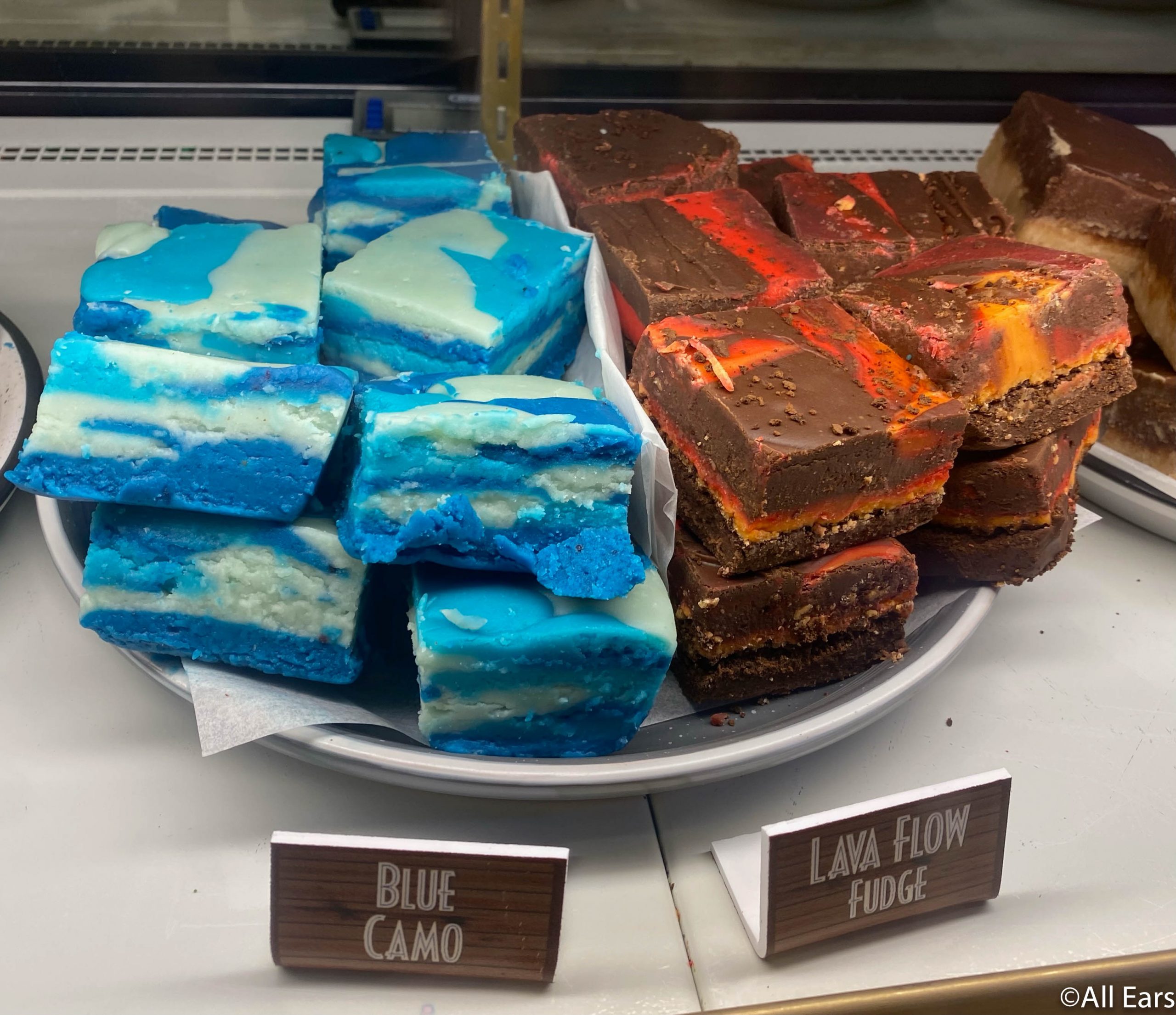 You can also find Fossilized Amber similar to the top of John Hammond's cane…
…and an Egg Nursery that allows you to take home your own dinosaur!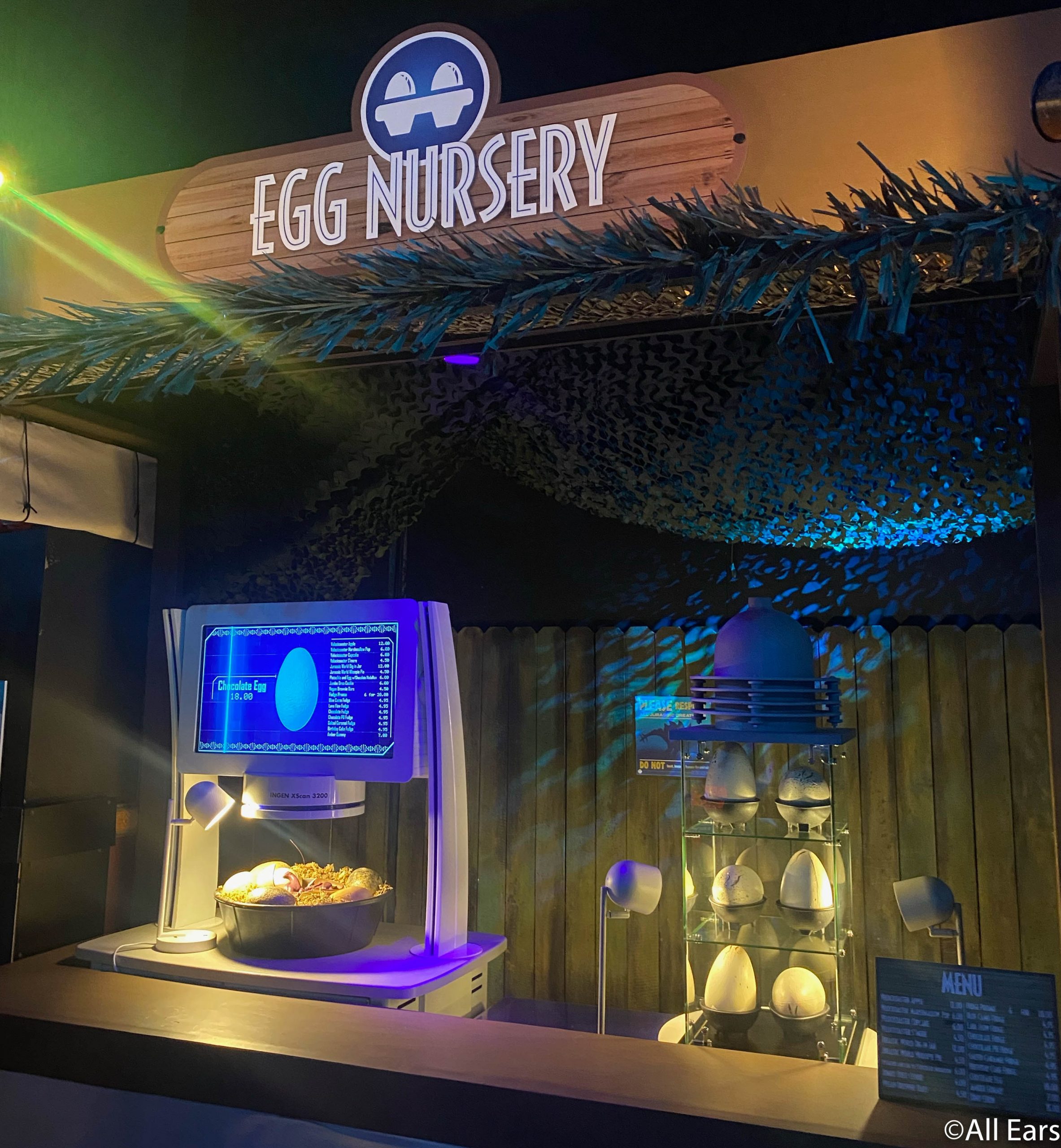 How cool are these?!
At the Egg Nursery you can pick out an egg and there's a mystery dinosaur inside! (It's all chocolate.) pic.twitter.com/FpIB4Qj2e4

— AllEars.Net (@AllEarsNet) May 29, 2021
The chocolate eggs can be cracked open to find a surprise dinosaur treat inside!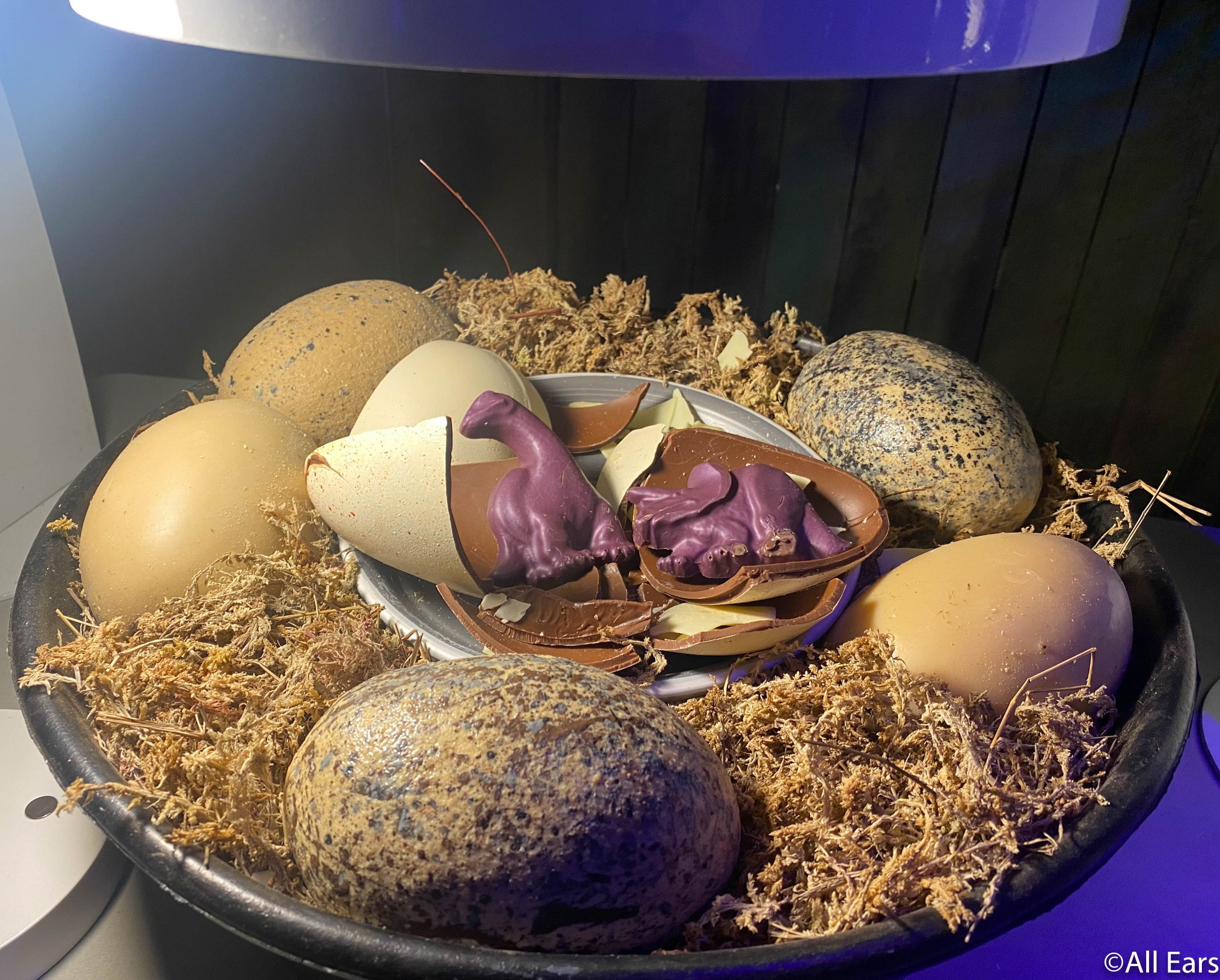 Of course, we had to adopt one!
Obviously we had to adopt an egg… pic.twitter.com/vnCqvWiurw

— AllEars.Net (@AllEarsNet) May 29, 2021
Before you head out, don't forget to say hi to this sweet guy!
As you're exiting, you can find a bunch of attraction posters themed after Jurassic Park and Jurassic World…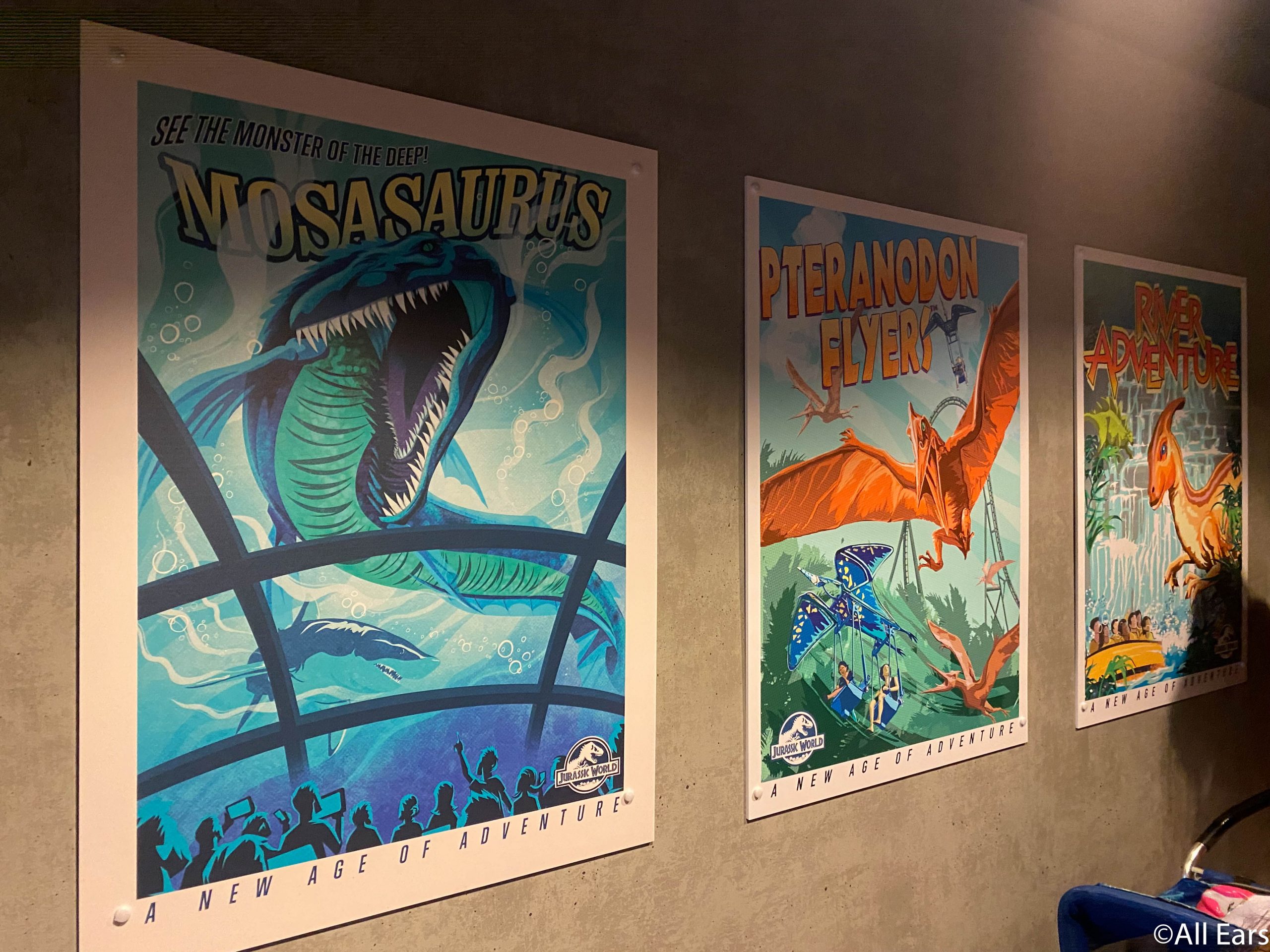 …as well as John Hammond himself (well, the statue version, that is)!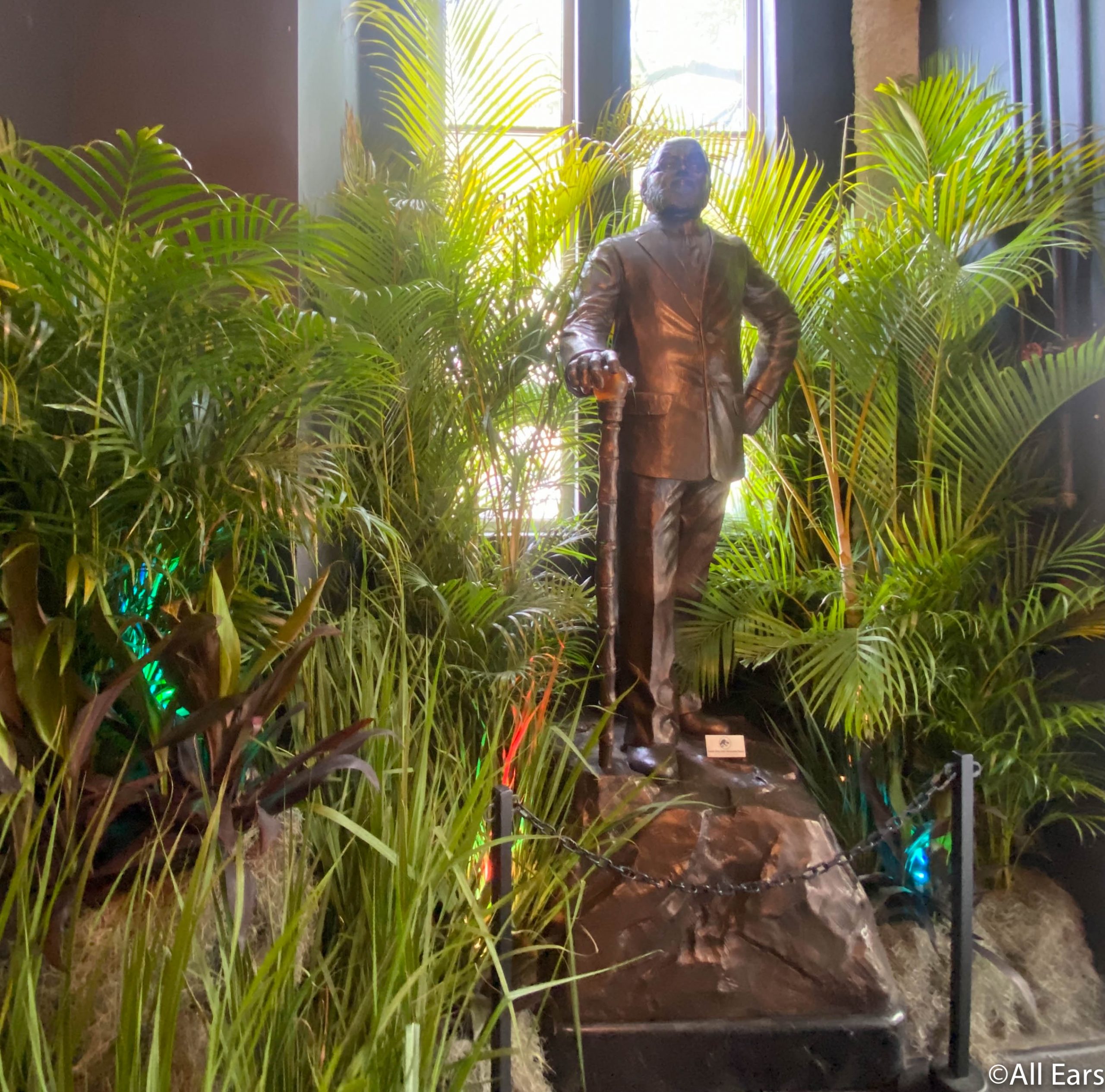 Here's another look at the statue and posters!
Don't forget to say bye to John Hammond as you leave the shop! They clearly spared no expense. pic.twitter.com/FKLqYjUAow

— AllEars.Net (@AllEarsNet) May 29, 2021
Of course, we couldn't help ourselves to a few treats like the whoopie pie…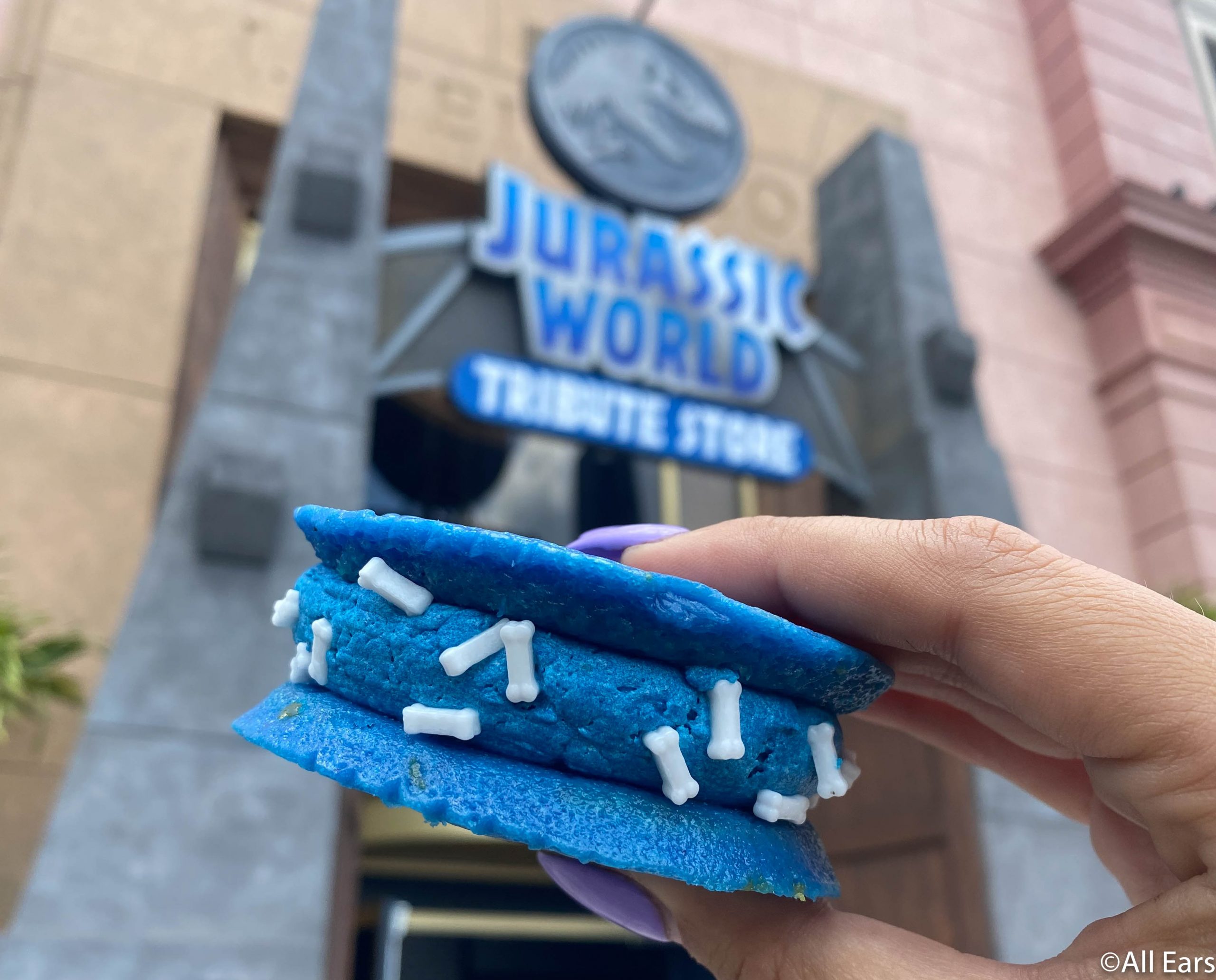 …and egg, so we could take a dinosaur home with us from the Jurassic World Tribute Store!
The Jurassic World Tribute Store won't be around for too long, so be sure to head on over and explore the new space (if you dare!).
And, you can keep up with us for a look at everything new and exciting happening in Universal Orlando soon. Stay tuned with All Ears for more theme park news and updates!
Join the AllEars.net Newsletter to stay on top of ALL the breaking Disney News! You'll also get access to AllEars tips, reviews, trivia, and MORE! Click here to Subscribe!

Have you seen all the Jurassic Park movies? Let us know in the comments!