To all who come to this photo trivia game, welcome! Along the way, the photos can make us relive memories and see details that Walt's Imagineers put into everything we love in Walt Disney World!
And now: Challenge #685 from Claire Gregory: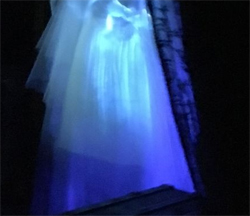 And here's the answer:
The bride in the Haunted Mansion!
Jodie S. was the first to send in the correct answer! Congratulations to Jodie and all our winners this week! Melissa Littman, Laurie Walker, Leach Family, James Malue, Susan Kay, Ed Suscreba, Josh Weiss, Bob kiel, Ted B, Kerry A., Robert Wescovich, Vera and Izzy Williams, David G Crockett, Blake Schmidt, Doug Perez, Sandie Albrecht, The Kertes Family, Beth McMeekin, Jim Finley, David Gardner, Ted Flory, Les Whitten, Timothy Snyder, Paul and Kelli Grundman, Barry Gruber, Herb Miller, Holly Baxter, Peter Prendergast, Anne and Jeff, Linda Hoffman, Cheryl Costello, Gallagher Family, F Williams, Dee Dee Kenney, Jeff Blank, Linda Ranatza, Hunter Armstrong, Brian Gallant, Rebecca Keenan, Jodi Cook, Kristi Jack, Bob Patterson, martin cassidy, Bob & Kathy McKim, susan alioto, Jeremy Reichelt, Jan Durham, Melody ODonnell, Marc Hirshorn, Caroline Sciore, Cathy Connors, theresa rucando, Sandy Ceplecha, Beth Wolf, JoLynn DiGiallonardo, Mark Hardy, wayne a chadourne, John Phillips, Scott Cerino, Shannon Benton, Dave Z, Catherine Christopher, Marlene Barron, The Gunnels Gang, Janet Harvey, Stacy M, Barclay Bakkum, Steve Knapp, Kiersten, The Holmes Family, Kim Juday, Tammy Craven, Sherry Trapp, Scott Sangston, Donald Purney, Melissa Tortorici, Lori Rienhardt, Christi Ison, Maddie Inman, Ray Godfrey, and Vicki Britt!
Drum roll, please!

We're picking two winners now that we're back to : March and April! And our winners are: Jeremy Reichelt and Sue and Ed Adams! Congratulations! I'll contact you soon about your prizes!
______________________________________________________
Challenge #686 for May 2nd, 2021 Where in the world is this?
We're going out of the parks, Players! To a place where you have a different fun.
Hint: Santa looks ready to have some summer fun!
Do you know? Do you have a guess? Send in your answer before the end of the day on Thursday, May 6th by clicking on the blue box below. Please do not post your answers on this blog post.
See you soon, Players!

_____________________________________________________________________
Everyone who sends in a correct answer to a Where in the World Challenge this month will be entered in a drawing at the end of the month for some special AllEars® goodies!
Be sure to follow @allearsnet on Instagram and Twitter!
Check out our YouTube Channel for reviews, news, information, and more!
Click below to subscribe to the AllEars® Newsletter so you don't miss any of the latest Disney news!