To all who come to this photo trivia game, welcome! Along the way, the photos can make us relive memories and see details that Walt's Imagineers put into everything we love in Walt Disney World!
I owe a very belated Happy Thanksgiving to all our Canadian players. I hope you have a wonderful holiday!

And to all our Mexican players, ¡Feliz día de los Muertos!
And now: Challenge #660: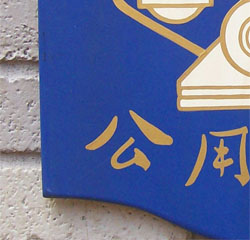 And here's the answer:
The telephone sign in the China pavilion! You guys did a great job with this! Claire Gregory pointed out that Shan Yu (Bad guy from Mulan) loved to hide in here and scare the beejeezus out of people. LOL
Adolph and Kimberly Timm was the first to send in the correct answer! Congratulations to Gloria  and all our winners this week!  Axel Beer, Richard Long, Emily hudson, Team Hill, Jim Wieczorek, Steve Knapp, Joseph M. Zafia, Brooks Bunch, Emily hudson, Grumpys Groupies, Janet T Thorn, Ed Suscreba, Ken Maikowski, Holly Baxter, Bonnie Jean, Claire Gregory, Martha & Justin Collins, The Kuroly Family, Ken Savage, nance speth, Tony Bivens, Sandie Albrecht, Karen Fichter, Tammy Warmouth, Linda College, Claire Gregory, Glenn and Nancy Motson, The Gunnels Gang, Deb Ragno, Chris Kelly, Howard McAllister, Belicia, Scott C., mis jamie marie, Linda Hoffman, Beau Harrison, David G Crockett, Tom Patton, Linda Ranatza, Chris Kelly, Jeremy Reichelt, Vera and Izzy Williams, Sherry Knoster, Mark Hardy, Mark Potosky, Shannon Benton, Theresa Maradei, Phyllis, Sponaugle, Mike haeberle, theresa rucando, Mike haeberle, Anne and Jeff, Rebecca Keenan, Barclay Bakkum, Jim & Lorie Sonnen, Leisa Hazard, Sheila Bagg, Donald Purney, Jane Johnson, Christy Schor, Colin Moore, Sherri Pell, Sue and Ed Adams, John Grosz, Vinnie DeGasperis, John Debow, Sue Bridges, Sandra Debow, and Andy Hickey!
Time to announce the monthly winner! And the winner is: Ken Savage! Congratulations! I'll be contacting you about your prize!
______________________________________________________
Challenge #660 Where in the world is this?
We're going outside the parks and I'm doing the challenge since I was on my honeymoon this week. You can see this is a pool and it's a very creative design.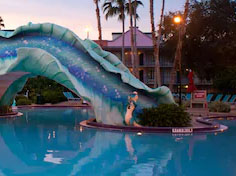 Do you know? Do you have a guess? Send in your answer before the end of the day on Thursday, November 5th by clicking on the blue box below. Please do not post your answers on this blog post.
See you soon, Players!

_____________________________________________________________________
Everyone who sends in a correct answer to a Where in the World Challenge this month will be entered in a drawing at the end of the month for some special AllEars® goodies!
Be sure to follow @allearsnet on Instagram and Twitter!
Check out our YouTube Channel for reviews, news, information, and more!
Click below to subscribe to the AllEars® Newsletter so you don't miss any of the latest Disney news!