A couple of weeks ago, I started a series on the Metadata I share with all my photos here on the blog with Focal Length. This week we will explore the basics of using Aperture and the effects on your photographs.
There are two extremes with Aperture and I will start with the one most people really like: Wide Open! Each lens you own has an aperture range in f-stops. The smaller the f-stop, the wider the lens opening allowing more light to enter the lens and the less depth of field you have. Here is an example of a wide open photo of an African Lion on Disney's Kilimanjaro Safari at Disney's Animal Kingdom.
Notice how the lion is in sharp focus but the background is out of focus. That out of focus area is called bokeh.
The opposite of Wide Open is stopping down the lens to f/16 or smaller. This allows less light through the lens but increases the depth of field immensely.  Most photographs you see in travel magazines or websites use this technique to get everything in focus from front to back. Here is the Partners statue in the Magic Kingdom with the castle in the background.
From the poinsettias in front of the statue to Cinderella Castle in the background, everything is in focus.
If you have been around photography for awhile you have probably heard the phrase f/8 and Be There. This refers to setting your camera's aperture to f/8 and focusing on subjects close by. Often used by Street Photographers. I like to use it on Main Street USA, Hollywood and Sunset Blvd., World Showcase and around Discovery Island. Another location at Walt Disney World I like to use f/8 is around the resorts.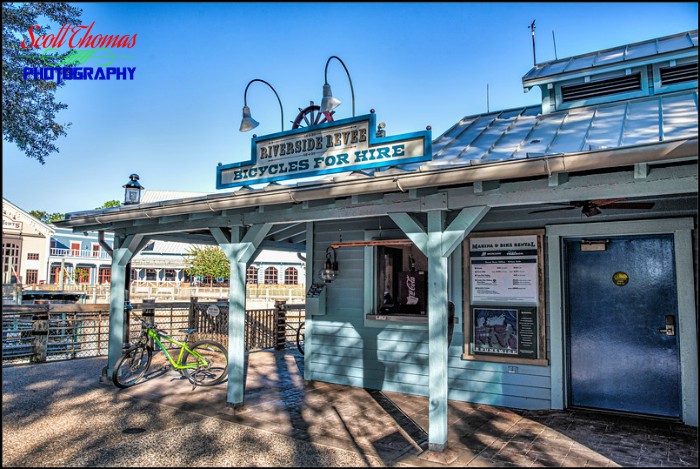 When I get in close to resort buildings, f/8 works great.
For more about using Aperture, visit this blog post called An Aperture Mantra.
Have you used Aperture in your photography at Walt Disney World or elsewhere? Tell me your results in a Comment below.
Join the AllEars.net Newsletter to stay on top of ALL the breaking Disney News! You'll also get access to AllEars tips, reviews, trivia, and MORE! Click here to Subscribe!