High Dynamic Range or HDR software has come a long way since I started using it 10 years ago. Currently, I use Skylum's Aurora HDR 2019 as a plug-in for Adobe Lightroom Classic.
Let's see what it can do.
I photographed the Bab Boujeloud, the main gate to the ancient City of Fez, duplicated in the Morocco pavilion of Epcot's World Showcase by taking a set of five bracketed HDR photos from -2 EV to +2 EV in 1 stop increments.

After selecting these five photos in Lightroom, I exported them to Aurora HDR 2019. The software takes care of chromatic aberration, ghosting of any movement (I have no idea how it does this and can only imagine the amount of man-hours went in to programming this part alone) and merging of the photos.
A few more technical facts before I move on. I was hand-holding the camera when I took these and I let the camera use ISO bracketing. Here is the ISO information for each photo:
-2 EV, ISO 100
-1 EV, ISO 140
0 EV, ISO 280
+1 EV, ISO 560
+2 EV, ISO 1000
If I was using a tripod, I would have turned off Auto-ISO and the camera would have bracketed using Shutter Speed as I was in Aperture Priority mode set to f/11. Keeping the aperture the same is one of the keys to a good HDR image.
Once in Aurora HDR 2019, I can make adjustments or select one of the pre-sets supplied with the software. I often do a combination of both by using a pre-set as a starting point and doing adjustments from there. When I am satisfied, I apply the changes back to Lightroom as a new image. I make my final adjustments and Wa-Lah!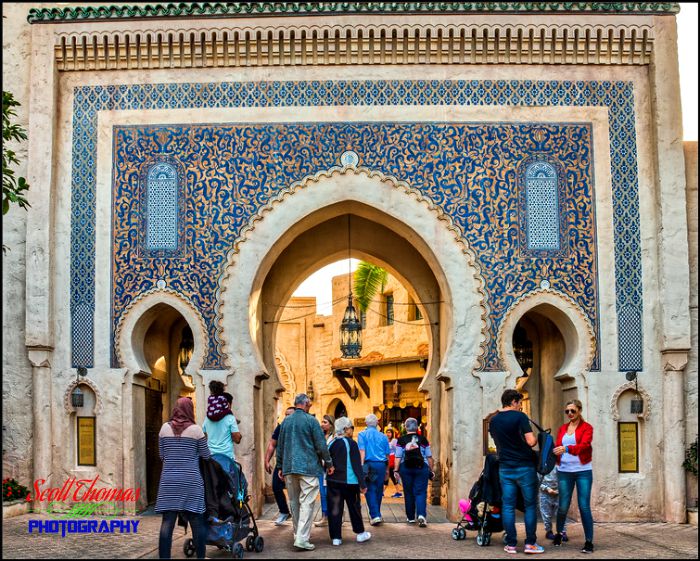 Now, it has been awhile since I have seen this HDR image. I can now see it needs more work. I did not leave myself much room to work along the edges. As you can see, I have already cropped out the feet of one of the people. I will re-visit this scene on my next trip and give more room along all the edges of the frame. I will be sure to reference back to this post when I do so.
Do you see what else needs to be done? Let me know in the Comments below.
Check out these other posts for more photography tips!
Be sure to follow @allearsnet on Instagram and Twitter!
Check out our YouTube Channel for reviews, news, information and more!
Click below to subscribe to the AllEars® newsletter so you don't miss any of the latest Disney news!