A new Captain Marvel comic will join the Marvel Action line of comics aimed at middle grade readers that stars Carol Danvers and a bunch of feline Flerkens.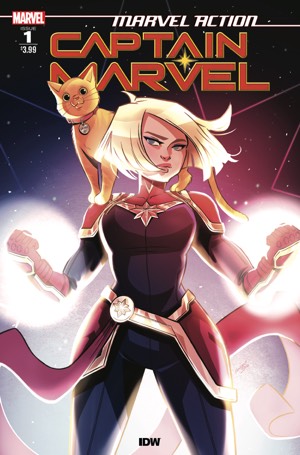 The first chapter of this addition comes from the creative team of writer Sam Maggs (Marvel: Fearless and Fantastic! Female Super Heroes Save the World), artist Sweeney Boo (My Little Pony), and colorist Brittany Peer.
The story opens with Carol Danvers' quiet night with BFF Jessica Drew (Spider-Woman) taking a catastrophic turn when Manhattan's bodegas are suddenly overrun by a host of angry felines! And not just any felines—Flerkens, the most terrifying, pocket-dimension-holding, tentacle-devouring kitty-look-alikes in the entire universe! Readers will learn if Captain Marvel overcomes the formidable foes before it's too late.
Writer Sam Maggs stated "Carol has always been my favorite super hero; I love how she's truly come into her own, culturally, and is finally being widely-recognized as the star that she is. Being able to write for Carol is the most exciting and terrifying thing that's ever happened to me. I can't wait to share this arc with everyone!"
"Working with Sam and Sweeney on a story featuring one of the most iconic super heroes of our time has been a dream," says Megan Brown, assistant editor. "I adore Carol — she's strong, capable, funny, and someone that anyone can look up to. In Marvel Action, we're also highlighting the strength of her friendship with Jessica Drew, and it's been such a positive, uplifting experience bringing this rock-solid bond between two absolutely amazing ladies to life."
Marvel Action: Captain Marvel will be available with a regular cover by Sweeney Boo, plus a special retailer incentive variant by Brianna Garcia (Disney Princess).
Be on the lookout for Marvel Action: Captain Marvel this August at your local comic shop.
Will you or your middle-grade reader be adding Marvel Action: Captain Marvel to your summer reading list? Let us know in the comments.
Be sure to follow @allearsnet on Instagram and Twitter!
Check out our YouTube Channel for reviews, news, information and more!
Click below to subscribe to the AllEars® newsletter so you don't miss any of the latest Disney news!