As the opening of Star Wars: Galaxy's Edge and this year's E3 convention loom ever closer, here's a look back at some recent presentations of Star Wars games from Star Wars Celebration Chicago.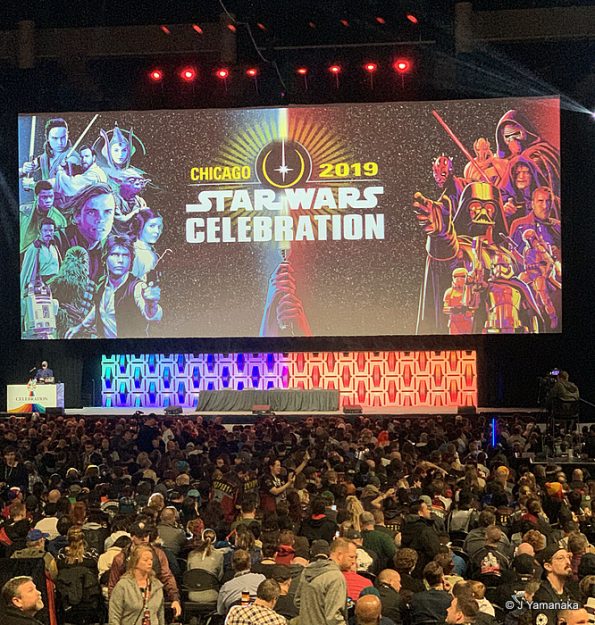 The next project out from ILMxLAB, Lucasfilm's immersive entertainment studio, is Vader Immortal: A Star Wars VR Series – Episode I.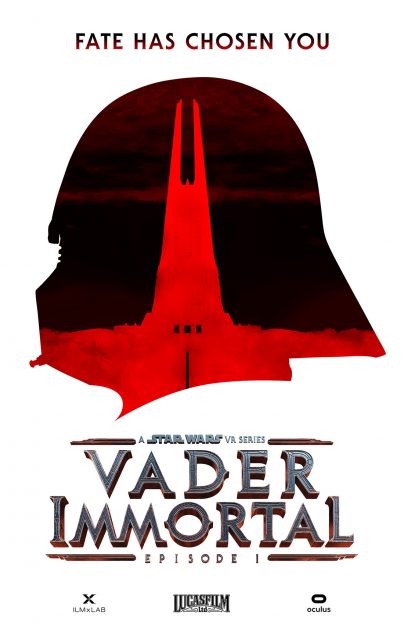 Vader Immortal is a new form of storytelling, in which the player is in the center of a Star Wars story and develops a personal relationship with Darth Vader.  The adventure takes place between "Revenge of the Sith" and "A New Hope" and after the events of the Void VR experience "Secrets of the Empire" when Vader is still developing into the Dark Lord of the original trilogy.  It is set on Mustafar, where Vader has his castle, and will reveal story points such as why Vader makes his home there, what he's after, and details about the history and culture of Mustafar.
The participant plays the part of a smuggler, captaining a ship called the Windfall with a robot First Mate called ZO-E3.  Shanghaied by Imperial Forces, you are captured and sent to Vader's castle where the rest of the story revolves around why Vader has chosen you…and for what.
Voicing Vader is Scott Lawrence from "Star Wars Resistance."  Other characters include  the Mustafarian Vylup, voiced by Keith Ferguson, Commander Karius, voiced by Steve Blum (Zeb, in "Star Wars Rebels,") and the Mustafarian Leader/Priestess.  ZO-E3, your humorous robot sidekick, is played by Maya Rudolph.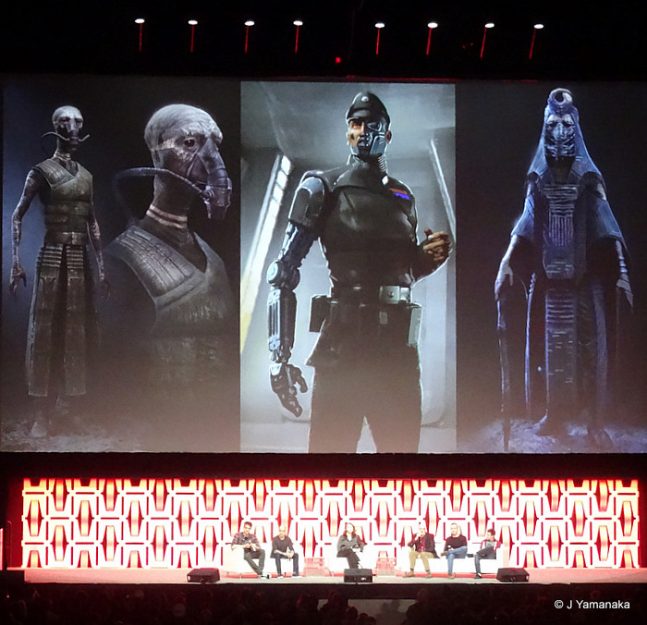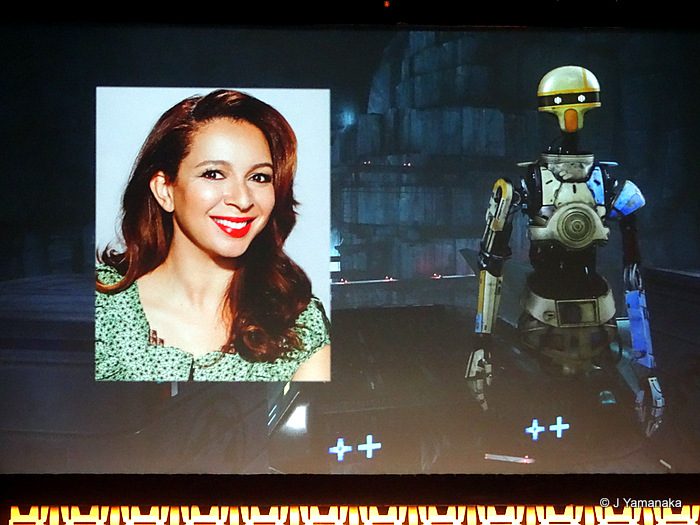 Some of the challenges of storytelling in VR include creating a narrative where the player has agency and is a vital part of the action.  As a relatively new medium that allows the participant a wider range of action than 2-D games, this creates greater challenges for the development team.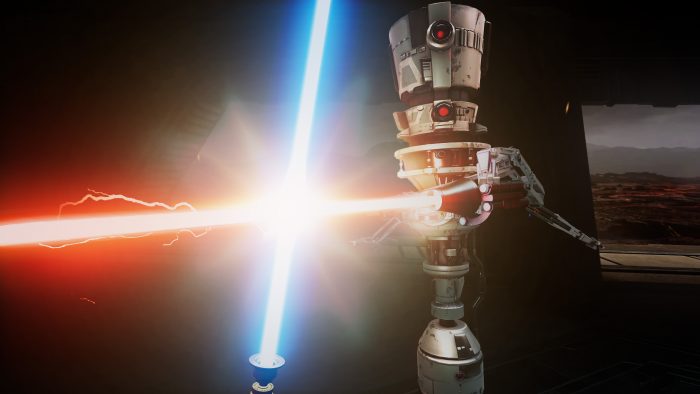 In Episode 1 of the VR series, emphasis will be on wielding a lightsaber, while Episode 2 will see the player progressing to develop Force abilities.  The team found that people enjoyed lightsaber combat so much that they developed the Lightsaber Dojo–an open-ended opportunity to fight and progress outside of the story.  For better range of movement and immersion, Vader Immortal is releasing on the new Oculus Quest headset which is untethered and has six degrees of freedom for completely unconstrained movement in the VR world.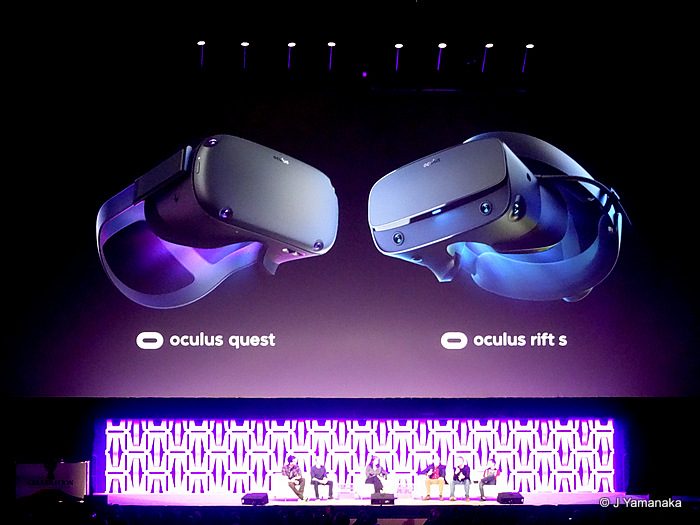 Vader Immortal is a launch title for the Oculus Quest headset  ($399 USD for 64GB) and will also be coming to the Oculus Rift family of headsets, including the newly released Rift S.  It has a running time of 45-60 minutes.
Star Wars Jedi: Fallen Order is a new third-person action-melee adventure game which will launch on November 15, 2019 for Xbox One, PlayStation®4 and PC via Origin™. The game will feature a new story set shortly after the events of Star Wars: Revenge of the Sith™, when the Jedi have fallen.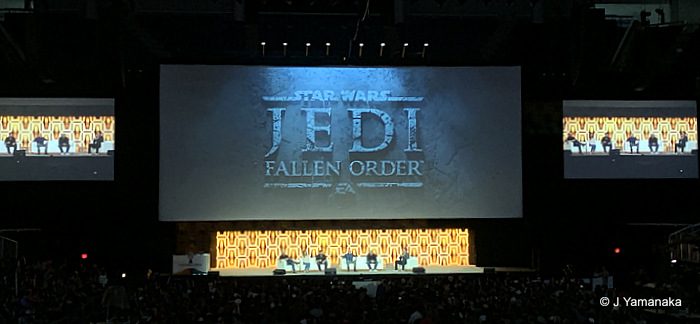 The player will be a padawan who survived Order 66 and is now on the run, in training, with a light saber and Force powers.  Combat is key, according to the Respawn Entertainment team, and will be easy to pick up, but difficult to master.
At this point in time, the Empire is at the height of its power; Jedi are reviled as traitors; and Inquisitors roam the galaxy hunting down stray surviving Force Sensitives.  The player is Cal Kestis, a Force user who is hiding in plain sight on the planet Bracca as the game opens, but who is forced to go on the run after an accident forces him to reveal his powers.  Now a target for the Imperial Inquisition, he must master the ways of the Force if he is to survive.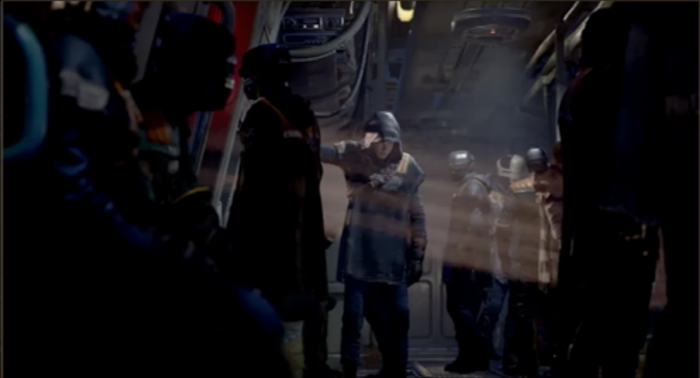 When we meet him, Cal is working as part of the Scrapper's Guild, tearing apart derelict spaceships from the Clone Wars for salvage.  Afraid to trust anyone with the secrets he carries, Cal avoids involvement…until it finds him anyway.   Cal is voiced and acted by Cameron Monaghan from "Shameless," and "Gotham."
"We always talked about, we wanted somebody with a young Clint Eastwood quality, and that's exactly what Cam brings."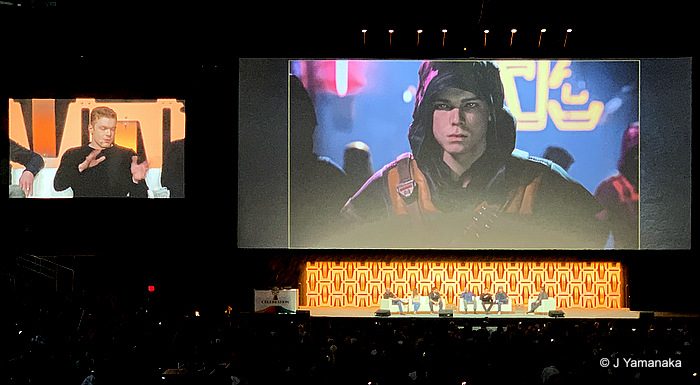 A new Inquisitor gets introduced–the Second Sister, originally introduced in the comic book "Darth Vader" No. 19.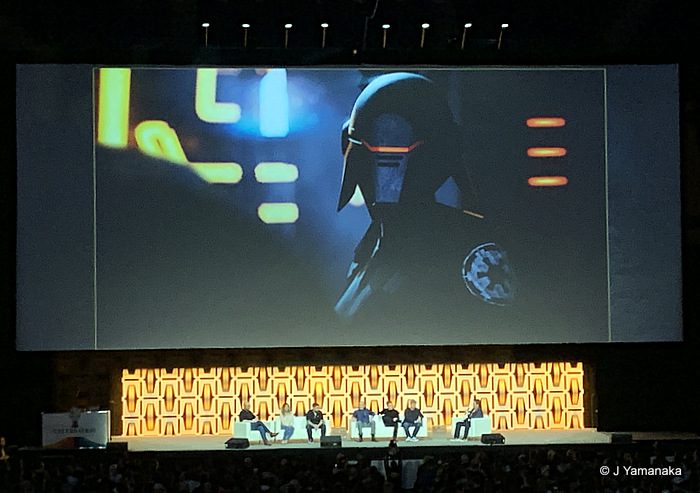 No Star Wars iteration is complete without a loyal droid character, and Fallen Order is no exception.  BD-1 is Cal's best friend, and one of the few creatures he can trust.
On the opposite side are Purge Troopers–a special Imperial Stormtrooper unit whose job is to go in first and wear down the Jedi for the Inquisitor to mop up afterwards.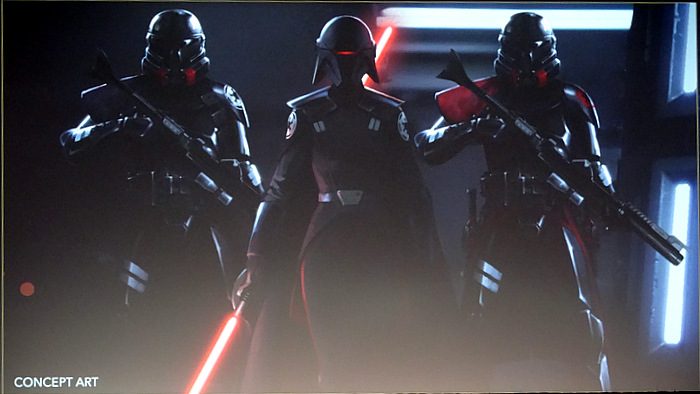 To help combat them, Cal's lightsaber can evolve and transform with use.  Specifics were withheld, so we'll have to wait until November 15 to see how.
Are you anxious for these new Star Wars games? Drop us a note in the comments below!
Be sure to follow @allearsnet on Instagram and Twitter!
Check out our YouTube Channel for reviews, news, information and more!
Click below to subscribe to the AllEars® newsletter so you don't miss any of the latest Disney news!