There's nothing like a Disney attraction  — they are often like mini-worlds unto themselves, immersing you in another time or place, creating a feeling that takes you out of where you really are.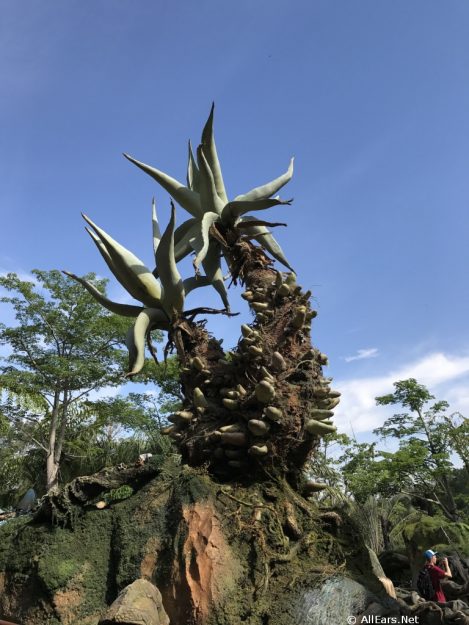 But a large part of the experience for many attractions is actually what happens BEFORE the show or ride even starts — the pre-show.
Attractions come and attractions go, but here's why these pre-shows will live on in our memories.
1. Captain EO
OK, I know that Michael Jackson has been the subject of TONS of controversy in recent years, but if you can manage to put that aside, you have to acknowledge Captain EO, which ran in the Imagination pavilion's Magic Eye Theater, was an amazingly innovative film, especially when you consider its original 1986 release date.
Even more than the show itself, the PRE-show for Captain EO was really something to watch — a behind-the-scenes look at the making of the film. It's memorable for showing us a young George Lucas and Francis Ford Coppola hard at work, but more than that — it features a few quick glimpses of a very young Joe Rohde (mastermind Imagineer behind Disney's Animal Kingdom, as well as many other attractions)! This pre-show also revealed the hard work that went into the design, choreography — every aspect of this 17-minute spectacle. In addition, it takes us back to a simpler time — before the MJ scandals, to a time when "one world" seemed almost possible. Even though you had to stand to watch it, this pre-show was fabulous in our opinion.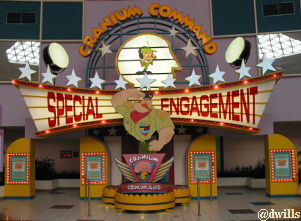 Long ago in Epcot, there was a show called Cranium Command in a pavilion known as the Wonders of Life. The five-minute standing pre-show that introduced the storyline of Cranium Command was a classic! The animated clip takes you into a training center for brain pilots led by General Knowledge, voiced by the inimitable Corey Burton, a well-known Disney voice actor who counts the Haunted Mansion's Ghost Host among his credits.
Without this pre-show and its hilarious remarks ("Be calm, cool, collected, serene, balanced, centered, and relaxed. Like ME!"), the show, about the inner workings of an adolescent male's brain, wouldn't have made nearly as much sense. This pre-show was almost as entertaining as the show itself, and we miss it!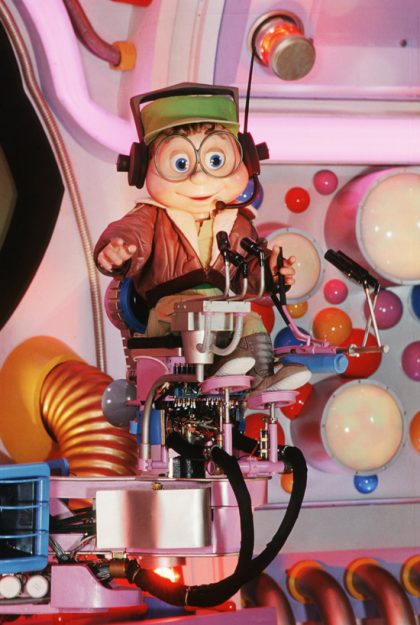 Fun fact: This pre-show was one of the first Disney things a young Pete Docter worked on as an intern at Disney. Why does this matter? Because Pete Docter went on to become the director of the film Inside Out, which also dealt with the inner workings of the adolescent brain!
© D23
3. True Colors – Honey I Shrunk the Audience
After the 1980s version of Captain EO and before its later run, a different show played in the Imagination Pavilion's Magic Eye Theater. It was a 3D experience called Honey, I Shrunk the Audience and was based on the popular film Honey, I Shrunk the Kids.
Before the show, however, ran a heartwarming pre-show produced by attraction sponsor Kodak. The film, set to the tune "True Colors" by pop musician Cyndi Lauper, featured a series of touching photographs — think puppy dogs, babies, rainbows, butterflies and romance. It was a beautiful, nearly seven-minute break from the heat and crowds as you waited to enter the micro-world of Wayne Szalinski and family.
What a fabulous idea! Get the rock group Aerosmith to put their name and music on a high-energy roller coaster in the dark AND persuade them to star in the ride's pre-show!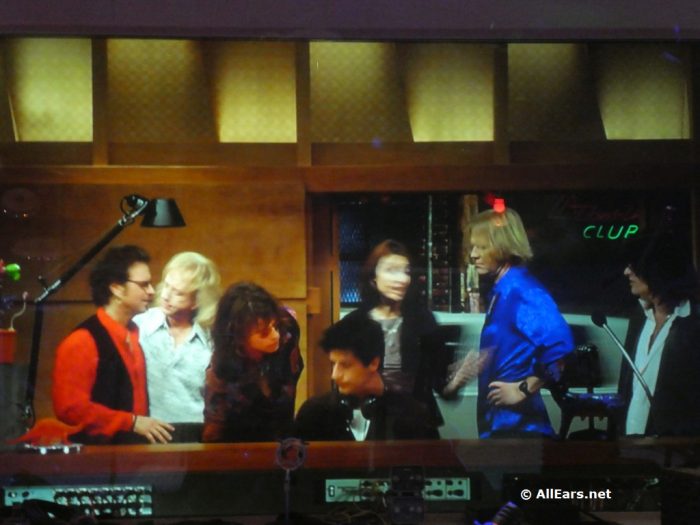 We love this pre-show for its immediacy — it really feels as though Steven Tyler, Joe Perry and the rest of the band are RIGHT THERE, on the other side of the sound booth glass with their manager, played by actress Iliana Douglas. Plus, it sets up the attraction — that we're off to see an Aerosmith concert — perfectly.
Although we still love this pre-show, it's the original version that we really felt was inspired. In it, a cast member actually walked out and grabbed a guitar when Joe Perry asked him to get his "Les Paul." How real was that? A stroke of genius that was a victim of cost-cutting apparently, as it is done no longer. Ah well, it was nice while it lasted.
Many of you may not agree with me, but I think the pre-show for Avatar Flight of Passage is genius on several different levels.
First of all, from a logistics standpoint, it does a great job of keeping you entertained while you wait in what is and probably always will be a loooong queue.
It really keeps you occupied — moving your arms around, making sure you're standing on the right spots, learning about that Na'vi. You have a lot to do while you're waiting.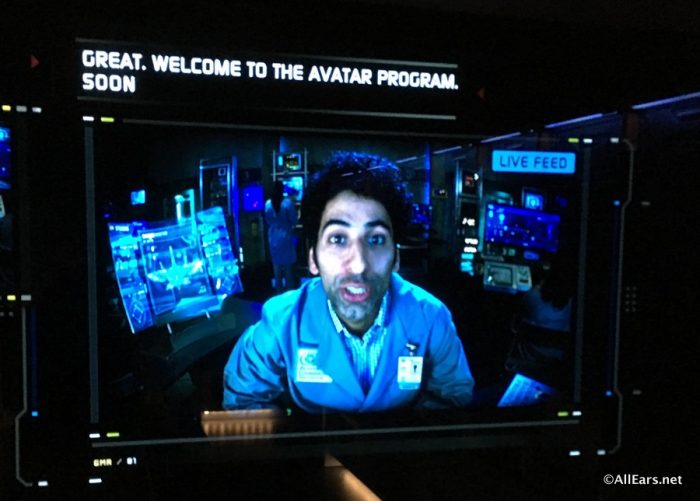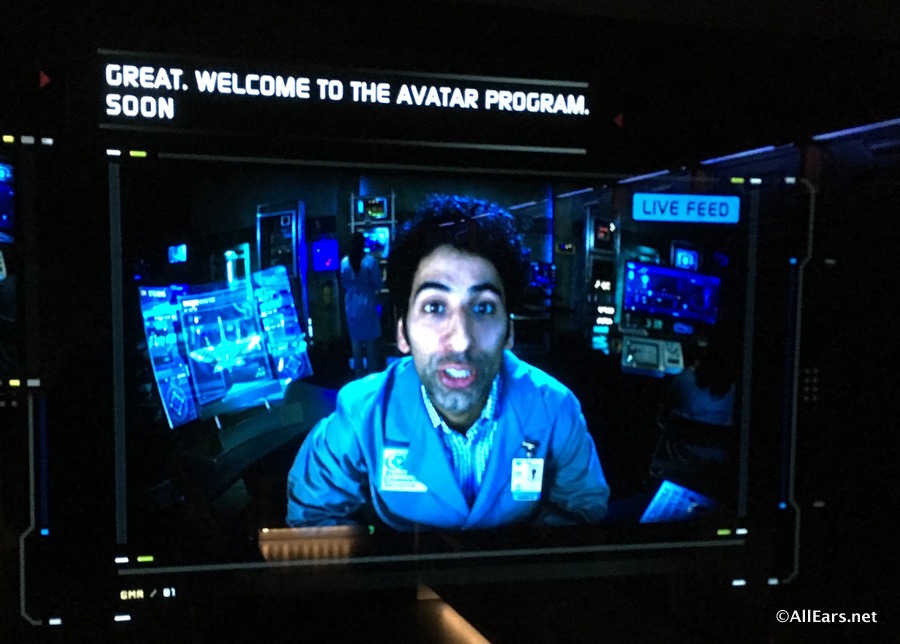 Secondly, the video entirely immerses you into the story of the attraction. It never breaks character — as far as the scientists in the film are concerned, you are REALLY about to link with an avatar so that you can actually fly on a Banshee! They believe it to the point that you start to believe it, too.
I've heard some people make jokes about the young man who is your "host" throughout the queuing experience, but I love the way he stumbles over his words and dramatically pauses when things "go wrong." I guess I'm willing to suspend disbelief long enough to truly imagine that my Ikron and I are going for a RIDE!
I think this is a pre-show that's worth seeing multiple times — at least, I'm not tired of it yet!
The absolute gold standard for attraction pre-shows has to be the hilarious 12-minute video that's displayed on overhead monitors while you're waiting to see MuppetVision 3D in Disney's Hollywood Studios.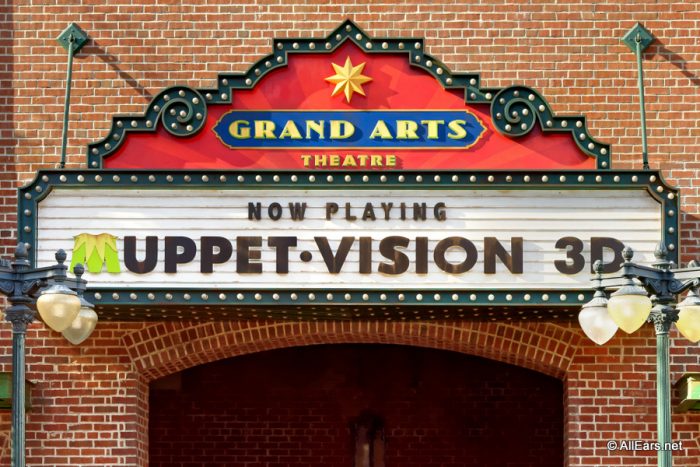 Prior to the show, you'll enter the Grand Arts Theatre's "warehouse" to wait.  While there, you'll have the opportunity to browse among prop boxes filled with goodies that belong to the Muppet stars. Then the pre-show film starts and you are entertained with typical Muppet musical mayhem — from Kermit the Frog to Miss Piggy to Sam Eagle to Rizzo the Rat, the Muppet characters make sure you are well and truly amused and confused by the goings on.
This pre-show is notable as it's one of the last projects that Muppet creator the late Jim Henson worked on — the show debuted a year after his death in 1991.
The pre-show embodies what a good pre-show needs to be — it's entertaining, different from the attraction, and yet sets the attraction up for your experience. Could you enjoy the attraction without seeing the pre-show? Sure, but you will enjoy it so much more if you watch those few minutes beforehand.
I don't know about you, but I actually feel a bit cheated when I don't get to see the entire pre-show film — I might even like it just a smidge more than the actual Muppet Vision show!
So those are our candidates for the best pre-shows we've ever seen. What about you? Are there a few we missed? Let us know in the comments!
Be sure to follow @allearsnet on Instagram and Twitter!
Check out our YouTube Channel for reviews, news, information and more!
Click below to subscribe to the AllEars® newsletter so you don't miss any of the latest Disney news!