We have some additional information pertaining to Oga's Cantina in Star Wars: Galaxy's Edge, a place where you may find a bartender mixing interstellar cocktails alongside a DJ-droid and a bounty hunter.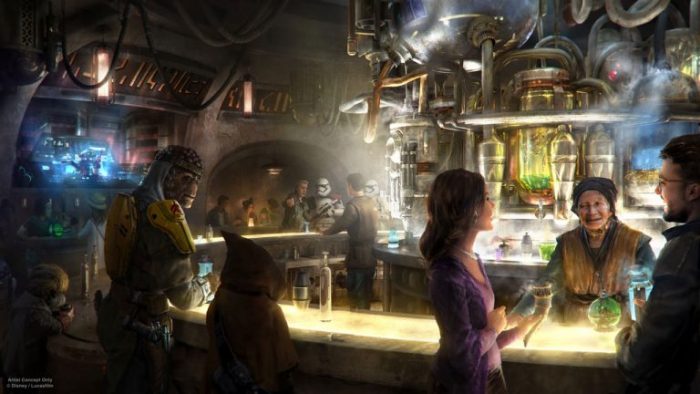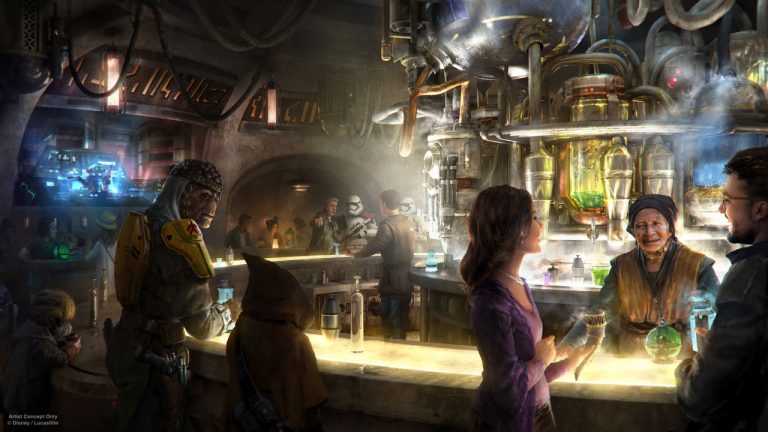 A recent article in the Orange County Register has taken a closer look at Oga's Cantina and revealed a few more details. We thought we would catch you up on what they shared regarding all of the cantina's exciting entertainment and food offerings.
When and Where
As you probably already know, Star Wars: Galaxy's Edge at Disneyland opens May 31. On August 29, Disney's Hollywood Studios will debut its version of the 14-acre themed land.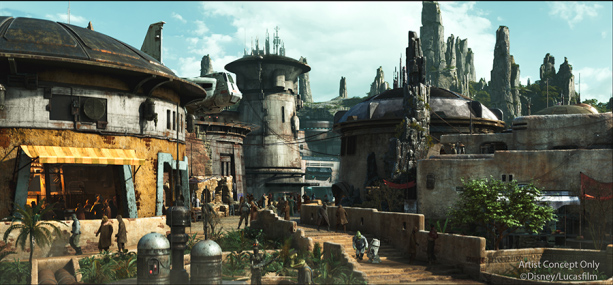 Black Spire Outpost on the planet of Batuu will be the focus of activity in Galaxy's Edge. And Oga's Cantina will be located at the center of it all.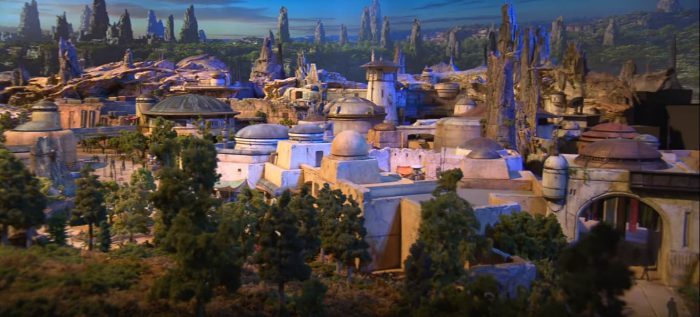 As anyone who's seen the various Star Wars films knows, cantinas have featured prominently. They're the best places to meet so many interesting characters — some friendly, some not so. That's the role Oga's Cantina will play in Galaxy's Edge.
What and How
Imagineers have stated that they wanted to create the impression that the planet Batuu has been around a long time. The backstory developed for Oga's contributes to this idea. For starters, Imagineers have created the cantina's proprietor Oga Garra, a local crime boss who controls the underworld in Black Spire Outpost. The cantina, therefore, is a place where Star Wars characters that we're familiar with, as well as new characters we haven't met yet, have congregated for years.
The cantina will resemble in some ways the original Mos Eisley cantina from the first Star Wars film, A New Hope. Its showpiece bar will be curved with alcoves around the edges. There will be no seats at the bar, but the private little nooks will have bench seats, and the tables will feature up-lighting that casts mysterious shadows.
Suspended above the bar will be tanks filled with alien creatures marinating in intergalactic potions. Grossly awesome, right? Bartenders will appear to pump the cocktails from these tanks, and the creatures, which might be used as garnishes, will come to life!
One of the most intriguing things about Galaxy's Edge is that if you're willing to play along, you can have what Imagineers call "persistent interaction" with a variety of characters. Oga's Cantina will be the center of much of this interaction.
In Galaxy's Edge, you might be assigned a reputation as a Resistance pilot, First Order loyalist or heroic scoundrel, which will follow you around Black Spire Outpost and during all your later visits to Galaxy's Edge, too. This means, for example, that  a bounty hunter working for space pirate Hondo Ohnaka (a character featured in the new attraction Millennium Falcon: Smugglers Run) might be waiting for you in a shadowy corner of Oga's when you walk in.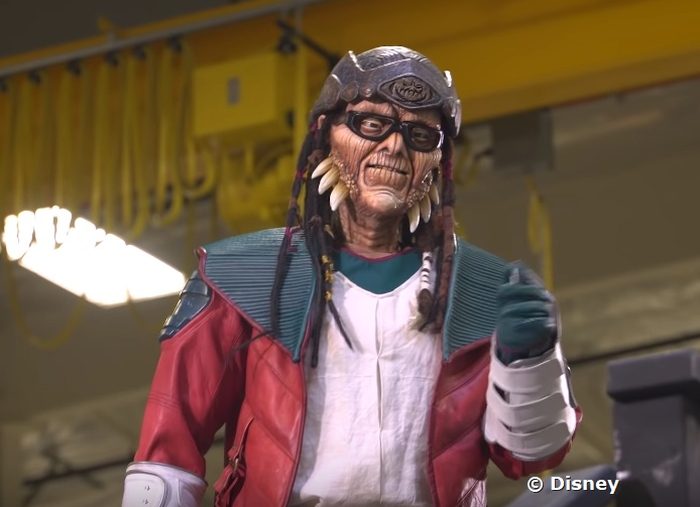 Adding to the atmosphere, Disney has been filling recent Star Wars movies, a novel and comic books with background info on Batuu, Black Spire Outpost and Oga's Cantina.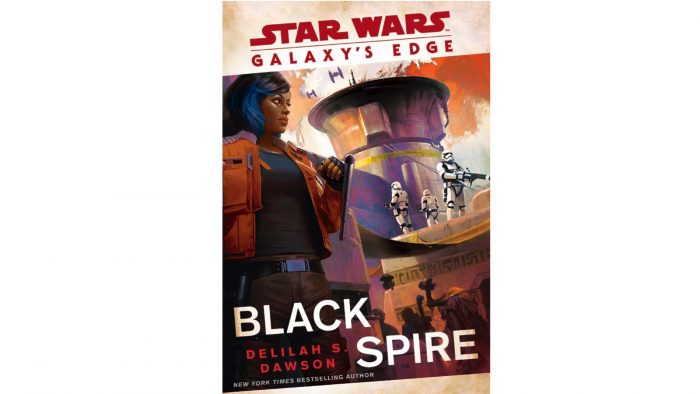 If we read some of these new publications, we will learn more details of the new land, such as what Padme Amidala drinks — a drink that will be on the menu in the cantina.
Check out more Star Wars comic book info here!
The Music 
What would a cantina be without music? Oga's music will be provided by DJ R-3X, or Rex as he is more commonly known, who will man — er, droid — a disc jockey console. The former pilot from the original Star Tours attraction will spin an alien soundtrack that Imagineers have described as "Jawa meets new age meets 1980's pop."
The Imagineering music team worked with composers and musicians from around the globe to create the eclectic sounds that will be played. Tunes will feature a variety of instruments, and vocals with alien lyrics."
What's on the Menu?
Finally… the menu! The alcoholic drink menu at Oga's will include a Jedi Mind Trick cocktail, Bad Motivator IPA beer and Imperial Red wine.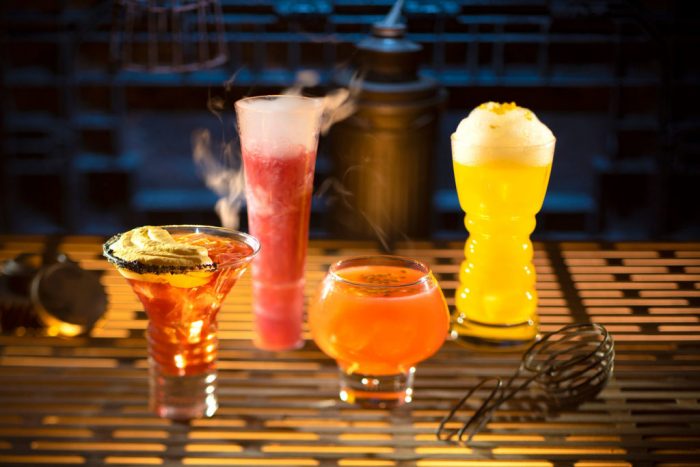 Other alcoholic options recall more creatures and places from the Star Wars canon: Bespin Fizz, Bloody Rancor, Dagobah Slug Slinger, Fuzzy Tauntaun, Jet Juice, The Outer Rim, Spriran Caf, T-16 Skyhopper, and Yub Nub. Non-alcoholic drinks include Black Spire Brew, Carbon Freeze, Cliff Dweller, Hyperdrive Punch It!, Jabba Juice, Moogan Tea, and Tarine Tea.
There's even a non-alcoholic Blue Milk on the menu that will be served with a Bantha cookie chaser.
Note that Oga's Cantina will NOT take reservations. So, get ready for a line! 
So that's what we know about Oga's Cantina so far. We can't wait to learn more!
Star Wars: Galaxy's Edge is almost here… can you believe it?
For more Star War: Galaxy's Edge details, check out these other posts:
Click below to subscribe to the AllEars® newsletter so you don't miss any exciting Star Wars: Galaxy's Edge news!