This weekend saw this year's Long Beach Comic Expo come to the Long Beach Convention Center packed with pop culture activities and merchandise in general, and Captain Marvel in particular.
To get people prepared for the opening of Marvel Studio's "Captain Marvel" in theaters March 8, there were panels and sweepstakes and giveaways for lucky con attendees.  The first panel on Saturday was "Captain Marvel: Origins," with Ivan Cohen, Director of Programming for MAD Event, moderating an intuitive discussion featuring authors Gerry Conway (Ms. Marvel) and Margaret Stohl (The Life of Captain Marvel) discussing Captain Marvel's beginnings, evolution, and significance.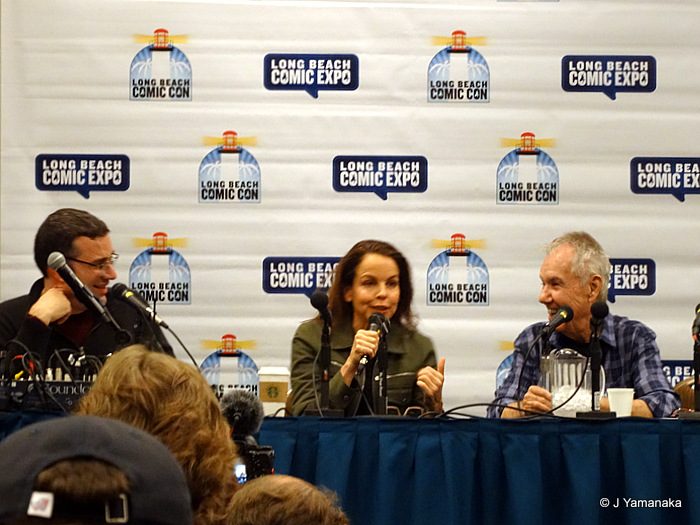 Stohl on how a woman's Hero's Journey differs from a man's:  "For me, for a girl's Hero's Journey, the hugest journey is getting to set off on the journey!  So… it's even like realizing you're on the journey.  And I think that if you are a guy and you grow up seeing yourself, particularly, you know, a white dude, and you grow up seeing yourself as the protagonist in a lot of things, you kind of assume you're on one of those journeys.  Women — we never had that assumption.
"I think that's a question that a whole bunch of different people now are starting to really look at more closely, like what do these other kind of journeys look like?"
The next panel, sponsored by "Captain Marvel," was "Higher, Further, Faster: They Lead The Way," in which panelists Barbra Dillon (Co-Founder and EIC – Fanbase Press), Ivy Doomkitty (International Cosplay Superstar), Martha Donato (Founder – Long Beach Comic Con and Expo), and Barbara Randall Kesel (Writer and Editor – DC Comics, CrossGen, Dark Horse) discussed the ups and downs of being a female trailblazer in traditionally male pop culture niches.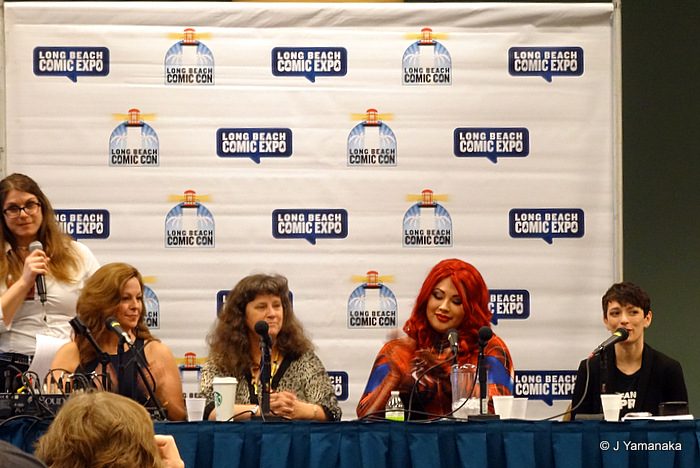 Doomkitty on pop culture gatekeepers: "Anytime I produce a new costume and I reveal it, you'll always get somebody that'll try to be really smart about trying to test your knowledge about a character.  And it's feeling like you have to defend why you are choosing to dress up as your character, or having to… justify that.  It gets really annoying to have to get to that point, where you have to justify everything that you're doing, versus oh look, they're dressed up as this character.  They must really like that character.  Let me go and talk to them because I love this character too.  And I think that's one thing that I do love, when I go to a convention and I see the same cosplay of a character I have–to me, that tells me that they're a fan of the same thing that I love, so why not celebrate it with them?  We can both be fans of the same thing, without having to challenge one another."
Guests attending the panels received double-sided "Captain Marvel" posters as souvenirs.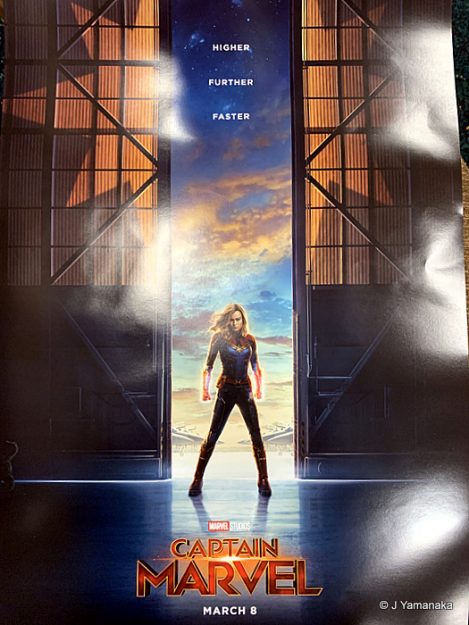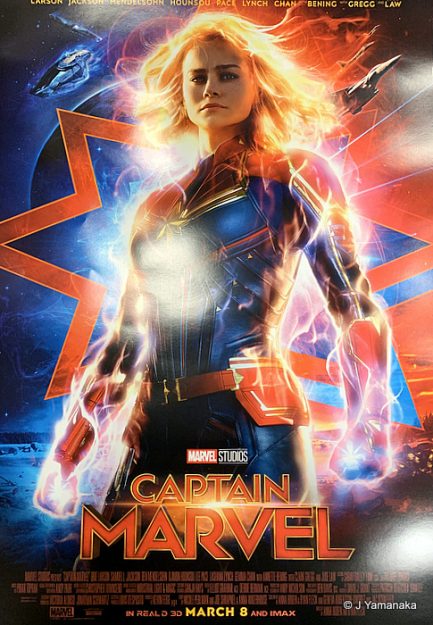 Out on the floor, the Captain Marvel booth featured photo ops, merchandise displays, and drawings.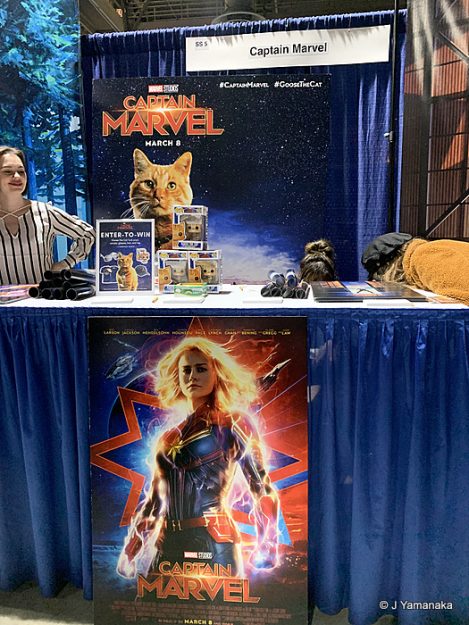 More giveaways were happening at booths such as Hero Within, where guests could enter to win a licensed Captain Marvel flight jacket.
Our #CaptainMarvel Flight Jacket has landed at @LBComicExpo! Try it on and preorder today. Officially licensed by ©Marvel.https://t.co/PJGCfT5g39 pic.twitter.com/KJ55rAtBkL

— Hero Within (@HeroWithinInc) February 16, 2019
For more information on attending next year's Long Beach Comic Expo, visit their webpage at http://longbeachcomicexpo.com/, and get ready to take flight with Marvel's "Captain Marvel" in theaters March 8, 2019.
Captain Marvel is coming to Disney Parks soon. Click to find out where and when!
Captain Marvel is also appearing on Disney Cruise Line's Marvel Day at Sea. Click here to read more!
Be sure to check out our YouTube Channel for reviews, news, information and more!
Subscribe to the AllEars® newsletter so you don't miss any exciting Disney news!