You've probably heard about how amazing it is to stay in a cabin or campsite at Disney's Fort Wilderness Resort. The whole campground and resort are perfect for creating new family memories while you're unwinding from the bustling theme parks. You've also likely heard about some of the dining options available at this resort, like the Hoop-Dee-Doo Musical Revue or the Trail's End Restaurant.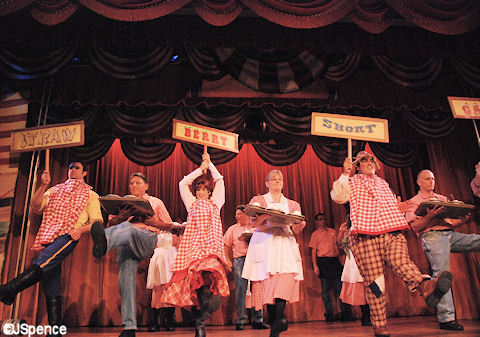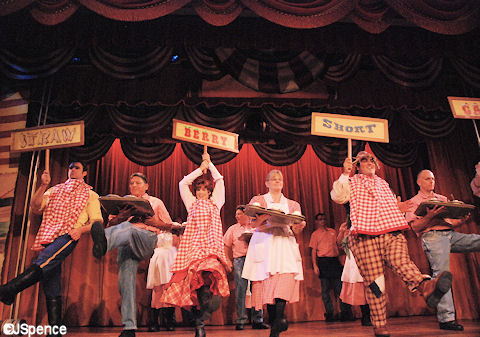 But did you know there are lots of things you can do at Fort Wilderness, many of which you can't find anywhere else? Truth is, there are tons of ways you can have just as much adventure at this resort as you can in the parks.
Pools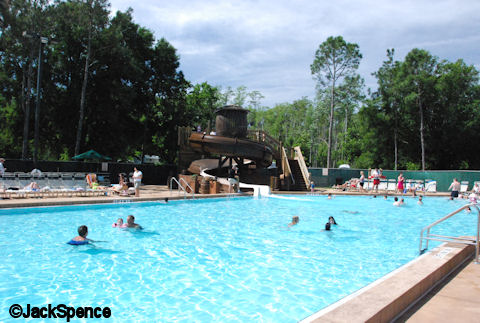 Like most resorts, there are two different options for cooling off. Whether you just want to dip your toes in or you're feeling like a few laps around the perimeter, there's something for everyone. Meadow Swimmin' Pool is a place where the whole family can enjoy fun and excitement, like a 67-foot water slide. You can also check out a whirlpool spa or tot-sized slides. While you're chillin' in this heated pool, be sure to stop over at the nearby snack shop for a refreshment. If the Meadow Swimmin' Pool sounds too exciting for you, don't worry. You can get your relaxation on over at Wilderness Swimmin' Pool instead. It's an all-ages pool with less activity, making it more calm and relaxing.
Archery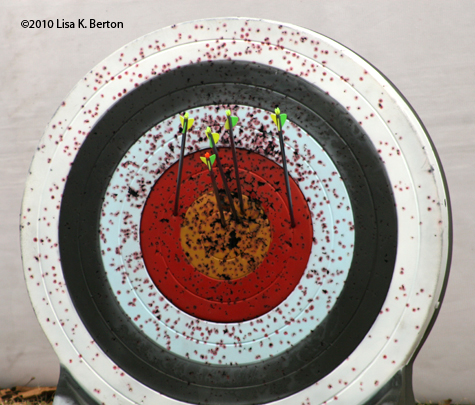 You'll have to be 7 years and up to take part in this 90-minute class. Archery Guides are there to teach you how to use a compound bow before you practice your newfound skills. Reservations are recommended for this activity as space is limited to 10 guests per class.
Boat Rentals
At Disney's Fort Wilderness Resort, you can get out on the water in a whole new way. Paddle your own canoe, or kayak. Or take the hard work out of your day with a motorized boat rental. You can opt for mini speed boats, standard boats, or even pontoons. If you're looking for even more, book a specialty cruise. Check out a video of a pontoon boat tour around the Magic Kingdom resorts HERE!
Bike Rentals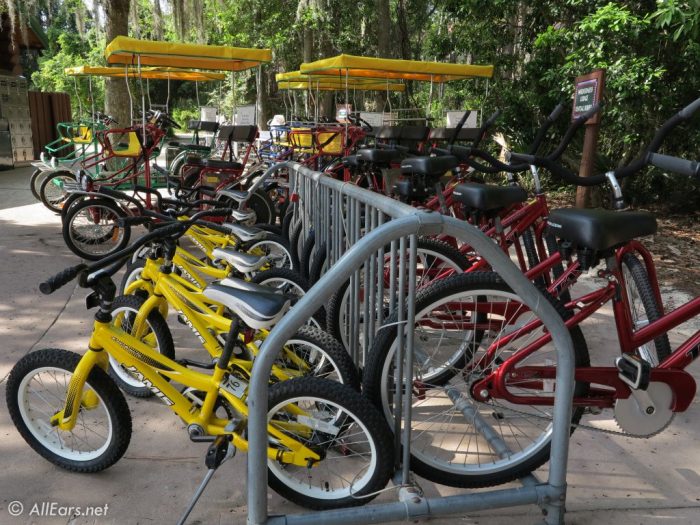 You can rent bikes for the whole family at Disney's Fort Wilderness Resort. Get out there, and get active. Biking is a great way to see the resort from a different perspective. Did you know you can also rent a Surrey bike at Disney's Fort Wilderness? With this mode of transportation, the whole family joins in with bikes that can seat up to 6 people. This gives little ones the opportunity to experience a bike ride even if they haven't learned how to pedal yet.
Fishing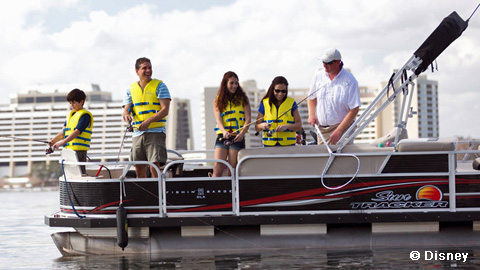 At Disney's Fort Wilderness, you can go fishing, too! Rent your gear and head over to the Dockside to have some catch-and-release fun. Not sure what you're doing or looking for the best spot? Book a Guided Fishing Excursion to get a 2 or 4-hour long boat ride to practice your skills at reeling 'em in. Find out more about fishing on our Fishing At Walt Disney World page.
Tri-Circle-D Ranch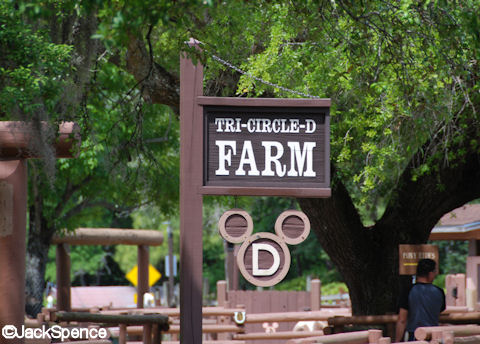 The Tri-Circle-D Ranch has a long list of activities, almost too many to list. You can head over just to take a close-up look of some of Cinderella's ponies or  get involved with a hands-on activity, tour, or adventurous ride. Guests 9 years and up can take a 45-minute trail ride through the scenic grounds of Fort Wilderness, and little ones can get a parent-led pony ride. Want to experience some horsepower without the horseback option? Reserve a wagon ride or a horse-drawn carriage experience. You can even take holiday sleigh rides during the month of December.
Cardio Options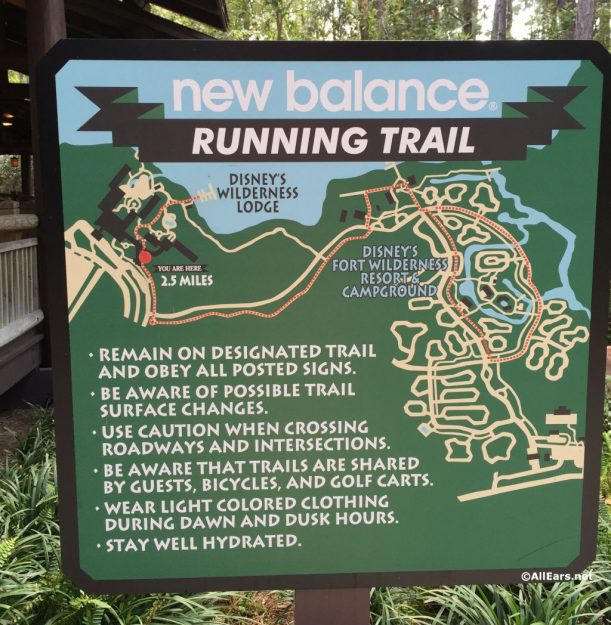 You can get in a 2.5-mile walk, jog, or run on the pathway throughout Disney's Fort Wilderness Resort. Go even further with a 0.75-mile fitness trail and bike path. This shaded trail runs between Disney's Wilderness Lodge and Disney's Fort Wilderness Resort & Campground. Be sure to say "Howdy" to all the campers you come across. If you're looking for something more sporty, head down to the courts. You can get in a quick round of volleyball or basketball at Fort Wilderness.
Activities for the Young'uns or the Young at Heart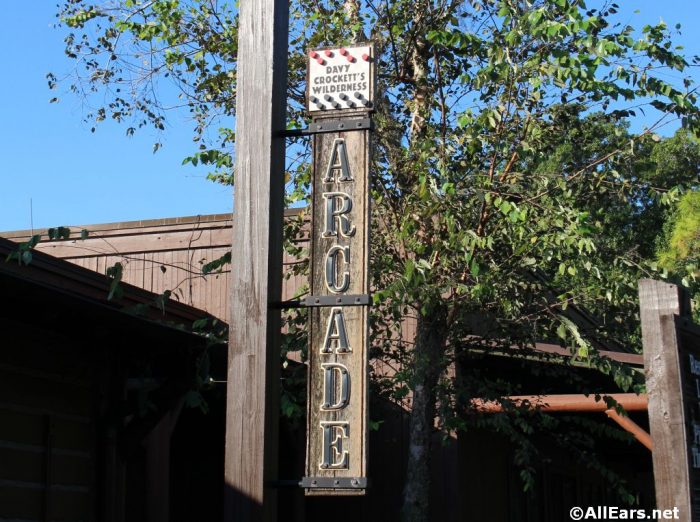 There are two different arcades to choose from where you can test out your skills. Challenge your little buckaroos to a game over at Daniel Boone's Wilderness Arcade near the Meadow Swimmin' Pool. Davy Crockett's Wilderness Arcade over by Pioneer Hall will give you the chance to score some points with classic games from yesteryear and new additions. Disney's Fort Wilderness also includes a campfire experience with Chip 'n' Dale. Afterwards, you can catch a showing of a Disney movie under a blanket of stars. Kids still have too much energy to burn off? Head over to one of the several playgrounds located throughout the resort.
Bonus Segway Activity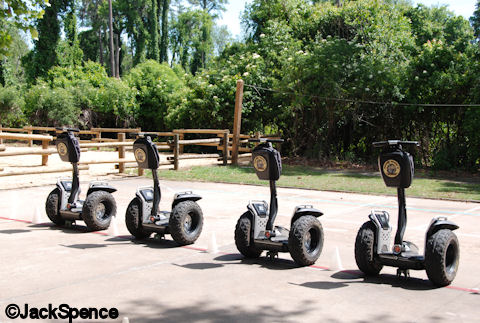 Guests 16 years and older can participate in the Wilderness Back Trail Adventures.  This two-hour long tour starts with a 30-minute instructional period for practice and safety purposes. Afterwards, you'll head out around the property with stops at  Disney's Wilderness Lodge, the stables of Tri-Circle-D Ranch, and Bay Lake.
How will you ever manage to participate in all the activities available at Disney's Fort Wilderness? With so much to do, you'll need to make sure you leave some time open during your trip to explore the resort.
Refer to our Disney's Fort Wilderness Resort and Campground Fact Sheet to answer any questions you might have before booking your next stay. And remember, you don't have to be a guest at Fort Wilderness to participate in most of these activities.
Have you been to Fort Wilderness before? Leave a review in our Rate and Review section.
Be sure to check out our YouTube Channel for reviews, news, information and more! 
Subscribe to the AllEars® newsletter so you don't miss the latest Disney news!