Walt Disney World made some recent enhancements to the My Disney Experience app, expanding its capabilities even further. I finally had the chance to try these improvements out on my latest visit to the World and I have to say, I'm impressed!
First off, I checked out the Bus Wait Times feature. If you've been to Walt Disney World recently, you probably know that most bus stops at the resorts are now equipped with monitors that give estimates as to when the next buses are due to get there. No more wondering when your bus is going to arrive! No more waiting as one bus to the Magic Kingdom after another passes you by, as you mope, sure that the Epcot bus is NEVER going to come. OK, maybe that still happens, but it has to be a little better if you see that there is a projected arrival time, right?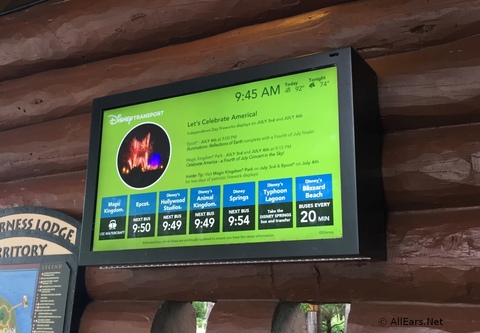 I think that addition was awesome in and of itself. But then Disney went and improved upon it by adding a Bus Wait Times feature to its My Disney Experience app.
Here's how it works. When you're at your Disney resort, simply open your My Disney Experience app on your mobile device and go to your reservations. Here you'll see a screen that offers you a link to Bus Wait Times.
The screen will automatically refresh whenever there's an update. As you can see below, the time for Disney's Hollywood Studios went from a generic "every 20 minutes" above to a specific arrival time below. It even gives you an idea of when you will reach your destination.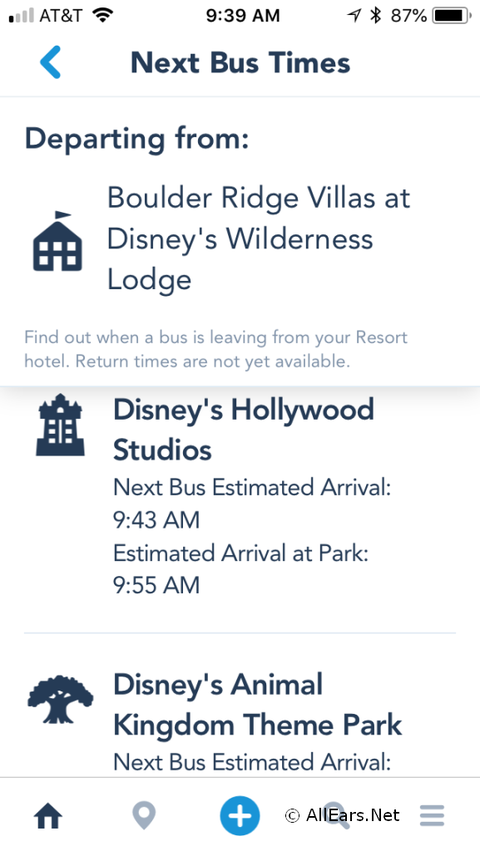 The beauty of this is that you don't have to wonder before you leave your room whether you've just missed that bus to Animal Kingdom, or if you should hustle to make the next bus to Epcot. If it looks like you just missed the bus you want, you can relax and enjoy another cup of coffee, or simply take your time heading out the door to the bus stop.
Of course, nothing is foolproof, and delays do happen. You have to allow for traffic and other considerations, like the extra time it takes to load and offload wheelchairs and ECVs. But overall, the app is fairly accurate. We used it several times to determine how fast we had to walk to get to the bus stop in time… or whether we could take a leisurely stroll. And it really helped us plan better.
One drawback, though, is that the app doesn't work in reverse — that is, when you're at a park, you don't know how long of a wait you have until the next bus back to your resort. But somehow I have a feeling that Disney is working on this!
The other feature I had the chance to try out was the mobile door lock. We were staying at the Boulder Ridge Villas at Wilderness Lodge, which is where I think testing for this feature began — I'm not sure how many other resorts it's been rolled out to so far.
But how it works is: When you reach your room after having been away a while, open your My Disney Experience app on your mobile device and go to your Reservations. You should see something like this:
Hold your device close to the door lock and tap the "unlock door" button.
If all goes as it should, you'll hear the lock on your door click and voila! It's open and you may enter. Just in case you don't hear the click, your device will tell you of your success: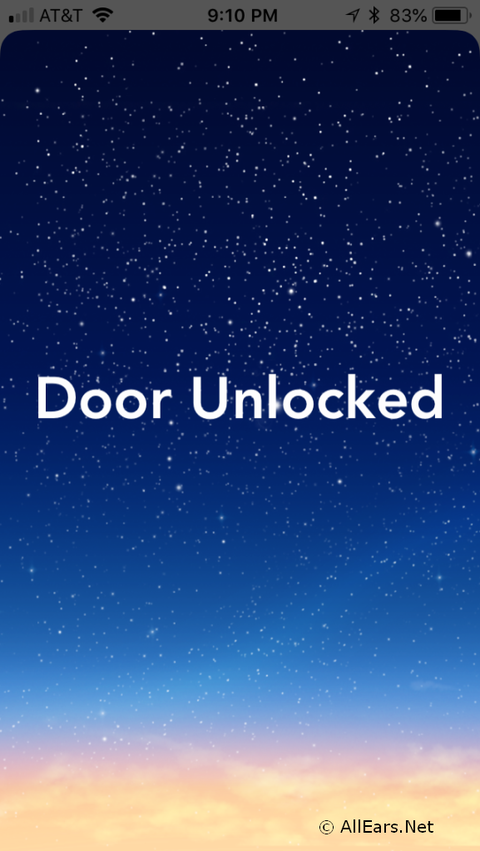 For those who struggle with their MagicBands, or even for those who don't like to rely on MagicBands, using your phone or other mobile device in this way is a great alternative. It worked like a charm!
When I think of these two app enhancements, combined with Mobile Ordering at the counter service restaurants in the parks, FastPass+, and all the other ways you can use the MDE app, I am amazed at what we can do now without exerting any more effort than holding our phone or mobile devices in our hands. I can hardly wait to see what new features will be added next!
Have you used these new features of the My Disney Experience app? What do you think — do you like them or not? What enhancements would you like to see? Let us know in the comments below.