Walt Disney World has announced its 2018 Shining Stars recipients from among about 400 Central Florida students who were named Disney Dreamers and Doers last month.
The students originally were chosen by their schools for actions they took this past school year to inspire other students. Each of the 400 winners at schools across Central Florida was recognized with a medal, a certificate and four one-day theme-park tickets to use during the next year.
In addition, each Disney Dreamer and Doer was entered in the competition for Disney's Shining Stars. These awards are given to 15 students — one each at the elementary-, middle- and high-school level in Orange, Osceola, Seminole, Lake and Polk counties. Shining Stars receive Disney World annual passes for their immediate families for one year, Mousecar statues (Disney's version of the "Oscar" featuring Mickey Mouse), and certificates noting their accomplishments. Plus, the students and their families are invited to attend an IllumiNations Dessert Party at Epcot. Disney officials, not school principals, choose the Shining Stars.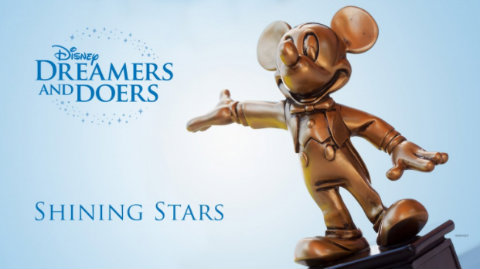 Among this year's Shining Stars are students who have made community contributions by helping Hurricane Irma survivors; organizing fund-raisers to help the less fortunate; sharing the arts with those who are not exposed to visual art, music and dance; and volunteering at hospitals.
The 2018 Disney Dreamers and Doers Shining Stars are:
Lake County
Presli Sickels, Sawgrass Bay Elementary, 4th grade
Samantha Sapp, Pine Lake Preparatory, 8th grade
Jasmine Ramjeet, Leesburg High School, 11th grade
Orange County
Marissa Romeu, Prairie Lake Elementary, 5th grade
Maya Tharoo, Windermere Preparatory School, 8th grade
Evan Lorenzana, Colonial High School, 11th grade
Osceola County
Olivia Siegel, First United Methodist School, 4th grade
Gabriella Dali-Rivera, Florida Cyber Charter Academy, 8th grade
Juliet Cahow, Osceola County School for the Arts, 12th grade
Polk County
Wuesthoff, Boswell Elementary, 5th grade
Audrey Link, Resurrection Catholic Middle, 6th grade
Maria Del Carmen Martinez, Mulberry Senior High School, 11th grade
Seminole County
Jeremy Garcia-Abreu, Carillon Elementary School, 5th grade
Sydney Gross, Galileo Gifted School, 8th grade
Amber Lim, The Master's Academy, 11th grade
So, how do you apply to become a Disney Dreamer and Doer?
It's never too soon for students to take positive actions in their communities, but the application process historically takes place in the spring. Watch for information at your school or online.
The process begins when students are asked to nominate themselves or a teacher, counselor or peer can nominate them by writing a 400-word paragraph describing their achievements. The official rules state: "Although academic achievement and volunteerism are important, the Disney Dreamers and Doers program seeks to reward unique accomplishments in the following areas:
** positive action
** compassion
** empathy
** creativity
The essay is turned in to the school's principal by the school's announced deadline, and a school winner is chosen based on the strength of the essay. (Grammatical accuracy is not a factor.)
"Students may be comfortable in the spotlight, or shy away from it. Some take positive action that is visible; some actions may not be visible to many," the Disney press release stated. "We believe all students do good things and have the potential to be a Disney Dreamer and Doer. We look forward to hearing about students in each of these categories."