The long-awaited sequel to "The Incredibles" is finally here! And although Disney-Pixar's "Incredibles 2" doesn't feel like the ground-breaking movie that the original was 14 years ago, it is well-worth seeing — maybe even multiple times. Writer-director Brad Bird takes us back what to what made "The Incredibles" super — telling a story about undervalued superheroes and their family dynamic while giving us beautiful animation, thrilling action sequences and so many laughs.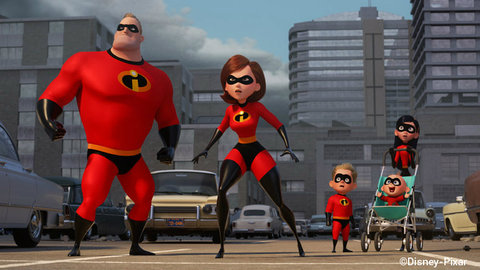 "Incredibles 2" picks up where the original left off: After Dash's track meet, the Underminer is attacking. The Incredibles — Bob "Mr. Incredible" Parr (voiced by Craig T. Nelson), wife Helen who is Elastigirl (Holly Hunter), teen daughter Violet (Sarah Vowell), son Dash (Huck Milner) and baby Jack-Jack (Eli Fucile) — are still hiding that they are superheroes because using their powers is illegal. They can't help but try to stop The Underminer when he unleashes a deadly drill on their city, though, and that leads to their being caught and the superhero program being dismantled.
While the parents are contemplating their future, an opportunity presents itself that has Elastgirl taking on the role of breadwinner while Mr. Incredible becomes Mr. Mom. Elastigirl's new possible crime-fighting role leads to a family discussion about whether she should be publicly doing something that is still illegal. "If laws are unjust, there are laws to change them," she says, also leery of leaving her family behind. But Mr. Incredible convinces her to go, knowing this form of government protest is necessary for the common good. This exchange will resonate with many audience members, given the current political climate in the United States. The script was written in 2015, as the stage was being set for today.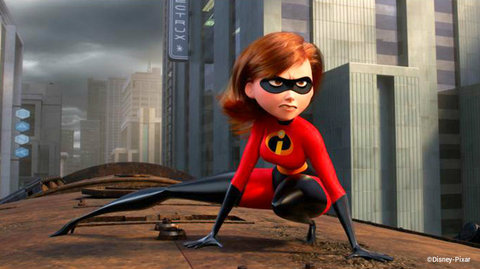 Watching Helen excel in her new role is sure to appeal to working mothers everywhere, and seeing Mr. Incredible's struggle to manage his family duties will vindicate them — as well as give us all some laughs and touching father-and-child moments. Jack-Jack nearly steals the show with the unveiling of his super powers and subsequent harnassing of them.
My teenage daughter loved everything about "Incredibles 2" but when pressed to list her favorite aspect, she cited Jack-Jack and Bird's sense of humor that kept her laughing throughout the film. She also found Violet's teenage drama and Dash's "new math" struggles relatable.
Crowd favorite Edna Mode (voiced again by Bird), fashion designer to the Supers, is back in this movie and in rare form. Frozone (Samuel L. Jackson) reappears, putting his amazing powers on display as well as his friendship with the Parr family. Plus, there are a handful of new superheroes. (Find out how you can see all the characters at the Magic Kingdom this summer in my previous blog about the Incredible Tomorrowland Expo.)
Of course, this movie is not just about family relationships but about the battle between Good and Evil. As such, the animation depicting the battles is nothing short of amazing. But even the everyday scenes of the 1960s the film is set in are improved, thanks to advances in computer animation technology. It really is a visual feast.
"Incredibles 2" is rated PG for its action sequences and some brief mild language. Except for very young children, I cannot imagine the action sequences to be upsetting. No deaths or shootings are shown, and the violence comes from physical battles between people or vehicles like a runaway monorail and some large-scale destruction. The villain, Screenslaver, could be considered scary with his mask, superpowers and flashing lights.
As has become tradition with Pixar movies, before the show we were treated to a short, wordless film of less than 10 minutes. Directed by Domee Shi, "Bao" is the first Pixar short to have a female at the helm, and it tells the story of a Chinese mother who is facing "empty-nest" syndrome with her child grown and on his own. It has many emotional moments and is a story I can connect with, knowing my oldest child is just a few short years from going off to college. My younger child, however, found some of the story unsettling. (I don't want to spoil the big moment!) Who could not be tempted by the gorgeous spreads of Chinese food shown throughout the short, though? In any case, the short most definitely is food for thought.
DISCLAIMER: I viewed "Bao" and "Incredibles 2" at a media screening before its official release. This did not affect my review; my opinions are my own.