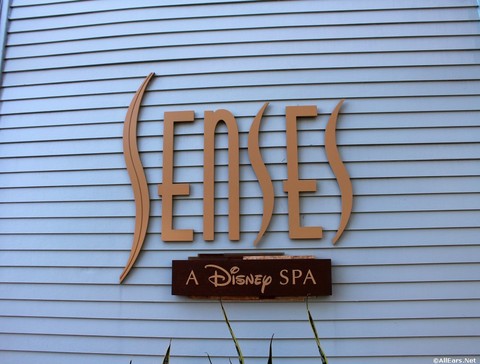 By Guest Blogger Elizabeth Brown
I visited the spa on Mother's Day, Sunday May 13. This was not my first visit, but I LOVE this spa so I try to return on every trip, even if we are not staying at Saratoga Springs. This time we were staying at Saratoga, so I just walked over about 30 minutes prior to my appointment. I checked in at the desk and the attendant verified the services I had scheduled and the times for each. I booked an 80 minute massage, followed by a manicure.
Another attendant came to escort me downstairs to the women's changing area. She asked what size sandals I would like, gave me a blue DVC Member robe to change into (other guests have a taupe robe), and helped me find an available locker. Since I had been to the spa before I didn't need a tour of the facilities, but she did offer in case I needed a refresher.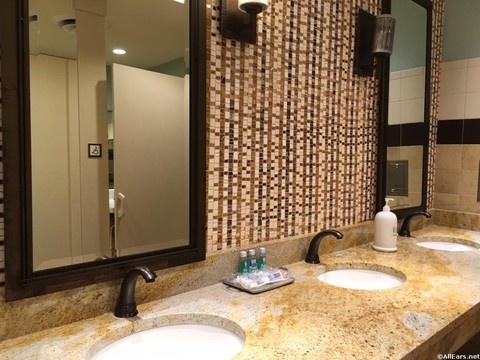 The locker rooms are separated by gender, and that includes the whirlpool, steam room and showers. The relaxation area upstairs is co-ed.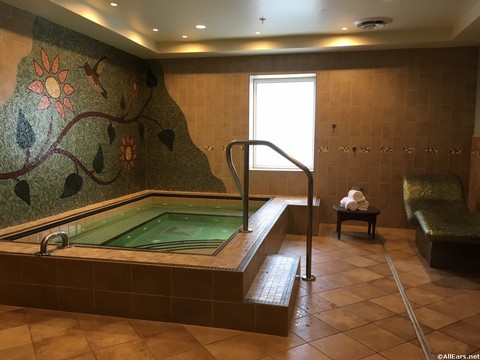 Once I was settled in my robe I was free to use all of the spa amenities. If you are using the whirlpool or steam room a swimsuit is required. The heated lounge chairs in the whirlpool area are amazing – SO comfortable.
Upstairs in the relaxation room you will find chairs with ottomans, zero gravity loungers (which are the most comfortable thing EVER!), and light snacks such as trail mix, dried fruit and nuts, etc.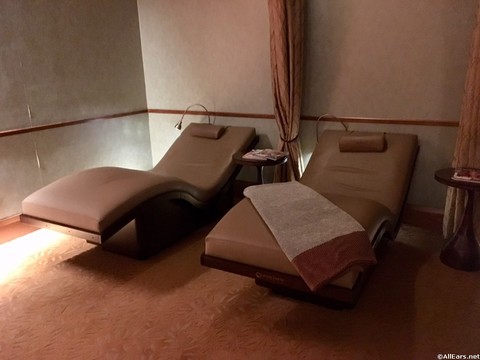 They also have an assortment of hot tea and chilled water, usually with citrus or cucumber. There are individual book lights at the lounge chairs if you would like to read while you relax, and there are magazines on the tables. The lighting is low and there is relaxing music.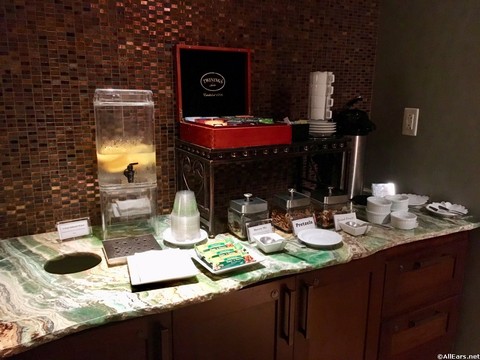 The different technicians come to the relaxation room to escort you in for each service, and you return to the relaxation room in between.
I decided to go with an 80-minute massage this time because my previous 60 minute massages were so lovely. It was absolutely worth it! Susan did a wonderful job getting the knots out of my shoulders. They offer multiple options, so be sure to check out the spa service listing before you book your appointment.
You will have about 10 minutes between services if you are booked for multiple things back to back, which allows enough time for a cup of tea or a restroom break.
I had booked a regular manicure, but decided to change to a gel polish after we got started. Jenifer did not miss a beat and switched over the service for me. My nails still look beautiful a week later!
Once your services are complete you are welcome to stay and enjoy the spa amenities. When you are ready to leave, the spa has everything you might need to get ready to go! In the showers you will find shampoo, conditioner, and body wash. There are combs, hairdryers, and hairspray. Deodorant, body lotion and perfume are also available for guests to use. In the restroom you will find mouthwash. With all of this, you won't need to go back to your hotel to get on with your day.
Check out is back at the desk, where you also have the option of booking your next spa appointment. They go over each charge and make sure to apply any applicable discounts, then provide a detailed receipt for your records.
The spa is open seven days a week, and they offer discounts for DVC members. They also offer a nice selection of products for sale, but there is absolutely no pressure to purchase anything! I would absolutely recommend a morning or afternoon at Senses!