To all who come to this photo trivia game, Welcome! Along the way, the photos can make us relive memories and see details that Walt's Imagineers put into everything we love in Walt Disney World!
Now for Challenge #526: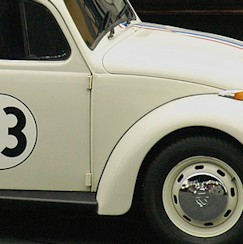 And here's the answer:


Copyright © Scott Thomas
Here he is at Lights! Motors! Action! at Disney's Hollywood Studios. He still is at All Star Movies where I took 8,799 photos of him. 🙂
Here's me with Herbie; I totally squealed!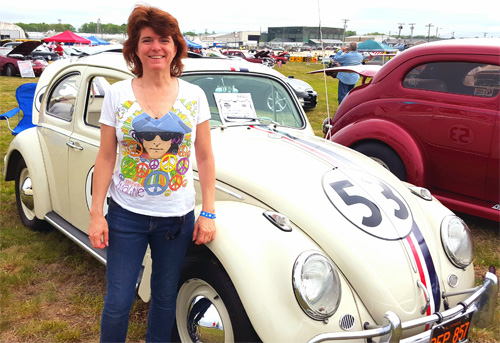 Copyright © Erin Blackwell
And here he is with his own camper checking into the Fort Wilderness section of my Christmas Village. (It was a happy day when I found him and that camper on eBay!)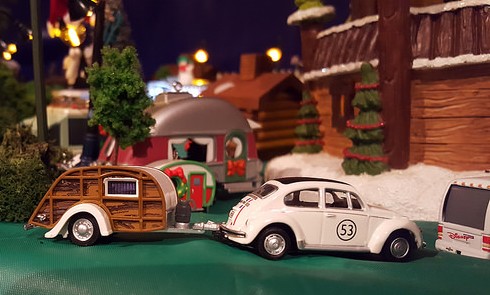 Copyright © Erin Blackwell
OK, I'm done now. 😀
Matthew Frey, I forgot about Herbie's other appearances! Tool Time: that was awesome.
Phyllis was the first to send in the correct answer! Congratulations to Phyllis and to all our winners this week! Steve Porter, Matt Wildey, Melissa Katz, Jennifer Hess, Wayne Chadourne, Marsha Waidelich, Mike Walter, Ken Maikowski, Chloe Mayhew, Melissa Rymer, Karla Jackson, Leach Family, Cathy Fleming, Beth B Mcmeekin, Madde Inman, Anne Duque, Michael O'regan, Jodie S., John Paul C., Gloria Martin, Tom Mcmanus, The Reichl, Sue And Ed Adams, Baton Rouge, Hillary Waldroop, Tracy Discher, Eric Berger, Julia And Carol Wickware, Shelby Watson, Mary Tougas, Stacie Huang, Kyra, Joseph M. Zafia, Ruth Woodhouse, Jason Steinmetz, Martha & Justin Collins, Bob Patterson, Vicki Britt, Jodi Cook, Theresa Rucando, Robert Wescovich, Vickie Smialkowski, Brian Mcwithey, Janet T. Thorn, Laurie Walker, Andy Hickey, Emily Hudson, Linda Ranatza, Joann Albrecht, Sandie Albrecht, Michael O'brien, Karen O' Brien, Michaela O'brien, Adolph And Kimberly Timm, Belicia Cullen, Scott C, Michael & Jackie Mclucas, Antoinette Leblanc, Blake Schmidt, Chris Kelly, Susie Howard, Michael Haeberle, Grumpy's Groupies, Herb Miller, Mis Jamie Marie, Lori Rienhardt, Karen Adamakis, Jim & Lorie Sonnen, Smitty, Jim Finley, Linda Hoffman, Linda College, Luis Rodriguez, Mary Beth Tarbet, Claire Gregory, Karen Schlumpf, The Modeckis, Diane Curfman, The Parker Family, Josh Weiss, Maureen And Warren Handy, Tricia Petty, Ed Suscreba, Wendy T Faler, Kenneth Jackson, Sharon Powell, The Kertes Family, Hunter Armstrong, Susan Higginbotham, Team Hill, Bonnie Jean, K Beasley, Team Bonnie Sue, Sands Family, Christi Ison, Margaret Convery, Carol Baranowsky, Jen Tremley, Bruce Hinterleitner, Chris, Gretchen, And Katie Barnes, Linda Scrivano, Stefan Owens, Andreas Beer, The Nufranick Family, Thetisdalefamily, Tom Koval, Deb Ragno, Hobbes And Snorky, Andrew Carrieri, Jeremy Hardy, Dee Dee Kenney, Tammy Warmouth, Jim Thompson, Emma Ramsey, Nadine Miltier, Karen Taylor, Mickey Eckert, David J Uchtman, Malampy(benco Families), Arlene Vicek, Erin Hammer, Kris Nixon, Gallagher Family, Doug Olson Family, Cheryl Costello, Jeff Blank, Brian Gallant, Michael Nelson, Cathy Connors, Wade And Rosanne Williams, Karrie Rodriguez, Vera And Izzy Williams, Matthew Frey, Susan Doucette, Christopher Thacker, Jeremy Reichelt, Leigh Mertz, Carri Marotto, The Patterson Family, Jamie Steiner, Rebecca Keenan, Matt Earl, Ken Savage, Steve Knapp, Jamie Poynton, Paul Ignudo, Cameron Lange, Janice Johnson-rickert, Karen Bellamy, Lynn Smith, Monic, Ruben O'meara, Tim Johansen, Steven Moss, Davida, Pensacola Glenn, Shannon Benton, Ruth Cookson, Barclay Bakkum, David Bballard, Sheila Bagg, Jackie Graebel, Jo Ann Bailey, Jane Johnson, Donald Purney, Theresa Maradei, Shirley Garcowski, Todd Johns, Sherry Trapp, Melissa Littman, Terry Harris, Bob Heaton, Heather Stevens, George Mundy Jr, Barry Sklenar, Nan Amor, Scott Sangston, Mark Hardy, Maryann Eckenrode, Jessica Polizzotto, and Eric Enli!
_______________________________________________________
Challenge #527 Where in the world is this?
Changing parks! Hmmm… this building is pretty with its lighting. And you can see the IllumiNations control booth (which I learned about in the Kingdom Keeper books)!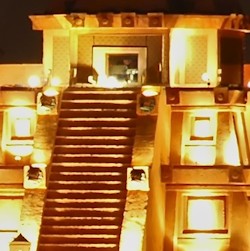 Do you know? Do you have a guess? Please send in your answer before the end of the day on Thursday, March 15th, by clicking on the blue box below.
Please do not post answers using the Feedback Form link at the bottom of this post.
See you soon, Players!


_______________________________________________________________________
Everyone who sends in a correct answer to a Where in the World Challenge this month will be entered in a drawing at the end of the month for some special AllEars® goodies!
–