November 3rd, Marvel Studios will continue its slow march towards "Infinity War" with the next tale in the God of Thunder's narrative, "Thor: Ragnarok."
[All non-attributed photos and video courtesy of Disney.]
On hand at a recent press junket to discuss the current state of Thor were Chris Hemsworth / Thor, Tessa Thompson / Valkyrie, Mark Ruffalo / The Hulk, Jeff Goldblum / Grandmaster, Tom Hiddleston / Loki, Taika Waititi / Director / Korg, Karl Urban / Skurge, Rachel House / Topaz, and Kevin Feige / Producer.
Select moments from the press conference video above: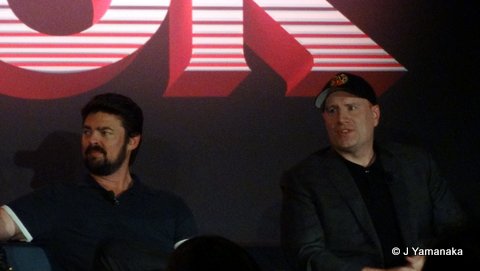 Feige on picking Waititi to direct: "We wanted a new sensibility. We wanted to take Thor–and if you look at everything Chris has done as this character, there have been moments of humor–and we wanted to build on that. And if you look at the movie, it's got the epic action. It's got Thor arguably more powerful than he's ever been in any of the films, with his powers going up against the Hulk, but at the same time embracing what Mr. Hemsworth does better than anyone up until now has ever been able to see, which is his acting chops expands to comedy in an amazing way. And Taika gave them the confidence to explore that, and to try things."
Urban on preparing to take on Thor: "The working out schedule was rather intense. In fact, Taika came to me and he said, 'Listen, you need to tone it down. You can't be bigger than Chris, okay?' So I did, you know."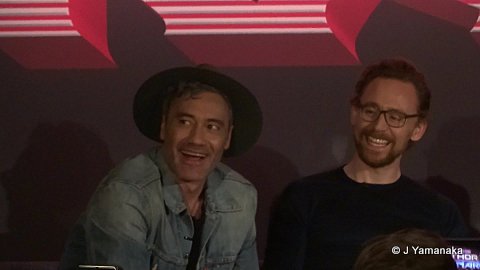 Feige and Waititi on what happened to Lady Sif:
Waititi: "Kevin."
Feige: "If she had been on Asgard, she might not be alive, so that's one of the advantages."
Waititi: "Lady Sif is an actor in New York, on a TV show at the moment."
Feige: "Oh, that's true."
Waititi: "She was busy."
Feige: "I've been quoting; I've been using 'A Force Awakens' quote today when people ask me that, which is to say 'that's a good question for another time.'"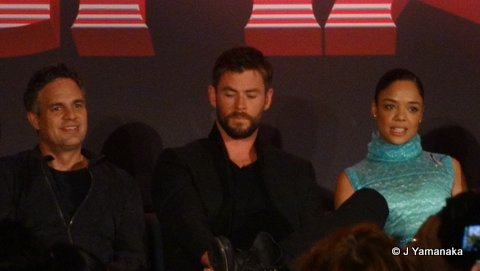 Ruffalo on doing a Hulk movie: "I would love to do a Hulk movie, and I think we all would love to do one. But about a year ago, before I even had this part, or were talking about doing this–it was well over a year ago–Kevin had asked me to come over and have a script meeting. And basically he sat me down and he said, 'What would you like to do if you had a stand-alone Hulk movie?' And I said, 'I'd like to do this, this, and this; and this and this–and then this. And then this, and this, and this, and then it would end like this.' And he's like, 'I love that. Let's do that over the next three movies, starting with Thor 3 and carry it on through Avengers 3 and Avengers 4.' And so that's my stand-alone Hulk movie."
Thompson on playing an originally white character: "You know, the things that I thought about the particulars of Valkyrie had more to do with, like mass and size. For example, I thought, like 'Oh, I'm short,' you know. Or like, 'I'm not buff enough.' Or how…you know, she's arguably as strong as Thor. How do I stand, you know, next to a person like Chris Hemsworth and feel, and feel like that's true, you know. So I didn't think so much…I mean, satisfying Norse mythology, it's mystifying, and fantastical, and glorious, and also very confusing and doesn't make a lot of sense, you know. And I remember someone online saying like, 'You know, Tessa Thompson playing Valkyrie is white genocide.' Which is just as mystifying as Norse mythology. I just figured like, you know, this thing that I'm tasked to do with any character that has its own iconography is to capture the spirit of the character, and I think the spirit of all of us, at the risk of sounding, you know, cheesy, has very little to do with what color we are. So I just didn't really invest in that."
Goldblum on joining the Marvel Universe: "…you know, Kevin Feige and Louis D'Esposito, and Victoria Alonso, and Brad Winderbaum–the whole upper tier of creative leaders–do something unique. They know how to make these epic productions, and popular movies, but they want to make good movies. And they somehow uniquely know how to do them, that feels to me like an actorly, workshop-y, character-y, improvisatory, delightful experience…and to make a movie that I think skins the cat like this is just…I'm grateful, overwhelmingly grateful."
Blanchett on fight with Hemsworth: "I didn't do enough of it. I kept wanting to do more."
Hemsworth: "You wanted to hit me."
Blanchett: "…Look, it was, it was hugely enjoyable for me. And apart from working with these guys, obviously, the chance to finally, in my deep middle age, to get fit and to wear that much lycra was really exciting for me."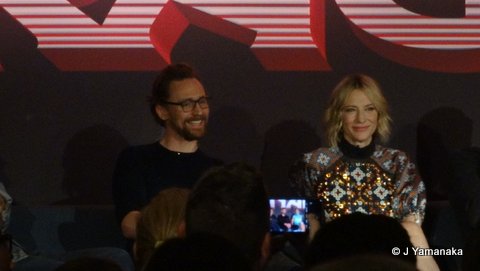 Hiddleston on Loki's ability to change: "…In a way, in this film, it is about, I think–I'm not spoiling anything–but the development of the relationship between Thor and Loki… Thor has evolved, and grown, and matured; and Loki in a way is stuck in his struggles of the past. And that's, in a way, that's the challenge for Loki in this, is that he's got to confront the fact that time is moving on, and people change, and…so I don't know. I mean, we'll see, we'll see. There's room to grow, and I'm still here. And we'll see where he goes next."
Hemsworth on whether he misses his hammer: "It just helped to kind of shed anything too familiar. You know, I feel like, well, holding the hammer, or even the wig in the previous costume, certainly just put me in a place, and set me on a path of what I already knew. And I wanted it to be unfamiliar, and so everything from the hammer, to the costume, the hair…made me, and allowed me to move differently, and (the lack of them) forced me to move differently, and so that was a great thing. And–I don't really miss it, no. I've got one at home."
"Thor: Ragnarok" will open in theaters November 3, 2017.