To continue with some of the goings-on at San Diego Comic-Con this year, Marvel had it's usual boisterous booth that was constantly jammed full of people trying to purchase limited edition merchandise, get autographs, take photos with the costume/prop displays from their upcoming movies such as "Black Panther" and "Thor: Ragnarok," or just fill their bags with random free swag.
Over in the infamous Hall H, hordes of conventioneers packed the 6,500-person large room to capacity all day to see the Marvel Studios panel that was conveniently scheduled as the last of the day.
President of Marvel Studios, Kevin Feige, started off the panel discussing the in-production "Ant-Man and The Wasp."
–Michelle Pfieffer will play the original Janet Van Dyne.
–Hannah John-Kamen will play a character called "Ghost."
–Walter Goggins will play Sonny Burch.
–Randall Park will play Jimmy Woo.
–Laurence Fishburne will play Dr. Bill Foster.
Next up was some preliminary information on "Captain Marvel."
–Samuel Jackson will return as Nick Fury, with both eyes.
–Set in the 1990s, it precedes the events of Iron Man 1.
–The villains will mark the first MCU appearance of the Skrulls.
At this point, Feige was presented with the Inkpot Award from Comic-Con International for his contributions to the worlds of comics and film.
A star-studded panel on "Thor: Ragnarok" was next, with Chris Hemsworth/Thor; Tessa Thompson/Valkyrie; Mark Ruffalo/The Hulk; Jeff Goldblum/Grandmaster; Tom Hiddleston/Loki; Taika Waititi/Director; Karl Urban/Skurge; Rachel House/Topaz; and Cate Blanchett/Hera.
–Waititi jokes that his involvement with the film was a personal favor to Hemsworth, and that he will always help a friend in need, even if it means directing a major tentpole movie.
–Ragnarok will take place four years after "Thor: Dark World."
–Thor starts off the movie bereft of his hair and his hammer.
–Hulk has refused to turn back into Banner for two years.
–Goldblum plays The Collector's brother–the oldest living characters in the universe.
–Valkyrie is an ex-elite warrior of Asgard hanging around the gladiator planet Sakaar.
After the Ragnarok trailer, host Chris Hardwick brought out the cast of "Black Panther," including director Ryan Coogler, Chadwick Boseman, Michael B. Jordan, Lupita Nyong'o, Danai Gurira, Daniel Kaluuya, Letitia Wright, Forest Whitaker, Winston Duke, and Andy Serkis.
–Black Panther is returning to Wakanda from the events of "Civil War," and undergoing a transition period of learning to become a king which is rapidly interrupted.
–Coogler states that the best part of the Black Panther comics for him, was that the hero got his power from the people around him, and from his history.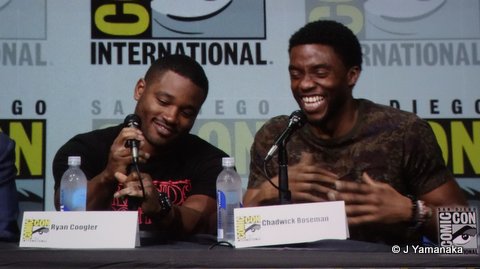 –Wright says that her character, T'Challa's sister Shuri, is Wakanda's technological wizard.
–Gurira's character Okoye is driven by her love for the people and the nation of Wakanda and her need to protect them.
–Jordan plays Erik Killmonger who has his own views on Wakanda and how it should be ruled.
–Whitaker describes Zuri as a spiritual leader who was close friends with T'Challa's father, the king, and who has known T'Challa since he was little.
–Kaluuya's W'Kabe is T'Challa's oldest childhood friend and head of Wakanda's security.
–Nyong'o plays Nakia, a spy (war dog) who reports back to Wakanda on the rest of the world's activities.
–"Wakanda needs to know what's going on in the world; the world does not need to know about Wakanda."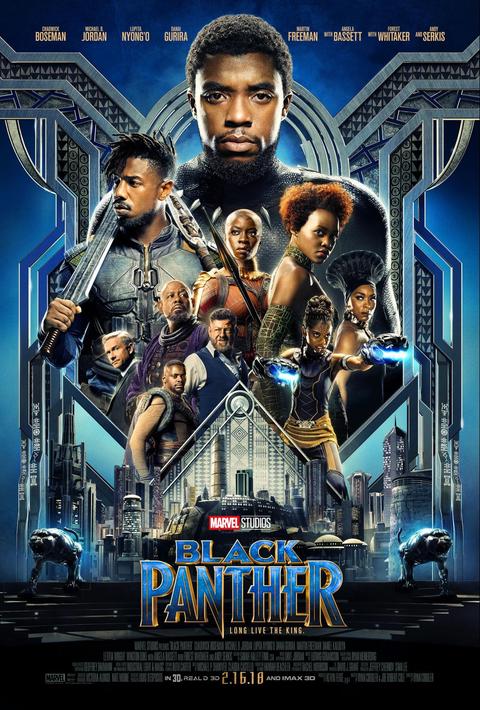 –Serkis was excited to come back to play Klaw because he gets to wear pants in this film and also gets an arm sewn back on.
–Duke says his character, M'Baku is a big, strong, majestic, ferocious, beloved leader of the best tribe in Wakanda.
–The rest of the cast begs to differ.

[Not the same trailer as was shown at SDCC.]
Finally, the Avengers cast members returned with Joe Russo to show the same trailer they had brought to Expo, the week before.

[Not the convention-exclusive footage]
"Ant-Man and the Wasp" release date: July 6, 2018
"Captain Marvel" release date: March 8, 2019
"Thor: Ragnarok" release date: November 3, 2017
"Black Panther" release date: February 16, 2018
"Avengers: Infinity War" release date: May 4, 2018