Beginning tomorrow (July 2), one of the most popular children's centers at Walt Disney World will offer extended hours with complimentary activities for resort guests. Lilo's Playhouse at Disney's Polynesian Village will open during the daytime for families of kids ages 3 to 12 to experience together.
From 10:30 a.m. to 4 p.m. each day, parents are invited to play videogames, watch movies and make arts and crafts with their little ones in the clubhouse. (The extended hours are not part of the nighttime babysitting service, so guardians must stay with the kids in Lilo's Playhouse.) Most of the activities are free, but some special arts and crafts may have a nominal charge. Activities at Lilo's Playhouse are open to guests staying at any of Walt Disney World's hotels, not just those at the Polynesian.
In the evening, Lilo's Playhouse will continue its immersive experiences for kids whose parents would like an adults-only night out. Modeled after the award-winning programming in the kids' clubs on Disney Cruise Line ships, Lilo's Playhouse and The Sandcastle Club at Disney's Beach Club offer cooking activities, adventures in science and character interactions for ages 3 to 12.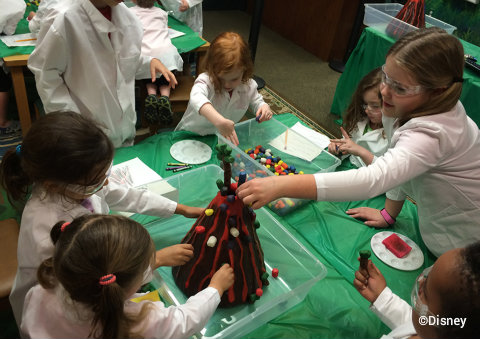 Disney cast members seek to entertain and educate kids with activities such as building a model volcano, watching the lava flow and then seeing the volcano explode. During Ratatouille's Cooking School, kids will learn how to make some very special chocolate chip cookies and then sample their tasty treat! Brave children also will have the opportunity to train as pirates and then come face-to-face with Captain Hook.
In addition to the special programming, there still will be toys, games, costumes for playing dress-up, crafts, dancing and storytelling in Lilo's Playhouse.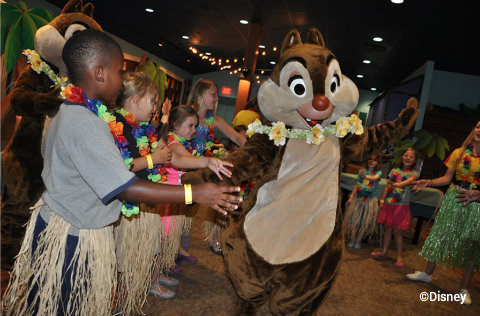 Pricing for Lilo's Playhouse and the Sandcastle Club is $55 per child from 4:30 p.m. to midnight. Your child can stay as little or long as you like, and it's the same rate. Children who check in by 5:30 p.m. will be served dinner between 6 and 7 p.m. A snack also is included and served at 10 p.m.
Children must be potty-trained and able to feed themselves to participate. Payment is due at the time of booking, and cancellations must be made the day before to receive a refund.
Walt Disney World's has two other children's activity centers — Simba's Clubhouse at Animal Kingdom Lodge and Camp Dolphin at The Walt Disney World Swan and Dolphin. These locations offer supervised free play all evening, allowing kids to choose from games, playing dress-up, toys and arts and crafts.
Simba's Clubhouse is open from 4:30 p.m. to midnight, and kids in the club from 6 to 8 p.m. are served a complimentary dinner of their choosing. The cost is $15 per child per hour with a two-hour minimum.
To make reservations for Lilo's Playhouse, The Sandcastle or Simba's Clubhouse, call 407-WDW-DINE.
Camp Dolphin operates with a few differences because of the hotel's Westin ownership. The price is $12 per child per hour with no minimum, and a kid's meal from Picabu can be included for an additional $10. However, each adult who orders an entree at Shula's Steak House, Todd English's bluezoo or Il Mulino New York Trattoria in the hotel earns two complimentary hours for a child at Camp Dolphin. This offer also applies to an adult who purchases a spa service at Mandara Spa. Children must be ages 4 to 12 to participate in Camp Dolphin.
Reservations are required for Camp Dolphin. To book, call 407-934-4000 or go online to the hotel's website 72 hours in advance.