So once again it's time for a look at this year's E3–the preeminent trade show for electronic entertainment. Here is where most of the major game companies make their big announcements and trailer releases for the year.
So the big change-up this year was the addition of non-industry/media folk to the mix. For the first time anyone–even you, Dear Reader–could purchase a ticket for all three days of E3 for $150-250. That this was coming down the pike might have been anticipated from last year's E3, which also promoted a mini-E3 off-site for the general public.
With several of the big game companies (such as EA and Bethesda) either not participating or having their focus on off-site installations, the first day on the Exhibitor's Floor was pretty much a madhouse.
Booths were so jammed full of people, you could barely move in some of the closer passageways. Fortunately, after the first day, crowds seemed to die down quite a bit and it was actually possible to get a look around.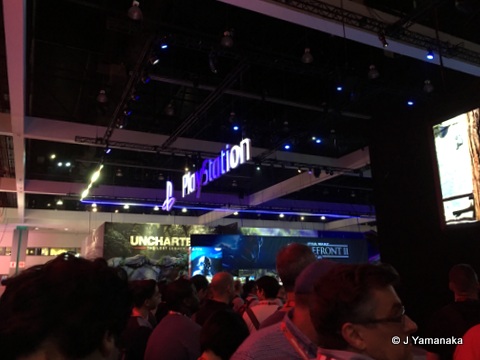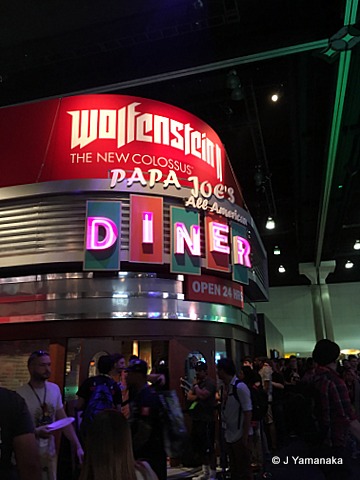 As is usual for any big convention, photo-ops and selfie opportunities abounded.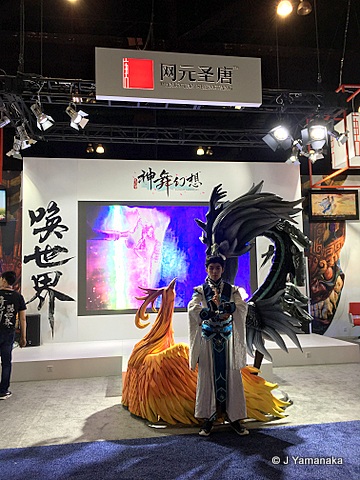 Because of the prohibitive wait times and my fondness for oxygen, I didn't shove my way into many demos this year, but as is typically the case, all the new games in the works were introduced in the various big company press conferences that took place prior to E3.
[Advisory: Games are rough, and some of the trailers depict language and activities you might not want emulated in your household. Watcher beware.]

Playstation

XBox

Nintendo

EA

Ubisoft
On the whole, the games that seemed to generate the most buzz online and around the floor were Marvel's Spider-Man,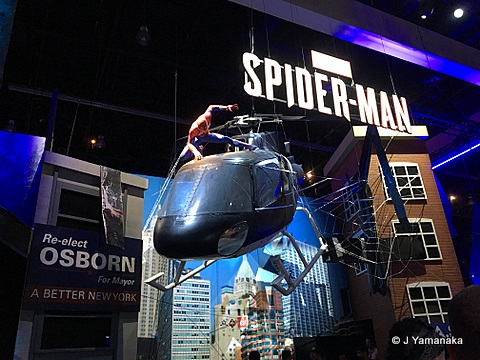 Super Mario Odyssey,
Middle-Earth: Shadow of War,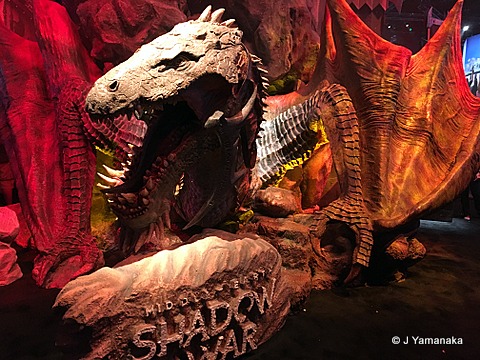 Star Wars: Battlefront II,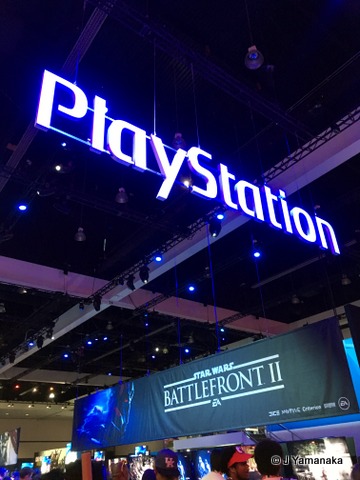 and Monster Hunter World.
Also new to this year was the addition of panel discussions to E3. Previously there was no formal programming–just demos that were often back in meeting rooms for invitation only. Perhaps because they were now charging admission they felt the need for more content and took over The Novo (a club in the L.A. Live complex) and turned it into the E3 Coliseum. Although the experience watching the presentations there was fine, logistically it was difficult as the theater was a few blocks away from the convention center, making walking it a haul that you wouldn't want to make multiple times in the day in the blazing heat. Additionally, they didn't allow you to bring your own food in, so if you planned to stay in for most of the day, you were forced to rely on the bar inside for food which wasn't much of an economical option. Because I was able to utilize the media entrance, I'm not sure how the wait was generally to get in, but I also didn't speak to any non-media people at E3 who attended any of the Coliseum talks, so possibly they weren't hugely popular.
The first panel I watched was "Swing Behind the Scenes with the New Spider-Man for PS4."
Ryan Penagos (Marvel Digital Media,) Bill Rosemann (Marvel Games,) and Bryan Intihar and Jon Paquette from Insomniac Games discussed the upcoming web-slinging game…or at least tried to, because a few minutes into their time, the sound of a pop and glass tinkling heralded the breaking of a bulb in one of the overhead lights that promptly CAUGHT FIRE. Although they tried bravely to carry on, eventually the amount of smoke that was generated, together with the flames the audience could see from the light fixture, forced them to stop until it was put out.
By the time they came back, they basically had just enough time to run through the trailer with commentary.
It's a good looking game, but the main things I took away were a) the Marvel and Insomniac guys displayed pretty good sangfroid about carrying on in a room that's on fire, and b) the smoke detectors at The Novo are maybe not that adequate.
The next panel was an interview between two funny men Jack (Brutal Legend) Black, and Tim (Grim Fandango, Psychonauts, The Secret of Monkey Island) Schafer.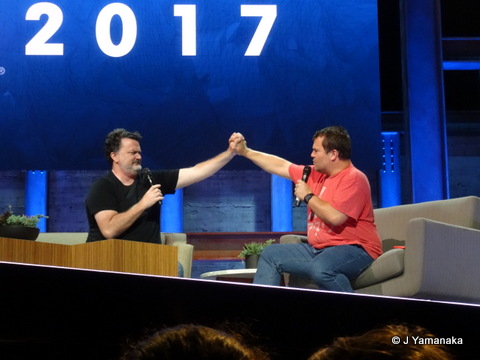 Their discussion ran the gamut from what superpower they would want (Schafer picks invisibility;) what they're playing nowadays (Black: "Titanfall 2," Schafer: "Zelda," on Switch;) and favorite games (Black: "Red Dead Redemption.") The middle of the conversation was memorable for an audience member who suddenly shouted over their discussion that she wanted to come up and take a photo and get a hug from Jack Black, which would have once more proved that Q&A is a bad thing, except we hadn't even gotten to the Q&A part yet.
Other panels I saw were basically gameplay demos of "Middle-earth: Shadow of War," and "Life is Strange: Before the Storm."
I had been hoping for some word of "Kingdom Hearts III," but there was a pronounced lack of Disney content in general at E3, presumably because they're holding everything back for Expo next month. There was a concert of "Kingdom Hearts" music performed during E3, at which Square Enix revealed a new trailer for it.
"Star Wars Battlefront II" was first unveiled over in Orlando back at Star Wars Celebration, where we got our first look at the latest installment of the Battlefront series.

[Star Wars Battlefront II panel starts at 4:27:04]
Things we learned from that panel:
–The focus they had making the game was "anyone can be a hero."
–New to this installment is the single-player campaign/storyline.
–This game tells the story of some of the elite special forces soldiers of the Empire and their reactions to the destruction of the Death Star in Return of the Jedi
–The protagonist is Iden Versio, Commander of the Inferno Squadron.
–Events in the game are considered official Star Wars canon.
–Backstory on the Inferno Squadron will be revealed in the novel "Star Wars Battlefront II" Inferno Squadron," on July 25, 2017.
–One of the new locations in the game is Vardos, Versio's home planet.
–In the single player mode, players will have the opportunity to play as Luke Skywalker and Kylo Ren.
–For multiplayer, all eras of Star Wars will be playable, including notables such as Darth Maul.
–New classes will be introduced with new unlockable abilities.
–Combat now extends into space, with space ships again hailing from all Star Wars eras.
–Game release date is November 17, 2017.
At E3, Battlefront II had its biggest moments during the EA press conference where Janina Gavankar, actress for Iden Versio, gave a more in-depth look at the game.
–Battlefront II has more than 3x the content of Battlefront I.
–A new battlepoint system enables players to earn points to spend on new weapons, vehicles, or heroes.
–Finn and Captain Plasma will be present as part of the first season of free content.
–All post-launch additions will be free for all game owners.
As part of the press conference, the first gameplay trailer and live multiplayer gameplay were presented as well.
So looking back, I would say that the addition of paying guests to E3 definitely made it more challenging to maneuver around and see things than in previous years, not just because of the added volume, but because the crowd behavior of people who attend things on a purely recreational basis is different from that of people who are there for at least semi-professional reasons. One example is the tote bags that they usually just have lying out in racks in the convention center lobby–typically, they sit there all three days as people occasionally grab them when they need to have something to hold their giveaways. This year, not only were they all out the first day after about half an hour, but for the rest of the days people would line up, sometimes for up to an hour, until workers came out to hand out a few more boxes of bags.
In general, there were fewer things given out for free because now companies were allowed to sell merchandise on the floor, which they couldn't do in the past.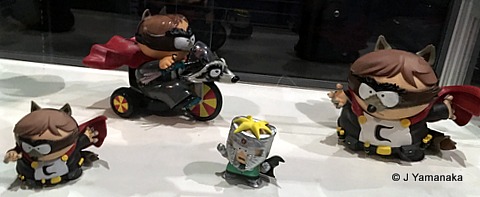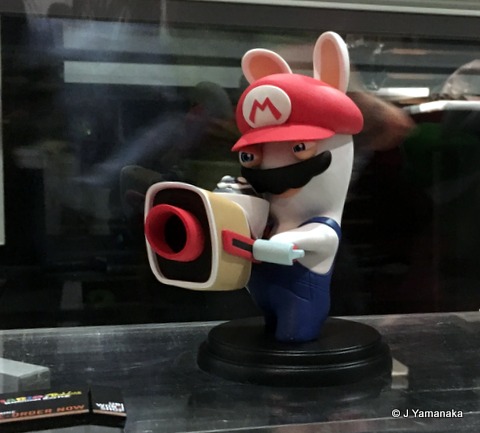 All in all, this felt somewhat like a transition year for E3, with maybe not quite enough content for paying guests yet, and a need to balance out the experience for Industry Professionals. For those of us in-between, it's still a loud, noisy celebration of digital entertainment that is always attention-grabbing and engrossing, even when the room is on fire.