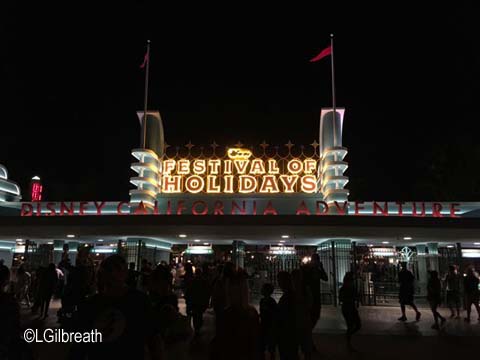 Disney California Adventure gets a holiday makeover this year with the presentation of the first Festival of Holidays at the park. The Festival celebrates holiday traditions around the world with food, beverages, and entertainment. Princess Elena of Avalor makes her Disneyland debut in Princess Elena's Musical Grand Arrival. The popular ¡Viva Navidad! street party also returns to Paradise Pier along with special food offerings and a character meet and greet.
Also new for the holiday season is World of Color – Season of Light. The show combines water, animations, projections and laser effects choreographed to both classic and contemporary holiday music. Selections range from Nat King Cole performing "The Christmas Song" to "Dance of the Sugar Plum Fairy" by Pentatonix.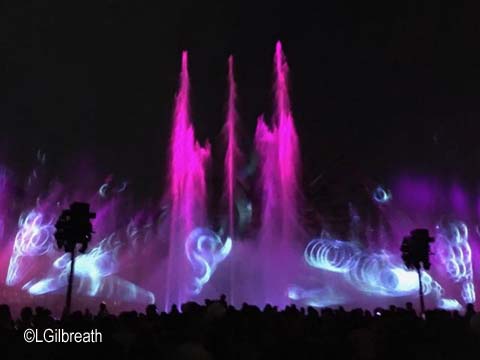 Santa Claus has moved to the Redwood Creek area this year – his greeting spot is tucked away in the Ahwahnee Circle. The elves have been busy setting up Elf Games for guests, such as the "Jingle Bridge" and the "Pack the Presents" slide.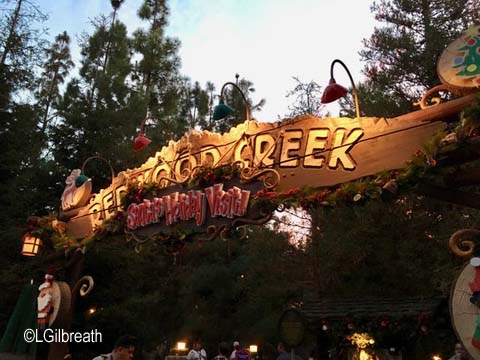 Our weekend visit to DCA was much too short for us to experience everything that the park has to offer now. We concentrated on the Festival of Holidays – more specifically some of the fourteen Festive Food Marketplaces.
This aspect of the Festival is a food and wine festival – and there are even more marketplace booths (14) than there were for the return of the Food and Wine Festival to DCA earlier this year. The holiday booths also have much more of an international flair, with offerings inspired by Asian, Mexican, Jewish, Indian, Middle Eastern, German, and Swedish traditions as well as American favorites like sliders, Southern specialties and the classic turkey dinner. There's even a "Treats for Santa" booth with cookies and cookie decorating, peppermint bark, fudge, and panettone.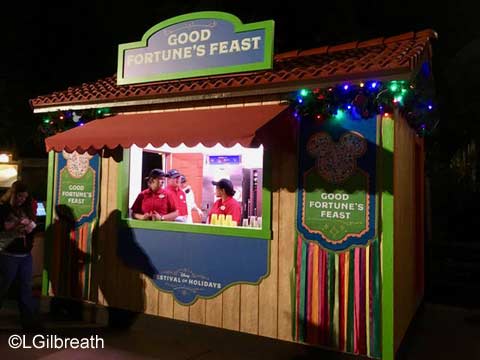 All of the booths have special beverage offerings, also. There are booths dedicated to both beer (Brews and Bites) and wines (Making Spirits Bright) which offer flights or selections by the glass. Other choices include holiday eggnog cocktail, pomegranate margarita, iced mint tea, cranberry sweet tea, and chocolate beverages such as pumpkin spice hot chocolate, white hot chocolate, and frozen chocolate milk.
Our first taste of the Festival was Friday night – it opened on Thursday. We were surprised that the food lines were short/non-existent. Very different than the opening weekend of the Food and Wine Festival back in April. The only real lines were at the beer and wine booths.
First Lee tried the Brisket Potato Croquette with horseradish cream from Nosh and Nibbles for $7.50. He said it was very good.
Next we went to Good Fortune's Feast and tried two items. First the Adobo Pork Bao, $8.00. It was excellent, though I thought it a little heavy on the pickled onions. I didn't taste much "adobo" in it, though.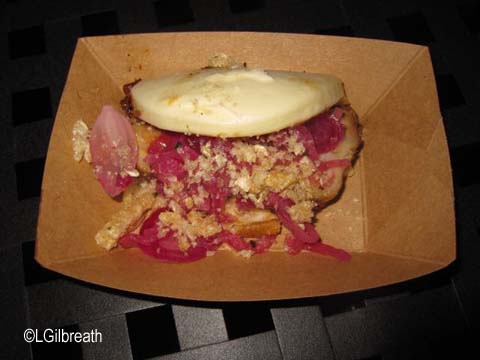 The Smoked Duck and Vegetable Spring Roll with cabbage and sweet plum sauce was really good! But at $8.75 it was very expensive for the serving size.
We were at Epcot's Food and Wine Festival the week before, and I think we understand why the lines at the booths were so short. The prices for food booth items in California are significantly higher than those in Florida – where most Florida items are in the $5-$7 range, most of the California items are $7-$9.
At Spice Salutations we sampled the Carrot and Chickpea Fritters for $6.25. They were served with a coriander almond sauce, but they really didn't have very much flavor.
We also tried the Chicken and Potato Curry, with kefir cream and grilled naan for $6.50. This was a more generous serving than anything else we'd tried, and it was very tasty. The curry was not too spicy. And the naan was good.
Lee sampled the Holiday Bright Seasonal Beer Flight from Brews & Bites. Spaten Brewery Oktoberfest from Germany, Sierra Nevada Brewing Co. Celebration, 21st Amendment Brewing Fireside Chat, and Karl Strauss Seven Sharks A-Circling. He wasn't wild about any of them.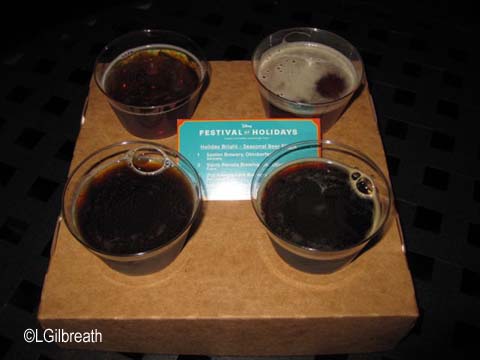 From Winter Sliderland we tried a Roasted Turkey Slider. It was expensive – $8.00. The turkey was nice carved slices, and it also had dressing, gravy, and cranberry sauce. It was very good, but it's not that much different than Earl of Sandwich's Holiday Turkey, which is twice the size for less money.
We also tried the Kalua Pork Slider. $7.50 for this one. Pieces of nice roasted pork topped with pineapple jam and cider slaw. I liked this one better than the one that they have at Epcot.
By then we were ready for some dessert at the appropriately named Yuletide Yummies. We chose the Gingerbread Bundt Cake, but requested that they leave the orange-vanilla sauce off of it. It was a dense gingerbread but very flavorful and we both liked it a lot. It was served cold but I think it would have been better served warm. For $4.25 I thought it was a decent-sized serving.
We also tried the Mocha Yule Log for $4.75. This one definitely gets the award for the prettiest dessert! It was really nicely decorated. And it was also a generous serving. Lee didn't care for the cream, but the cake was good. I mostly liked it, but it was a little too sweet. We couldn't finish it, and ended up taking half of it back to the room with us.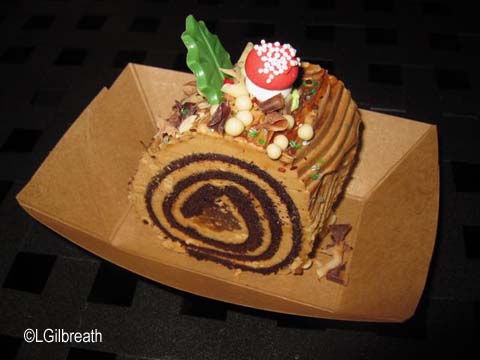 One word of advice – you'll need to get a knife to cut both of these – they are too dense for a fork by itself.
For the Food and Wine Festival the booths were set up on the parade route between Carthay Circle and the Pacific Wharf. But with the additional six booths they extend all the way to the Golden Zephyr, with one booth location next to Grizzly River Run near the restrooms.
The Yuletide Yummies booth was in front of Ariel's attraction, and there were some metal tables – some of them with chairs – set up next to it. It was a very nice spot to sit and enjoy some of the entertainment that takes place in Paradise Park. We heard parts of performances from the Mariachi Divas and the Blue13 Dance Company.
The Food and Wine Festival had covered "arbors" with bar-type counters so people could stand and eat. Those aren't out – instead there are the typical round black metal standing tables like we see at Epcot's Food and Wine Festival, along with a few lower tables and chairs. There seemed to be more low tables than there were chairs to go with them. It didn't seem to me as though the tables offered as much space for people to eat as the arbors did.
Saturday evening we went back to try more of the food offerings. The park was pretty busy, so I was expecting longer lines at the food booths, but that was not the case. We asked cast members if it had been busy that day and they said not really. I definitely think the prices are an issue. Just across the parade route from a couple of the food booths is a hot dog cart where you can get a hot dog and chips for $7.00 – more food than you'll get at the neighboring booths.
From Abuelita's Kitchen we sampled the Chicken and Cilantro Tamale with roasted tomatillo salsa. That was quite good. $7.50 for it.
Lee also tried the Chorizo Bean Sope with Cotija cheese and crema for $7.00. He enjoyed that, too.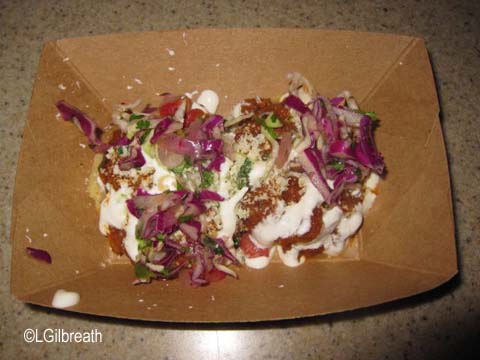 Back at Yuletide Yummies again I had the Mini Turkey Pot Pie with cranberry drizzle for $8.00. I was disappointed that it was mostly crust. It was a nice flaky crust, but there was way more of that than there was the turkey and vegetable filling. Not worth $8.00.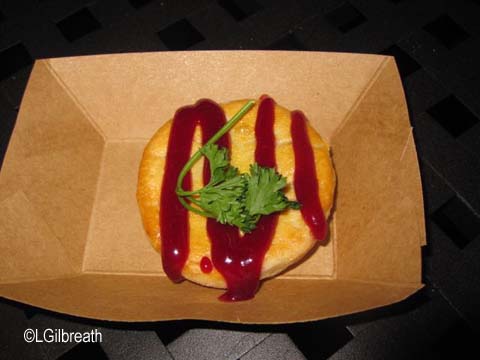 Lee wanted to try their Joyful Flavors Beer Flight, but they were out of one of the beers (and of course the one they were out of, Rogue Ales Hazelnut Brown Nectar, was the one that he really wanted to try). And rather than substitute the cast member said they weren't allowed to sell the flight at all. We though that was odd – they substitute at Epcot all the time.
From Fiesta en Familia we tried the two pozole dishes. The Green Chile Pozole was a vegetarian dish, and was $6.25. It was very good and we both enjoyed it.
The Red Chile Pozole contained tender chunks of pork and was $6.75. It was also very good. Both pozoles had quite different flavors – it was interesting to taste what a difference red versus green made. I wish they had been more generous servings or that the price had been $2 less.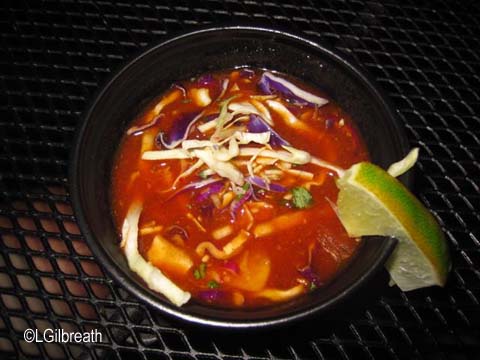 Lee tried the Southern Mac and Cheese from Southern Home Holidays for $7.50. It was topped with jalapeno cornbread crumbles – he said it needed more of that. He liked it. I had a taste but thought it was just ok – I'm not much of a mac and cheese fan, though.
From Winter Sliderland we got another Kalua Pork Slider, which was much more generous with the pork than the first one.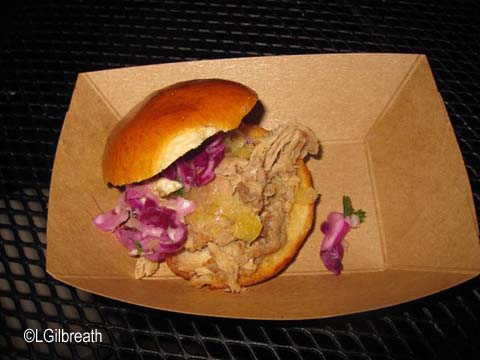 This time we also tried the Praline & Bourbon Whoopie Pie for $4.25. The whoopie pie was bigger than I expected and had a pretty good flavor – lots of cream inside.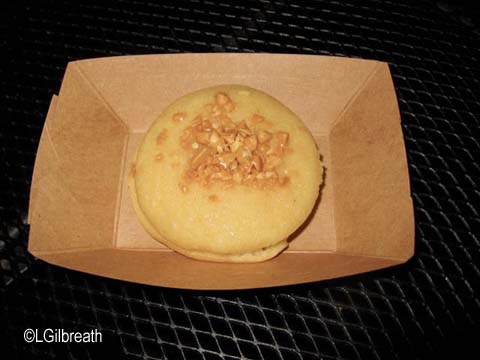 We made pretty good progress in sampling the food offerings, though there were still five of the booths we never got to. Still, I think we sampled almost everything that really sounded good to us. In addition to the food booths, there are full-size seasonal offerings at Paradise Garden Grill: Torta al Pastor, Street-Style Tacos, and Chicken Mole. I like chicken mole, so maybe next time.
There is entertainment going on at multiple locations during the Festival of Holidays. In addition to Paradise Park, there's also groups performing at Paradise Gardens, Pacific Wharf, and Sonoma Terrace. The latter was a surprise to me, but we heard part of a performance by Raise, an R&B a cappella group, and they were very good.
There's several entertainment offerings that we did not get a chance to experience – like Princess Elena's Musical Grand Arrival. There's also the Stilt Circus, and the Holiday Toy Drummers. The latter sounded like they might be a lot of fun to watch.
There's also some craft tables – the one we stopped by had Diwali paper lanterns that you could make. Diwali is the Eastern Festival of Lights.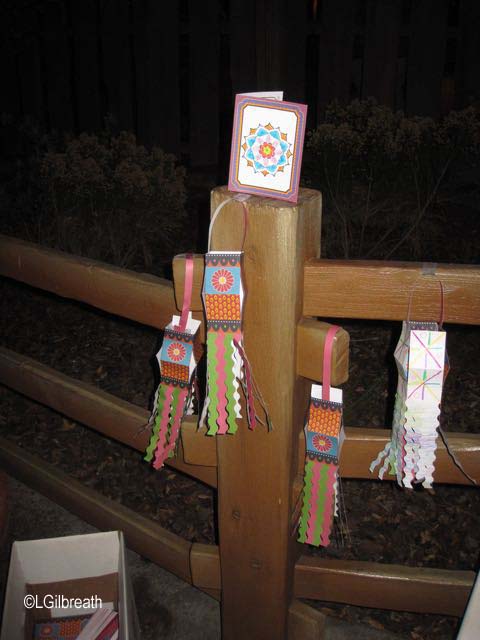 In the Festival areas there was really interesting music playing – it was modern and upbeat arrangements of songs for celebrations like Hanukkah. The loop was too short, though – we heard the same songs multiple times.
We found a cart that had some Festival of Holidays merchandise. Not much of a selection – there were t-shirts, including one specifically for Annual Passholders, and hats.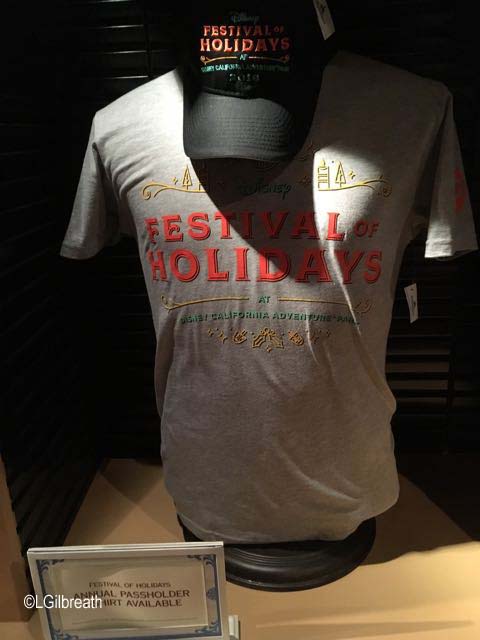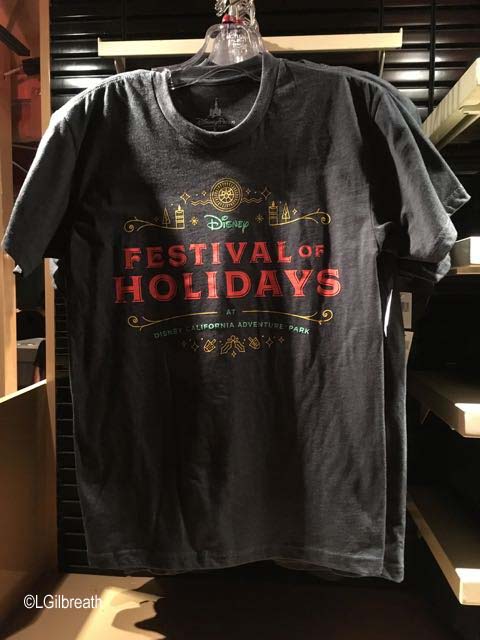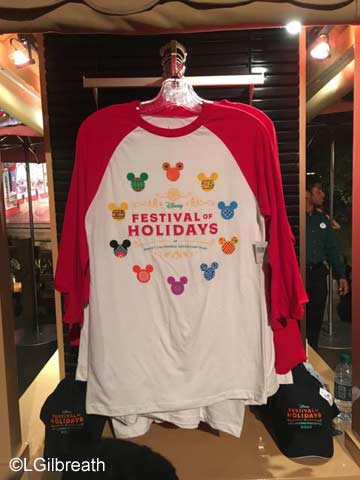 I was disappointed in the designs. All of the food booths and parade route banners had the Mickey-head logo below, which I really liked! I would've bought something with that logo on it.
I'm sure the main idea behind the Festival of Holidays is to pull guests from Disneyland to Disney California Adventure – and especially to convince guests to buy a one day ticket to DCA rather than Disneyland. We were in Disneyland on Saturday and it was very busy. DCA was less busy, but to me it still felt busier than it would on a typical Saturday. The standby line for Soarin' was longer than I've seen it for a long time. While the marketplaces were not particularly busy (except those that specialized in alcohol), there still seemed to be a lot of people enjoying the other holiday offerings in the park.
We enjoyed the parts of Festival of Holidays that we experienced – I would like to see more of the entertainment. My only real complaint is the prices at the Festival Marketplaces – I think they are just too high.