On May 27, "Alice Through the Looking Glass," the sequel to Tim Burton's hit film "Alice in Wonderland" opens in theaters throughout the US.
[All non-attributed photos and video courtesy of Disney.]
As part of the recent appearances the cast and crew have been making to promote the movie's premiere, a press junket was held in Beverly Hills. In attendance was Anne ("The White Queen") Hathaway, Mia ("Alice Kingsleigh") Wasikowska, Director James Bobin, and Producer Suzanne Todd.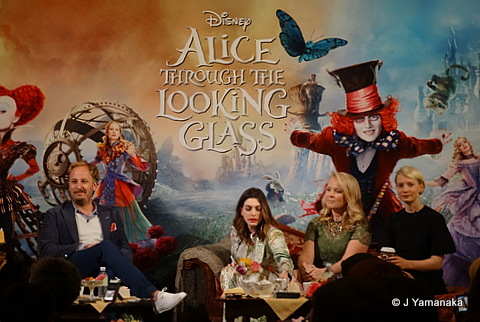 Some points of interest from the discussion:
Suzanne Todd on why she decided to make this sequel: "Well, it took us a long time now, after the first movie, to come up with an idea that we felt was worth taking on–as everyone here knows, these movies are very difficult to make. So we went back into the literature: We went back into what was so popular for 150 years, and themes came up that we were were interested in…that Linda Wolverton, the screenwriter, wanted to take on, and when James [Bobin] came on board, that he was interested in. And we really focused on what you see in the movie now, which is time, and the preciousness of time, and the importance of spending time with loved ones…and also what a pretty, kick-ass girl can do if she sets her mind to it! And she does!"
Mia Wasikowska on revisiting the character of Alice: "Yeah, it was great…at the beginning of this film she has been traveling around the world for the last two years, and she's the captain of her own ship, so she's coming from a very empowered place. I just love that she has this really strong sense of who she is, and despite the fact that expectations for her are really low when she returns to England, she's able to hold onto that sense that she's worth more than what other people want for her. Yeah, I think she's great."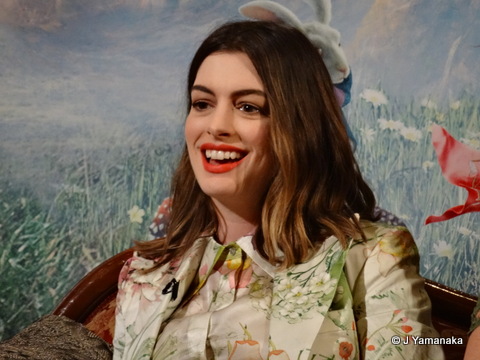 Anne Hathaway on wearing the film's elaborate costumes: "You know, I thought that Colleen's [Atwood] costume probably created my character. I knew I had had certain kind of incorrect ideas about who she was, and then as I found the dress I just thought, 'oh, she's air.' I also started to think about the relationship between her and Helena [Bonham Carter] and I thought, if you have a family member who has a very very large personality, who has a lot of emotions, you compensate by taking up less space…and so I thought, 'here's somebody who's turning herself into almost weightlessness.' And yet, it's still so ornamented, so I just thought it's very rich and very airy..and that's how I kind of came up with my airhead."
James Bobin on how to make the new film distinct from the original, while still paying respect to it: "Of course we really owe a debt to Lewis Carroll…having Time be a person was of course Lewis Carroll's idea. Lewis Carroll wrote in the book, when the Hatter meets Alice for the first time, 'I've been stuck here since last March, when Time and I quarreled,' so it's kind of those bits. It's basically trying to incorporate elements of Lewis Carroll, whilst maintaining a Tim [Burton] world, but then bringing something of what you think those things are."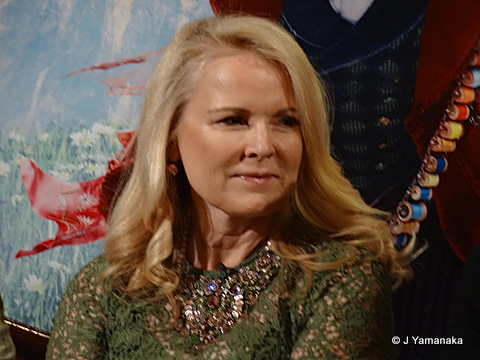 Suzanne Todd on her first introduction to "Alice in Wonderland": "Growing up in California, I went to Disneyland and I rode the Alice ride! There are actually two Alice rides at Disneyland, there's Mad Tea Cups and there's an Alice's Adventures ride, and yes, as a very young girl I was, and still am, obsessed with Disney–not just Disneyland, but all Disney parks. They're the happiest places to be! After going on the Alice ride, I did get very interested and I did read the books and have a very literary reaction to it, but yes, it all started with the rides at Disneyland."