A new show has taken residence at the Hyperion Theater in Disney California Adventure this summer: "Frozen–Live at the Hyperion."
[Photos and video not attributed were provided by Disney.]
Taking the place of "Aladdin–A Musical Spectacular," which ran in the same venue for thirteen years, this production takes the hit animated film into the realm of live musical theater.
To translate the widely embraced tale of two sisters divided by fear and questionable parenting, Disney Creative Entertainment enlisted the Tony Award nominated Director Liesl Tommy to weave a large-scale production involving video projections, a 2,200 square foot video wall, and a cast and crew of more than 200. Michael Curry, who co-designed the animal puppets for "The Lion King" on Broadway created versions of Olaf and Sven in the same vein.
Technically, the production is gorgeous. The back video wall is so clear and high-definition that sitting in the first ten rows of the orchestra, it didn't even initially occur to me that it wasn't a practical backdrop. The 45,000 sq. ft. "Aurora" curtain surrounding the stage looks beautiful and allows the projections to surround the audience and create a sense of environment and motion that is far and away better than any use I've seen yet made of similar effects.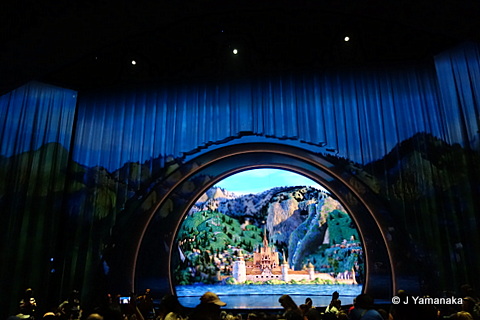 The main set piece is Elsa's ice stairwell which allows her to walk out a little ways over the audience. It's an impressive structure and is used to greater effect than her ice chandelier which is pretty enough to be disappointing when it doesn't do a big "Phantom of the Opera" crash down.
The musical numbers, in many ways the strength of the original film, have justice done to them as all the Anderson-Lopez/Lopez songs are represented in the show. "For the First Time in Forever," "Love Is An Open Door," and "In Summer" in particular are expanded out into larger ensemble pieces to nice effect. While the music is all pre-recorded, the vocals are all performed live.
103 performers are used for the various performances, with a couple different actors switching out for the major roles throughout the day. From the three performances I saw, some were a little better vocally, and some had the edge as far as acting, but all did a very capable job. The standout in general for me was Olaf, all of whose actors/puppeteers really caught his quirky charm.
There would, I think, be little point in remaking an exact duplicate of the animated film on stage, and to their credit, this production does emphasize slightly different facets of the story while still adhering pretty closely to the original. The returning motif for this version is doors (of which they have seven different pairs)–the physical ones shut between the girls by their parents in childhood, and the emotional ones they must reopen to reconnect in a time of need.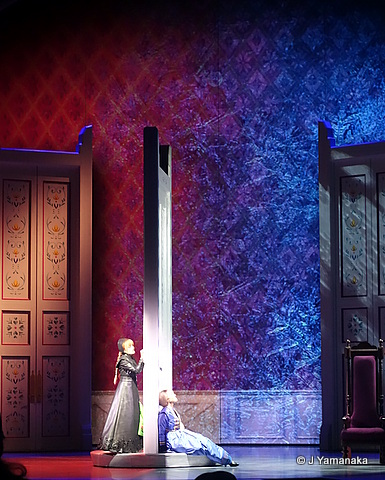 Probably the weakest part of the production is, in fact, how near it keeps to the plot of the movie (which I originally reviewed here.) The resolution has always seemed rushed in parts with a lot owing to coincidence at the end. Here, because of practical limitations of time and scope, virtually all scenes with Elsa between her transformation and her reunion with Hans and Anna at the end are clipped to brief tableaus–if you blink, you might miss her capture which is barely even implied. While the Broadway production of "Frozen" currently in development is said to be completely separate from this, it's hard not to think that "Live at the Hyperion" isn't being used as something of a test, in which case one would hope that they would devise something different for these parts, that works better for stage.
By this time, I think most people have figured out for themselves whether they are on the "Frozen" train or not. If the last two years have totally burnt you out on the movie, this is probably not going to convert you into an instant fan. If you still enjoy it, as I do, then this is a nice version that is technically a huge step forward from the erstwhile "Aladdin," and could be a terrific way for people to introduce themselves to live musical theater.
The first time I watched it in previews, the group behind me discussed beforehand how none of them had seen "Frozen" before (apparently not big animation fans.) Observing them cheer for Elsa as she begins to find her power, "OH SNAP" at the Hans reveal, and rise to their feet for a standing ovation at the end makes you think that after all this time, Elsa and Anna's story of fear, loss, empowerment, love, and redemption still has life in it.
"Frozen–Live at the Hyperion" runs 70 minutes and is currently playing three shows a day. Fast Pass ticketing recommended.