One of the highlights of the Halloween celebration at Disney's Fort Wilderness Resort and Campground is the amazing golf cart parade.
Imagine a slow moving procession of golf carts festooned with bunting, streamers, signs, banners, cobwebs, ghosts, skeletons, lights and all sorts of seasonal décor.
Last year there were about 140 carts in the parade which stepped off at 5:00 p.m. on Halloween day. Some of those carts were absolutely astounding. Many Disney campers display unbelievable creativity!
Woody and Jessie led the parade in 2014!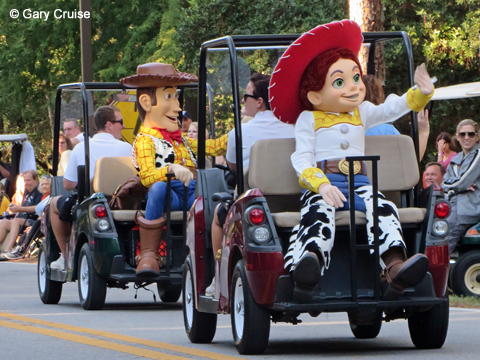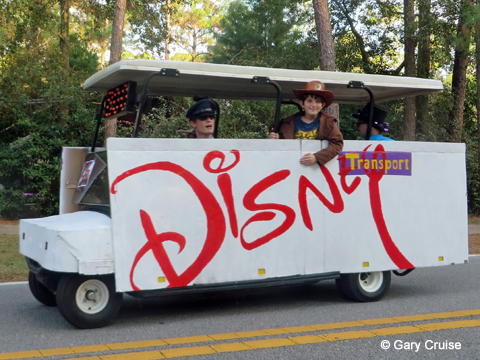 No . . . that's not a Disney bus, it's a golf cart!
No . . . that's not a Fort Wilderness cabin, it's a golf cart!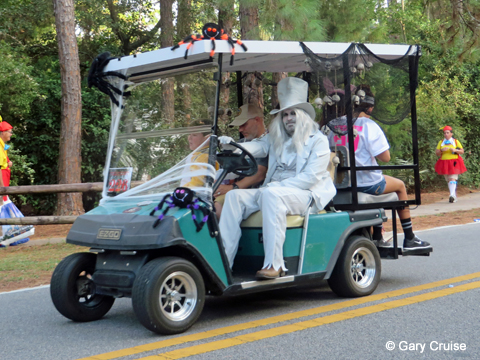 Is that a hitchhiking ghost driving a spooky golf cart?
Many carts are Disney themed!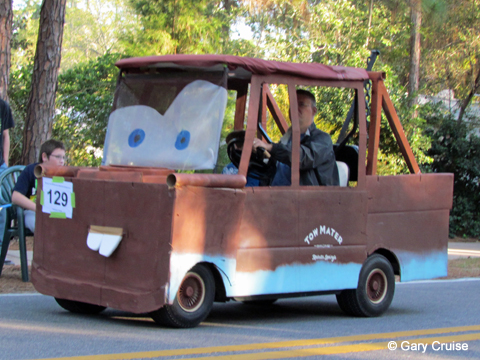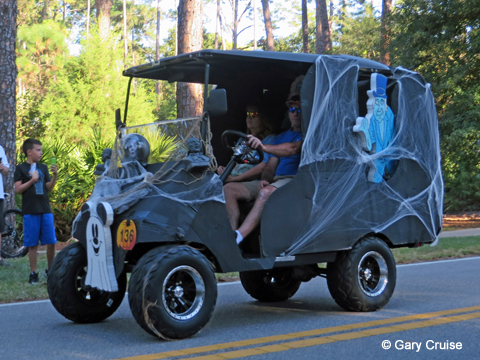 Some have non-Disney characters.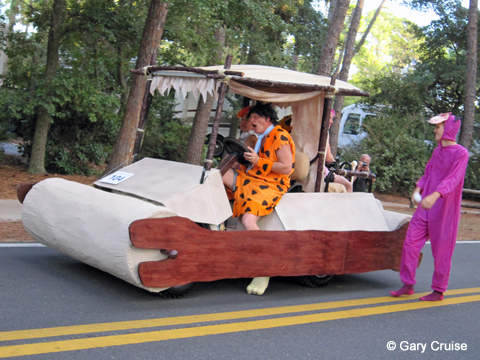 Some are just cute!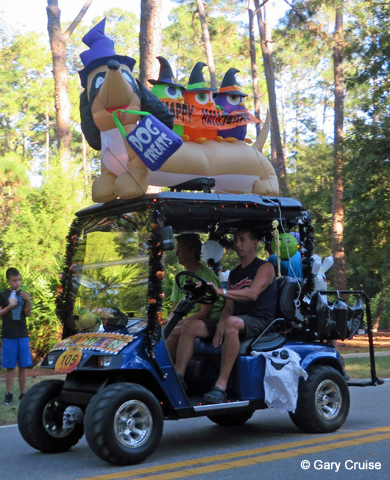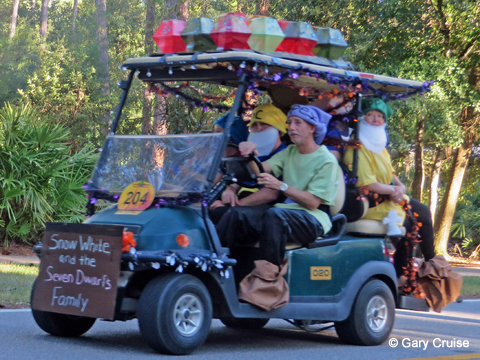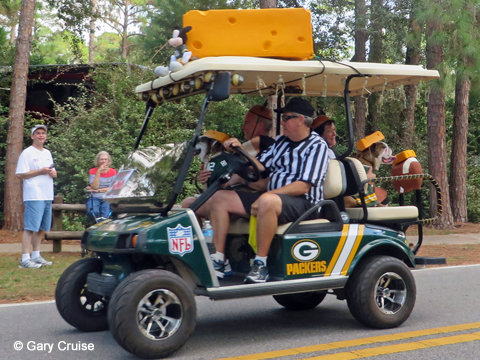 It takes imagination, ingenuity, money and time to convert a golf cart into a space ship or a hearse!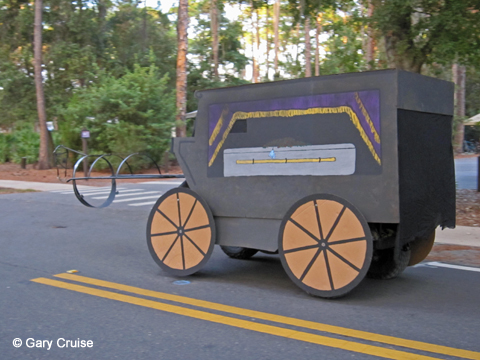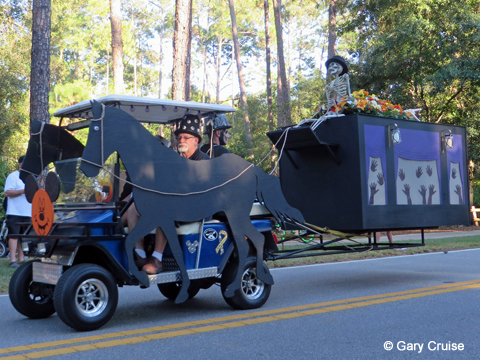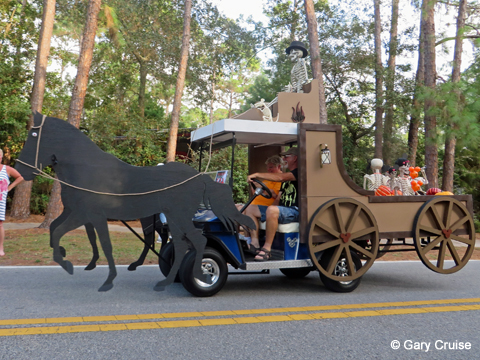 You might think that all these fabulously decorated golf carts are privately owned by campers who bring them from home. Some of them are . . . but that is not always the case. Many of them, probably the majority of the decorated carts, are rentals! Yes, folks vacationing in Disney cabins, travel trailers and tents really enjoy renting golf carts from Disney and entering them in the parade. They use their wild imaginations together with materials they have brought along with them to convert the rental carts into rolling pieces of art!
It's just astounding what people can do with cardboard, duct tape, PVC pipe and paint!
There are usually a few pirate ships!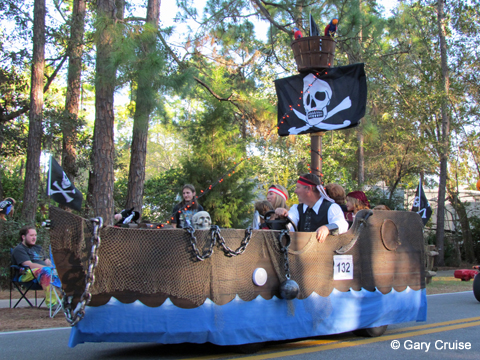 Here are a couple of Kilimanjaro Safari trucks.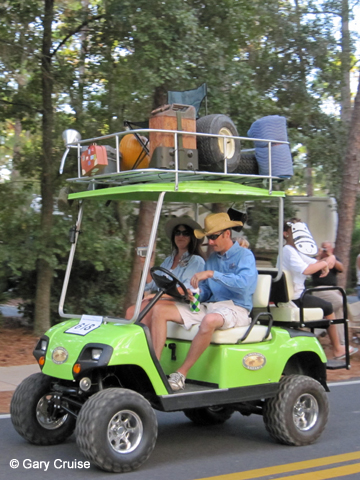 These enterprising campers hooked two rented golf carts together to make the Slinky Dog from Toy Story. What a great idea!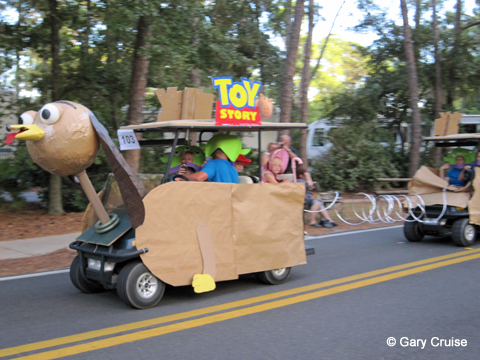 Disney judges parade entrants and provides prizes for the best decorated ones. What does it take to win the top prize?
The winning cart in 2012 was a replica of Carl and Ellie's house from the movie Up!
The winning cart in 2015 was a replica of Han Solo's Millennium Falcon.
If you want to see plenty more of those fabulous golf carts click on the white arrow below to watch a 22 minute video of the 2015 parade produced by our good friends at MouseSteps.com
If you find yourself at Walt Disney World on October 31st and you're looking for something really different . . . the Halloween Golf Cart Parade might be just what you're looking for. The last few years it has started at 5:00 p.m. but be sure to call the Bike Barn at Fort Wilderness (407-824-2742) to confirm the time.
Maybe Carol and I will see you there!
Note: Parking is very limited at Fort Wilderness. If you plan to come see the golf cart parade you should plan on using Disney transportation. Come by Disney bus, or catch a boat from the Magic Kingdom, Contemporary Resort or Wilderness Lodge.