By Guest Blogger Denise Preskitt
Nearly one year ago, Disney Cruise Line announced a new experience for 8 sailings this year on the Disney Fantasy: Star Wars Day at Sea. Held from January 9th through April 16th, 2016 on Western Caribbean cruises, many benefits were touted. Those benefits included character meet and greets, special food offerings, and celebrity insiders and autograph sessions.
This was never meant to be a full Star Wars cruise, which is one thing I have been asked quite a bit about. It was replacing one port stop on the itinerary. We booked the cruise immediately and sailed on the first one, January 9th.
Much of what was promised was a part of the experience. However, one thing that everyone seemed to be looking forward to was completely lacking: celebrity insiders and autograph sessions. Considering how well Disney has been able to add celebrities to Star Wars Weekends, it was quite a surprise that they couldn't find anybody for the first cruise (there was a new Imagineer, who couldn't answer many questions). That said, it was actually a fun day.
The Disney Fantasy was full for the first sailing, there was even a sign telling guests not to ask for upgrades because they'd not be available due to that. There was a large photo backdrop in the atrium, which was the first real sign of the cruise to come. This backdrop was there until almost the end of the cruise, so there was actually no need to have a photo in front of it right away. There was almost no other Star Wars décor the whole cruise — really, none.
Two elements of the cruise did include Star Wars the entire time. Star Wars films were shown each day, including "Star Wars: A Force Awakens" (non-Star Wars films were shown as well).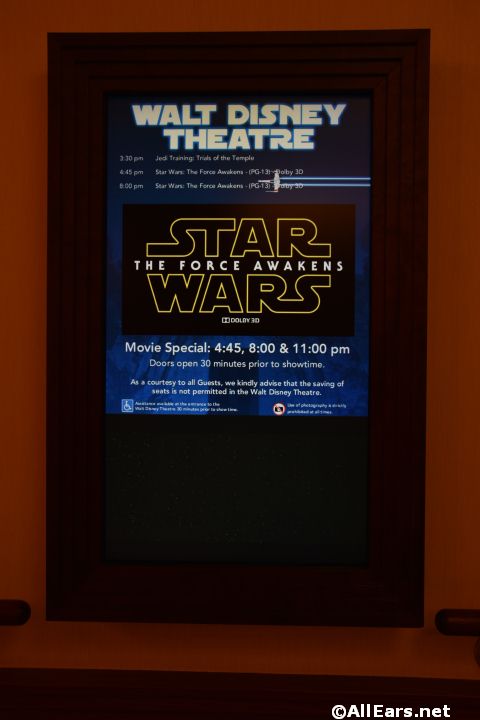 And Star Wars Day at Sea merchandise was available from the second day through most of the sailing — I believe it was put away the last night.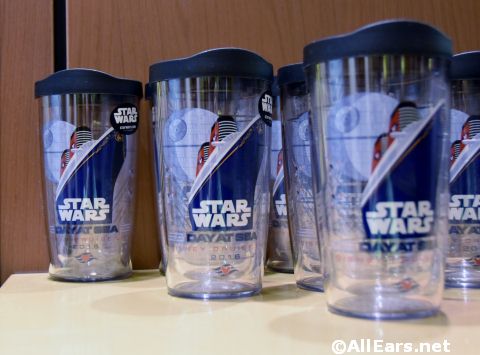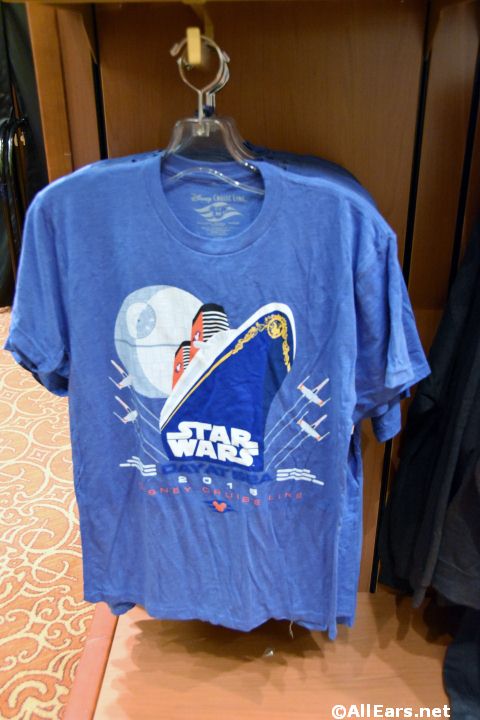 When we boarded, we were told that there would be an interactive meet and greet and that we needed to choose — by Sunday — which one we were interested in by filling out paperwork in the room. The paper wasn't there, eventually the room steward came and was a little confused about what he was supposed to bring, but it was in one of his hands and we were able to figure it out. I think that should be smoother in future sailings. The meet and greet locations available to choose from were Bespin, Tatooine and the Dark Side. It seems that one is guaranteed, but everyone we knew was given two experiences.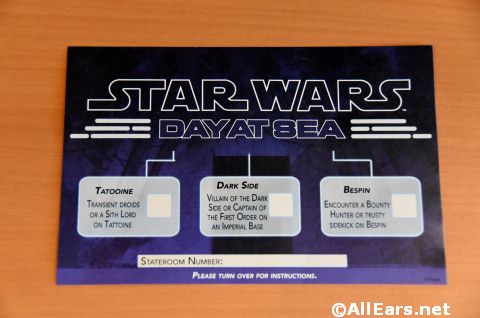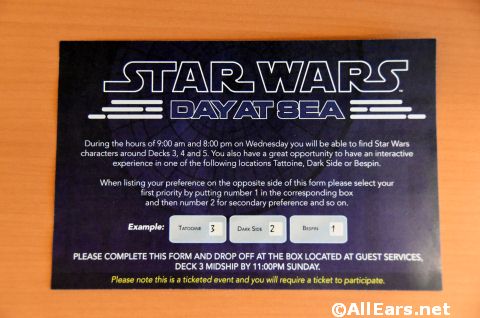 The next morning, Disney had a queue for guests who wanted to purchase Star Wars Day at Sea merchandise. This was the first full day at sea. We didn't wait in the queue, opting instead to go later in the day. Everything seemed to be there for the whole cruise. Prior to sailing, we had filled out an RSP form for merchandise — both of us chose the limited edition pin #1. Each sailing was to receive one special limited edition pin. However, the first pin never arrived. We were given pins for our trouble, and pins from later cruises were set out (and pin #1 will be shipped, maybe in spring). I'm not sure what will happen with Limited Edition pins for later cruises.
Fast forward to Star Wars Day at Sea.
We had received our tickets for the meet and greets the previous evening. The way this was handled was very organized, as were the meets themselves. The Personal Navigator for the day included everything guests needed to know, and the app had almost everything. Star Wars music played throughout the hallways and atrium.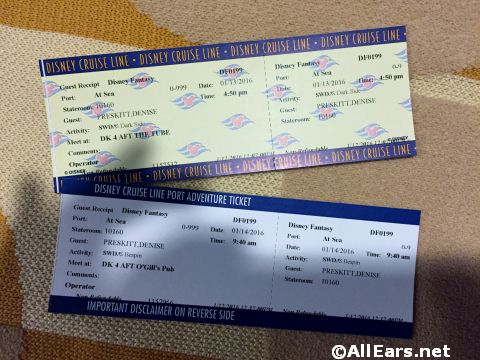 While we had two meet and greets, a friend of ours also had one that his family chose not to attend with him. It did allow us to experience all three locations, although not all the characters.
Guests began congregating in the atrium at about 8:30 a.m., waiting for the walk-around characters. That started at about 9:00 a.m., as Stormtroopers and Tusken Raiders could be seen above. This was an 11 hour experience, with characters roaming until 8:00 p.m. It seemed to get less busy by mid afternoon.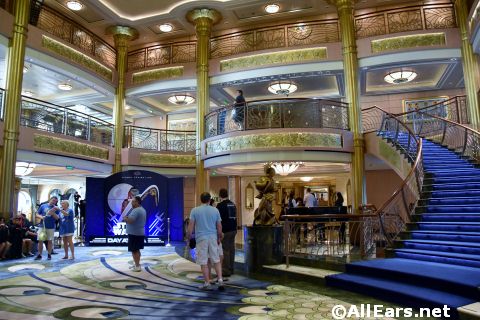 In addition to the official characters on board, there were many guests dressed head to toe in fantastic costumes. From Jabba the Hutt to Kylo Ren and so many other characters (including face masks and everything else), this was one of my favorite parts of the cruise. Kylo Ren was not meeting on board, but I could still get a picture of him thanks to a well costumed guest.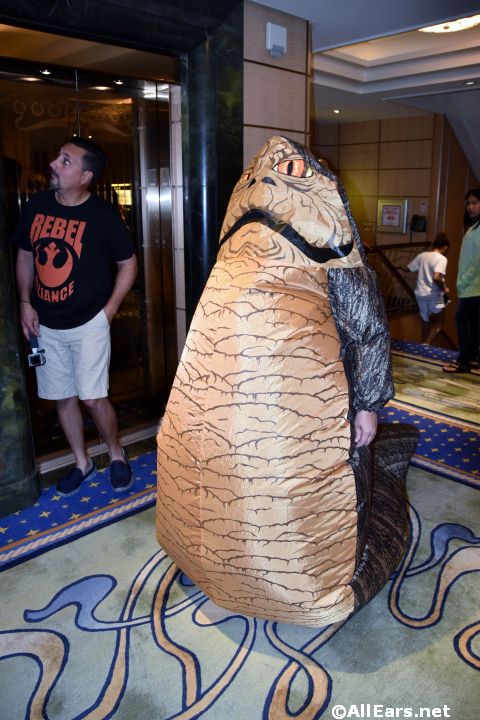 We didn't make it to some of the offerings, like Jedi Training: Trials of the Temple and the Padawan Mind Challenge. There actually was quite a bit to do on board, and not enough time to do everything we had planned. (Editor's Note: I spoke with a family who had been on this same cruise. They said out of the 1500 kids on board only a small amount were able to be part of the Jedi Training because it was only offered on a limited basis. Let's hope that is a future change.)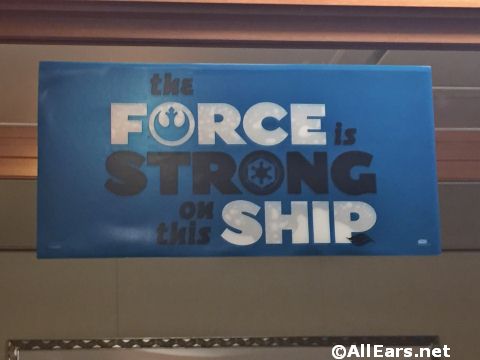 Outside, the Disney Fantasy was skirting the beautiful coastline of Cuba all day. From what I was told, it had to do with the weather being not optimum elsewhere. The cruise otherwise had quite a lot of rain, and we didn't make it to Castaway Cay due to weather. Seeing Cuba was one of my favorite parts of the day and of the cruise.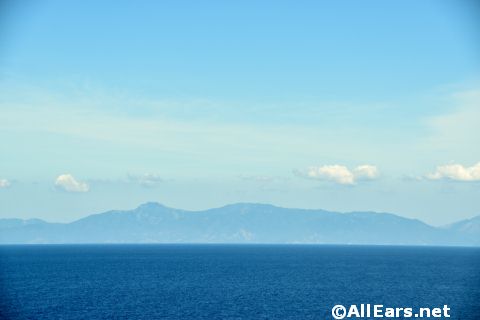 Stormtroopers could be found out on the jogging deck (deck 4) and during "Pool Patrol". Pool Patrol was shown as a few little blips in the schedule, but it was fun to see them at the pool area. Perhaps it wouldn't have been as fun if I was wanting to be in the pool, but it was a nice little addition to the day. Boba Fett occasionally would be above the crowd, taunting.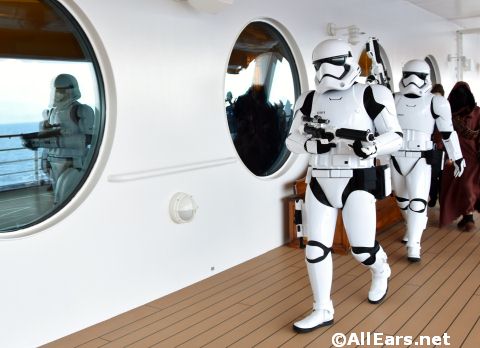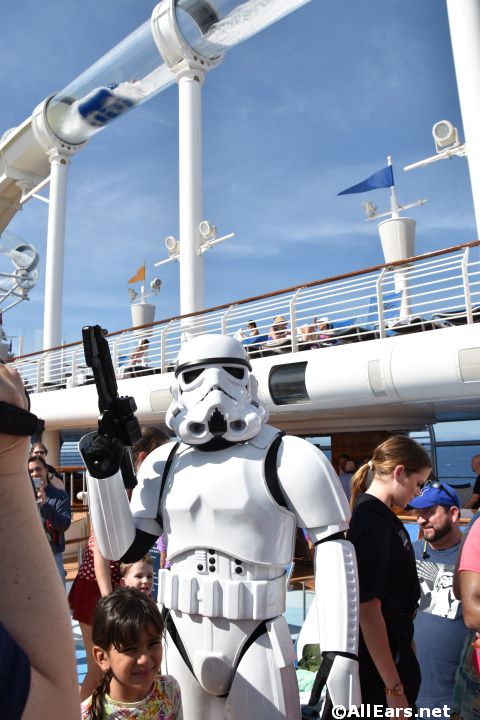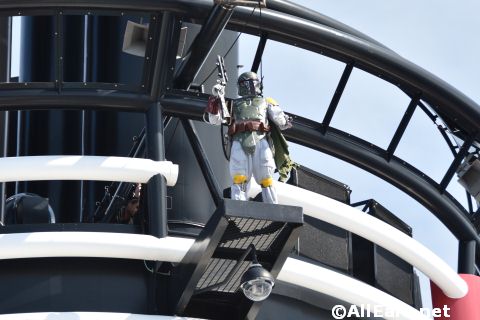 The ship horn also played the Imperial March several times during the day, only on Star Wars Day at Sea.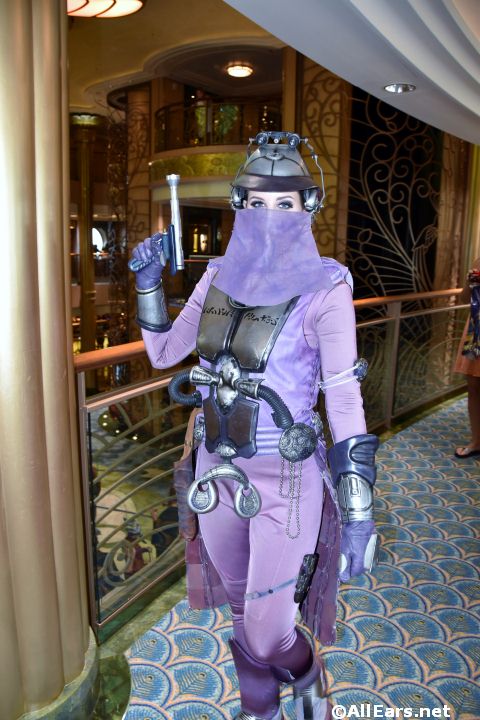 Counter service food items were available with a Star Wars theme. I'm not really sure what made the Death Star Pizza themed to the Death Star, but the Darth Vader Bantha Burger was similar to what you will find in the parks, black bun and all.
On to the interactive meet and greets. These were meet and greets like you'd find at Disney's Hollywood Studios, where guests form an orderly line and meet a character. Each meet and greet alternated with 2 different characters. Darth Vader alternated with Captain Phasma at the Dark Side. Chewbacca and Boba Fett were at Bespin. And Tattoine included R2-D2 with C-3PO and Darth Maul.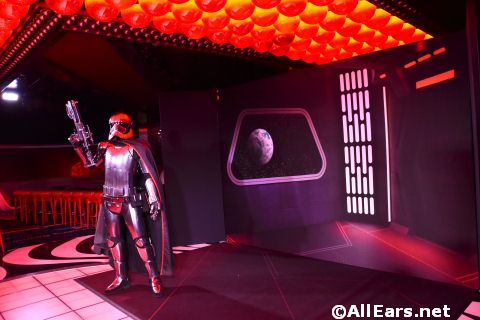 2 of 3 meet and greets we visited did not allow choosing of the character. While in line for Darth Vader and Captain Phasma, we wanted to meet the latter (since she was new), and the guest behind us did not know who she was and wanted to meet Darth Vader. In the Droid/Darth Maul location, they did allow anyone who wanted to wait for R2-D2 and C-3PO to do so. It'd be nice if this was always the case, especially since the meet and greets weren't that busy. Darth Maul was alone for a while, everyone could have met him and still continued to wait (and even if not, it was a very nice bonus to be able to choose). Our last meet and greet was in the morning on the next day.
Activities on board included a Star Wars Costume Celebration. This was enjoyable to watch, with a wide array of guest costumes. It was not a contest, as nobody won anything.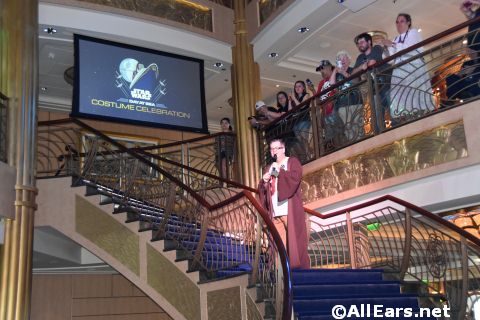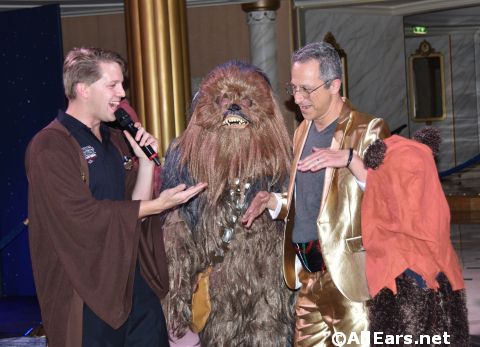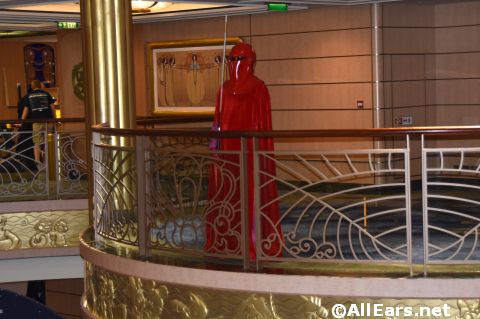 Characters were still roaming the atrium on the 3rd, 4th, and 5th floors — but eventually the evening entertainment arrived, replacing Star Wars music. Country songs and other music filled the air while the characters walked about. It would have been good if there wasn't that break in continuity.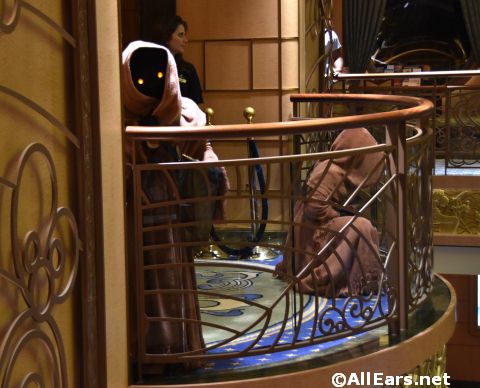 Star Wars Day at Sea in many ways replaces the Pirate Night events. Fireworks and the late buffet are on Star Wars Day at Sea, not both. From what I understand, the Pirate Night menu was not available, but we were in Palo that evening. Some activities still go on, but much is moved to Star Wars night.
A special menu was offered for the evening, but the best part about it was the menu itself. Everyone at the table wanted one, even if we could have purchased it. The food itself was named after different characters, but there wasn't anything special when the items arrived at the table. My Qui-Gon's Crisp Chicken was sort of like a Shake and Bake meal. This was overall my least favorite Disney cruise over the years in food and service (the latter was remedied the last few nights).
Desserts included Calrissian Velvet Cake, which was a crunchy red velvet cake. I didn't finish it. There are numerous other choices as well, one guest at the table ordered a Mickey Bar instead.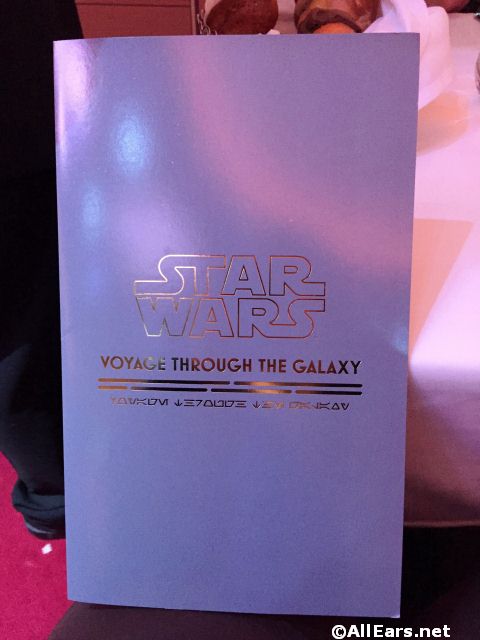 The last events of the day were the Summon the Force show, fireworks, and then the dinner buffet.
The Summon the Force show featured mostly characters we'd seen during the day, and celebrated all the films. I have been asked many times about Disney characters in Star Wars costumes, and from what I understand, those aren't coming back. It is too bad, since that was my favorite part of Star Wars Weekends.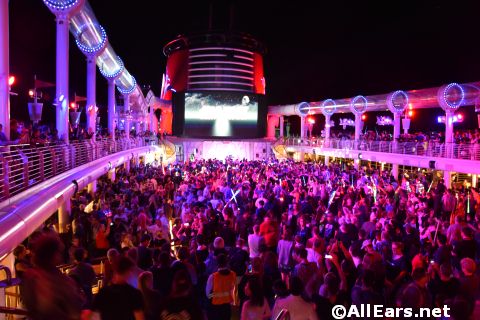 The Summon the Force show included Stormtroopers, Darth Vader, Boba Fett, and many others. I recommend leaving dinner early if you are at the second seating to secure a spot. I arrived late, and did manage to snag an upper level spot right behind someone that left me with a tiny bit of photo room.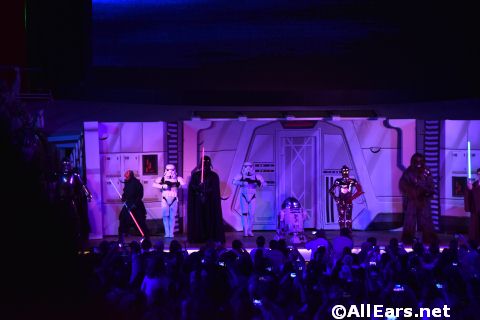 The Summon the Force Fireworks were similar to Buccaneer Blast, but Star Wars themed. It is the only fireworks show at sea, and shouldn't be missed. There was also a dance party.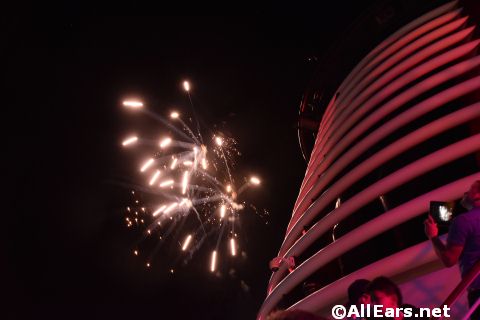 If you've seen the Pirate late buffet, this wasn't too different. Items from the shops and refreshment stand, like BB-8 sippers, were used as decorations. If you are looking to buy a BB-8 sipper or Tie-Fighter popcorn bucket, it is much cheaper on board than in the parks. Watermelons at the buffet showcased Star Wars.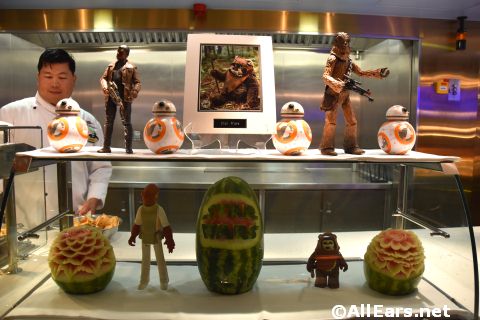 The next morning, we met Chewbacca and that was the end of Star Wars Day at Sea. We did receive a "The Force is Strong with this Ship" window cling, but it disappeared the next day (it was thrown out) and we had to ask for another one.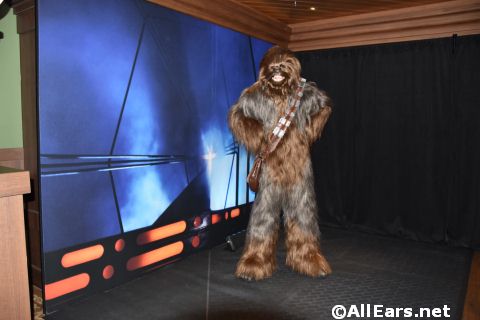 When the Disney Cruise Line announced the sailing, it said also that, "In the evening, adults entering the night club will feel like they stepped into the Mos Eisley cantina scene. Characters and cantina music set the mood as Star Wars-themed specialty cocktails are served." I didn't see anything like that. There were two Star Wars themed drinks — one with alcohol and one without.
All in all, it was still a fun time. But there was a major disconnect with some of the announced offerings versus what materialized for the first cruise. Having Star Wars "celebrities and insiders" would not have only fulfilled what was announced, but it would have given great guest satisfaction. Some decorations would have been nice. It didn't feel like the event had been worked on for nearly a full year. Star Wars: The Force Awakens was shown quite a few times, including in the Walt Disney Theater (in place of the show that night). There was trivia and some activities for the kids. It wasn't that there wasn't anything to do, because the schedule was pretty full. But it isn't Star Wars Weekends, not nearly — so keep expectations at a minimum, and I hope Disney will pull a few tricks out of its hat for future cruises.