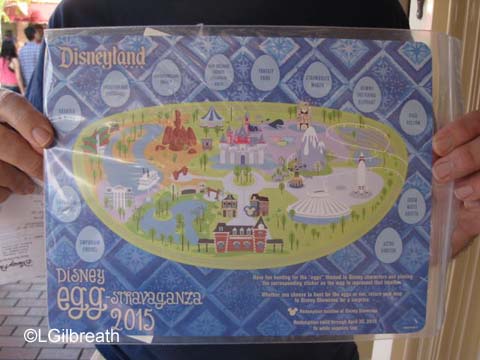 It's almost Easter – that means it's time for the annual Egg-stravaganza Easter Egg Hunt at Disneyland and Disney California Adventure. (It is also being held at Epcot at Walt Disney World.) This year the event runs from Friday, March 27-Sunday, April 5, or while supplies last.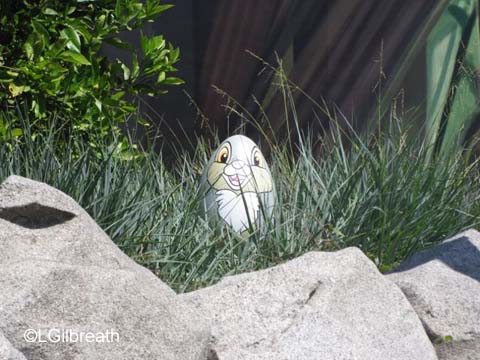 The Easter Bunny has placed large Easter eggs, decorated like Disney characters, around the parks, and guests get to find them. Luckily the Easter Bunny has also provided a map. 🙂 There are different maps for Disneyland and Disney California Adventure. The maps are available are various locations in both parks, at a cost of $5.35, including tax.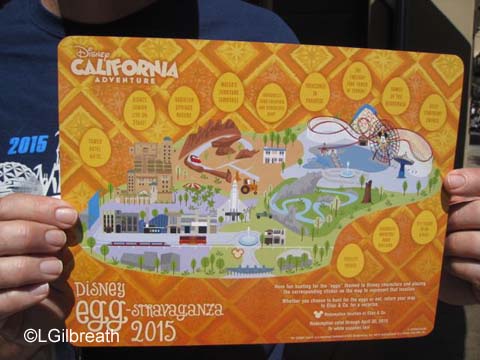 There's a sheet of stickers included, with pictures of the various character eggs. Once you find the egg, you apply the appropriate sticker onto the designated space on the map.
In each park there is a redemption location, and the maps can be redeemed there for a character Easter egg – there are six different characters available. You don't have to complete the map to get your egg – you can redeem it at any time. You get to keep the map no matter what: a cast member will stamp it on the back to show that you have received your prize. I saw a number of people purchase their maps and then immediately get their prizes.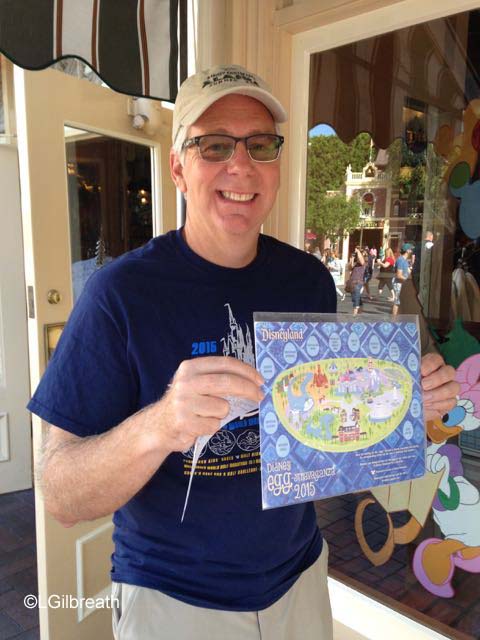 We started at Disneyland, figuring (correctly) that it would be the busier of the two parks as the day went on. We purchased our map at Disney Showcase on Main Street.
The maps give you approximate locations of the eggs, but not an "x marks the spot" kind of thing. For example: "Emporium (Outside)", "Emporium (Inside)", "Frontierland (Entrance)". There were quite a few other people also hunting for them, so sometimes it was easier to just watch for a small crowd of people. 🙂 Cast members were also happy to provide clues – we had a couple who told us one of the eggs (which was harder to spot than many of them) was at an "Eggs-it". (Groan.)
I'll have spoiler photos at the bottom of this blog – with plenty of warning in case you don't want to know where the eggs are located.
We had fun hunting the eggs – we did it while wandering the park doing other things, so we weren't just going from egg location to location all of the time. Once we'd finished we went to the redemption center, next to Disney Showcase on Main Street. There were several tables set up, each with six eggs of different sizes and colors set up. You point to the egg you want, and the cast member picks it up to reveal the egg you have won – though you receive a new packaged egg from one of the bins behind them.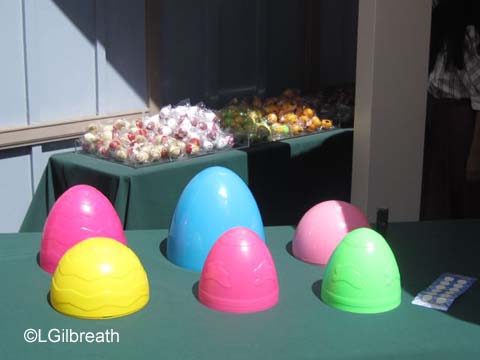 The different eggs are: Goofy, Pluto,Tinker Bell, Thumper, White Rabbit, and Mr. Toad.
If you want a specific egg, you can just watch for a while and see what other people choose, and determine which egg to pick. It's not a shell game – the cast members don't rearrange the eggs in between guests. 🙂
After we'd finished in Disneyland we went over to Disney California Adventure. There weren't quite as many people hunting eggs over there – in general the park was a lot less busy than Disneyland. We bought our maps in Elias & Co, which is also where the redemption center was located. This time we went ahead and redeemed the map for the prize before actually hunting the eggs.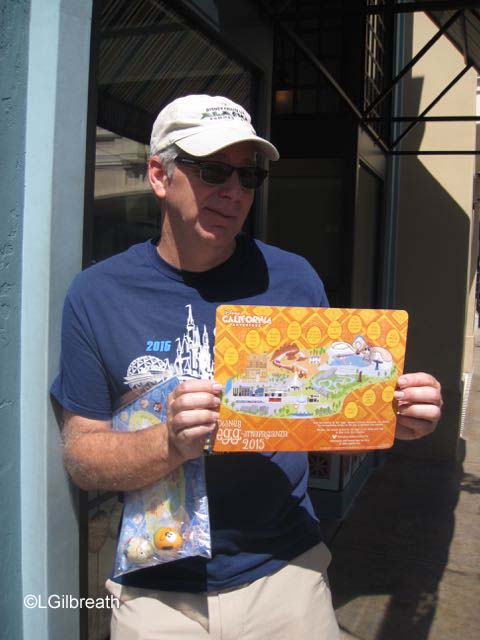 Most of the character eggs were the same in the two parks, but there were a couple of differences: Disneyland had Mr. Toad and Tinker Bell, and instead of those two DCA had Mater and Lightning McQueen. The prize eggs were identical, though.
It seemed to me that the hunt at DCA was a little easier, but neither of them was difficult. Though it would be a lot harder at night, since there's no lights on any of the eggs and they would be hard to see.
We really enjoyed this – it was a fun way to spend a few hours in the parks. We saw a lot of other adults on the hunt also – I think there were more adults than kids! I thought the price was reasonable, too. I ended up with the Mr. Toad egg, and Lee got Pluto.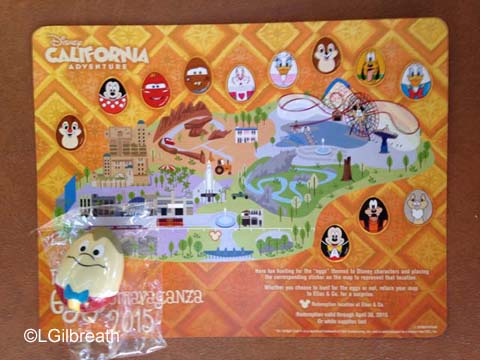 S
P
O
I
L
E
R
S
B
E
L
O
W
Y
O
U
H
A
V
E
B
E
E
N
W
A
R
N
E
D
Mickey at the Emporium.
Minnie in the toy section of the Emporium – this was hard to find.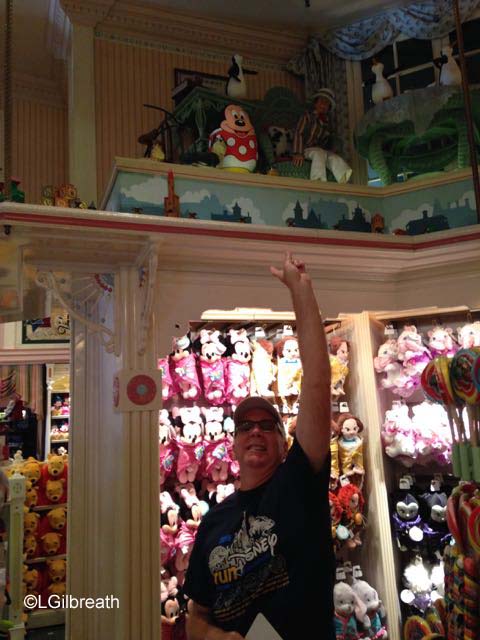 Goofy near the Astro Orbitor.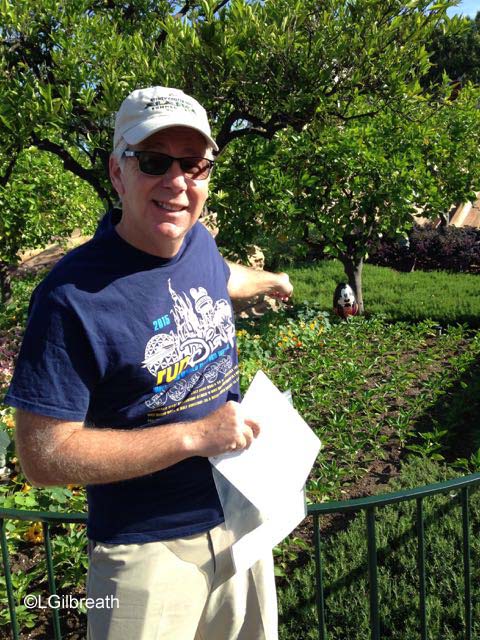 Tink near Pixie Hollow.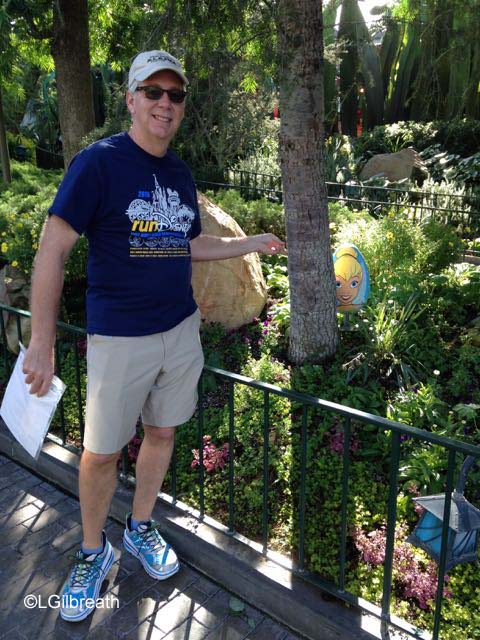 Chip in Snow White's Grotto.
Mr. Toad at Dumbo.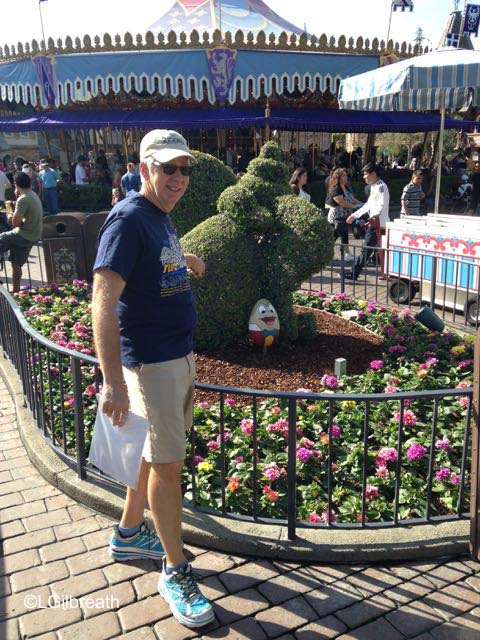 Dale behind Stromboli's Wagon.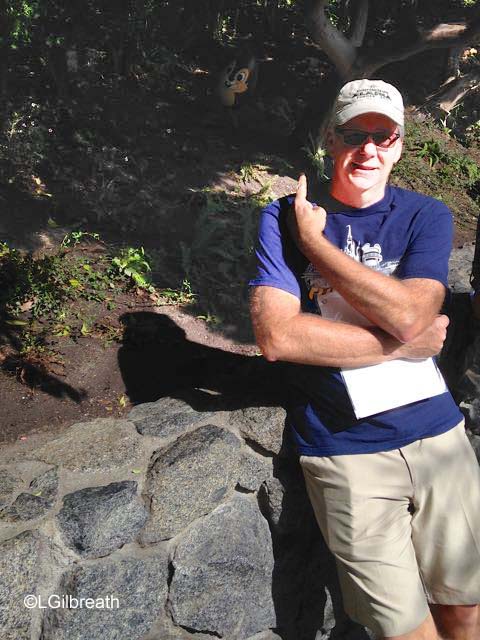 White Rabbit at Fantasy Faire gifts.
Donald Duck, near the Frontierland entrance.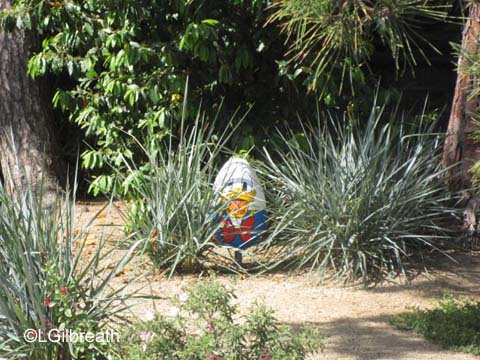 Daisy at the Adventureland Bazaar.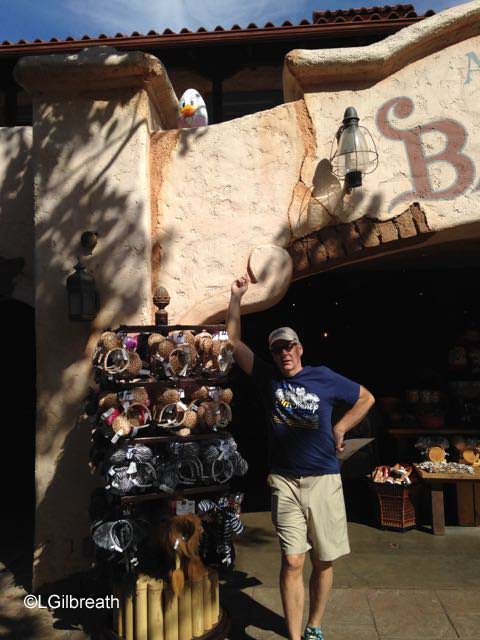 Thumper near the fountain in New Orleans Square.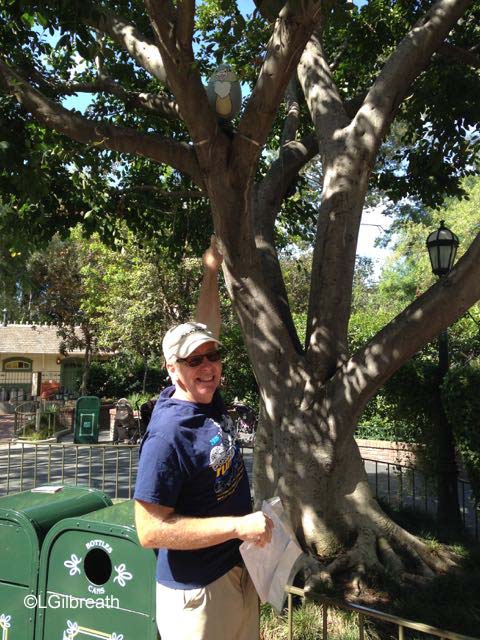 Pluto at the "Eggs-it" of Haunted Mansion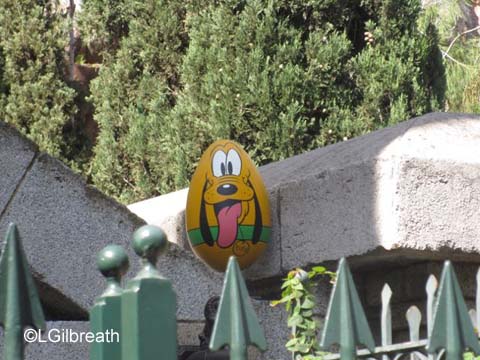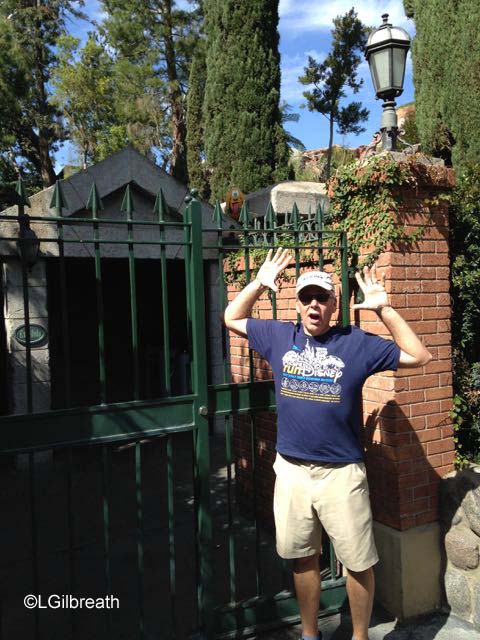 Mickey above the entrance to Trolley Treats.
Minnie at Disney Jr.
Dale in the window of Tower Gifts.
Chip on the wall outside Tower of Terror.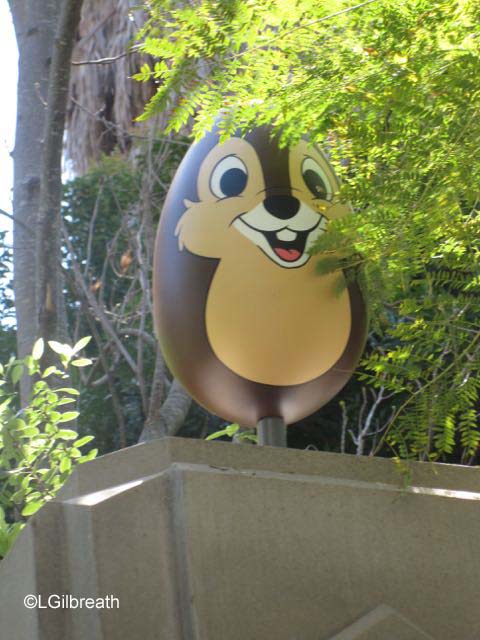 Thumper at It's Tough to be a Bug.
Mater on the roof of the jukebox.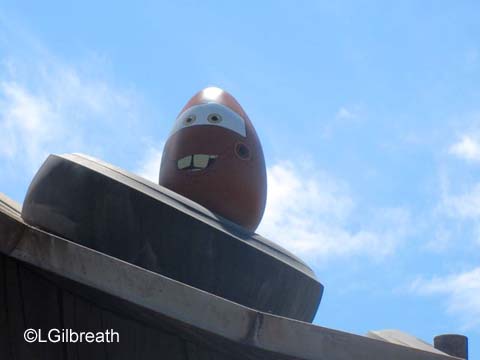 Lightning McQueen watching the cars at Radiator Springs Racers – I thought this one was very creatively placed.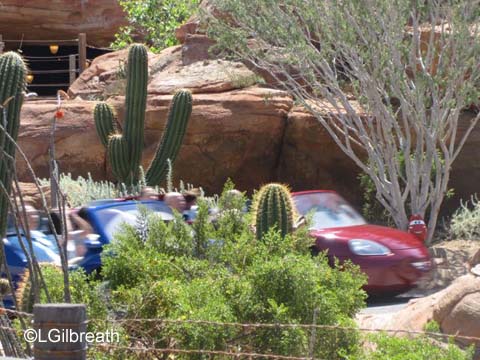 White Rabbit at Ghirardelli.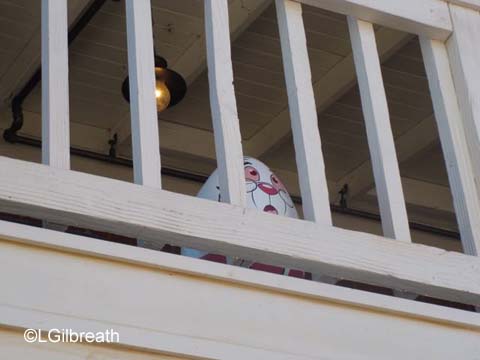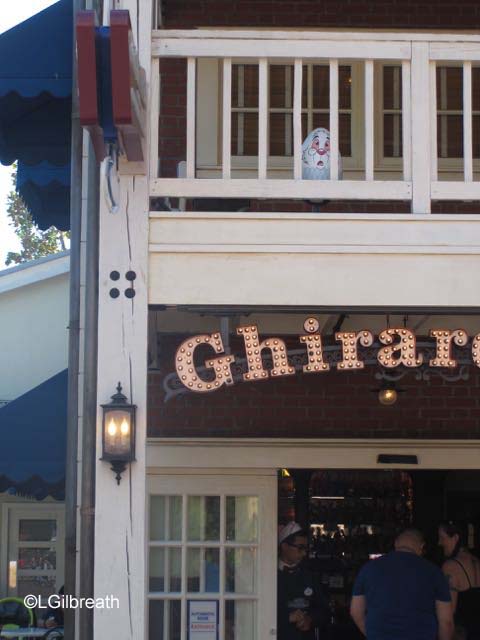 Daisy at Treasures in Paradise.
Pluto at Boardwalk Games.
Donald at Silly Symphony Swings.
Goofy at the Embarcadero.