SeaWorld Orlando announced this week that it has closed its popular dolphin feedings to the public. Our family, along with many others, will miss this rare — and affordable — opportunity to interact with dolphins.
Readers of this blog might recall that I began going to SeaWorld Orlando and writing about my family's experiences there because of my daughter's interest in learning about dolphins. Going to the dolphin feedings was one of the first things we did, and it became a regular stop on our visits. My then-seven-year-old daughter was in awe of the friendly dolphins, and being able to get so close to them was a dream come true for her.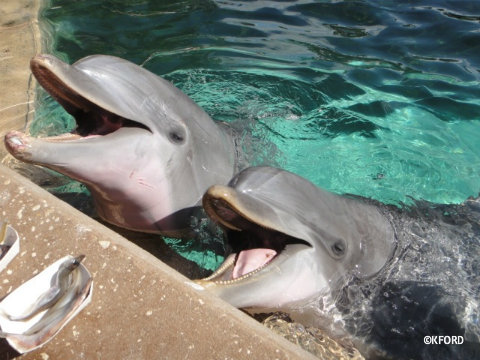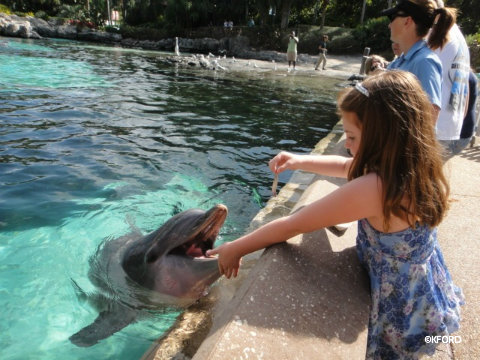 Because the dolphins obviously had learned they would be fed, they were not shy about approaching the visitors along the wall. For the price of a tray of fish — $7 – each guest could feed, pet and take photos with the dolphins. In the three years since our first dolphin feeding, we have tried a variety of dolphin experiences in Florida. They all have been amazing, but none are as inexpensive as the now-discontinued dolphin feedings.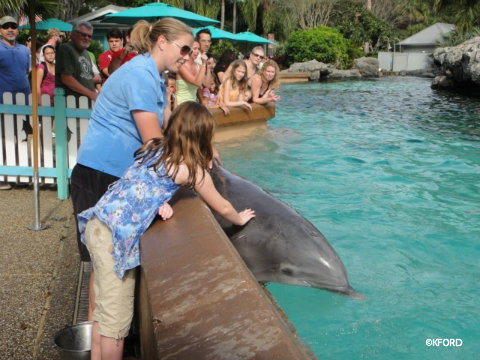 Still, there continue to be experiences to interact with dolphins at SeaWorld parks – just not as many opportunities to feed the mammals without the direct supervision of a trainer. Visitors can book new Dolphin Encounter packages that start March 3 and will take place at the same location adjacent to Dolphin Cove. The packages, which will start at $15, will allow each participant to pet a dolphin with a trainer's assistance. A $30 package also includes one 6 x 8 professional photo. Both Dolphin Encounters last 10 minutes and include an educational overview. The new packages are similar to what is offered at SeaWorld's other parks in San Antonio and San Diego.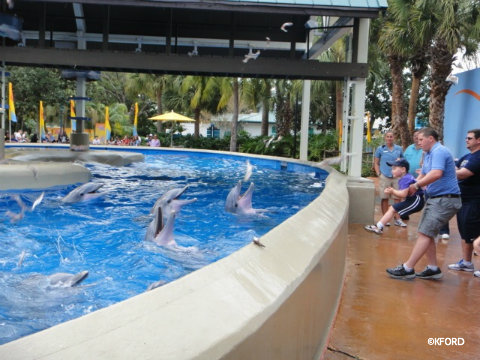 In addition, SeaWorld Orlando continues to offer its Dolphins Up-Close Tour. When we experienced the tour a couple years ago, it included learning how to scatter-feed the mother and baby dolphins in the nursery. This is a different technique than what was used at the feedings at Dolphin Cove, where visitors drop a single fish into a dolphin's open mouth. (Each tray contained four fish.) Scatter-feeding means tossing handfuls of fish into the water and is intended to teach dolphins how to hunt for food, as they would in the wild. During the tour, we also visited Dolphin Cove, where a trainer taught our family to communicate with the dolphins with hand signals, and we were able to take photos. The regular price of the Dolphins Up-Close Tour is $59 for adults and $39 for children ages 3 to 9. Prices may vary with the season, however.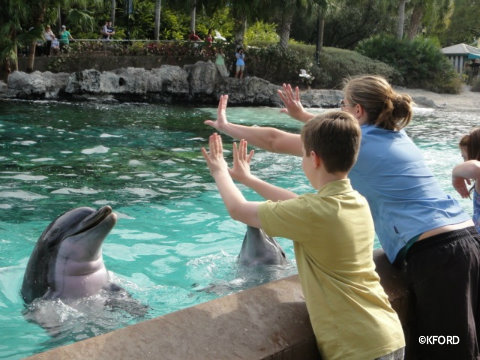 SeaWorld Orlando also has a sister park — Discovery Cove — dedicated to dolphin interactions. The park is known for its unique dolphin swims, which allow guests to be towed a short distance by a dolphin. Before that happens, though, a small group of visitors stands in the lagoon and learns about dolphins and interacts with one of the mammals assigned to them. The interactions don't focus on feeding the animals, however. I visited Discovery Cove last month, and we spent the time before the swim petting various parts of the dolphin and learning some of the signals used by the trainers. Although a few of the people in our group were asked if they'd like to give the dolphin a fish, it didn't seem as if that was a planned part of the experience. And, honestly, that was fine with me. It was far more memorable for me to be standing in the water next to dolphin, touching it, and then to swim with it than to feed it. (You can read about my experience at Discovery Cove and the dolphin swim on previous blogs.)
And I suspect other SeaWorld and Discovery Cove visitors will feel the same way. It's disappointing that the public feedings are no longer available, but the new Dolphin Encounters still allow visitors to touch and interact with the dolphins. And I've seen firsthand with my daughter, who surely will be a future marine biologist, how such interactions can inspire conservation in a new generation.