Contributing photographer Jason of disneygeek.com sends us these photos from his trip to the parks on Friday, January 30, 2015. In this posting I am going to take a look at the ongoing projects around both parks. I will have a separate posting for a couple of the new offerings at Disney California Adventure that opened this past week (the Boudin Bakery Tour & Cinderella Sneak Peek). As always you can view my full pictures update on my site disneygeek.com.
The attraction closure sign is going to need to be expanded… it is almost full.
Scaffolding is going up around Sleeping Beauty Castle in preparation for all of the work to prepare it for the 60th Anniversary Diamond Celebration that starts in May.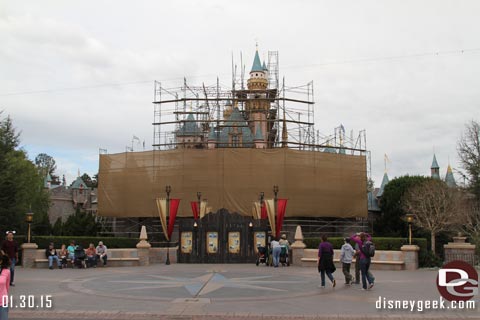 With the scaffolding secure they have refilled the moat.
A recent addition/replacement on the walkway to Tomorrowland.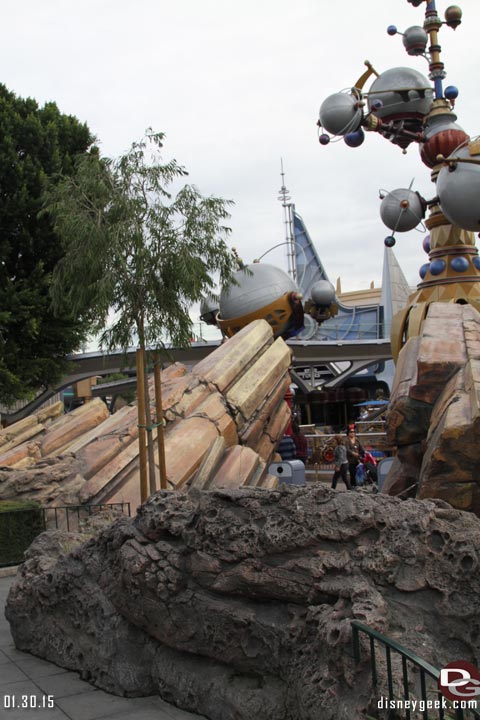 The Starcade is closed for some renovation work. Interesting they removed the Big Hero 6 Meet and Greet before the closure.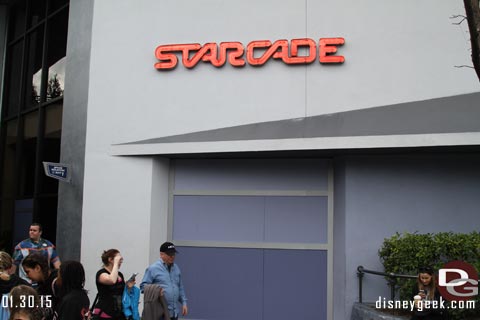 A check of the Condor Flats work from the Monorail. Quite a few holes dug this week.
Looking toward Carthay Circle. Notice the rock work on the right is being removed.
"it's a small world" attraction is now closed for the holiday overlay removal and the facade work continues too.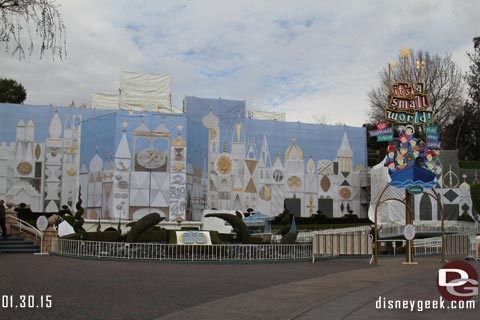 The Toontown Train Depot is closed (the entire Railroad is closed right now)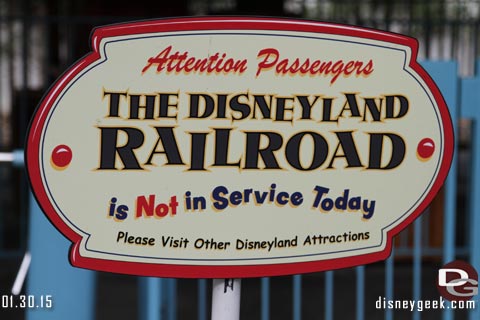 The Fantasyland side of Sleeping Beauty Castle
Landscaping being replaced on the Mountain. Not a lot of other visible work from this vantage point aboard the Mark Twain.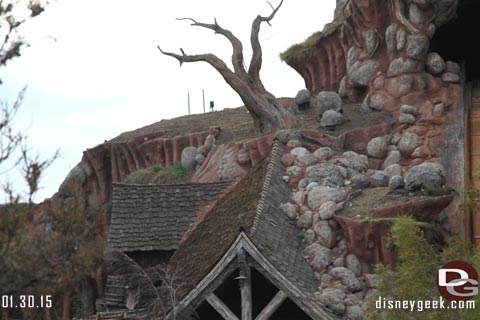 All is quiet in Critter Country. More scaffolding awaiting set up in the truck parked near the Hungry Bear entrance.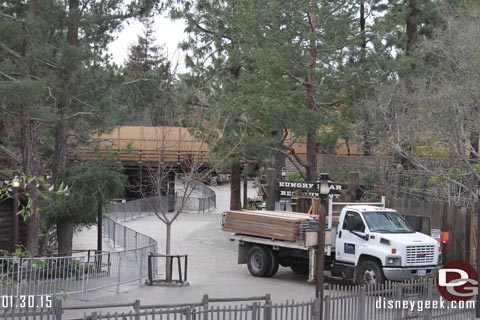 More scaffolding has gone up all around the Hungry Bear and some tarps too.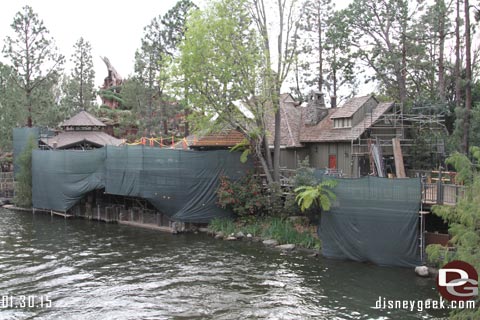 Over to Disney California Adventure.The Condor Flats entrance area. They have started to work on the rock work.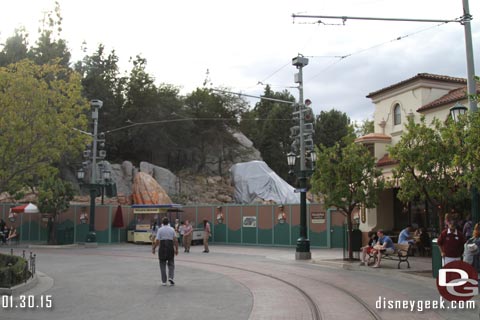 The Soarin' sign has been removed from the attraction building.
Work continues on the World of Color platform to ready it for the new show coming in May.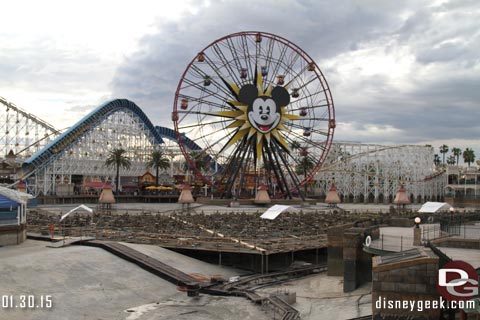 Looks like some new squares have been installed (and cleared) on the platform.
Some new signs letting you know Grizzly River Run is closed.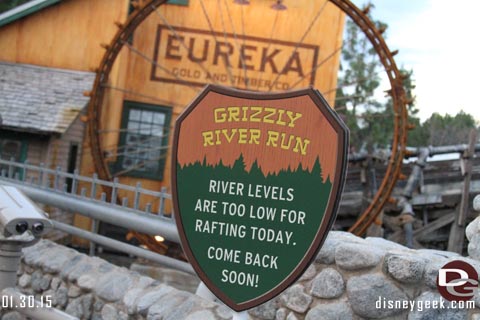 Not much visible progress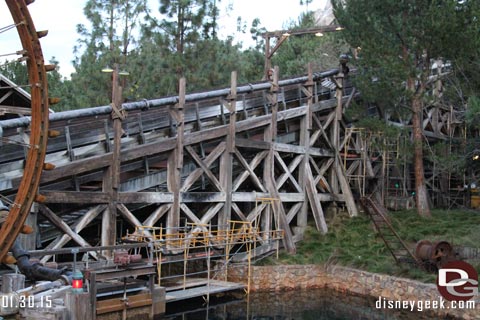 Walking through the Grand Californian. Storytellers Cafe is closed for renovations through February 6. During this time breakfast is available at Napa Rose, and there's a dinner buffet in the Trillium Banquet Room in the Convention Center
At the Disneyland Hotel, work continues on what looks to be fall protection enhancements overhead.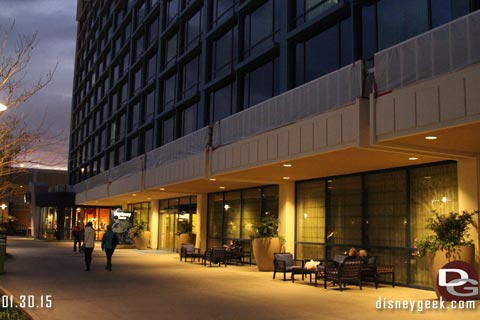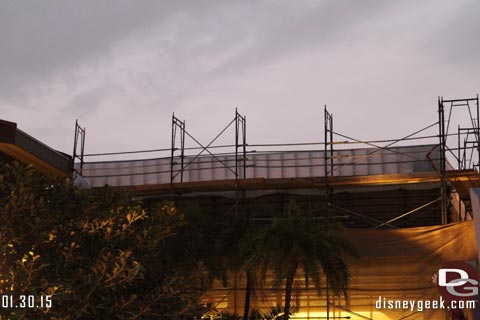 The Monorail Slides and E-Ticket pool are closed for renovation.
I will close with a look at Sleeping Beauty Castle after dark.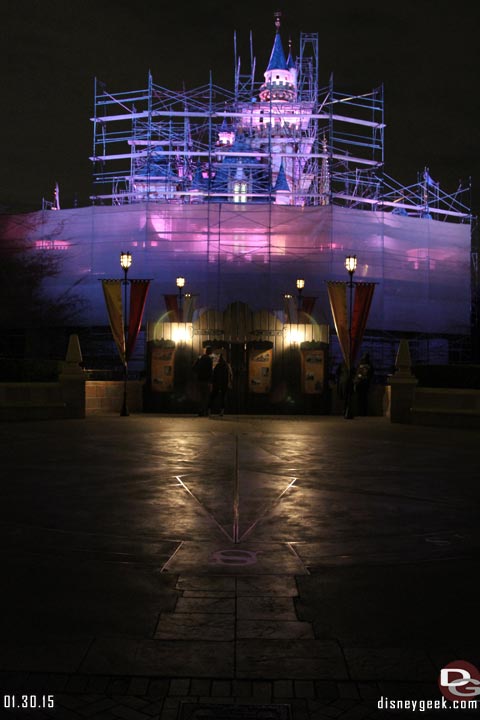 Hope you enjoyed this highlight tour of the Disneyland Resort. For additional photos and details from this trip you can check out the full Disneyland Update I posted on my site, http://disneygeek.com Also be sure to follow me on twitter @disneygeekcom for pictures from the parks.