To all who come to this photo trivia game, Welcome! Along the way, the photos can make us relive memories and see details Walt's Imagineers put into everything we love in Walt Disney World!
Now for Challenge #366: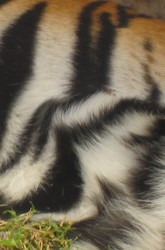 And here's the answer:


Copyright © Erin Blackwell
It's a tiger tummy from the Maharajah Jungle Trek in Disney's Animal Kingdom.!
Smitty, I saw a tiger playing the water one time. You should see how many pictures I took! It's like when you get a good look at the lions or the baby elephants.

Jim & Lorie Sonnen was the first to send in the correct answer! Congratulations to Jim & Lorie and to all our winners this week! Ed Suscreba, Linda Ranatza, Ed Elder, Antoinette Leblanc, Bill Mckim, Stuart Savage, Kristi Strembicki, Erin Hammer, Dawn Bach, Patti Gumiela, Angela Fennell, Jennifer Bennett, The Strukel Family, Hillary Waldroop, Karen Ramirez, Carol Becker, Eric Johnson, Mary Ann Lamay, Dave Freemyer, Pollyanna Buff, Paul Dickson, Team Hill, Eric Berger, Jen Tremley, Claire Gregory, Pat Schwier, Timothy Gallant, Carol Ney, Carol Ney, Barclay Bakkum, Kye Layton, The Tisdale Family, Doug Zimmerman, Ellen Sullivan, Judy Simonsen, Kyra C., Amanda Gallagher, Ruben O'meara, The Gunnels Family, The Double Family, Patty Shirley, Caitlin Lewis, Anastasia Macneil, Carla M, Grumpy's Groupies, Jaimie Ridley, The Rider Family, Linda College, Chris, Gretchen, And Katie Barnes, The Ryan Family, Kris Nixon, Gabriella, Terry And Matthieu, Carla C, Maryann Romagnano, Maryann Eckenrode &Courtney Crowe, Ruth Senecal, Bruce Hinterleitner, Jamesd (dzneynut), Teala Van De Ven , Stefanie Vandiver, Karen Ford, Tom Koval, Lisa Lee, Jim Poplawski, Kerry A, The Yorks, Joe Timko , The Parker Family, Kathryn Hughes, Arlene Vicek, Sharon Powell, Mary Beth Tarbet, Christina Trigiani, Nicole Benoit, Brian Miller, Michelle Wilinski, Vera And Izzy Williams, Maureen Handy, Mickey Eckert, Kathryn Broyles, Nan Amor, Kerri Coggins, Linda Lundsten, Carolyn Como, Bob Ruer, Kim Furnell, Tim Johanen, Team Bonnie Sue, Ken Savage, Eric Enli, Sarah And Chris, Lonnie Donahue , Cathy Connors, Chris Bauman, Cameron Lange, The States Family, Jim Finley, Christopher Hall, Matt Holley, Mark Proper, Luis Rodriguez, Vicki Britt, Matt Earl, Haylee Smolek , Smitty, Matthew Jadro, Helen Ryan, Annie Snodgrass, Jim Thompson, Matthew Frey, Dave Carriere, Christin, Sandie Albrecht, Sandie Albrecht, Wendy Snelgrove, Jeremy Reichelt, Lori Rienhardt, Todd & Angela Johns, Cheryl, Phyllis, Mike Malampy, Joseph M. Zafia, Jason Skow, Latasha Griffin, Jodi Cook, George Mundy Jr, Patti Mccaffrey, Diane Ramos, Les Stewart, Mary Dieuliis, Jane Johnson, Jamie Steiner, Karen Aguiar, and Stefany!
It's time for the monthly drawing! And the winner is: Deborah Wolfe !
Congratulations! You will receive a prize from Deb Wills!
__________________________________ _____________________
Challenge #367 Where in the world is this?
Still in the parks!

Do you know? Do you have a guess? Please send in your answer, before the end of the day on Thursday, February 5th, by clicking on the blue box below.
Please do not post answers using the Feedback Form link at the bottom of this post.
See you soon, Players!


_______________________________________________________________________
Everyone who sends in a correct answer to a Where in the World Challenge this month will be entered in a drawing at the end of the month for some special AllEars® goodies!