Cinderella's Royal Table moves from Cinderella Castle to Citricos at the Grand Floridian during restaurant renovations January 5 – March 2015.
Cinderella will greet guests as they arrive and her Disney Princess friends will visit each table for autographs and photos. You can also participate in an interactive "Magical Wishing Ceremony" with the characters with "wishing wands" or "wishing swords" for little ones.
The Citricos menu is a combo breakfast/brunch from 8:00am to 2:20pm. The cost is $49.99 and $31.99 for those ages 3-9. Two Disney Dining Plan entitlements are required if you use the dining plan. Scroll down for the menu for both adults and children.
Reservations open to Disney Vacation Club members and Annual Passholders on December 3rd. Reservations open to all on December 4th. Online reservations will be available at a future date.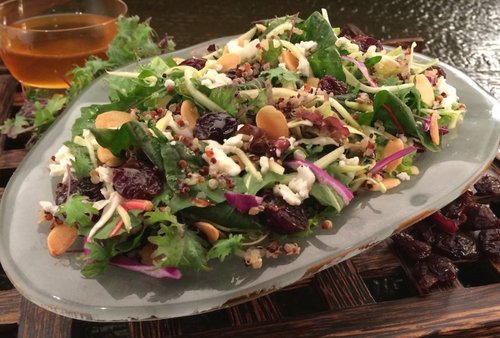 Cinderella's Dining at Cítricos
Breakfast and Brunch with the Disney Princesses

Adult Menu
APPETIZERS OF THE COURT
Bakery Basket
Choice of One: Garden Salad-Artisanal Greens, Endive, Roasted Carrots, Sugar Snap Peas, and Marcona Almonds with Riesling Vinaigrette
Assorted Fresh Fruits
ENTRÉES ROYALE
Choice of One:
Traditional Breakfast-Scrambled Eggs, Sausage, Bacon, and Twice-cooked Breakfast Potatoes
Scrambled Egg Whites, Hot Ten-Grain Cereal, Greek Yogurt topped with Granola,
Whole-Grain Bread, and Fresh Fruit
Steak and Slow-Poached Eggs with Twice-cooked Breakfast Potatoes and Wilted Spinach
Grilled Ham and Biscuit, Slow Poached Eggs topped with Sausage Gravy
Market-inspired Fish with Angel Hair Pasta, and Aromatic Tomato Sauce
Florida Shrimp with Creamy Cheddar Cheese and Smoked Bacon Grits
DESSERT TRIO
Beverages included: Unlimited Coffee (regular/decaf), Iced Tea regular/decaf),
Fountain Beverages, and Juices (Apple/Orange/Tomato), One Specialty Beverage
Children's Menu

APPETIZERS
Choice of One
Bite-size Cheddar Cheese and Grapes
Garden Salad Fat-free Ranch Dressing
ENTRÉES
Choice of One
Turkey Pot Pie topped with a Cheese Biscuit
Roasted Chicken Leg with Brown Rice Pilaf and Broccolini
Children's Scrambled Eggs
Mickey-shaped Waffles
Steakserved with Mashed Potatoes and Sweet Corn
DESSERT TRIO
Beverages included:
Milk and Skim Milk
Fountain Beverages
Juices: Orange/Apple/Tomato
One Specialty Beverage
Specialty Beverage Selections
Adult Specialty Beverage Selection
Choice of One
Mimosa
Champagne
Seasoned & Spiced Tomato Juice with Vodka
Cappuccino
Latte
Espresso
Glass of Wine
Children's Specialty Beverage Selection
Choice of One served in a Specialty Cup
Tink Drink
Lemonade, Orange Juice and Sprite
Strawberry Smoothie
(Menu subject to change without notice)